If you've spent time in a metropolitan area, you may have encountered an electric scooter. These electric two-wheelers are an excellent way to get around town, eco-friendly, and affordable to boot. Many new tech startups have emerged in recent years, primarily around plug-in scooters and bikes with two to three wheels. The Sondors electric motorcycle is just one of many.
While Sondors has long been a part of the electric bike market, they only recently dipped their toe into the electric motorcycle game. Dubbed the Metacycle, this new Sondors electric motorcycle is turning the heads of e-bike lovers and skeptics alike. But many questions still remain about the Sondors electric motorcycle. What does it sell for? What are its specs? When does it come out (or is it already out)? And what about Sondors on the whole? What's their company all about? Let's get right into it.
5 Must-Know Facts About the Sondors Electric Motorcycle
In addition to the Metacycle, Sondors has an all-terrain, a foldable, a mountain, and signature e-bikes for sale.
While you might think electric motorcycles are some newfangled invention, the first patent for an electric motorcycle dates back to September 19th, 1895.
Sondors recently filed to raise $31.2 million for an initial public offering (IPO).
China is the world's leader in e-transportation sales, with over 30 million electric scooters sold annually.
While the market is still relatively small, Sondors remains the U.S.'s leading provider of e-bikes.
Sondors Electric Motorcycle Specs
Product Name
Metacycle
First Announced
January 2021
Released
August 2022
Range
60-80 mi
Power
8 kW/11 HP (nominal)
14.5 kW/20 HP (peak)
Motor
PMAC Hub Motor
Battery
4 kW Hours/4000 Watt Hours
Battery Type
Lithium-ion
Tires
CST CM-NK 01
Top Speed
60 MPH (Drive Mode)
80 MPH (Sport Mode)
Torque
80 ft-lbs (nominal)
130 ft-lbs (peak)
Wheelbase
52 in
Seat Height
31.5 in
Curb Weight
Approx. 300 lbs
Price
$6,500
Sondors Electric Motorcycle Sales
Because Sondors is — as of this writing — a private company, it's hard to tell much about specific sales figures. These sorts of numbers typically tend to come with quarterly reports for publicly traded companies. While Sondors has filed for an IPO, it's not on the New York Stock Exchange. However, there are still some figures out there for us to discuss. For one, we know the Metacycle had 11,000 pre-orders before its official release in August 2022. Moreover, the Metacycle has far outsold electric offerings from Harley-Davidson and Zero.
History of the Sondors Electric Motorcycle
Sondors derives its name from its founder, Storm Sondors. A seasoned entrepreneur even before founding the Sondors electric transportation company, Storm took to crowdsourcing his idea of an electric bike in February 2015. After setting an initial goal of just $75,000, Sondors was shocked to see a grand total of over $3.6 million by the end of the first month. If Storm had any doubts before the fundraising campaign, they had been effectively squashed. It was clear the public wanted an e-bike, and they wanted Sondors to be the one to deliver it to them.
Born in Latvia and always struggling to fit in with his peers throughout his youth, Sondors often turned to creative outlets to feel a sense of belonging. From surfing to woodworking to sculpting, Sondors became a man of many talents as he entered adulthood. It wasn't until he was in his 30s that he learned he had been struggling with Asperger's the entire time. Sondors and his synonymous e-bike brand proved to the world that this diagnosis is not a limitation but rather a liberation. Sondors became the third-highest-grossing campaign in Indiegogo's history.
Newly equipped with his crowdsourcing funds and some additional funding from angel investors, Storm immediately moved more than 6,000 units of the Sondors E-Bike prototype. It was the culmination of several years of important work for Sondors. From his early days in toy sales to his free time spent playing sports, Storm got the idea to combine toys with athletics in the form of an electric bike after a knee injury left him unable to live the high-octane life he was accustomed to. Seven years later, Sondors is thriving in ways Storm could have only dreamed of in 2015.
Origins of the Metacycle
The Metacycle seems like the only natural next step for Sondors after spending years atop the e-bike market in America. (After all, when you've reached the top of the mountain, what else is there to do but look for the next-highest peak?) First unveiled in January of 2021, the Sondors Metacycle immediately got consumers' attention for being one of the most affordable forms of electric transportation ever seen. Initially priced at $5,000 (and eventually increased to a still-reasonable but the slightly higher price of $6,500), the Metacycle came in far lower than even the cheapest competitor.
For context, Harley-Davidson's electric motorcycle — the LiveWire — was priced at nearly $30,000 at the time. Likewise, the Zero electric motorcycle boasted a slightly cheaper (but still quite expensive) price tag of around $24,000. Even at its eventual price of $6,500, the Metacycle was a market disruptor in the truest sense. Its low price is no indication of the Metacycle's true performance, either: This thing is far more powerful and much sleeker than its price tag would suggest. No wonder it quickly outsold both Zero and Harley-Davidson.
With a range of 60-80 miles per charge and a top speed of 80 miles per hour, the Metacycle is a revolutionary electric motorcycle unlike anything else on the market today. The Metacycle's PMAC Hub Motor and its 4 kW-Hour (4000 Watt-Hour) lithium-ion battery delivers up to 14.5kW power. That's equivalent to 20 horsepower with 130 ft-lbs of peak torque. With this available to consumers for a remarkably reasonable price of $6,500, it's easy to see why the Metacycle matters so much.
Sondors Electric Motorcycle: Models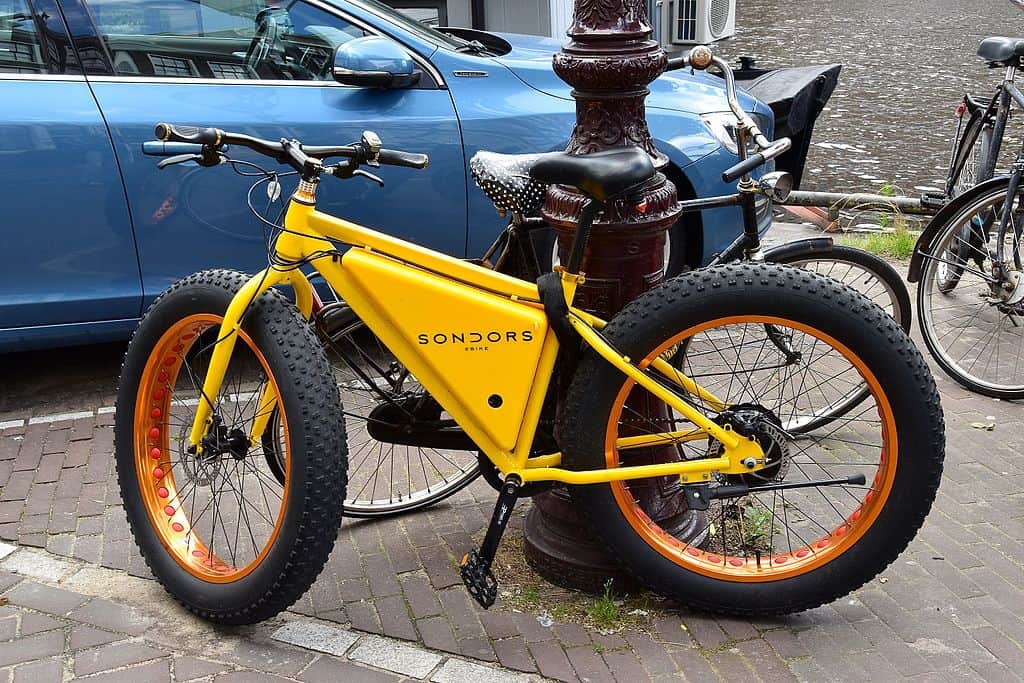 In addition to the Metacycle, Sondors has several other electric bikes under its brand's banner. These include the following.
All Terrain eBikes
Equipped with those signature fat tires you'd expect from an all-terrain bike, the Sondors All Terrain eBikes have top speeds of up to 20 MPH and a range of around 40-60 miles per charge. They clock in just under $2,600 for the most affordable option, the Sondors X. There are a couple of other models under this particular banner, the Sondors XS and the Sondors LX, which come in at $2,699 and $2,999, respectively. These models up the battery power and top speeds while keeping in line with the look and function of the base model All Terrain eBike.
Foldable eBikes
Like the Sondors All Terrain eBikes, the Sondors Foldable eBikes also boast big, fat tires. However, these Foldable eBike models prioritize versatility and portability over all-terrain riding. The base model — the Sondors Smart Step — has a top speed of 20 MPH and a range of 25-40 miles per charge. It's priced at $1,699. Other models include the Fold X ($2,259) and the Fold XS ($2,699) up the range and the motor while keeping top speeds and battery specs the same from model to model. All in all, these models are great for affordable and portable electric transportation.
Mountain eBikes
While some might assume that an All Terrain eBike and a Mountain eBike would accomplish the same thing, Sondors proves there's a need for both. Equipped with smaller but nonetheless durable tires and a powerful motor and battery, the base model Sondors MXS gives 40-60 miles of range with top speeds of 20 MPH for $2,699. The next step up, the Sondors Rockstar, introduces an even bigger battery plus dual suspension. Its top speed is 28 MPH with a similar range of 40-60 miles. The Rockstar is priced at $3,499.
Signature eBikes
The Sondors Signature eBikes represent a perfect middle ground between all other models and types across the brand's entire lineup. Dubbed the Sondors Cruiser, the bike delivers 40-60 miles of range and a top speed of 28 MPH for $3,499. All in all, it's a highly functional bike with a gorgeous look to it too. The Sondors MadMod delivers similar specs with all-terrain tires, coming in at the same price for bigger wheels and a slightly lower top speed while retaining the same range. The biggest difference here is the cool retro aesthetic.
The Public's Response to the Sondors Electric Motorcycle
With more than $12 million raised over the course of a few crowdsourcing campaigns and a quarter of a million e-bikes sold, the public's response to Sondors and the company's electric forms of transportation has been excellent thus far. The company has received glowing coverage in publications from Yahoo to Business Insider, Men's Journal to Fortune, and beyond. Moreover, Sondors won a 2016 Best Product Award from Computer Bild magazine. Needless to say, Sondors has been met warmly (even if the e-bike market remains small).
The real test will come with Sondors's IPO. Should their filing result in them officially going public, Sondors will be the first e-bike company to make it to the New York Stock Exchange. The company's stock price could soar or tank depending on how well retail investors and seasoned traders receive it. This will be the ultimate test for Sondors, and time will tell whether they pass or fail. However, everything learned about the company thus far would suggest nothing but blue skies and open roads ahead for Sondors.
The image featured at the top of this post is ©Red Herring/Shutterstock.com.