In 2021, Farmington Solar began powering over 20,000 homes with communal solar energy. Producing 115.7MW through sunlight, this is one of the largest community projects in the country. So despite a lack of municipal push for renewables, homeowners can still take advantage of solar panels in Maine.
Even with notoriously cloudy weather, homeowners have an opportunity to save thousands on utilities. Below, we cover the costs, factors, and savings that surround solar installation in the Pine Tree State. Keep reading to learn everything you should know about budgeting for an array.
Average Cost of Solar Panels in Maine
If you didn't know better, you might not consider solar panels in Maine; with notoriously cloudy weather, surely the renewable energy would prove difficult to make work. And with some of the highest equipment rates in the country, there's hardly a reason to justify them. Maine sits atop the list with solar panel costs as high as $2.87/W, nearly 50 cents more than southern states. For a 6kW system, homeowners would have to pay $17,220.
On top of the high costs for solar panels in Maine, residents of the Pine Tree State pay some of the lowest electricity bills in the United States. Highly conservative with their utility usage, Mainers require less than 600kWh of electricity a month. Despite incredibly high power rates, homeowners in Maine manage to keep utility bills as low as $102.54/mo. Well below the national average, it's hard to convince residents to make the switch.
However, for those interested in reducing their carbon footprint, there's money to save. With the federal solar tax credit, homeowners can save 30% on all solar purchases in the form of a return on annual taxes. This could drop the cost of a 6kW system from $17,220 to $12,054.
How Much Solar Do Mainers Need?
Now just because the above prices seem high, they might not represent the actual requirements for your home. As Mainers use less electricity than most, their equipment might need to produce less power. To find out the appropriate wattage for your solar panel system, you'll need to divide your daily electricity requirements by the average amount of sunlight in your area. Let's use Maine's averages in a case study.
Homeowners in the Pine Tree State use on average 19kWh a day (570kWh/mo). When we divide that by Maine's average peak sun of 4.51, we discover that the average solar array needs to produce around 4.2kW an hour. This is significantly smaller than the 6kW average. Applying the typical cost of solar panels, a 4.2kW system would cost about $12,054 before incentives.
Knowing that the size and cost of solar panels in Maine can vary, you can accurately budget for an installation that fits your needs. Because the geography in the Pine Tree State varies, you can find a more concise peak sun average using this Maine sun chart.
Maine Solar Cost Factors
Touching on it earlier, geography and sunlight can have a dramatic influence on the price of solar panels in Maine. As the second-most Northern state in the country, those living closer to the Canadian border may have less average peak sun than others. For example, cities such as Caribou may only receive 4.2 hours of direct sunlight. For more examples of how geography affects solar costs, compare Maine to its neighboring states:
You'll also want to seriously consider the type of solar panels you install in your array. Generally, homeowners can choose from a variety of monocrystalline or polycrystalline equipment. The former is more efficient, while the latter is more affordable. Homeowners in Northern Maine might consider going with mono panels to take the most advantage of peak sun, while those living close to New Hampshire might be able to save money with poly.
Finally, choosing the right installer for solar panels in Maine can have long-lasting effects on the efficiency of your array. While some companies may undercut the competition with lower quotes, they may be sacrificing essential aspects of the job such as equipment, warranties, and technicians. With only 31 installers in the Pine Tree State, homeowners have few options when it comes to choosing the right company. That makes the decision even more critical.
Best Maine Solar Installers
When recommending companies that install solar panels in Maine, we trust EnergySage, the review company that holds endorsements from the US Department of Energy and the SEIA. Before you choose a solar installer, you want to carefully review them based on EnergySage's pre-screening qualifications:
Years of industry experience
Industry-standard certifications
Quality equipment
Warranty longevity
Contractor transparency
Right off the bat, we like Maine Solar Solutions as a great, local option. With its headquarters located in Freeport, the solar installer has over 10 years of experience working with Mainers. They have all the required licenses, including the important NABCEP certification. And while their workmanship warranty lacks (it only covers 10 years), the company works with a wide range of high-quality equipment.
However, if you're hoping for a little more coverage from a top-tier company, you can't go wrong with NuWatt Energy. Although these solar installers have offices in California and Texas, they're founded in the Northeast. The company has similar certifications and uses top-tier equipment, but stands out for its 25-year service warranties. This way, your solar array will work as intended for its entire lifetime.
Can Solar Energy Save Mainers Money?
Keeping in mind that solar panels in Maine run higher than average, homeowners can still save money in the long run. However, with some of the lowest utility payments in the country, the total net return might feel underwhelming compared to other states. Let's break down what this could look like.
To figure out how much Mainers could see back in utility offsets, we first need to know how long it could take to pay off an array. Considering the average annual electricity bill in Maine is $1,230.48, homeowners would pay off a 6kW system in 14 years. This is much longer than most other states in the country. However, it's essential to remember that most systems in the Pine Tree State might not need to produce that much power.
After paying off the system, Mainers can start to see a net return in utility offsets. Considering the average lifespan of solar panels in Maine of 20-25 years, homeowners could expect around $7,382 to $13,535. While that might feel underwhelming compared to states like California, it's still enough to make an array worth considering. Of course with state-level incentives, that number could grow.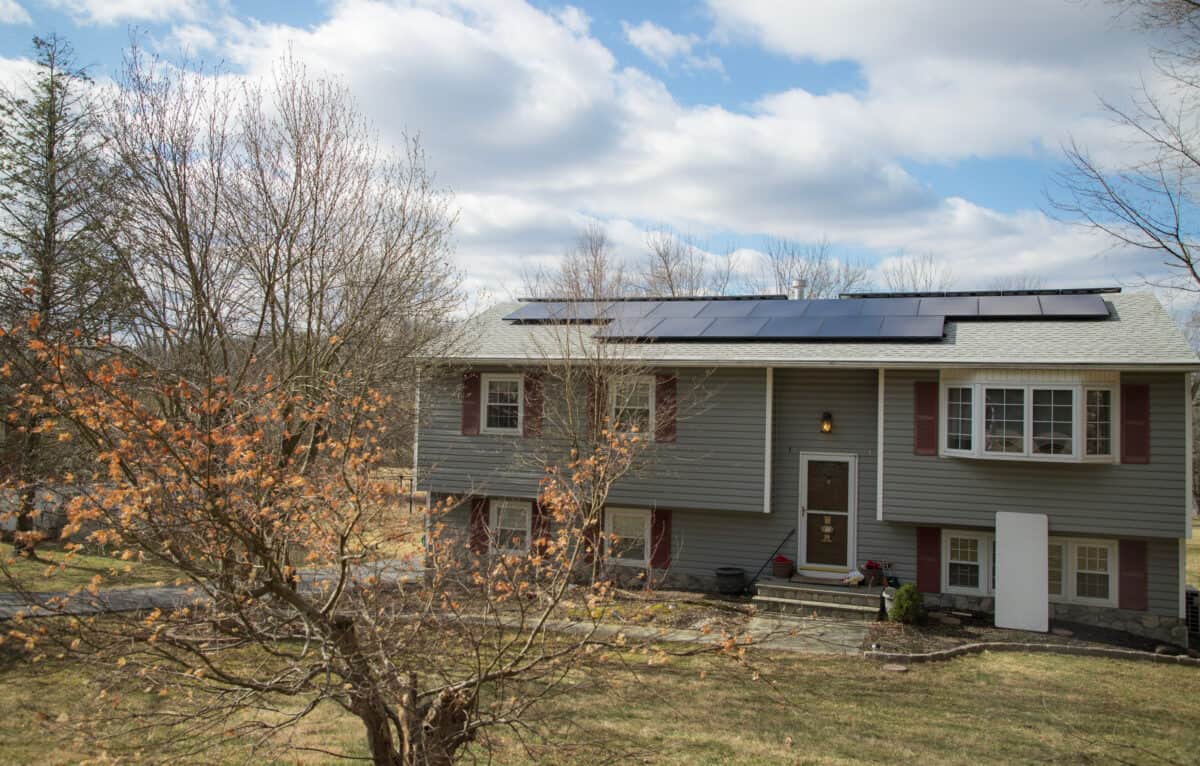 Solar Panels in Maine: Rebates, Credits, and Incentives
Because of its location and inclement weather patterns, Maine might not sit atop the list for renewable support. However, the Pine Tree State has a surprising amount of intention to build infrastructure for solar energy. Through federal, state, and municipal benefits, residents of Maine could save a substantial amount on an installation.
Before looking anywhere else, Mainers can already see 30% of solar purchases returned through the federal solar tax credit. Those installing a 6kW system could save over $5,000. With solid renewable standards, homeowners might expect Maine to help even further. To learn more about how the Pine Tree State supports solar energy, check out our detailed list of incentives.
Solar Panels in Maine: Further Reading
With high rates of equipment and notoriously cloudy weather, homeowners might not consider solar panels in Maine. However, those that make the switch will not only improve their carbon footprint but could also save thousands in utility bills. For more on emerging technology, check out the articles below.
Solar Panels in Connecticut: Cost, Savings, and Rebates – Compare Maine to one of the best Northeastern states for solar energy.
The 10 Largest Renewable Companies in the World, and What They Do – These companies plan to change the way we gather energy.
A Guide to All of Tesla's Gigafactories, and Where They Are Located – One of the most prominent EV manufacturers is building the largest foundations for emerging technology.