The First State produced 4.2% of its electricity using solar energy in 2021. While that number feels low, it's just the beginning of the state's renewable standards. With goals of 40% sustainable by 2035, there's no better time to consider solar panels in Delaware.
So where do you start? In this guide, we'll cover the average cost of panels as well as how to budget for your own home. We'll also detail how much you could save with an array. Continue reading to learn more.
Average Cost of Solar Panels in Delaware
The nation's first state does a pretty good job of offering low rates on renewable energy; Delawareans can expect to pay about $2.65/W, which is more affordable than many places in the U.S. This means homeowners could pay about $15,900 for a 6kW solar panel system, over $2,000 less than the national average.
The good cost of solar couples nicely with Delaware's high price of energy; homeowners in the First State use 932kWh a month, which is higher than the average across the country. This results in a high electric bill, even with decent rates per watt. This means that Delawareans can see impressive returns on utilities by switching to solar.
For even more savings, homeowners can take advantage of the federal solar tax credit. Purchases toward a residential array in Delaware can qualify for 30% back on federal taxes. This means homeowners would only pay $11,130 for 6kW of solar.
How Much Solar Do Delawareans Need?
While the average cost of solar panels in Delaware looks good, the above number might not reflect your household's needs. For a more accurate rate on a renewable system, you'll need to find your average electricity usage and divide it by the peak sun hours in your area. We'll use Delaware's averages in the example below.
The First State gets about 4.23 peak sun hours per day. Using a daily electricity average of 31.1kWh (932kWh/mo), a solar panel array in Delaware should produce 7.3kW an hour. For a system this size, homeowners can expect to pay about $19,345 before incentives. This is slightly higher than what most people might pay for an array.
While other factors can further influence the solar panel costs in Delaware, these numbers should get you pretty close to what you might need. You can review peak sun hours closer to your hometown with this chart.
Delaware Solar Cost Factors
The First State has a North-South orientation, which has a considerable effect on local peak sun hours. You can expect to have more sun the further south you live. For more examples of how location can affect the cost of solar, check out the varying prices in the surrounding states:
Additionally, Delawareans may want to consider the type of the panel in order to save money. In a state with average sunlight, homeowners could benefit from either monocrystalline or polycrystalline. With the former, those with smaller roofs could take advantage of the panels' efficiency. However, those with larger roofs situated on the south side of the state could get away with the latter and save money.
Finally, choosing the right solar installer can have a lasting effect on the condition of your array. While you might feel tempted to save money with a more affordable company, you should know that these installers should be able to maintain your system for its entire lifetime. Delawareans have slim pickings for local installers, but some options exist.
Solar Installers in Delaware
According to EnergySage, an official company for solar reviews, installers should meet a few criteria to earn your trust. Among these include:
Several years of experience in the industry
Quality workmanship warranties
Proper certifications
With its headquarters in Maryland, Solar Energy World serves the East Coast and is one of the leading installers in this region. Founded in 2009, this solar company uses its own technicians to ensure transparency. With accolades from the Better Business Bureau and the NABCEP, Solar Energy World offers one of the longest warranties, covering installation and maintenance for 30 years.
However, if you prefer to work with a more local company, SunnyMac, LLC might be the right choice for you. Located in Wilmington, DE, this installer has 14 years of experience in the trade. They hold similar certifications as Solar Energy World and offer their customers 25-year warranties on labor, installation, and maintenance. For more on how this company handles its business, give them a call.
Can Solar Energy Save Delawareans Money?
With high energy usage and decent sun exposure, homeowners in Delaware could find themselves with major savings. To determine how much a solar panel system can offset utility bills, we'll have to determine the length of time it takes for Delawareans to cover the cost. Let's break that down below.
In the First State, people spend about $1,482.96 a year ($123.58/mo) on electricity. If we use this to offset the cost of a 6kW solar array, it would take about 10.7 years to have it fully covered. This is slightly longer than some states but worth it in the long run.
Considering that solar panels have a life expectancy of around 20 to 25 years, homeowners will start to see net returns from a 6kW system following 10.7 years. This means Delawareans could receive around $13,791 to $21,206 or more over the course of their solar array from utility savings.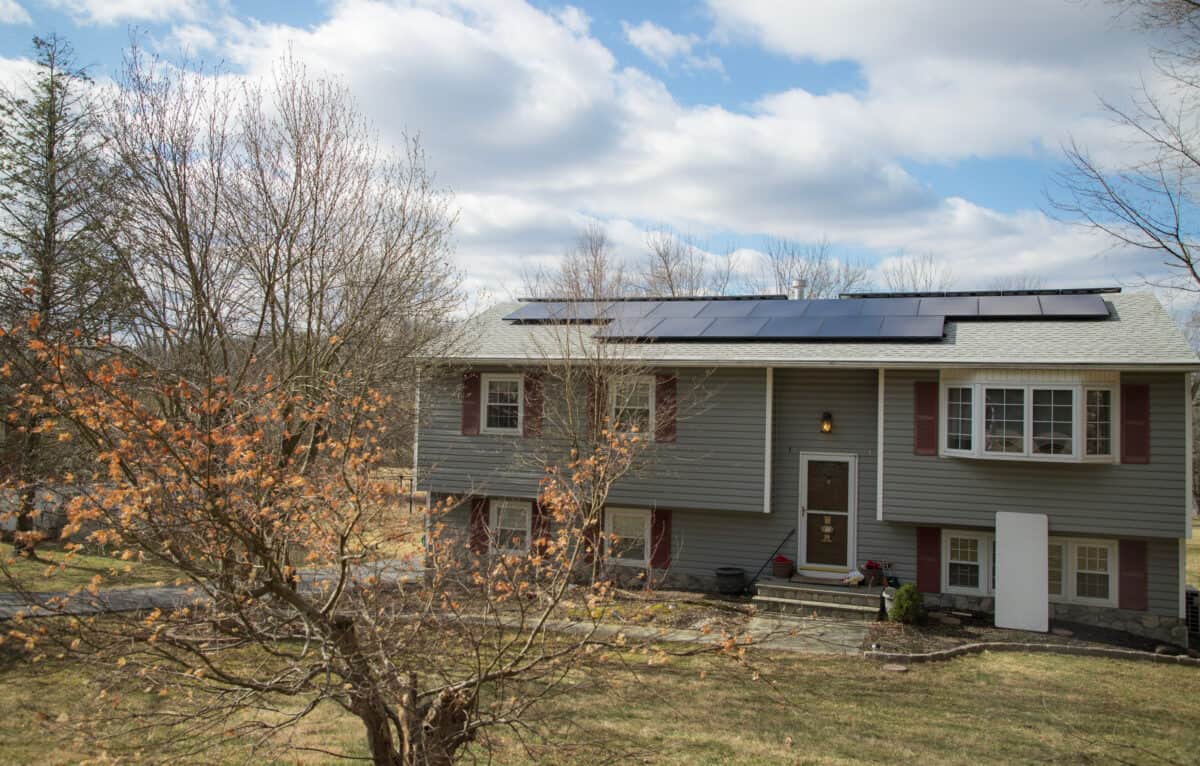 Solar Panels in Delaware: Rebates, Credits, and Incentives
Homeowners in the First State can discover financial benefits through utility savings, but that's not where the incentives end. With a variety of available incentives on federal, state, and local levels, Delawareans can save even more. Simply taking advantage of the federal solar tax credit, you can cut the cost of an installation by nearly $5,000.
Additionally, Delaware has incredibly progressive renewable standards. With rebates on equipment, municipal payment programs, and tax exemptions, homeowners can continue to lower the cost of solar panels. Check out this guide on saving money for a breakdown of how the First State supports renewable energy.
Solar Panels in Delaware: Further Reading
To offset the high cost of traditional energy, homeowners might consider solar panels in Delaware. The First State has great rates on equipment and better-than-average peak sun, making it ideal for an array. Want to learn more about the solar industry on the East Coast? Check out the articles below.
Solar Panels in Connecticut: Cost, Savings, and Rebates – The Nutmeg State has some of the best renewable standards in the country. Click here to see how Delaware compares.
Owning an EV in Delaware: Charging, Cost, Incentives, and More – See how the First State is supporting electric vehicles in 2023.
Can You Recharge an EV With Solar Power? – This is how you can use your solar panels to do more than just power your house.
The image featured at the top of this post is ©Smit/Shutterstock.com.