Over 10,000 residential solar arrays were installed in Connecticut in 2021. This suggests growing support for renewable energy in the Nutmeg State. And while the weather in New England might seem less than ideal, there's a reason homeowners are making the switch.
The cost of solar panels in Connecticut offset a high electrical cost that can save people thousands of dollars. Want to know where to start? Continue reading for average prices, cost factors, and how much you can expect to save.
Average Cost of Solar Panels in Connecticut
At first glance, homeowners might hesitate after discovering the cost of solar panels in Connecticut. Averaging about $2.86/W, Connecticuters could expect to spend $17,160. This stands as one of the highest rates in the United States, costing over $2,000 more than western states such as Colorado.
However, this is where the bad news ends; in reality, Connecticuters have some of the best opportunities to offset some of the highest traditional electricity rates in the country. With an average monthly utility bill of $159.41, homeowners in the Nutmeg State pay more than any other state for power, except for Hawaii. This means that a switch to solar could result in massive net savings over the course of a system's lifetime.
And that's only where the benefits start; homeowners making solar purchases in 2023 can take advantage of a federal solar tax incentive worth 30% of the overall payment. This would drop that 6kW array worth $17,160 down to $12,012.
How Much Solar Do Connecticuters Need?
Now, the above examples only provide an estimate for the typical cost of solar panels in Connecticut. However, you can find a more accurate ballpark price in just a few steps. Dividing your average electricity usage by the peak sun hours where you live, you can determine how much wattage your household needs. We'll use Conneticut's averages in the case study below.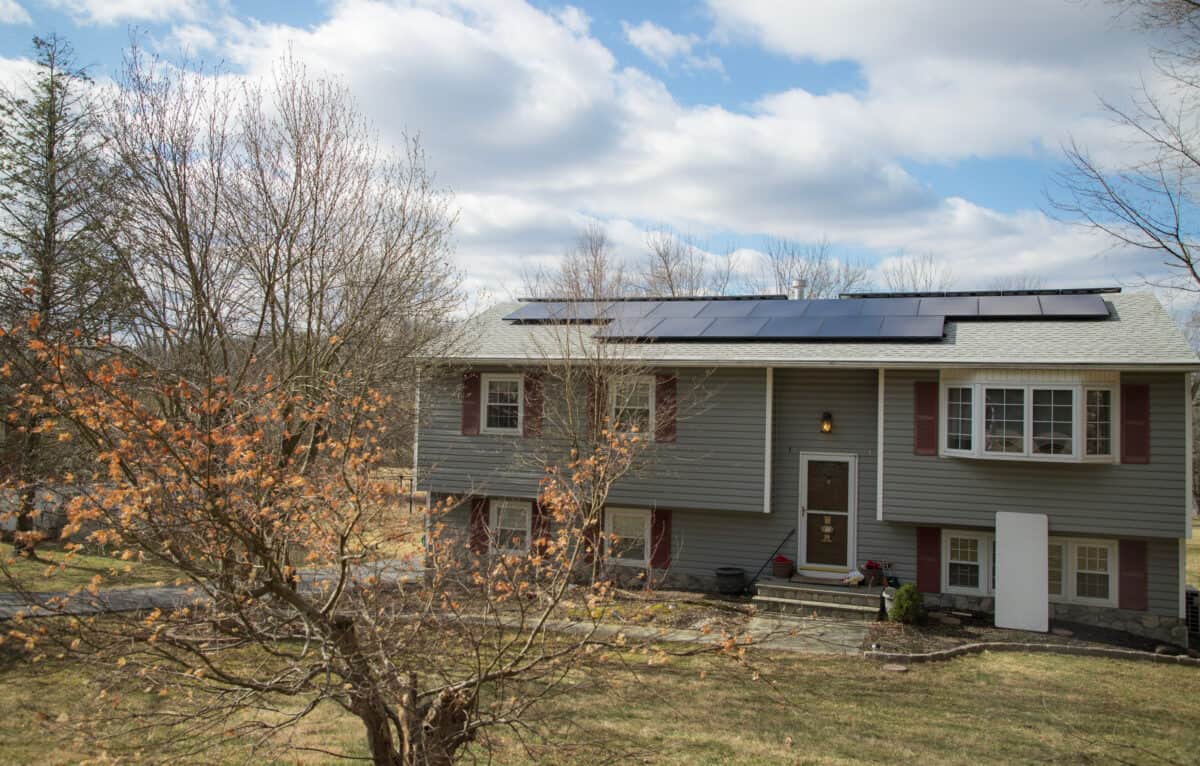 According to records, homeowners in the Nutmeg State use about 23.7kWh daily (or 711kWh/mo). Dividing that by 3.84 peak sun hours (the state average), a solar array should produce 6.2kW an hour. This means that the average Connecticuter would spend about $17,732 before discounts apply.
Now that you know how to determine the amount of wattage you need, try it for your own household. You can discover the peak sun hours for your nearest city using this sun chart.
Connecticut Solar Cost Factors
As mentioned above, peak sun hours are one of the biggest aspects that affect the cost of solar panels in Connecticut. This is especially true with the Nutmeg State, which has some of the cloudiest weather in the country. In some parts of Connecticut, it's possible to receive less than 3 hours of peak sun a day. We can see how geographic location affects price by comparing the surrounding states:
Connecticut's sun exposure has such a critical influence on solar that homeowners should seriously consider types of solar panels. While polycrystalline panels come more affordably, their poor efficiency makes them less than ideal in cloudy areas like New England.
In this case, Connecticuters should purchase monocrystalline panels; they're a little more expensive, but their efficiency will help keep your household powered even in inclement weather.
Finally, choosing the right installation company can affect the price of your solar panels; not only in the short term but over the course of your system's lifetime. Because of its size, there aren't many local installers in Connecticut to choose from. However, the options available have made a quality reputation for themselves.
Connecticut Solar Installers
According to EnergySage, one of the leading marketplaces for solar energy suggests that quality installers meet a specific list of standards. These include:
At least three years of installation experience,
NABCEP certified,
Contractor transparency,
Warranties and guarantees.
With nearly 15 years of experience, Green Power Energy in Durham, Connecticut, leads the industry in this state. GPE is fully licensed and works with organizations such as ASES, SEIA, and Tesla. This local company offers 25-year warranties on everything from equipment to labor, making it one of the most comprehensive coverages in the country.
Another local company, PlugPV, offers competition to GPE in the Nutmeg State. Although this installer has less experience in the industry, PlugPV holds all the same certifications. They pride themselves on their in-house service technicians and installation crews.
Can Solar Energy Save Connecticuters Money?
Even with some of the lowest peak light and highest costs of solar in the country, Connecticuters still find themselves in a position to see incredible net returns. This return comes from offsetting expensive traditional power bills. Let's go into detail below.
To determine how much money a solar panel system can save, we need to know how long it takes to cover the cost of installation. In Connecticut, the average annual electrical bill comes to about $1,912.92. If homeowners use that annual saving to pay for a 6kW solar array, they could break even in 9 years.
After paying off the system, Connecticuters can start to see a net return for the rest of its lifetime. With an average expectancy of about 20 to 25 years, homeowners in the Nutmeg State could receive $21,042 to $26,780. This is one of the highest returns in the entire country.
Solar Panels in Connecticut: Rebates, Credits, and Incentives
If the potential savings on electricity excite you, wait until you learn about all of Connecticut's solar benefits. The Nutmeg State has one of the strongest renewable portfolio standards in the United States, giving homeowners a wide variety of federal, state, and local incentives to drop the cost of installation.
Simply starting with the federal tax incentive, Connecticuters receive a 30% return. This could drop the cost of a 6kW solar panel system by over $5,000 in the Nutmeg State. Additionally, homeowners can take advantage of rebates, net metering, tax exemptions, and more. For a detailed look at Connecticut's solar benefits, check out this article.
Solar Panels in Connecticut: Further Reading
One might not think of Connecticut when considering renewable policies. But with strong state support and a high utility rate, alternative energy definitely makes a worthwhile investment. Learn more about solar panels in Connecticut through the articles below.
The image featured at the top of this post is ©Millenius/Shutterstock.com.