Last updated

July 15, 2021
OS 400 – Complete History of the IBM OS/400
OS 400
On June 21, 1988, IBM introduced its new minicomputer and enterprise server platform AS/400 (later renamed to iSeries, System i and Power Systems), bundled with the operating system OS/400 (later renamed to i5/OS and IBM i). IBM's Chief Scientist for AS/400 computers was Frank Gerald Soltis (see the nearby image), an US computer scientist, with pioneering contribution in the architecture of technology-independent machine interfaces (TIMI) and single-level storages.
Which are the key differences between OS/400 and other common operating systems?
1. The OS/400 is an object-based system with an integrated Database Management System DB2.
2. Single-level storage—a computer storage concept where the entire storage of a computer is thought of as a single two-dimensional plane of addresses. Pages may be in primary storage (RAM) or in secondary storage (disk); however, the current location of an address is unimportant to a process.
3. Technology Independent Machine Interface (TIMI)—a virtual instruction set, which allows the operating system and application programs to take advantage of advances in hardware and software without recompilation. All user-mode programs are stored as TIMI instructions, which means that it is not possible for them to use the instruction set of the underlying CPU, thus ensuring hardware independence.
Key features of IBM i:
Embedded into the OS DB2, 64-bit Relational Database Management System (RDBMS)
HTTP Server (powered by Apache)
IBM i NetServer (formerly AS/400 NetServer) is IBM i support for Windows Network Neighborhood
A rich set of security features and services that pertain to the goals of authentication, authorization, integrity, confidentiality, and auditing; Simple-to-deploy, Virus resistance object-based security model
Integration with SQL, .NET, DRDA/CLI, ODBC and JDBC; Support for MySQL database
Multiple file systems (Windows, UNIX, NFS)
Integrated Web application server, Java and J2EE Web services environment
Zend Server Community Edition providing PHP runtime environment
PowerVM technology providing Micro-Partitioning and shared processor pools
Automatic balancing of processor and memory resources
Transaction-based journaling leveraged by IBM iCluster and complementary high availability solutions
Highly resilient with built-in cluster architecture
Encryption of data on disk and backups
IBM Rational development tools, C, RPG, COBOL, C++, Java, EGL, PHP, CL; Supports open source applications built to Apache, MySQL, and PHP stack
Web-based systems management, IBM Systems Navigator, IBM Systems Director
logical partitioning (LPARs) with IBM i to support multiple virtual systems on a single hardware footprint
Integrated storage management, Hierarchal storage management for Solid State Drives
Support for IBM POWER processor-based systems and blades
Capacity on Demand (processor & memory)
The latest release of IBM i is 7.3, launched in April, 2016 (see below a table with OS/400 release history).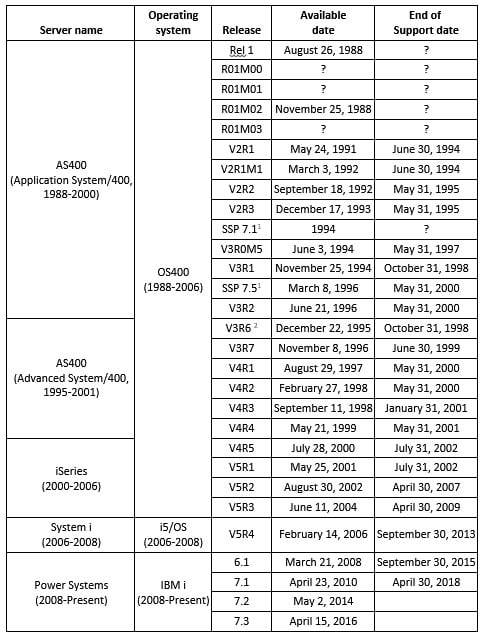 OS/400 release history