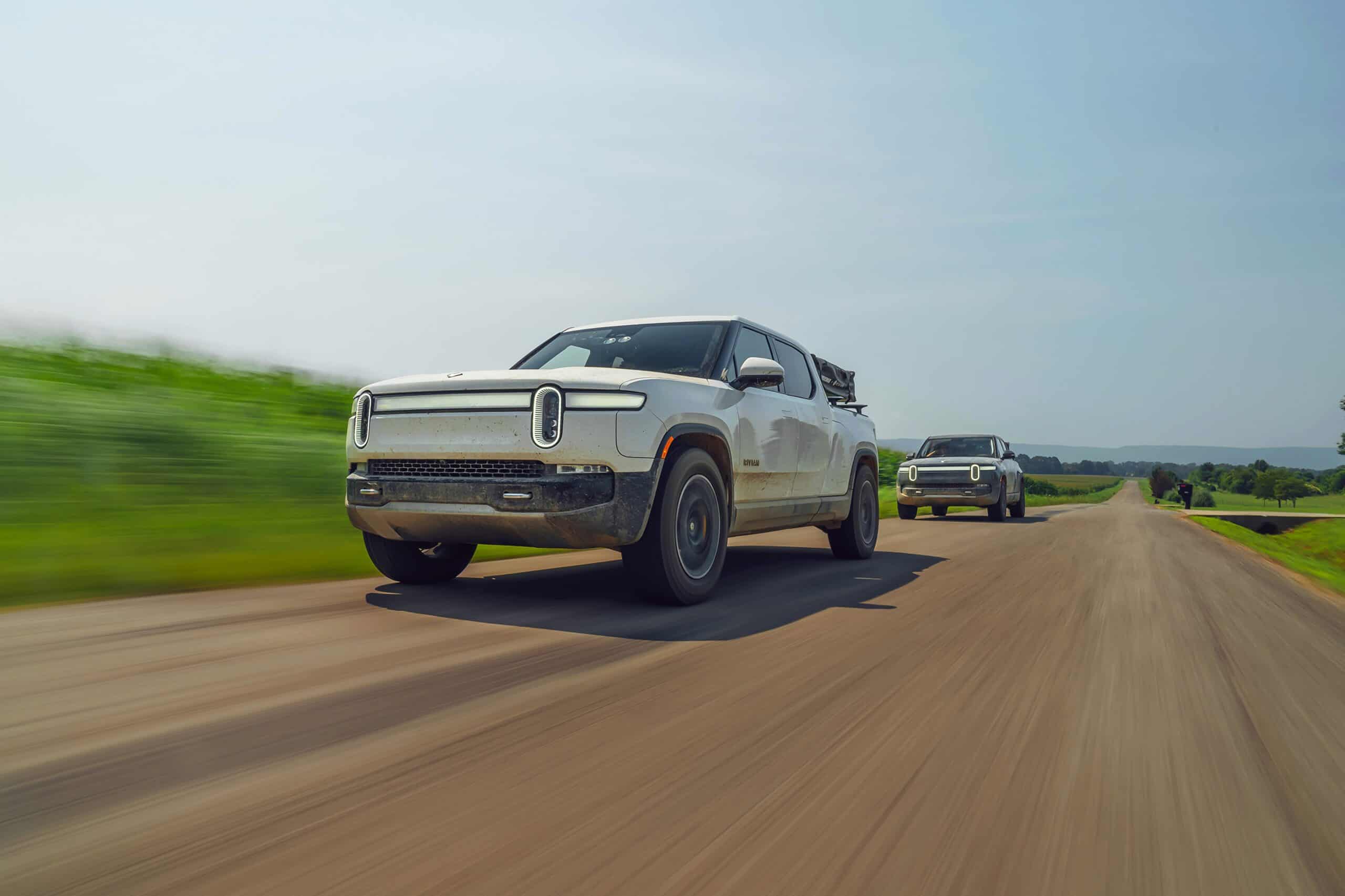 Hatchback-like crossover SUVs ruled the EV world for years as the near-universal electric vehicle body style, but all that's changing in the early 2020s. Electric full-size SUVs, motorcycles, vans, ATVs, UTVs, and pickup trucks are starting to round out drivers' electrification options.
Rivian staked a claim as one of the EV pickup pioneers with its R1T truck. This beefy premium vehicle features plenty of interesting design flourishes. From a frunk to a gear tunnel to several handy suspension modes, the R1T explores various intriguing EV engineering possibilities.
Soon, though, the Rivian R1T will be going toe to toe in the marketplace against the Chevrolet Silverado EV pickup. The Silverado EV and Hummer EV both use GM's Ultium electric vehicle platform, a flexible chassis concept.
The Ultium's modular battery design lets both GMC and Chevy pack plenty of power into their BEV pickups. Here's how the Silverado EV is likely to square up against the Rivian R1T.
Silverado EV vs Rivian R1T: Side-by-Side Comparison
| | Chevrolet Silverado EV | Rivian R1T Pickup |
| --- | --- | --- |
| Price | $39,900 to $100,000+ | $73,000 to $97,000 |
| Range | 400 miles | 316 miles (260 miles to 400 miles) |
| Seating | 5 | 5 |
| Recharge Time (Level 3) | 110 miles/10 minutes | 140 miles/20 minutes |
| 0-60 Time | 4.5 seconds | 3 seconds (4 seconds) |
| Drivetrain | Dual-motor | Dual-motor or Quad-motor |
| Horsepower | 600 | 835 |
| Torque | 600 ft-lbs | 908 ft-lbs |
| Maximum Towing | 8,000 to 10,000 lbs (20,000 lbs) | 11,000 lbs (20,000 lbs) |
| Maximum Payload | 1,200 to 1,300 lbs | 1,760 lbs |
| Bed Length | 5 ft 11 in | 4 ft 6 in |
| Wheels | 18″ to 24″ | 20″, 21″, 22″ |
| Availability | Summer to autumn 2023 | Currently Available |
Silverado EV vs Rivian R1T: What's the Difference?
The Silverado EV and the Rivian R1T are both full-size light-duty pickups in the same ballpark as a Ford F-150 or a Silverado 1500. Each company chose a different aesthetic emphasis. The Rivian R1T looks the part of a cutting-edge EV with elegant space-age styling. The Silverado looks rather more traditional.
Though the Silverado resembles ICE pickups more than the R1T, both are ground-up EV builds. This means neither has the "baggage" caused by converting an ICE chassis into an electric one.
Rivian developed its R1 platform for larger, more premium EVs with a more affordable, smaller R2 platform planned. The Silverado is built on the same Ultium EV platform as the Hummer, the upcoming Blazer EV, and other GM electrics.
The Silverado differs from the R1T in having lower-level, affordable trims. The ground-floor WT (Work Truck) will theoretically have an under-$40,000 base price. Chevy will also make the Silverado in higher trims, ranging up to more than $100,000. The R1T is all-premium at this point, with its cheapest version starting above $70,000.
Here's how the two EV trucks' known specs compare. Note that Chevrolet's data on the Silverado is incomplete and most specs refer to its high-level, limited-release RST First Edition.
Range and Recharging
Squeezing the most range possible out of a single recharge is almost always an EV buyer's priority. Range becomes even more of a priority with workhorse vehicles like EV pickup trucks. Towing or hauling a heavy load of cargo in the bed both cut sharply into range.
Rivian estimates that towing a full load (especially one with poor aerodynamics) cuts R1T's range in half. A real-world MotorTrend test proved the 50% estimate surprisingly accurate. This highlights how important the long per-charge range is for a pickup used for towing.
The Rivian R1T's initial release versions come with a battery providing a 316-mile EPA estimated range. The company plans a more affordable 260-mile battery option and an extended-range R1T achieving 400 miles per charge. Putting on 20-inch or 22-inch wheels instead of the standard 21-inchers cuts range by anywhere from 5% to 15%.
Chevy says the Silverado EV's range is 400 miles based on its estimates (with official EPA figures not yet published). This distance is a maximum figure for the premium RST First Edition trim equipped with the longest-range battery available.
Since it's an exact match to the R1T's expected top range, it's also likely more affordable trims with smaller batteries will fall into the 250-to-320-mile range. Neither Chevrolet nor Rivian give 80% charging times for their EV pickups.
Instead, Chevy says the Silverado gains 100 miles of range in 10 minutes from a Level 3 DC fast charger. A Level 3 charger pumps 140 miles back into a Rivian R1T in 20 minutes. The Silverado clearly charges faster.
Since charging isn't linear, InsideEVs experimented to find out how long an R1T really takes to charge from 10% to 80%. The test charge took 42 minutes, so the Silverado's 80% recharge is probably under 35 minutes.
Performance
The Silverado RST First Edition EV has plenty of power on tap, thanks to its torque-generating electric motors. It accelerates from 0-60 mph in just a hair less than 4.5 seconds while in Wide Open Watts or WOW mode. While in this enhanced performance mode, the Silverado develops 754 horsepower and 785 ft-lbs of torque.
These specs have increased from figures released by Chevrolet earlier in 2022, indicating development and tuning of the design continue. Wide Open Watts provides a short surge of extra power, mostly for rapid acceleration. Chevy says the Silverado offers dexterous, sporty driving, unlike traditional pickups. If the design lives up to this promise, the Silverado EV might be more of a muscle truck or sports truck than a standard workhorse.
The Rivian R1T currently has two all-wheel drive (AWD) drivetrains, dual-motor AWD and quad-motor AWD. Rivian's pickup is faster than the Silverado RST in both configurations. The dual-motor R1T generates 600 horses and more than 600 ft-lbs of torque, blasting from 0-60 mph in 4 seconds. Rivian hasn't released this dual-motor setup yet and its performance could change once it's actually in production.
The currently available quad-motor R1T leaps to 60 mph from a standstill in just 3 seconds. It does this using the 835 horsepower and 908 ft-lbs of torque served up by its four motors. Testers, including a Yahoo! Finance reviewer, agree Rivian succeeded in making the R1T a stable, smooth-driving, agile vehicle.
Unlike many ICE pickups, it has excellent curve and corner handling. The R1T has up to 15 inches of ground clearance and fords at least 3 feet of water.
Working Utility
Chevrolet gave the Silverado EV enough power to tow 8,000 to 10,000 lbs in its standard configurations. The company plans to release a heavy-duty WT trim variant towing 20,000 lbs. The R1T's towing characteristics are almost identical.
The truck can drag a trailer weighing up to 11,000 lbs with, once again, a 20,000-lb version in the works. The maximum payload is 1,200 to 1,300 lbs for the Silverado depending on trim, while the R1T's payload is higher at 1,760 lbs.
Both vehicles have a "frunk" – front trunk – though Chevrolet calls its version an "eTrunk." GM hasn't revealed the eTrunk's volume yet but it looks quite roomy. The R1T's frunk boasts 11.1 cubic feet of cargo space.
The Silverado definitely outclasses the R1T when it comes to bed size. Where the Rivian pickup's bed measures 4.5 long, the Silverado comes with a 6-foot bed the owner can temporarily expand in several ways.
The tailgate drops and a cargo stop can be raised to extend available bed space. Additionally, a midgate at the back of the cab hinges open, and the rear seats fold flat. Bed space grows to 9 feet with the midgate open, or 10 feet 10 inches with the tailgate also dropped.
Compensating a bit for its smaller bed, the Rivian R1T also features the "gear tunnel" between the rear seats and the rear wheels. This 11.6 cubic foot storage space stretches from one side of the vehicle to the other.
It's capped with fold-down doors capable of supporting 300 lbs apiece. These doors can be used as seats or as steps for reaching some parts of the bed. The tunnel includes a pair of power outlets. Owners can optionally equip it with a $5,000 slide-out camp kitchen, MotorTrend reports, including a cooktop.
Interior and Other Features
The Silverado EV and Rivian R1T come with a single cab choice, a roomy crew cab seating 5 people. The Silverado's interior features plainer fittings in the lower level trim but a more luxurious feel in higher trims.
All R1Ts have an elite interior with wooden and metal detailing and premium materials throughout. Both vehicles include large infotainment touchscreens and an extensive suite of electronic driver assistance features.
Mirroring one another yet again, both companies offer their EV pickups with an optional glass roof. Giving occupants a sense of light and freedom, the roofs cover much of the cab space rather than being a small "moon roof."
Rivian builds the R1T with several more roof options, however. Besides a solid metal roof and a glass roof, it offers R1Ts with a removable two-panel polymer composite roof. A final option is an electrochromic glass roof, with tinting that can be lightened or darkened by the driver.
Both pickups have some additional tricks up their sleeves, made possible by clever engineering. The Silverado can turn all four wheels at the same angle at very slow speeds, rather like the Tesla Cybertruck's Crabwalk function. This will help with edging into and out of tight parallel parking spaces, and possibly with hairpin off-road maneuvering.
For its part, the Rivian R1T continues adding new modes for owners, with Kneel Mode and Camp Mode most recently. Kneel Mode lowers a parked R1T's suspension height so people can get in and out more easily. Camp Mode adjusts the air suspension to level the pickup on bumpy, uneven ground.
Price and Release Schedule
Chevrolet offers Silverado EVs for a wider range of budgets than the premium-only R1T. The company expects the basic WT trim to start at just $39,900, with a current $100 fee to place a reservation. Two fleet trims come in just under $80,000.
GM Authority reports the 3WT features a $72,905 base price, while $77,905 is the Silverado 4WT's lowest price. The RST First Edition, now sold out, cost more than $100,000; what the non-limited-edition RST will cost is still unknown.
The lower base price of the Silverado WT probably makes it eligible for the Inflation Reduction Act's Clean Vehicle Credit. Whether this is the case hinges on where its battery materials are sourced and whether the final assembly is USA-based.
However, it seems likely to be eligible for the full $7,500 tax credit if it can meet these two benchmarks. The higher-level Silverado EVs probably won't fall under the $85,000 cutoff for the tax credit.
Similarly, Rivian's R1T trucks are too costly to give buyers the Clean Vehicle Credit tax break. The cheapest variant, a dual-motor pickup with a "Standard" 260-mile battery starts at $73,000. With a few options added in, as happens with most purchases, the EV's price will surpass the $85,000 threshold. Buyers have these additional choices:
Dual-motor AWD, Large (320-mile) battery, $79,000
Dual-motor AWD, Max (400-mile) battery, $89,000
Quad-motor AWD, Large (320-mile) battery, $87,000
Quad-motor AWD, Max (400-mile) battery, $97,000
When it comes to availability, the Rivian R1T is currently for sale and the company is making deliveries. The premium RST First Edition will be the first Silverado EV to put wheels on pavement. This won't happen until autumn 2023, however. The affordable Silverado WT trim won't go on sale until summer 2024.
Silverado EV vs Rivian R1T: 6 Must-Know Facts
The Silverado and R1T both have 400-mile range variants with long-distance batteries.
The Chevy Silverado EV has a bed extendable to 10 feet 10 inches.
The Rivian R1T has a much smaller 4.5-foot bed but includes a "gear tunnel."
The base R1T appears to have more features for rugged off-roading, but a Silverado Trail Boss trim is coming.
The cheapest Silverado EV starts at $39,900, while the most expensive is over $100,000.
The Rivian R1T starts at $73,000, with some trims featuring a base price of $97,000.
Silverado EV vs Rivian R1T: Which One Is Better? Which One Should You Use?
The Chevy Silverado EV, especially in its RST trim, and the Rivian R1T are functionally quite similar despite their differences. Towing and payload are similar, and both offer sporty, sinewy, agile driving and a smooth ride. Both can reach 400 miles range when outfitted with their biggest batteries. The Silverado recharges a bit faster than the R1T, but the R1T offers a little more power and slightly faster 0-60 acceleration.
One of the most significant differences is that the Silverado EV has a much more affordable trim available. While its higher trims equal or exceed the cost of the R1T, the basic WT workhorse is currently priced below $40,000.
Whether this price survives contact with actual production remains to be seen. But the WT will certainly end up tens of thousands cheaper than the lowest-cost R1T regardless. For buyers on a budget looking for a hefty, capable EV pickup, the Silverado WT's big savings over the R1T may make it a winner.
For those in the market for a higher-end luxury pickup, though, the Silverado and R1T appear to be neck and neck. In this case, specific details of each vehicle could be the deciding factor. The R1T seems to be a bit better at off-roading and offers some extra storage with its gear tunnel.
The Silverado's midgate makes it good for those frequently hauling long objects. It also appears likely to be a bit better on the road, though the R1T is also comfortable and responsive. In the end, personal preference, planned use, and even aesthetics will probably be the deciding factors in picking between these two high-quality, high-performance EV pickup trucks.