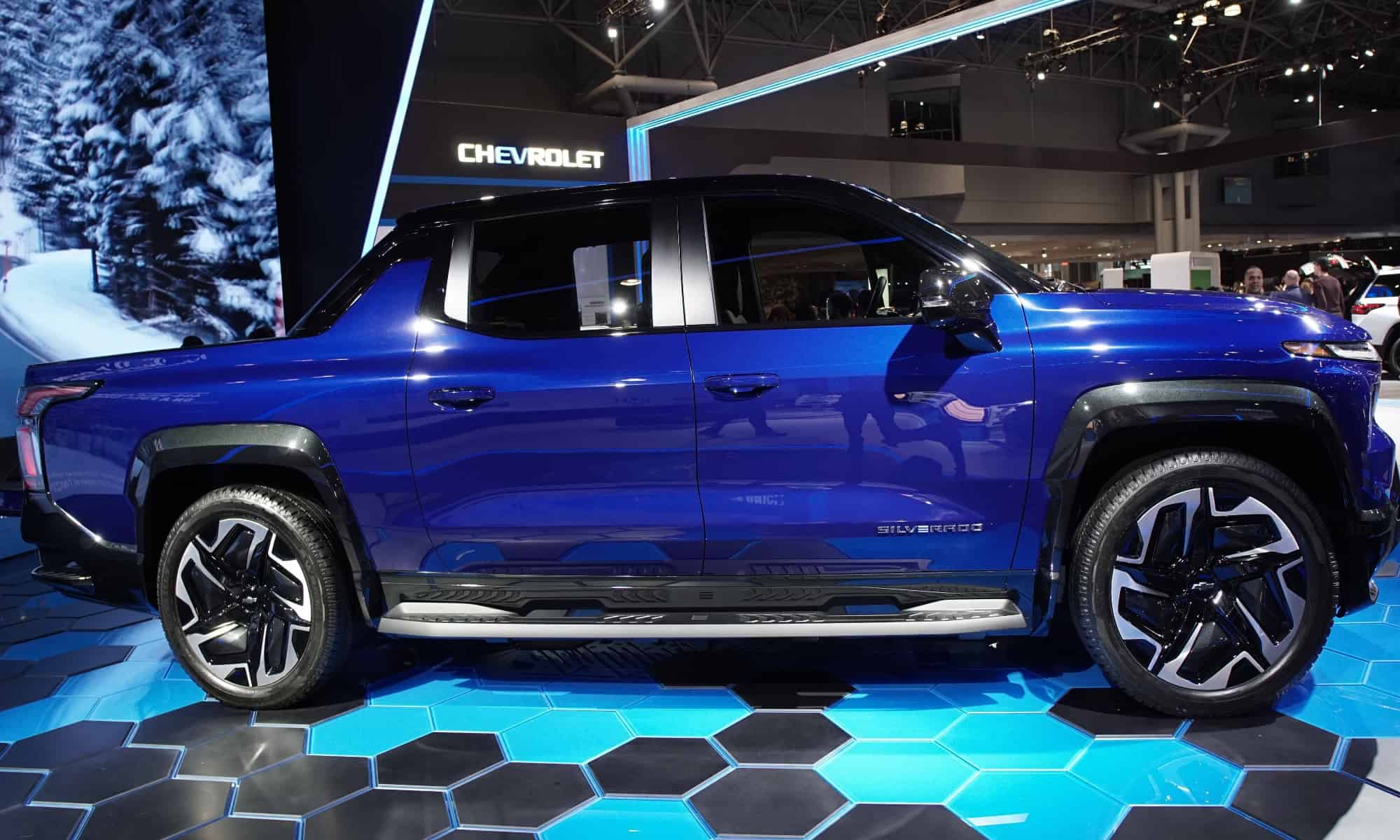 Key Points
Chevrolet has entered the Electric Vehicle market and has a few makes in the works to be released post 2023.
The Silverado EV is a full sized, electric battery powered, pick-up truck introduced in 2021 by General Motors.
It is estimated that it will cost fifty to sixty thousand dollars, depending upon the specifications, to own the Silverado EV.
Sporting the iconic "bow tie" logo and fresh styling, the Chevrolet Silverado EV pickup appears on schedule for 2023 production. GM launched 2024 Chevy Silverado EV road testing at the century-old Milford Proving Ground in mid-summer 2022. The test truck also ventured onto nearby Michigan public roads, stretching its legs, demonstrating performance, and whipping up excitement for this new EV pickup truck.
The Silverado EV joins a handful of other electric trucks currently available for the highly popular pickup market. GM borrowed its chassis from one of these, the Hummer EV, though with significant modifications. Other competing models, such as the Ford F150 Lightning, are slated for near-future release. If the Silverado lives up to its predicted range, towing, and performance, it will be a formidable competitor for these other EV pickups.
2024 Chevrolet Silverado EV: Specs
The 2024 Chevy Silverado EV pickup draws some styling cues from ICE Silverado models but is built from the ground up around the Ultium battery pack. GM engineers also use the Ultium battery platform for the Hummer EV pickup and plan to build future vehicle models around it. These include the Hummer EV SUV, the Cadillac Lyriq, the Chevrolet Equinox EV (a crossover), and the Cruise Origin autonomous vehicle.
Chevrolet hasn't released full dimensions for the Silverado EV, but it is apparently slightly narrower than the Hummer EV's 86.7". The 2024 Chevy Silverado EV will measure a hefty 233", or 19' 5", long with a 145,7" wheelbase, MotorTrend reports. This makes its overall length 16" longer than both the Hummer EV pickup and the Rivian R1T EV pickup, and 0.3" longer than the Ford F-150 Lightning. The vehicle is 76" high.
The Silverado EV seats five occupants with two front seats and a bench back seat accommodating three adults. The interior geometry creates ample legroom for the back seating row. Chevy's designers say even passengers six feet tall or taller won't find the rear legroom cramped. The back seat is a 60/40 split design, important for one of the Silverado EV's unique cargo stowage features, described below.
Trims and Features
The 2024 Silverado EV will initially be released in two trims, the Work Truck or WT and the premium RST trim. Both trims use the same battery pack and many similar construction details, though significant differences also exist. The RST has more driving modes available and is also fitted with Super Cruise. Super Cruise enables hands-free driving while the Silverado EV is towing on a specific road network. This semi-autonomous driving system includes multiple extra features. These are radar-directed emergency braking for collision avoidance, lane centering, and automatic cruise control helping maintain distance from vehicles ahead.
Features of the 2024 Chevy Silverado EV include:
Independent rear suspension for better trail and off-road flexibility and a smoother ride.
Automatic adaptive

Fixed glass roof for more light and a more spacious feeling.

Ultifi software platform for apps, upgrades, and personalizing.
Keyless start when running the Chevrolet key app on a smartphone.

Standard 4-door configuration with seating for five people.
2024 Chevrolet Silverado EV: Range and Performance
Range and Recharging
Both range and charging speed are important design elements for potential off-roading or work truck. Recognizing this, Chevy's engineers built the Silverado EV for strong capabilities in these categories. The company claims both initial trims, the WT and RST, will have a 400-mile range under ideal conditions. This range could be reduced by weather, terrain, cargo payload, and towing payload, among other factors.
When considering the truck's pros and cons, potential drivers may want to weigh its 400-mile range against competing vehicles. The Ford F150 Lightning base trim will have a 230-mile standard range. Some Lightning trims will offer a 320-mile extended range option. The Hummer EV manages 350 miles of range per full charge. The only rival currently offering equal range is the Rivian R1T, also clocking in at 400 miles.
The engineers also paid attention to convenient charging design according to Chevrolet's promotional material. The charging plug-in transmits power at a rate of 350 kW. This connection is strong enough to add 100 miles to the pickup's range in 10 minutes at a high capacity, DC (direct current) public fast charger. The truck also charges on Level 1 120-volt plug-ins and Level 2 240-volt chargers.
Performance
The 2024 Chevy EV pickup's horsepower and torque generation give it the muscle necessary for both hauling and negotiating rugged off-road terrain. The Work Truck develops a maximum of 510 horsepower and 615 ft-lbs of torque, SAE International reports. The RST's peak power is 664 horsepower and 780 ft-lbs of torque.
In terms of work, this power generation gives the WT trim a 1,200 lb maximum payload, while the RST can carry 1,300 lbs of cargo. The WT's towing capacity is 8,000 lbs, with the RST's, again, slightly higher at 10,000 lbs. Chevrolet plans the release of a heavy-duty Work Truck towing package option with a 20,000 lb towing capacity, payload, and release date unspecified.
The Silverado EV's design also leverages the possibilities of the electric vehicle platform to add sporty performance to a solid working vehicle. Zero to sixty times for the WT trim haven't been revealed yet, but the RST will be able to enter Wide Open Watts or WOW mode. In this mode, it can accelerate from 0 mph to 60 mph in 4.5 seconds, GM claims.
The pickup's loadout includes the 4-Wheel Steer feature already found on the Hummer EV. Four-wheel steering causes the front and rear wheels to turn in opposite directions at low speeds (under 25 mph.) This helps successfully slip around a hairpin canyon turn off-road, or ease the pickup's 19-foot length into a tight parking space. The wheels turn in the same direction above 25 mph to make lane-changing easier. Drivers who prefer traditional steering can shut the feature off.
The performance summary is as follows:
| | Silverado EV WT | Silverado EV RST |
| --- | --- | --- |
| Horsepower: | 510 | 664 |
| Torque: | 615 ft-lbs | 780 ft-lbs |
| 0-60 mph: | N/A | 4.5 secs |
| Payload: | 1,200 lbs | 1,300 lbs |
| Towing: | 8,000 lbs | 10,000 lbs |
| Wheels: | 18-in standard | 24-in standard |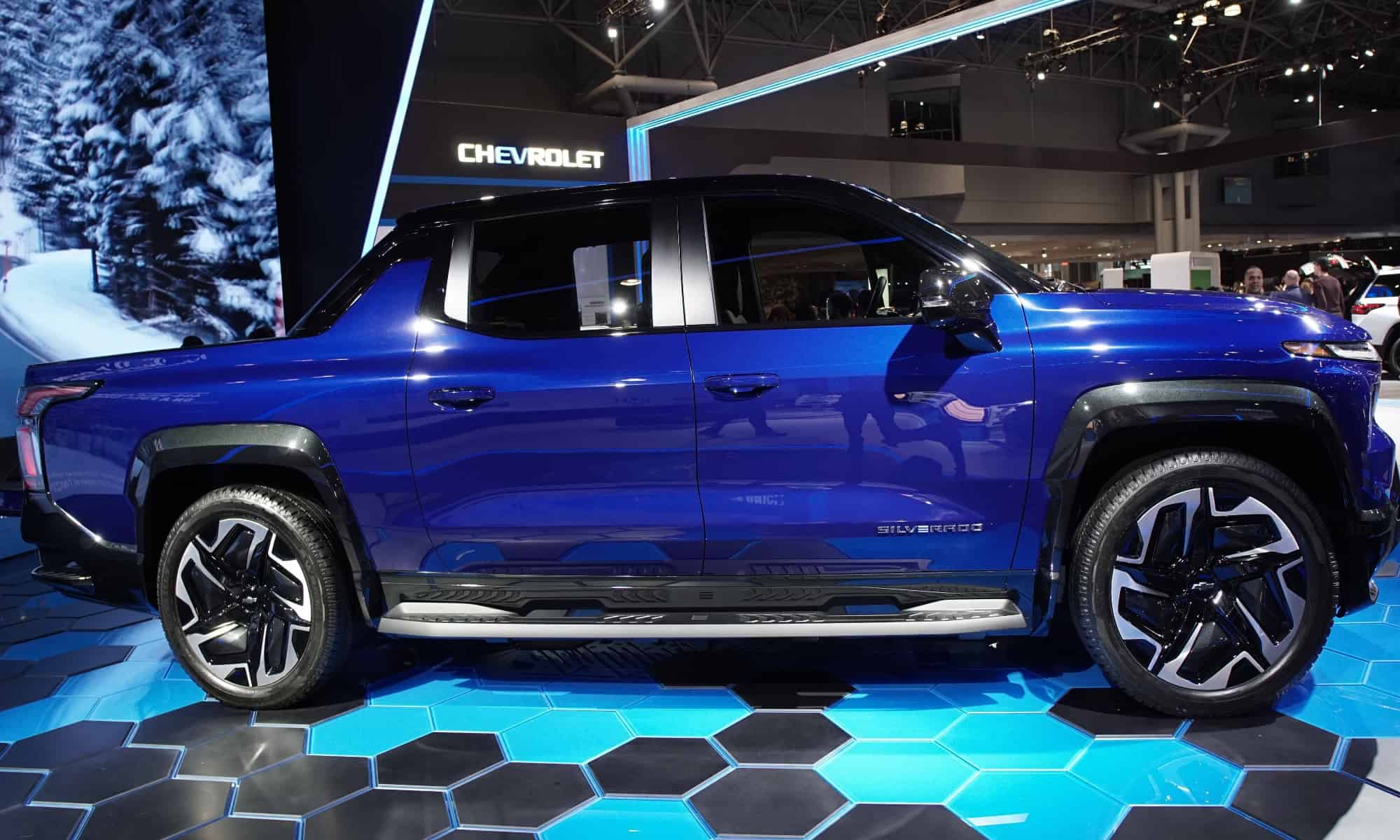 2024 Chevrolet Silverado EV: Utility Features
Chevrolet builds the body and bed of its Silverado EV pickup as a single unit rather than separate parts. The bed is 5' 11" long (71"), nearly a standard six-foot bed. However, it can be greatly extended using the vehicle's "Midgate" feature. This enables folding the passenger cabin's back wall out of the way, leaving the rear window in place, or removing it. The rear seats then fold down, either completely or on the side or the other of the 60/40 split. A partial fold-down of the seats enables one or two passengers to sit in the back seat alongside a narrow extension of the bed or cargo space beside them.
With the midgate open, the cargo area in the bed increases to nine feet (108"). For extremely long items, the tailgate folds down and locks. A cargo stop then flips up from it to prevent the items from sliding out the back. This extends the bed's length to an effective 10 feet, 10 inches maximum (130"). The tailgate has multiple other positions also. It can even be folded down to create a step at the pickup's rear, capable of supporting 350 lbs.
The designers located additional storage compartments at various places in the pickup. The center console between the front seat includes a massive seven-gallon storage bin. This is large enough for a moderate size toolbox, a food cooler, etc. The truck's nose features a frunk (front trunk) or eTrunk. This is big enough to contain large luggage items and has one of the pickup's electrical outlets inside.
Electric Capabilities
Besides its cargo-carrying and towing, the 2024 Silverado EV pickup's massive battery array can serve as a power source. Both the WT and the RST trims can generate the same amount of off-board electricity at 10.2 kW. Electrical outlets are scattered around the vehicle at strategic points to operate tools and accessories. Of the 10 total outlets, eight provide 120-volt power and two provide 240-volt power.
The driver can also hook up a special coupling cable to another EV and use the Silverado's stored electricity to charge the other vehicle. The charging cord will need to be bought separately.
2024 Chevrolet Silverado EV: Safety
Full details on the 2024 Chevy Silverado EV's safety systems aren't yet available. The vehicle also has not yet undergone complete NHTSA safety testing and therefore has no official rating. Safety elements include 14 different available camera views for reversing and other situational awareness boosts. Pedestrian detection with a collision warning, lane departure warning, automatic emergency braking, a following distance indicator, and airbags also enhance the vehicle's active and passive ability to keep its occupants safe.
Silverado EV: Late-Breaking News
On May 19, 2023, a Chevy spokesperson announced that the EPA certified the 2024 Silverado EV Work Truck's range to be 450 per full charge. This is 50 miles more than Chevy's estimate of 400 miles on a single charge.
During a press conference on Friday, General Motor's new president of  North America, Rory Harvey, said this about how the company's engineers were able to exceed the 400 miles range: "We look at refinements, we look at aero, we look at the way the vehicle is calibrated, the way the vehicle is set up. There are so many factors that go into it. The team was able to refine it."