As demand for electric vehicles grows, many wonder whether some of their favorite luxury vehicle brands will enter the EV game. Porsche, Lotus, BMW, Cadillac all with their own EVs, but looking pretty lonely without the company of other top-of-the-line luxury automobile companies. Bugatti has gone on record saying its first electric car is far off. And yet, Bugatti has already entered the EV game. That's right: Bugatti's electric scooter, the Bugatti 9.0, serves as their first foray into electric vehicles.
While Bugatti's electric scooter is not exactly the type of new ride you can wake up inside, it's nonetheless a Bugatti-branded vehicle deserving of our attention. Let's deep dive into Bugatti 9.0, starting with some must-know facts the look at the electric scooter's specs, where you can get your hands on Bugatti's electric scooter and its history. We'll also tell you what the public's response to the 9.0 Electric Scooter has been so far.
4 Must-Know Facts About Bugatti's Electric Scooter
The Bugatti 9.0 Electric Scooter is the French automobile company's first true electric vehicle.
While the European Union has set a hard cutoff date of 2035 for all gas- and diesel-powered vehicles, Bugatti has no plans for an electric car until 2032 at least.
The Bugatti 9.0 has a top speed of 18.5 MPH and a weight limit of 242 pounds. Its range per charge is just 25 miles.
Bugatti worked alongside consumer electronics brand Bytech to develop the Bugatti 9.0.
Bugatti 9.0 Electric Scooter: Specs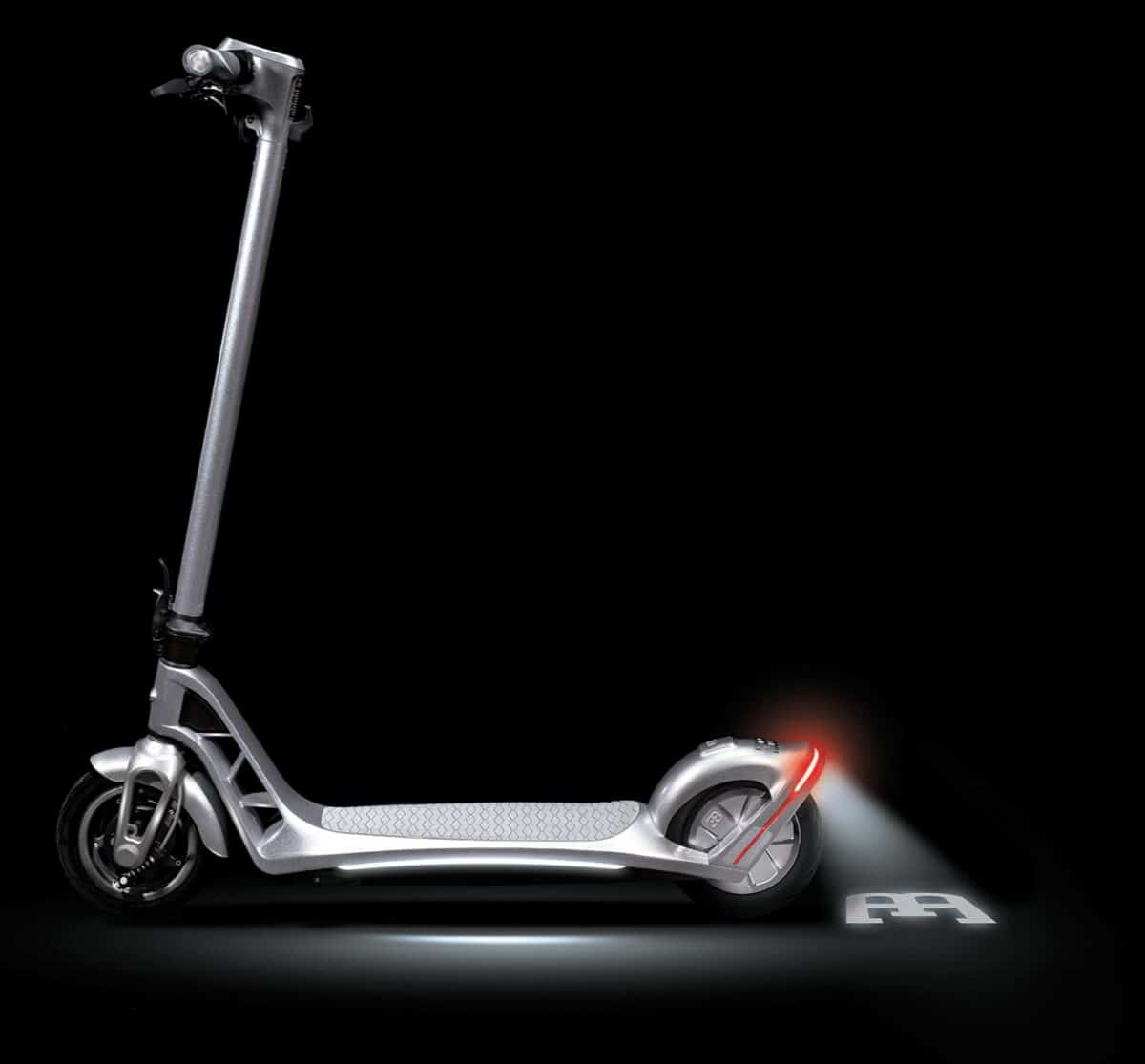 | | |
| --- | --- |
| Product Name | Bugatti 9.0 |
| Product Type | Electric scooter |
| Manufacturer(s) | Bugatti, Bytech |
| First Introduced | January 2022 |
| Price | $900-1,200 |
| Top Speed | 18.5 MPH |
| Battery | 36V |
| Power | 600 W |
| Charge Time | 4 hours |
| Range | 25 miles |
| Size | 42.75 in. x 19.01 in. x 47.16 in. |
| Weight | 35 pounds |
| Colors | Blue, silver, black |
Where to Buy Bugatti's Electric Scooter
Unlike its gas-powered sibling priced in the millions, Bugatti's electric scooter is not nearly as hard (or as expensive) to get your hands on. The Bugatti 9.0 is available at American retailers of all sorts. Luckily enough, these various retailers also bring with them varied prices. From sporting goods to big box stores to warehouse clubs and many others, here's how and where to get your hands on the electric scooter.
The History of the Bugatti 9.0: What to Know
The European Union plans to ban all gas- and diesel-powered vehicles starting in 2035. While it sounds far off, it's only about 12 years from now. Consumers have time before they need to start searching for an electric vehicle. A dozen years can sneak up on a company fast, especially if they haven't begun work yet. This is Bugatti's predicament, and it's a bold one. Mate Rimac, the company's CEO, says the French automobile company has no plans for electric cars until 2032.
That doesn't leave much time before the mandatory cutoff — two or three years by the time 2035 rolls around. That's not to say that Bugatti has not already entered the electric vehicle market, however. The manufacturer already has an EV ready to drive out of the store today. It's called the Bugatti 9.0. Done in collaboration with Bytech, the Bugatti electric scooter was first announced in January of 2022 at CES.
Looking like a top-of-the-line version of those battery-operated Bird or Lime scooters you might see parked all over the sidewalks of your nearest city, the Bugatti 9.0 Electric Scooter is a kick-type, not a seated type. This means it looks more like the Razor scooters you rode as a kid, unlike the Vespas you imagine Audrey Hepburn and Gregory Peck riding around on in Roman Holiday (1953). While it remains to be seen what other EV experiments Bugatti will dabble in before their 2035 deadline, the Bugatti 9.0 serves as a nice little baby step in the (mandatory) right direction.
Bugatti's Electric Scooter: The Finer Details
Before officially hitting the shelves in America later that summer, the 2022 CES crowd was treated to an in-depth rundown of the Bugatti 9.0's finer details. Equipped with a 600W motor powered by a 36V battery, Bugatti's electric scooter tops out at 18.5 miles per hour. It's a long way from Bugatti's typical top speeds — which border on 300 miles per hour — but pretty standard for an electric scooter of this type. Driven at top speed nonstop, you could feasibly ride the Bugatti 9.0 for about 75 minutes or so on a single charge.
Equipped with three different speeds — Economy (9 MPH), City (12.5 MPH), and Sport (18.5 MPH) — it's much more likely you'll get an excess of 75 minutes from the Bugatti 9.0. Bugatti knows it's about more than speed, though. It's just as much about the aesthetic.
When you first get a look at Bugatti's electric scooter, it's like all your questions about its purpose, and its modest specs disappear. This thing is as gorgeous as any of Bugatti's cars, just in two-wheeled form. Its sleek lines, its stylish architecture, its attention-grabbing color palette. If the Bugatti 9.0's specs made you question why this scooter has the Bugatti brand name attached to it, then the actual look and feel of the scooter will make it all make sense. It's a fantastic-looking product, even if it's a somewhat confounding one.
The Public's Response to the Bugatti 9.0
Understandably, the first thing the public did when hearing of Bugatti's electric scooter was scratch their heads. It's not an unwelcome move for the French automobile company, especially considering it allowed many to get their hands on a Bugatti vehicle when they otherwise might not have ever been able to. They aren't the first high-end vehicle manufacturer to get into the scooter business. After all, Ducati has been in the scooter business for years now. It's just… a little unexpected, that's all.
That's not to say unwarranted or unreasonable, though. The Bugatti name is up there with Ferrari, Lamborghini, Maserati, and McLaren as some of the most luxurious (and most expensive) vehicles known to man today. For this reason, it makes perfect sense why Bugatti would want to enter the consumer electronics market with a battery-operated scooter. Not only are electric scooters having a moment right now, but also the branding guarantees an increased amount of attention and sales compared to a $900-1,200 scooter without the Bugatti name.
American consumers nevertheless embraced Bugatti's electric scooter. However, consumers in the United Kingdom were less excited simply because privately owned e-scooters are illegal on public roads. For this reason, it's unlikely the Bugatti 9.0 will ever see the light of day over there. The near-$1,000 price point still makes the Bugatti out of reach for many consumers. In the end, the public sees the 9.0 as the first move toward Bugatti's EV future.