From the latest entry in the Marvel Cinematic Universe to the next installment in the Fast & Furious franchise to the theatrical re-release of a big-screen classic, seeing a movie on the largest screen possible is always the way to go.
To accomplish this, you really have two options these days: ScreenX or IMAX. But what's the difference between the two? What sets apart ScreenX vs IMAX, and which is the better option? Let's take a look at everything there is to know about the ScreenX vs IMAX debate, paying close attention to what makes each option unique.
ScreenX vs. IMAX: Side-by-Side Comparison
| | ScreenX | IMAX |
| --- | --- | --- |
| First Introduced | 2012 | 1967 |
| Developed By | CJ CGV | The IMAX Corporation |
| Screen Size | 270 degrees | 72′ x 50′ approx. |
| Aspect Ratio | 1:1.5-1:2.0 recommended | 1.43:1 or 1.90:1 recommended |
| Number of Screens | 364 screens | 1,700 screens |
| Number of Countries | 37 countries | 80 countries |
| Average Ticket Price | 100-200% more than the cost of general admission | 33% more than the cost of general admission |
| Supported Chains | Cineworld, Regal, B&B | AMC, Marcus, Regal, B&B |
ScreenX vs. IMAX: What's the Difference?
The above specs in the side-by-side comparison really help to underline what sets ScreenX vs IMAX apart. However, there's more to it than just these figures. The ScreenX vs IMAX debate is defined by six key differences, ranging anywhere from screen to production to cost to availability and beyond. Let's break down these six key differences below, beginning with the difference in screen size between ScreenX and IMAX.
Screen Size
Firstly, and above all else, there is a difference in screen size between ScreenX and IMAX. ScreenX is defined by its massive 270-degree screen that stretches across three of the four walls of the auditorium. It's a true panoramic effect.
IMAX, on the other hand, is defined by a screen that is equal parts tall and wide — but never straying from that one single wall. The closest thing IMAX has to ScreenX is OMNIMAX, which is typically projected on a dome for a similar wraparound effect to ScreenX screenings.
Filming Process
Secondly — and on a similar note to the previous point — we have distinctly different filming processes behind a ScreenX film and an IMAX film. To play in ScreenX, a filmmaker needs to choose to film for that format during the shoot, or edit the footage in post-production to fit that format.
For ScreenX, filming requires three cameras. For IMAX, the process requires the use of a certified IMAX camera. This is a lot more complicated for ScreenX than it is for IMAX, but neither one is necessarily the most convenient process.
Titles Shown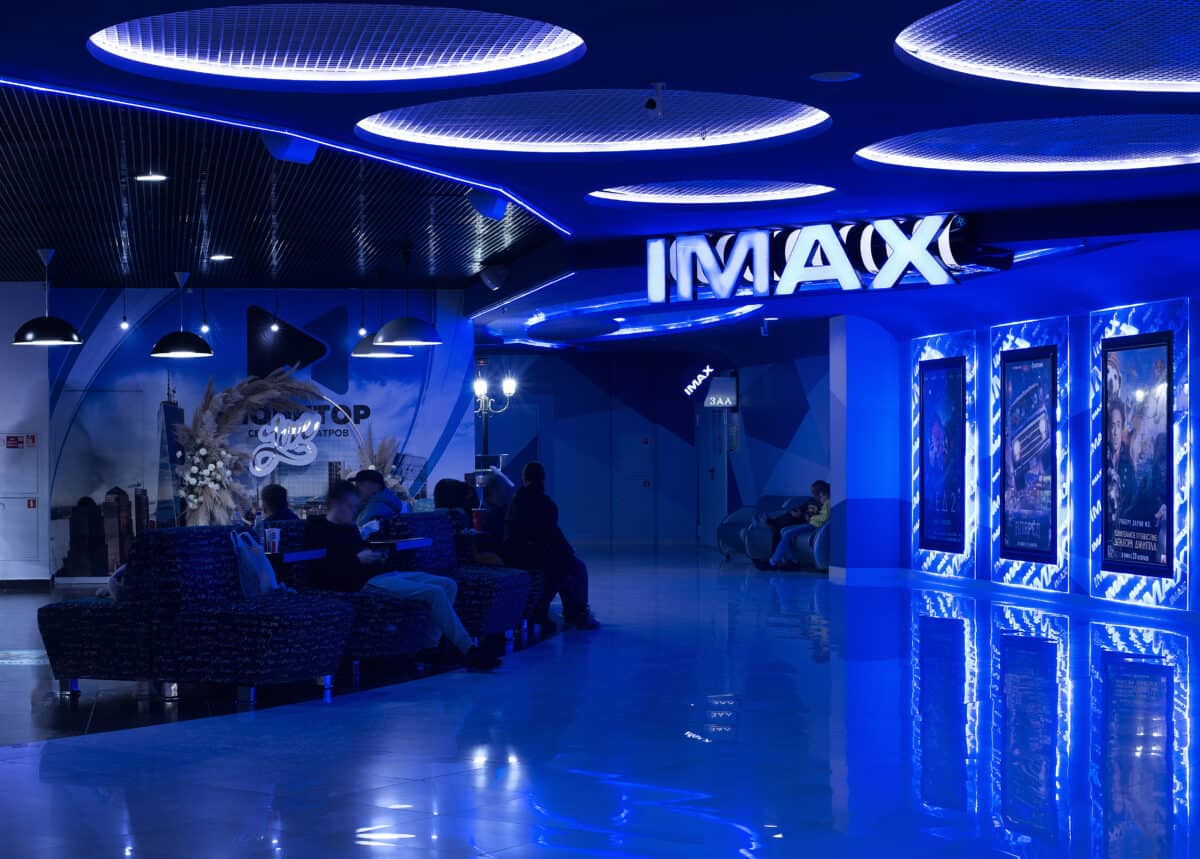 Thirdly, there's a difference in titles shown in each format. Disney tends to be the best about optimizing their films for ScreenX and, as a result, many of its top blockbuster films are shown in the format. This has recently included Black Panther: Wakanda Forever (2022) and Avatar: The Way of Water (2022).
IMAX is a different story, as films need to have been shot in IMAX to play in IMAX. There are no post-production editing tricks to gain IMAX certification after the fact. Still, a number of 2022's biggest films used IMAX: Nope, Fall, Doctor Strange in the Multiverse of Madness, and more.
Availability
Going hand-in-hand with the previous point about titles shown is the actual availability of each format in theaters nationwide. What good is it if a film is optimized for ScreenX or IMAX if you have no ScreenX or IMAX theater near you?
The latest figures have ScreenX at over 350 screens across nearly 40 countries globally. IMAX, by comparison, is sitting at over 1,700 screens throughout more than 80 countries across the planet. This makes IMAX far more accessible than ScreenX, especially here in America.
Price Per Ticket
The price of a movie ticket is one of the primary factors keeping moviegoers at home as opposed to in the theater. With this in mind, how does the price of a ScreenX movie compare to that of an IMAX film?
By and large, ticket prices vary depending on the state, and even the city. However, ScreenX movies tend to be two or three times more expensive than your typical general admission price. This is increased by ScreenX's frequent partnerships with 4DX theaters. IMAX, on the other hand, is only about $5 more than general admission, at most.
Profits
Lastly, let's take a look at the kind of profits both ScreenX and IMAX bring in annually. This might not sound like something that matters much to us consumers, but it nevertheless makes a difference in this debate.
After all, the one with lesser profits might not be able to last as long as the one with more money coming in annually. With that being said, ScreenX's highest-grossing weekend in America was just $1.17 million with the release of Avatar: The Way of Water. IMAX, by comparison, made $16.5 million during The Way of Water's opening weekend.
5 Must-Know Facts About Large Formats
Badalona, Spain is home to the world's biggest ScreenX auditorium. Located within the Màgic Badalona Shopping Center, the theater offers seating for 400 audience members. The TCL Chinese Theatres in Hollywood, California, more than doubles this size for the largest IMAX auditorium, boasting a seating capacity of over 900.
For a film to be optimized for ScreenX during filming, the filmmaker must use three cameras to capture a wide enough shot. However, all a filmmaker must do to optimize their film for IMAX during filming is simply use an IMAX camera. These cameras are larger and louder than your typical 35mm or digital film camera, making them ideal for action scenes.
There are, currently, seven digital film cameras certified to shoot in IMAX. These are the 4.5K Arri Alexa LF and Mini LF cameras, the 8K Panavision Millennium DXL2 camera, the 8K Red Ranger Monstro and Red V-Raptor cameras, the 6K Sony CineAlta Venice camera, and the 6.5K Arri Alexa 65 IMAX camera.
The Arri Alexa LF and Mini LF 4.5K cameras have been the IMAX cameras of choice for several recent Marvel Cinematic Universe entries, including Shang-Chi and the Legend of the Ten Rings (2021), Thor: Love and Thunder (2022), and The Marvels (2023). Dune (2021) and Dune: Part II (2023) also used the Arri Alexa LF and Mini LF.
Top Gun: Maverick (2022) is the highest-grossing movie released in ScreenX theaters, bringing in $60 million of its nearly $1.5 billion gross from ScreenX alone. Avengers: Endgame (2019) is the highest-grossing movie released in IMAX theaters, with this particular large format responsible for $150 million of the film's nearly $2.8 billion gross. Avatar: The Way of Water (2022) is not far behind Endgame, however — it's at $148 million in domestic IMAX profits and growing.
The History of ScreenX
ScreenX sets itself apart from other large-format theaters by stretching the screen beyond one single wall. As a matter of fact, ScreenX stretched across three of the four walls of the theater. This creates a panoramic effect, expanding the film projection to an astonishing 270 degrees.
Dubbed "IMAX, but sideways," ScreenX was first unveiled back in 2012. The founding company is CJ CGV, the same name responsible for popularizing 4DX theaters that move and shake with the action of the film. The ultimate goal behind the founding of ScreenX? To provide a more immersive, more event-like moviegoing experience that streaming services just can't deliver.
We know that IMAX films are typically filmed (at least partially) with IMAX cameras to properly fit IMAX screens. Similarly, ScreenX films must be formatted for ScreenX screens at some point during production. This could take place during the actual filming of the movie, or during the editing process in post-production.
More often than not, the latter is the most realistic option — in order to actually film for a ScreenX film, three cameras would need to be used. Oftentimes, it makes a lot more sense (both financially and practically) for a production to simply use CGI to expand the shot.
Today, there are more than 350 ScreenX screens throughout nearly 40 countries. Only a fraction of these screens is in America. This scarce availability — especially compared to the widespread availability of IMAX — has a direct impact on the number of Hollywood films made for the format.
It seems not many studios want to spend more time and money to adapt a film for ScreenX when IMAX is much more accessible. Still, there are a handful of blockbusters that indulge in ScreenX. In fact, Top Gun: Maverick (2022) is the highest-grossing ScreenX release to date.
How IMAX Competes
IMAX dates back 45 years before the advent of ScreenX, which certainly adds some additional perspective to this ScreenX vs IMAX debate. First originated when Graeme Ferguson, Roman Kroitor, Robert Kerr, and William C. Shaw discovered you could run 70mm film — twice the size of the standard 35mm film of the time — through a projector horizontally instead of vertically.
Not only did this increase the size of a vertical 70mm projection by nearly 3.5 times, but it also boosted the overall size of the projection by over 8 times compared to a 35mm projection. The format came next in a long line of similarly-minded thinkers who had tried and failed to boost the projection area of a feature film.
Throughout Old Hollywood's history, there had been numerous large-format systems, including CinemaScope, VistaVision, and even Cinerama (which, with its multiple projectors used to create a panoramic effect, closely resembled ScreenX, as well). IMAX has undoubtedly been the most successful of the bunch, standing the test of time for more than 55 years now.
For more than 40 years, IMAX relied entirely on 70mm film for its projections. But, in the late 2000s, the IMAX Corporation invested in the first IMAX digital projector. Though films were still optimized for IMAX with 70mm film during production, they were projected digitally — a method that saved theaters a significant amount of money and allowed for IMAX theaters to grow even larger globally.
With this move, IMAX blossomed from under 300 theaters to well over 1,000 in less than a decade. Today, that number has risen to over 1,700 globally.
ScreenX vs. IMAX: Pros and Cons
| Pros of ScreenX | Cons of ScreenX |
| --- | --- |
| 270-degree screen size | More expensive ticket |
| Often paired with a 4DX theater for an even more immersive experience | Very few ScreenX screens in the U.S. compared to IMAX |
| Many Disney films are optimized in ScreenX | Brings in much less in profits than IMAX |
| Adding more screens globally by the day | Panoramic experience can sometimes be overwhelming or overstimulating |
| Pros of IMAX | Cons of IMAX |
| --- | --- |
| Larger screen size than a traditional film | Films must be shot in IMAX to play in IMAX |
| Special cameras optimize films for IMAX | New movies only show in IMAX for limited times before giving up the screen to the next new film |
| Tickets are not much more than general admission | Some screens advertised as IMAX are not truly qualified to be IMAX |
| Hundreds of IMAX screens nationwide | IMAX 3D can sometimes look less convincing than RealD 3D |
ScreenX vs. IMAX: Which One Is Better?
Comparing ScreenX vs IMAX, it's clear that these two large-format options come with their own unique sets of positives and negatives. What's more, they're two very different experiences. One is an immersive 270-degree panoramic screen, the other is a taller and wider version of the traditional moviegoing experience.
But, given IMAX's more affordable price, its greater availability, and its emphasis on more height instead of longer width, the winner has to be IMAX. Perhaps ScreenX will take the lead years from now after continued growth, but for now, it's IMAX all day.