Are you looking for an immersive entertainment experience in your home? Consider bringing a projector into your space. The ultra-short Samsung Premiere LSP7T and LSP9T projectors are among the top contenders in the now-crowded home theater projector market. The two UST line-up projectors are known to deliver a whole new living room cinematic experience. They have a 4K resolution and UHD to compete with your smart TV. Both look identical and come packed with smart features many look for in a modern projector. But which one would make the best gear for your theater experience?
Here is a detailed comparison of Samsung the Premiere LSP7T vs. LSP9T to help you decide which suits you best.
Samsung the Premiere LSP7T vs. LSP9T: Side-by-Side Comparison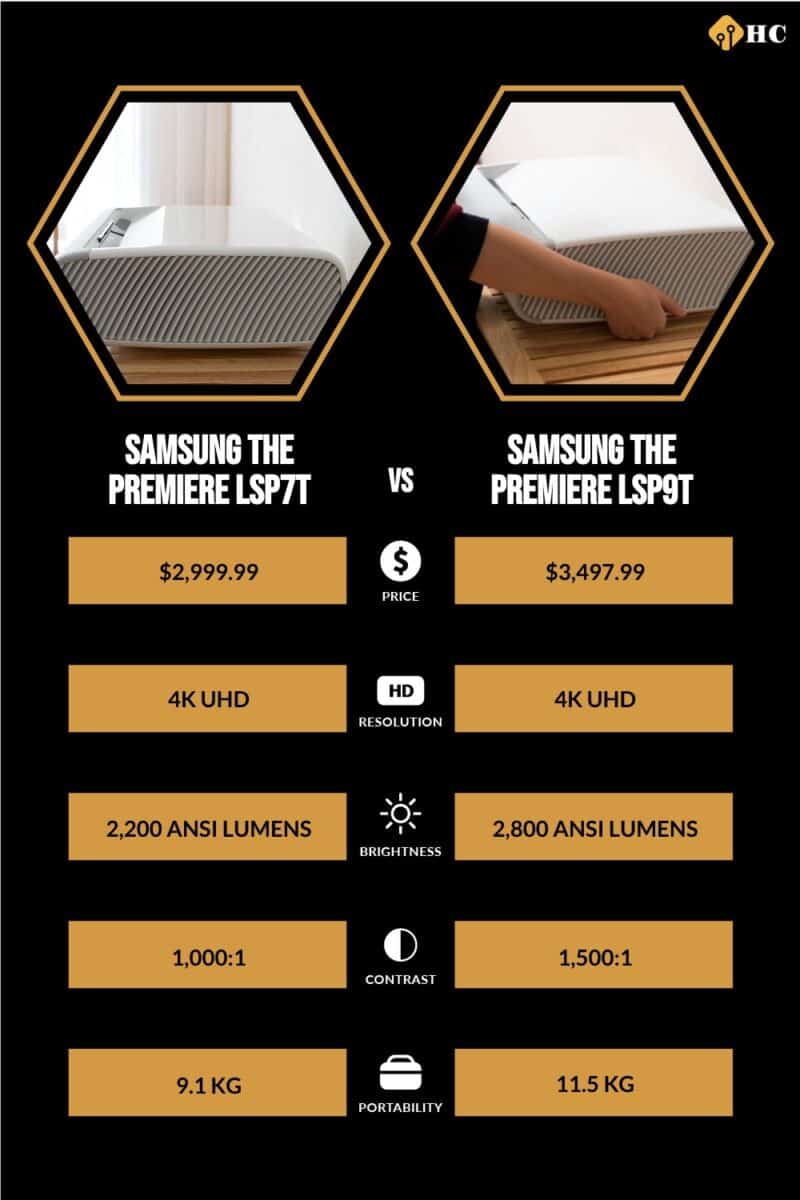 | Specifications | Samsung the Premiere LSP7T | Samsung the Premiere LSP9T |
| --- | --- | --- |
| Contrast | 1,000:1 | 1,500:1 |
| Light Quantity | 2,200 ANSI | 2,800 ANSI |
| Throw Distance | 20 cm – 40 cm | 10 cm – 20 cm |
| Projector Dimension (HxWxD) | 13 cm x 53 cm x 34 cm | 13 cm x 55 cm x 37 cm |
| Audio | 30 Watts 2.2 Channel | 40 Watts 4.2 Channel |
| Throw Ratio | 0.254 | 0.189 |
| Weight | 9.1 kg | 11.5 kg |
| Projection Size | 120-inch (Max), 90-inch (Min) | 130-inch (Max), 100-inch (Min) |
| Operating System | Tizen | Tizen |
| Lighting Source | Laser Technology | Triple Laser Technology |
We earn a commission if you make a purchase, at no additional cost to you.
Samsung the Premiere LSP7T vs. LSP9T: What's the Difference?
Premiere LSP7T and LSP9T are impressive ultra short throw projectors with HDR+ support but differ in various aspects.
Image Quality
Ideal for dark rooms, Samsung the Premiere LSP7T has an image contrast of 1000:1 and claims 2200 ANSI Lumens of brightness. It uses phosphor lighting and a single laser. Unlike the LSP9T, this projector has a limited color gamut. Nevertheless, it projects vibrant, lifelike images on a screen size of about 2.29m to 3.05m. Hence it produces slightly smaller pictures than Premiere LSP9T, which projects images on a screen size of 2.5m to 3.3m
The Premiere LSP9T image contrast clocks 1,500:1 and boasts 2800 ANSI Lumens of brightness. It uses triple laser technology and hence has a wide color gamut meaning it delivers impeccable details and images with more shades and sharper contrast than the LSP7T.
However, both projectors have fine-tuned shades that deliver natural and vivid images. The HDR10+ gives the Samsung models unique detail and color, and the UHD Processor optimizes the projector's performance for incredible and crispy images.
Audio Quality
Samsung the Premiere LSP7T has a powerful sound thanks to its Dolby Digital Plus technology. It fills your living room with clear and rich sounds from all the TV shows and movies. Generally, the model blends perfectly with any at-home activities. So, it is equipped with 30W speakers and a 2.2-channel sound system.
Similarly, Premiere LSP9T uses Digital Plus Enjoy for its powerful sound on streamed content and shows. However, it has a louder and higher sound quality than LSP7T. Acoustic Beam, built-in woofers, 40W speakers, and 4.2 channels sound system give it an advantage over the Premiere LSP7T. The projector fills your space with deep and immersive sound, with its soundbar's directional sounds heightening your entertainment experience.
LSP7T and LSP9T have excellent sound output. They have an HDMI to transmit audio to external sound units. However, you will need equipment for a complete cinematic setup to connect the projectors to A/V receivers. Alternatively, you can use optical audio connections and Bluetooth to enhance sound output.
Design and Performance
Samsung the Premiere LSP7T and LSP9T have a compact design ideal for a smaller space. Their attractive and striking white chassis integrates well with various environments. Also, the premium fabric around the frontiers blends with any home décor. The sleek screenless models fall under the smart TV replacement categories and produce ultra-crisp canvas-sized images.
Both feature a power button on the front side and can connect with multiple speakers at the rear for a cinematic sound. They support USB flash drives and network projection, meaning you can connect either models to your ethernet for streaming services. They also feature a three High-Definition Multimedia Interface, so you can transfer the projector's commands, audio, and digital images and videos to a TV, laptop, or computer.
Even so, these projectors have features that distinguish them. For example, Samsung the Premiere LSP7T screen size measures 90 to 120 inches, while LSP9T has a larger screen measuring 100 to 130 inches. For clear, color-saturated images, the Premiere LSP7T projector should be set 20 to 40 cm from the wall or screen, while the LSP9T projector 10cm to 20 cm.
LSP9T projector sits closer to the screen than LSP7T.
Certifications
Like all Samsung 2019 QLED and 4K UHD televisions, the Premiere LSP7T and LSP9T projectors comply with the CTA 4K Ultra High-Definition connected industrial specifications. They are the first HDR10+ projectors to be certified. However, the LSP9T has the upper hand over its smaller successor, LPS7T, as it brings a bigger cinematic screen experience. Nevertheless, both have been inspected and tested and have turned out to be a hit. Both have a picture mode that allows you to watch your favorite TV shows and Live programs in their original image, among other amazing features.
Pricing and Availability
The Premiere LSP9T projector comes with a hefty price tag. Thus, if you want a more affordable option of the Samsung premier line, consider the LSP7T model. It costs about $1,233 less than LSP9T. Both projectors are available at all leading dealers country-wide, including Amazon.
Samsung the Premiere LSP7T vs. LSP9T: 5 Must-Know Facts
Premiere LSP9T has an eye protection mode.
Premiere LSP7T laser has a lifespan of approximately 20,000 hours.
LSP9T and LSP7T projectors have the same resolution, 3840 x 2160 pixels.
LSP7T images measure 2.28m to 3.04m diagonally.
The Premiere LSP9T comes with a digital keystone correction.
SAMSUNG 130" Ultra Short Throw Laser Projector (LSP9T)
Advanced triple laser technology & ultra-bright 4K resolution
Super easy control with lots of enhancements
Compact projector with UST technology
Built-in voice assistants (Bixby and Google)
Powerful 40W spears for rich audio-experience
We earn a commission if you make a purchase, at no additional cost to you.
Samsung the Premiere LSP7T vs. LSP9T: Which One Is Better?
The decision to buy a Samsung Premiere LSP7T, or LSP9T depends on your financial plan and desired features. If you want a triple laser projector, go for the premier LSP9T. A premium Laser TV with advanced features, the LSP9T has a price tag of about $3,497.99.
The LSP7T model would be a fantastic choice if you're on a budget and are looking to infuse the future of laser technology in your theater room. Not only does it deliver consistently beautiful and clear images, but it is reliable when it comes to performance. Images appear exactly as filmmakers intended you to view them.
With either model, you can expect to enjoy an immersive and more relaxing visual experience. Both allow UHD movie streaming and gaming. Their great user interface, high sound quality, and 4K picture quality make them excellent projectors for any entertainment space.
Samsung the Premiere Technology Updates
Since their release in 2022, critics and users alike have praised both versions of the Samsung Premiere. Despite the high price tag on both versions of Samsung's ultra-short throw projectors, the Samsung Premiere LSP7T and LSP9T have been incredibly popular.
In 2022, Filmmaker Mode was added to both versions which allows users to watch movies with the director's intended ratio and frame rate, as well as color vibrancy. Additionally, both versions have received a firmware update which added new features like the ability to project HDR10+ content.
Looking Forward
In 2023, Samsung announced the Premiere will soon be available in Australia, the United Kingdom, and Canada. It was also nominated for several awards, a few to name being the CES 2023 Innovation and Good Design Award. Due to their low input lag, the Samsung Premiere LSP7T and LSP9T have been a huge fan of the ultra-short throw projector.
The image featured at the top of this post is ©Pixel-Shot/Shutterstock.com.