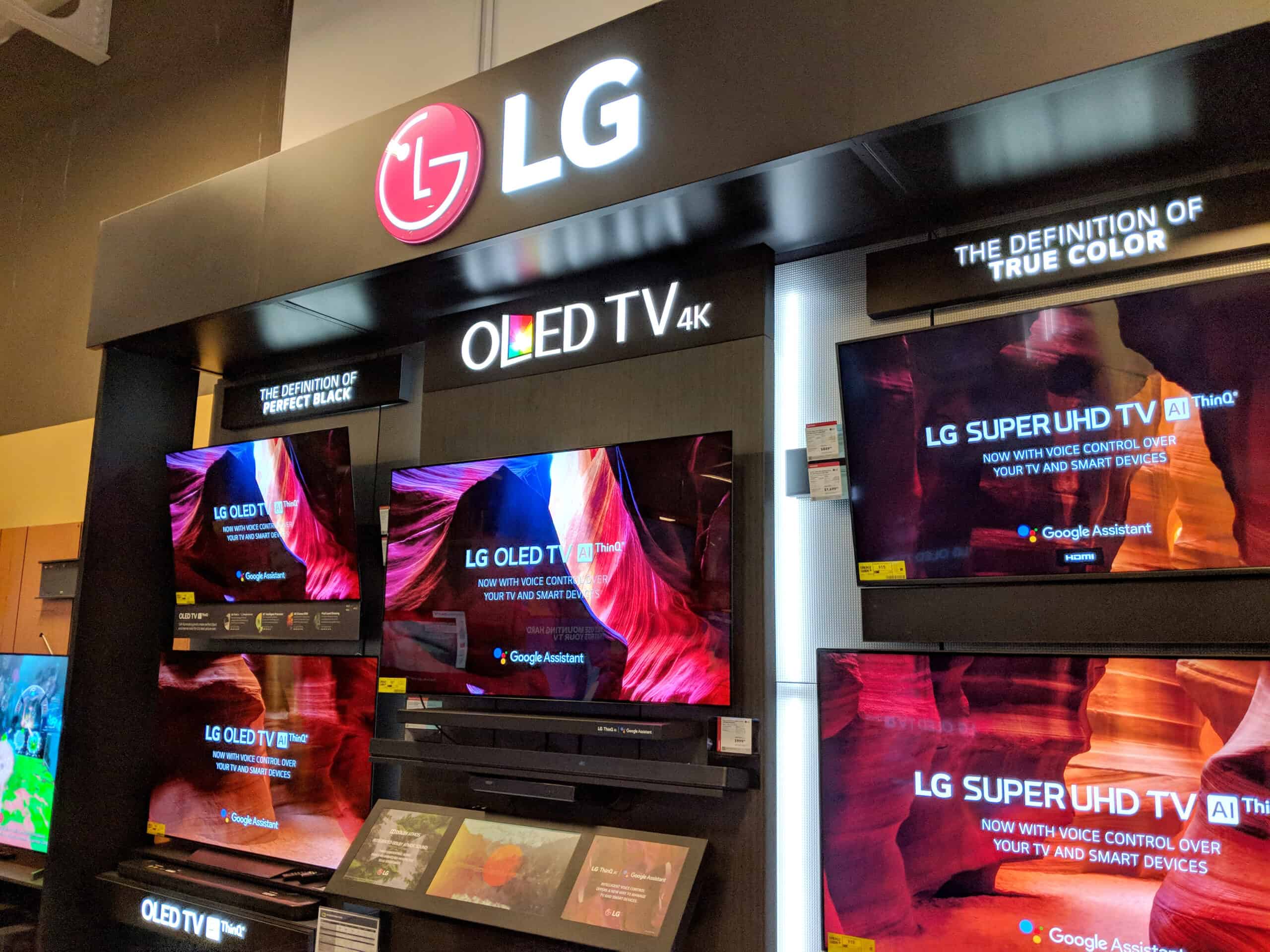 LG and Samsung are leaders in the TV arena, but the former dominated the game for a long time. LG is known for its exceptional panels and unrivaled image quality. However, with its newest lineup of QD-OLED TVs, Samsung tries to turn the odds in its favor. Will it succeed? Find out in this side-by-side comparison between the Samsung S95C QD-OLED vs. LG G2 TVs.
Samsung S95C QD-OLED vs. LG G2: Side-by-Side Comparison
High-end TVs in today's market feature OLED panels. These displays consist of billions of self-lighting pixels that output natural light, infinite contrast, and true-to-life colors. New-generation OLED displays improve technology, prolong the lifespan, and enhance panel brightness. Two top contenders include Samsung's QD-OLED, used in the S95C model, and LG's OLED evo, found in the G2. Here's how the two compare.
| | Samsung S95C QD-OLED | LG G2 |
| --- | --- | --- |
| Year | 2023 | 2022 |
| Display type | QD-OLED | OLED evo |
| Color accuracy | True-to-life | True-to-life |
| Display resolution | 4K | 4K |
| Picture processor | Neural Quantum Processor | α9 Gen 5 AI Processor 4K |
| Refresh rate | 144Hz | 120Hz |
| High dynamic range | Quantum HDR | Cinema HDR |
| Viewing angle | Ultra viewing angle | Wide viewing angle |
| Cloud gaming | Samsung Gaming Hub | Nvidia GeForce NOW |
| Ports | 4 HDMI, 3 USB | 4 HDMI, 3 USB |
| Available sizes | 55", 65", 77" | 55",65", 77", 83", 97" |
| Price | $1,600 – $4,500 | $1,700 – $21,000 |
Brand New with Great Specs
SAMSUNG 77-Inch OLED 4K S95C TV 2023
Neural Quantum Processor 4K can effectively manage color and contrast
1374 nits of peak brightness ideal for darker rooms
Watch your favorite TV shows and movies in HDR 10, HDR 10+, and HLG
Offers smart features for gamers like GameBar 3.0, Minimap Sharing 3, and Virtual Aim Point
Available in 55-inch and 77-inch models
We earn a commission if you make a purchase, at no additional cost to you.
Samsung S95C QD-OLED vs. LG G2: What's the Difference?
The main difference between Samsung S95C and the LG G2 is the OLED each TV offers. LG comes with an OLED evo, which the brand defines as the "evolved" version of the OLED. The manufacturer doesn't quite go into specifics about the evo component, but we know that it enhances brightness by about 30 percent.
Samsung features a QD-OLED display. The QD stands for quantum dot, a technology in the brand's QLED and QNED TVs. Essentially, quantum dots are nanoparticles of different diameters on the display's surface. Each nanoparticle reflects a specific wavelength of light, increasing brightness and color depth. Due to the different technologies used, the two displays differ in image quality and color accuracy.
Image Quality
Both the S95C and the G2 have OLED displays, and neither disappoints. However, thanks to the quantum dot component, the S95C has more tricks up its sleeves. This television manages to diminish all drawbacks of OLED panels, such as fading colors and fewer details in bright light conditions.
The TV can display true black and delivers infinite contrast. The result is impressive detail in shadows and crisp image quality. Similar traits are seen in the LG, where the evo panel enhances brightness and image sharpness. Overall, though, Samsung's display is a tad superior.
Color Accuracy
As you can expect, both the S95C and the G2 feature billions of colors which are, thanks to the self-lighting pixels, natural. Surprisingly, though, LG delivers more true-to-life hues than the S95C despite having an overall lower image quality.
The secret, in this case, is the absence of quantum dots. No film of nanoparticles means that the colors suffer no alteration as the light is reflected. Enhanced color accuracy can provide a more immersive experience, especially when enabling the FilmMaker mode.
Samsung S95C impresses in the color department. Its hues are ridiculously vivid and sharp, but a higher saturation can make them too vivid for some. The quantum dot film also increases the reflected blue light, but Samsung counterbalances it with an eye-protection mode.
AI processors modulate brightness and contrast automatically, delivering the best viewing experience based on ambient light conditions. Here, though, Samsung has the upper hand with its anti-glare display – something that the brand has come to perfect with its Frame series.
Sound Quality
Whether building a home cinema or needing a good sound for music streaming, audio is equally important in a TV as image quality. The S95C and the G2 feature Dolby Atmos, but the experience is pretty basic in the former. While this TV features Object Tracking Sound, it has no other bells and whistles. Meanwhile, the G2 features sound AI that up-mixes 2-channel audio into virtual 7.1.2-channel sound for a cinema-like experience.
Gaming
Image and sound quality are important for video streaming and gaming. But if you're looking for a gaming TV, specific features might interest you. Once again, LG G2 wins the top spot thanks to the brand's partnership with Nvidia.
No matter what gaming console you're using, the Nvidia G-Sync, FreeSync Premium, and Dolby Vision can deliver the ultimate gaming experience. If you don't have a console, cloud gaming via Nvidia GeForce NOW gives you quick access to many games.
Samsung S95C features FreeSync, but no Dolby Vision or Nvidia G-Sync exists. You get Game Motion Plus and super ultra-wide game view, though, so you can expect a fully immersive experience. Cloud gaming could be disappointing, though. Samsung's Gaming Hub doesn't have as many games as Nvidia, nor the same performance.
Smart Features
If LG G2 has the upper hand in gaming, Samsung S95C gains points with its smart features. From LG, you can expect basics like voice control and compatibility with smart home devices, a smart remote control, and an AI processor. However, that's about it.
Samsung spared no expense in packing smarts into the S95C. In addition to voice control and AI processor, you'll get loads of apps developed for entertainment, health, and productivity. Some of the most sought-after features include Google Meet for big-screen conferencing (a separate webcam is needed for the purpose), Samsung Health, and remote control of the TV – even when you're not at home – via SmartThings. The app also lets you control other Samsung devices in your home from your TV.
Design
Whether you need a TV for your home or office, the design is another important thing to keep in mind. LG G2 is part of the brand's Gallery Edition. All TVs in this series feature sleek lines and seamless integration into modern interior décor. The TV is designed for a wall-mounted installation and features a back panel that sits flush with the wall. Cables are minimal and easy to conceal.
Samsung S95C isn't part of a gallery series but it is stunning. You can mount it on a wall like the G2 or keep it on the minimalist stand. A lot thinner than the G2; the S95C looks a lot better on a wall, though. Overall, Samsung wins this round.
Price
LG released its G2 television in 2022, so you might expect it cheaper than 2023's S95C. And it actually is, unless you're considering the bigger sizes. When comparing the 77-inch versions of each TV, you'll find that the G2 is around $700 cheaper. However, the biggest, 97-inch option is ridiculously expensive, with a price closer to the LG's Signature Series.
Samsung S95C QD-OLED vs. LG G2: 5 Must-Know Facts
Samsung S95C features enhanced brightness and better image quality than the LG G2, but the G2 has higher color accuracy.
LG G2 is the best choice for gamers. The S95C also features cloud gaming and compatibility with consoles, but its performance is subpar compared to LG.
Samsung S95C is the best choice for smart workers. This TV allows for seamless big-screen conferences and comes with a bunch of productivity features.
LG G2 comes in more size options, with the largest size costing over $21,000. Samsung S95C is more expensive than the G2.
Both TVs have a sleek design, but the S95C has two mounting options and a more attractive overall appearance.
Best Premium Streaming Alternative
LG G2 Series 65-Inch Class OLED EVO Smart TV
8million self-lit OLED pixels provide stunning depth and clarity in 4K resolution with Dolby Vision HDR.
5th generation AI processor adapts to content for an optimum viewing experience.
Ideal for gamers with a variable refresh rate along with NVIDA G-SYNC and FreeSync technology.
Alexa-enabled with streaming support for HBO Max, Disney+, Hulu, Netflix and more!
We earn a commission if you make a purchase, at no additional cost to you.
Samsung S95C QD-OLED vs. LG G2: Which One Is Better?
Before choosing between Samsung S95C and the LG G2, ask yourself what you want in a smart TV. Is it the sharpest image, the most vivid colors, gaming, or other smart features? Samsung S95C is the best choice for image quality and smart features, but the G2 offers more accurate colors and plenty of gaming performance. You can also save a buck if you don't care about having the biggest screen out there. If you care about size, the G2 is still the right choice, with the biggest diagonal – although you'll have to drop some cash to have it. However, if you'd rather have the latest TV, you should opt for Samsung.