Upgrading to a big-screen TV can set you back a few thousand dollars. So, picking the right brand and technology is paramount. Two of the top contenders are LG and Samsung. The former is a pioneer in the OLED TV world. The latter introduced its newest QD-OLED TV at CES 2023. But when it comes to it, what is the difference between QD-OLED and OLED panels? Should you pick a Samsung or an LG TV? See how the Samsung S95C QD-OLED vs. LG C1 compares to find the best TV for you.
Samsung S95C QD-OLED vs. LG C1: Side-by-Side Comparison
Samsung S95C is a new entrant recently released on the market. Its greatest highlight is the improvement it brings to OLED panels, adding a layer of quantum dot nanoparticles meant to enhance brightness. LG C1 has been around for a while. Launched in 2021, it is one of the standard OLED TVs from the brand. It features stunning picture quality, but do color accuracy, and image quality suffer compared to the latest technology? Here's how the Samsung S95C QD-OLED vs. LG C1 compares.
| | Samsung S95C QD-OLED | LG C1 |
| --- | --- | --- |
| Launched | 2023 | 2021 |
| Display type | QD-OLED | OLED |
| Color accuracy | True-to-life | True-to-life |
| Display resolution | 4K | 4K |
| Picture processor | Neural Quantum Processor | α9 Gen 4 AI Processor |
| Refresh rate | 144Hz | 120Hz |
| High dynamic range | Quantum HDR | Cinema HDR |
| Viewing angle | Ultra viewing angle | Wide viewing angle |
| Cloud gaming | Samsung Gaming Hub | Stadia |
| Ports | 4 HDMI, 3 USB | 4 HDMI, 3 USB |
| Available sizes | 55", 65", 77" | 48", 55", 65", 77", 83" |
| Price | $1,600 – $4,500 | $1,300 – $4,000 |
Brand New with Great Specs
SAMSUNG 77-Inch OLED 4K S95C TV 2023
Neural Quantum Processor 4K can effectively manage color and contrast
1374 nits of peak brightness ideal for darker rooms
HDR 10, HDR 10+, and HLG
Offers smart features for gamers like GameBar 3.0, Minimap Sharing 3, and Virtual Aim Point
We earn a commission if you make a purchase, at no additional cost to you.
Samsung S95C QD-OLED vs. LG C1: What's the Difference?
If you're looking for your first big-screen TV or you're simply unfamiliar with display terminology, OLED and QD-OLED may not mean much. In fact, the difference between the two display types is subtle. OLED is an acronym for organic light-emitting diodes. The organic component allows these LEDs to turn on and off on their own. OLED displays can achieve true black and deliver infinite contrast, increasing image quality compared to all other display technologies.
QD-OLED is a type of OLED display that also features quantum dot technology. Quantum dot refers to a film of nanoparticles. This film coats the display, each nanoparticle enhancing a specific color and increasing the brightness. QD-OLED mitigates the loss of image quality in bright light, which OLED displays are notorious for. LG implemented a similar technology that uses micro-lens arrays. However, the C1 features standard OLED panels that don't have MLAs or quantum dots. Due to this reason, Samsung S95C wins almost every round.
Image Quality
LG OLED displays rocked the TV market when they debuted in 2010. From the start, these panels delivered infinite contrast and detail-rich images. They had a drawback, too, in the loss of image quality in bright light conditions. However, LG improved its panel designs over the years to increase display lifespan and achieve exceptional image quality in all light conditions.
LG C1, released in 2021, features one of these upgraded panels. However, while image quality is exceptional, it fades compared to the S95C. Combining quantum dots with OLEDs, Samsung's TV delivers brighter images and crisper clarity. Like the C1, the S95C has self-lighting pixels that return true black and infinite contrast.
Samsung's ultra viewing angle is as wide as LG C1's. You can enjoy superb image quality no matter where you're sitting, while 4K upscaling enhances the image quality of sub-4K content to deliver the best viewing experience.
LG C1 features 4K upscaling, but something you might like is the FilmMaker mode. When enabled, this mode disables all effects and the upscaling, allowing you to enjoy a viewing experience exactly how the film's director intended. This feature is not available on the S95C.
Color Accuracy
While the S95C has enhanced brightness, LG C1 wins in terms of color accuracy. This television features a standard OLED panel, the organic component in the self-lighting diodes reducing the blue light effect and emitting natural light. The result is true-to-life colors that increase image quality in normal and dim light conditions.
Samsung coated the OLED panel of the S95C in a quantum dot film. Beyond brightness, the nanoparticles change how light is reflected, making colors more vivid. The result is higher color saturation and bright hues. The visuals are stunning, but the colors are not true-to-life. Sure, color accuracy is good, but if you crave natural hues, the C1 is a better choice.
Design
At first glance, the S95C and the C1 feature a standard design. However, the difference is in the details. LG C1 features modern lines and may look outdated compared to the newest releases. This TV comes with a stand, or it can be wall-mounted, but the back is not designed to flush with the wall. The stand also looks minimalist from the front, but it's rather chunky when seen from the side, and there is no way to hide the cables.
Ideal for modern living rooms and offices, Samsung S95C features an ultra-thin display (of only 0.4 inches) that can be mounted flush with the wall. A hidden cable system helps maintain a flawless appearance regardless of the mounting option (on a wall or freestanding). The stand features fluid, modern lines that increase the visual appeal.
Size-wise, both TVs come in various options, but LG wins in this department. The C1 comes in five sizes, from 48 to 83 inches. Samsung S95C is only available in three sizes: 55, 65, and 77 inches. While these are the most popular big-screen TV diagonals, more options make the C1 a better choice for more people.
Smart Features
In today's world, a big-screen TV can be much more than an entertainment device. If you're looking for the perfect office TV designed for productivity, the S95C doesn't disappoint. Samsung crammed lots of smarts in its design, including a workspace, Microsoft 365, compatibility with a mobile cam, and Google Meets, to name just a few.
For home users, the presence of Samsung Health and SmartThings apps enhances versatility, not to mention TV-to-mobile and mobile-to-TV mirroring or the possibility to split the screen and use two streaming services simultaneously.
LG C1 doesn't have all these smarts. You can expect the usual, such as built-in voice control and compatibility with external Alexa devices or Google Home, but that's about it. Apps are also limited and mostly focused on TV channels and streaming services.
Gaming
If you're an avid gamer, you might have heard that LG paired with Nvidia and offers GeForce NOW cloud gaming. However, that's not the case for the LG C1. This model was released in 2021 when Stadia was still an option – Google closed the platform in January 2023. GeForce NOW may become available in software upgrades, but LG hasn't confirmed it.
Samsung S95C features cloud gaming via the Samsung Gaming Hub. The Hub's library is not as expansive as Nvidia's, but it has plenty of options in all categories. If you have a gaming console and don't care about cloud gaming, you'd be happy to know both TVs have plenty of optimizations for smooth and rewarding gameplay.
Price
An important factor when buying a new TV is the cost, and this is one of the few departments where LG C1 is a clear winner. The largest size, the 83-inch LG C1, currently costs $3,999. Samsung S95C – the 77-inch version – has a $4,499 price tag.
The difference might not seem a lot, but you have to take into account the difference in size between these devices – the 77-inch from LG is cheaper.
Updates to the Samsung S95C QD-OLED and the LG C1
Since February 2023, there have been some updates to both of these televisions. They include:
Firmware updates: Both Samsung and LG have updated their firmware for these TVs to improve the overall image quality and fix some minor bugs.
New features: Now the Samsung S95C QD-OLED and the LG C1 have both added support for advanced features, like Dolby Vision IQ and AMD FreeSync Premium.
Positive reviews: Critics rate both TVs highly. They appreciate their image quality and features.
Looking Ahead for the Samsung S95C QD-OLED and the LG C1
The future technologies to be introduced in the Samsung S95C QD-OLED and the LG C1 televisions over the next six to 18 months remain uncertain. However, possible enhancements might be improved brightness, allowing for a more immersive experience. Additionally, they could feature a wider color gamut to display even more colors. Furthermore, the possibility of supporting new features, such as novel HDR formats, cutting-edge audio formats, or advanced smart home capabilities, might be on the horizon.
Samsung S95C QD-OLED vs. LG C1: 5 Must-Known Facts
S95C QD-OLED TV is part of Samsung's 2023 lineup of high-end TVs. LG C1 is an affordable OLED TV released in 2021.
LG C1 has poorer image quality in bright light compared to the S95C, but it features more natural and true-to-life colors.
Samsung S95C features bright, vivid colors that are Pantone-validated, but a higher saturation and an increased amount of blue light diminish color accuracy.
LG C1 is available in more sizes and is a better choice for those looking for a budget OLED TV.
Samsung S95C is a better choice for gamers or offices as it supports cloud gaming (which is not available in the C1 anymore), Google Meet, and other productivity tools.
Reliable Choice
LG C1 65-Inch Class OLED
Self-lit OLED pixels with deep black and rich colors
Stunning pictures and excellent sound
Cinema HDR, Dolby Vision IQ, and Dolby Atmos
Fantastic gaming monitor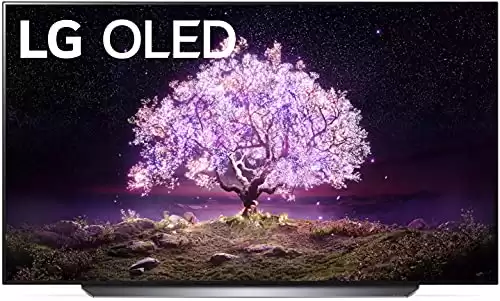 We earn a commission if you make a purchase, at no additional cost to you.
Samsung S95C QD-OLED vs. LG C1: Which One Is Better? Which One Should You Use?
Ultimately, the choice between Samsung S95C and the LG C1 comes down to your needs. The former is the perfect option if you're looking for a TV with the latest technologies. Plenty of smart features and apps make this television a good choice for smart workers, gamers, and movie enthusiasts.
LG C1 doesn't come with all the smarts but is available in more sizes. It is also more affordable, with prices expected to drop even more as LG will release new TVs this year. If you're on a budget and want a quality OLED, you can't go wrong with this option.
The image featured at the top of this post is ©Kobby Dagan/Shutterstock.com.