Samsung and Sony are two heavyweight names in the TV market. The brands are comparable in terms of prices and product quality, but the smallest details can make a difference when you want to upgrade your television. If you're wondering how 2023's Samsung QN95C QLED vs. Sony A90J compare, this guide might help you pick the TV.
Samsung QN95C QLED vs. Sony A90J: Side-by-Side Comparison
QN95C QLED TV is Samsung's 2023 upgrade of the QN95B series, which was released in 2022. Sony A90J is a bit older. The TV launched in 2021, but the OLED technology makes it a worthy opponent against Samsung's new TV. Both televisions deliver crisp images and outstanding overall quality, but Sony is somewhat disappointing in the smart and gaming departments. Briefly, here's how the Samsung QN95C QLED vs. Sony A90J compares.
| | Samsung QN95C QLED | Sony A90J |
| --- | --- | --- |
| Release year | 2023 | 2021 |
| Display type | Neo QLED | OLED |
| Color accuracy | True-to-life | True-to-life |
| Display resolution | 4K | 4K |
| Picture processor | Neural Quantum Processor 4K | Cognitive Processor XR |
| Refresh rate | 144Hz | 120Hz |
| High dynamic range | Quantum HDR+ | HDR Remaster |
| Viewing angle | Ultra viewing angle | Wide viewing angle |
| Cloud gaming | Samsung Gaming Hub | N/A |
| Ports | 4 HDMI, 2 USB | 4 HDMI, 3 USB |
| Available sizes | 55", 65", 75", 85" | 55", 65", 83" |
| Prices | $1,900 – $5,800 | $1,400 – $4,500 |
Best for Movie Enthusiasts
Sony A90J 65-Inch TV
4K Ultra HD
Supports Dolby Vision, HDR10, and HLG
XR Motion Clarity (120Hz)
Supports HDMI 2.1
Hands-free voice control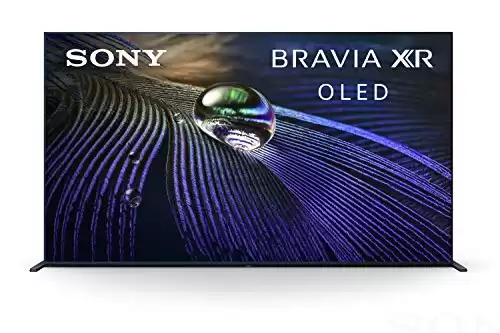 We earn a commission if you make a purchase, at no additional cost to you.
Samsung QN95C QLED vs. Sony A90J: What's the Difference?
When choosing a new TV, options often come down to display technology. Samsung QN95C is a Neo QLED TV. Sony A90J features an OLED panel. Learning the differences between these two technologies is the first step to deciding the right television.
Image Quality
While most modern televisions offer 4K resolution and spectacular visuals, there is an essential difference between QLED and OLED TVs. QLED, a term implemented by Samsung, refers to an LCD panel covered by a quantum dot film. Quantum dots are nanoparticles developed to reflect light in a certain way. Their main purpose is to enhance color accuracy, but they can also increase brightness and contrast.
Samsung's newest televisions use Neo QLED technology, which is basically an upgraded QLED. The main difference between Neo and non-Neo panels is the use of mini LEDs in the former. Mini LEDs increase the dimming zones of the panel, enhancing contrast and delivering more true-to-life blacks. Image quality is greatly improved compared to standard QLED, the effect being closer to that provided by OLED TVs.
OLED panels are made of self-lighting pixels rather than backlit LCDs. Their greatest strength is the ability to turn each pixel on and off as needed, so they can display true black. Contrast on these panels is infinite, a feature that increases the amount of detail you can see in shadows. The image quality is superior compared to QLED, but only if you're not watching the TV in bright light.
In bright environments, the amount of contrast and color accuracy of OLED panels diminishes. OLED (organic light-emitting diodes) also have a shorter lifespan compared to mini LEDs.
Beyond display technology – after all, both TVs deliver crisp and clear images with a good amount of detail and contrast – another thing that matters is the viewing angle. A wide viewing angle enhances the user experience, allowing you to watch the full image with little distortion, no matter where you sit in the room. In this aspect, Samsung QN95C is superior, its ultra-viewing angle allowing you to sit anywhere in relation to the screen. Sony A90J has a wide viewing angle, but not as wide as Samsung.
Color Accuracy
While Samsung QN95C has impressive color accuracy, Sony A90J is exceptional. A90J's main advantage is the OLED panel that increases contrast. Images display a higher amount of detail in shadows and true-to-life colors that are hard to achieve with a QLED panel – be it a Neo QLED one.
Samsung QN95C comes with a billion colors that deliver true-to-life quality. When compared side-by-side, this TV's colors are not as vibrant as Sony's, but this doesn't mean you'll be disappointed. If you don't watch the TVs side by side (and chances are you won't have both in your living room), the difference is too negligible to notice.
Both televisions use AI upscaling to improve scenes automatically, but Samsung has some aces up its sleeves. One is the Neo Quantum HDR+, an improved high dynamic range compared to previous Samsung versions and Sony that delivers superb brightness and vivid colors.
Real Depth Enhancer is another feature that increases contrast for realistic pictures, while the Pantone-validated color gamut can easily compete with OLED TVs. Meanwhile, Sony A90J delivers outstanding, true-to-life colors in standard and dim light conditions, but color accuracy could suffer in bright environments.
Smart Features
A great difference between Samsung QN95C and Sony A90J can be seen in the smarts of each television. Sony comes with the usual voice control integration and an AI processor that improves image quality. However, that's about it.
The QN95C, on the other hand, integrates lots of smart features. Like most Samsung TVs, it features built-in Alexa and Google Assistant. The TV is also compatible with external smart home devices and integrates features that can suit gamers, smart workers, and cinema enthusiasts alike.
TV smarts include SmartThings – Samsung's app that allows seamless control of all smart home devices from the brand, including TVs, AC, refrigerators, and more. The NFT universe allows you to appreciate your favorite NFTs on a big screen.
Smart workers can access Microsoft 365 directly on the TV or use the conference mode – a separate camera is required for this feature. Similar to the Samsung QN90B, the QN95C features TV-to-mobile and mobile-to-TV mirroring.
Gaming
Beyond watching TV and building the perfect home cinema, a big-screen television can also satisfy gamers. Both Samsung and Sony feature powerful processors that fast load and process images. This means good in-game resolution and no lag. The difference is in the types of platforms you can use.
As one would expect, Sony is PlayStation-ready. This TV is ideal for owners of PlayStation 5 that don't care too much about built-in cloud gaming. In fact, the television doesn't have any cloud gaming options, perhaps because the company assumes that you'd be accessing it via PS. While PS5 compatibility is nice and all, the A90J might not be the best television for gamers who own another console or that don't want to buy a console at all.
If you're an occasional gamer and like the A90J better than Samsung, your only solution is to use a cloud gaming platform from the browser. Yet, it goes without saying that such an option means diminished gaming performance.
You won't have these troubles with the QN95C from Samsung. This television is built for the Xbox rather than PlayStation, but it is compatible with the PS, too. If you don't own a gaming console and don't want to buy one, you can find a myriad of games in the Samsung Gaming Hub. Hub content may vary based on your location, but popular games are generally available around the world.
Price
Price-wise, there aren't huge differences between Samsung and Sony TVs, but the former is slightly more expensive. Based on screen size, you could spend up to $5,800 for the QN95C. The largest version of the A90J costs around $4,498.
Samsung QN95C QLED vs. Sony A90J: 5 Must-Known Facts
Samsung QN95C is a Neo QLED TV that uses quantum dot technology and a mini LED panel. Sony A90J is an OLED TV.
Sony A90J provides crisp images and true-to-life colors, but color quality and image clarity might suffer in bright light conditions.
The QN95C has slightly lower image quality in normal and dim light conditions (compared to the A90J), but it performs better in bright light.
Sony A90J is compatible with the PlayStation gaming console but has limited cloud gaming options. Samsung QN95C features cloud gaming and seamless compatibility with Xbox and PlayStation consoles.
Samsung QN95C features more smarts compared to Sony. Apps include Microsoft 365, SmartThings, and built-in Alexa and Google Assistant.
The Samsung QN95C QLED and the Sony A90J: Recent Updates
Since February 2023, both the Samsung QN95C QLED and the Sony A90J received the following updates:
Increased brightness: The Samsung QN95C is now capable of reaching up to 2,000 nits of peak brightness, and the Sony A90J now reaches up to 1,800 nits of peak brightness.
Improved color gamut: The Samsung QN95C now covers 100% of the DCI-P3 color space. The Sony A90J now covers 100% of the DCI-P3 color space.
Improved contrast ratio: The Samsung QN95C now achieves a contrast ratio of 2,000,000:1, and the Sony A90J achieves a contrast ratio of 1,600,000:1. Both TVs produce more dynamic images.
Improved motion handling: The Samsung QN95C supports a 120Hz refresh rate, and the Sony A90J supports a 144Hz refresh rate. This makes both TVs great for gaming and watching sports.
Improved sound quality: The Samsung QN95C now features a 7.1.2-channel speaker system, and the Sony A90J now features a 5.1.2-channel speaker system.
The Samsung QN95C QLED and the Sony A90J: What Does the Future Hold?
The future looks bright for both the Samsung QN95C QLED and the Sony A90J with these possible updates we might see in the next six to 18 months:
8K resolution: Even though the Samsung QN95C QLED and the Sony A90J are currently 4K TVs, it's possible that they could be updated with 8K resolution.
HDR10+ and Dolby Vision support: Both the Samsung QN95C QLED and the Sony A90J support HDR10, but it's possible that they could be updated with Dolby Vision support.
MicroLED technology: MicroLED has the potential to offer even better image quality than QLED. It's possible TVs will use this technology in the future.
Samsung QN95C QLED vs. Sony A90J: Which One Is Better?
With a negligible price difference but different technologies and features, the choice between the QN95C and the A90J comes down to your needs. Samsung QN95C is a better choice for smart workers and avid gamers. The TV brings excellent image quality, true-to-life colors, and various smarts. Mobile-to-TV (and vice versa) mirroring makes it easy to switch between a big screen and your handset for conferences and even document editing.
If you want to save some bucks or simply want higher image quality, Sony A90J might be a better choice. This television features an OLED panel that delivers true-to-life color, infinite contrast, and an overall better image quality compared to Samsung. This television might also be your best choice if you have a PS console and don't care much about cloud gaming. Manufactured by the same brand, the A90J is one of the best TVs to use for PS gaming.
The image featured at the top of this post is ©8th.creator/Shutterstock.com.