When it comes to the best of the best of 4K TVs, there are a couple of noteworthy contenders considering the title of best 4K TV: the Samsung QN95C QLED vs. LG B2 OLED.
These TVs are loaded with the newest features that deliver an exceptional viewing experience and bring a new level of entertainment to your home theater or living room. If you're on the fence about which one is best for you, this article will settle the facts for you.
We'll examine the key features and specs that make these TVs stand out and ultimately determine which one is the winner.
Samsung QN95C QLED vs. LG B2: Side-by-Side Comparison
| Specs | Samsung QN95C | LG B2 |
| --- | --- | --- |
| Screen Size | 55-85" | 55-75" |
| Panel Type | Quantum Dot Mini-LED | OLED |
| Resolution | 4K UHD (3,840 x 2,160) | 4K UHD (3,840 x 2,160) |
| HDR Support | HDR 10, HDR10+ | HDR, HDR 10, HLG, Dolby Vision |
| Contrast Ratio | Near-Infinite | Near-Infinite |
| Colors | 100% DCI-P3 Coverage | 100% DCI-P3 Coverage |
| Refresh Rate | 144 Hz | 120 Hz |
Samsung QN95C QLED vs. LG B2: What's the Difference?
Both TVs look similar at first glance. And while they do share plenty of similarities, the devil is in the details. Let's peer a little closer into what separates the Samsung QN95C from the LG B2.
Screen size
The Samsung QN95C QLED and the LG B2 OLED come in various sizes and are great TVs for different room sizes. You probably wouldn't want to place either of these TVs in a small room, unless you want them to take up a whole wall.
In other words, they have a dominating presence that makes them the focal point of your attention. If you're assembling a home theater to wow your guests and thrill your senses, then both of these TVs have the size to make a great impact.
The QN95C starts with its smallest model at 55 inches and goes all the way up to a whopping 85 inches for the largest model. Similarly, the B2 OLED comes in with its smallest size measuring 55 inches at the smallest, and caps out at 75 inches.
As the primary difference here is the maximum size, the QN95C makes for a great home theater TV. If you have the space for an 85-inch TV and want a bright viewing experience, the QN95C is a great pick.
That said, while the B2 OLED from LG doesn't come as large as the QN95C OLED screen, it still looks great as a home theater TV at its largest 75-inch model. The OLED panel allows for an immersive contrast of inky blacks and bright whites, creating a delightful viewing experience in all three models.
Best for Movies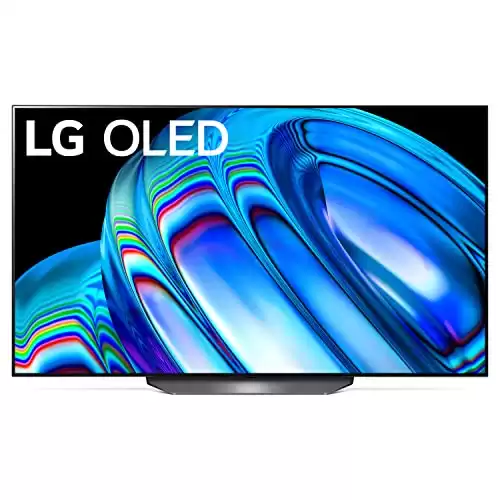 We earn a commission if you make a purchase, at no additional cost to you.
Gaming Performance
Harcore gamers used to say that gaming on a TV is a fool's errand, and that truly discerning players should opt for a gaming monitor instead. While picture quality on TVs used to be subpar to monitors, that is no longer the case. In fact, you can get an equally impressive and even better experience on one of these TVs.
If you're a next-gen gamer, the LG B2 OLED is an excellent TV to consider. With its Variable Refresh Rate (VRR) support, you can enjoy your favorite games with smooth and steady framerates in beautiful 4K resolution.
The B2 is able to perform as a gaming monitor thanks to VRR, which synchronizes the frame rate of the TV with that of your graphics card, ensuring the smoothest possible gaming experience. Another great feature for gamers is the B2's native refresh rate of 120 Hz.
This is coupled with AMD's FreeSync Premium and NVIDIA's G-Sync technologies, working together to reduce screen tearing or visual artifacts when gaming.
The QN95C, on the other hand, also boasts some impressive gaming features that cater to both PC and console gamers. The QN95C supports a 4K resolution with a refresh rate of 144 Hz if used with a PC and a 120 Hz refresh rate with consoles.
There's also VRR support with AMD FreeSync Premium Pro and NVIDIA G-Sync. Additionally, the QN95C has an automatic low latency mode that is activated whenever a console is detected by the TV, ensuring a fast and responsive gaming experience.
Resolution
Looking at the resolution of the QN95C from Samsung, you get a native 4K resolution of 3,180 x 2,160 pixels. The QN95C features AI upscaling, which can take SD and HD content and upscale it to 4K HDR content.
When it comes to AI upscaling, some upscaling can make images look softer, even after they've been upgraded to 4K. While this happens with the QN95C with some content, it can handle a large amount of HD and even SD content, making the upscaled images look sharp and clear.
Taking a look at the B2 OLED from LG, you also get a native 4K resolution along with some AI upscaling features. The B2 OLED uses LGs a7 Generation 5 AI processor, which is able to upscale content from SD and HD source material.
We also noted that upscaling content looked great on the B2, but there were times when color accuracy was sacrificed during the upscaling process.
Picture quality
The primary difference in the picture quality between the Samsung QN95C QLED and the LG B2 OLED is due to the panel technologies used in the TVs. The QN95C QLED features a Mini-LED backlight that lights up a Quantum Dot matrix that powers each pixel.
This allows the QN95C to get extremely bright, and the QN95C features a brightness surpassing some of the best OLED TVs. Color performance is wonderful on the QN95C, there's an incredibly bright picture, but the colors aren't drowned out, and colors appear vibrant and life-like.
The B2 OLED utilizes the same OLED panel technology that is in other, more expensive LG OLEDs. While OLED technology can get extremely bright, the B2 OLED doesn't come anywhere close to getting as bright as the QN95C. Quantum Dot technology can produce such a brighter light that the OLED panel technology doesn't replicate the brightness in the QN95C.
There are times when you want a bright image, and times when you would prefer it to be a little darker. If you're gaming for hours, you'll probably prefer things a little darker to save your eyes. On the other hand, if you use your TV to watch daytime television, you might want it a little brighter to stay clear in sunlit rooms.
Smart capabilities
The LG B2 OLED comes out of the box with the WebOS 22 operating system, one of the best smart TV platforms. The experience using WebOS 22 is user-friendly, with commonly used streaming apps located along the bottom of the interface and a 'Trending Now' section at the top of the interface. This section can be used to highlight recently used inputs and interesting offerings related to streaming.
The QN95C, on the other hand, utilizes Samsungs Tizen OS. Tizen allows viewers to take advantage of the powerful hardware inside the QN95C to enjoy a fast and responsive user interface that's highly customizable. Tizen offers a seamless experience, allowing you to switch between apps, streaming services, and games easily.
Audio quality
Sound quality is one area where TVs struggle again and again. Even high-end TVs are not immune to this phenomenon. Manufacturers have realized that most buyers are going to hook up a soundbar or home theater speaker system right away. If most buyers don't even use the internal audio, then who cares? But, if you are hoping to get a decent sound out of the box, you might be disappointed with these TVs.
The LG B2 OLED TV's out-of-the-box audio quality may not be up to par. While the dialogue is still audible, the thin build of the TV compromises the overall audio quality.
LG has attempted to improve the built-in sound by offering an AI Sound Pro mode, similar to Samsung's Object-Tracking Sound+. However, this mode falls short of recreating a Dolby surround sound experience and instead creates an unnatural soundstage.
Similarly, the QN95C QLED features an audio system with bass transducers and integrated speakers at the back of the TV. With Samsung's Object-Tracking Sound+ technology, the QN95C attempts to create an expansive sound field, but it doesn't result in the best immersive audio experience.
You'll want a compatible Samsung soundbar to enable the Q-Symphony feature, delivering an immersive audio experience by working together with the TV to optimize the audio output further.
Inputs and connections
Regarding connectivity options, the LG B2 OLED doesn't disappoint. It boasts four HDMI 2.1 ports, ideal for gamers. The B2 has three USB ports, allowing you to connect multiple storage devices and other USB accessories.
However, we have noted that several users have had problems with intermittent Wi-Fi drops during tests, so we would recommend using an Ethernet cable to connect to your network if you experience any Wi-Fi issues or plan on streaming games to the TV.
Lastly, you can greatly enhance the TV's audio quality by using the optical port to connect an audio system or soundbar.
The QN95C also doesn't let us down with port options, featuring four HDMI ports. There's enough space for connecting your favorite HDMI-powered devices with all ports supporting native 120 Hz refresh rates for smooth and seamless gaming.
There's also eARC support for soundbar support, ensuring that you can enjoy the best audio quality with your content. Additionally, charging devices or playing media files is a breeze thanks to two USB Type-A ports.
Samsung QN95C QLED vs. LG B2: 6 Must-Know Facts
Samsungs QN95C QLED has a glare-resistant screen that is optimal from different viewing angles.
The LG B2 provides an excellent OLED viewing experience at an entry-level price for OLEDs.
The Samsung QN95C QLED is Samsungs flagship TV with Quantum Dot technology.
The LG B2 is bright enough to fight glare from some ambient lighting, but it works best in a dark room.
The LG B2 handles motion blur excellently and is a great consideration for a gaming OLED.
The Samsung QN95C includes multiple bass transducers on the back of the TV panel to boost the audio quality of the integrated speakers.
Best Value
We earn a commission if you make a purchase, at no additional cost to you.
Samsung QN95C QLED vs. LG B2: Which One Is Better? Which One Should You Use?
If you're looking to buy a 4K TV, you really can't go wrong with either of these models. LG's B2 OLED and Samsung's QN95C QLED are two great TVs you can buy right now, but as we've highlighted, some major differences set them apart.
While both TVs will service you well, be it for gaming, movies, or just general TV watching, we recommend the Samsung QN95C to anyone with a bright room, as the quantum dot technology will get the screen bright enough to fight off any glare.
The B2 OLED is a great choice if you want the great contrast provided by an OLED panel alongside vibrant and lifelike colors. Additionally, the maximum TV size and its entry-level price point make it a great addition to a home office or bedroom.
While it doesn't get as bright and the colors aren't on paper as good as the QN95C, the LG B2 is one of the best TVs we've seen, and its faults aren't necessarily because of the TV itself, but rather from a flooded market with high-end OLEDs available.
Samsung QN95C QLED and LG B2: Technology Updates
As of now, there have been no recent technological updates to the Samsung QN95C QLED and LG B2 TVs. However, both Samsung and LG have assured users of their commitment to delivering regular software updates for these TVs.
Samsung QN95C QLED and LG B2: What Comes Next
Potential technological updates await the Samsung QN95C QLED and LG B2 TVs, elevating their already impressive capabilities:
Improved Image Processing: Both TVs boast powerful image processing engines, and future software updates hold the promise of refining their performance further. Expect enhancements in upscaling lower-resolution content, noise reduction, and even more accurate color reproduction.
New Features: Despite their extensive feature sets, both TVs have the potential to embrace exciting new functionalities. Future updates could introduce support for additional streaming services, enhanced gaming features, or innovative ways to control the TVs using voice commands.
Bug Fixes: As with any software, occasional bugs may surface. Rest assured that future software updates will address any identified issues, ensuring the Samsung QN95C QLED and LG B2 TVs continue to deliver a seamless and glitch-free performance.