QLEDs and OLEDs are famous for high-quality, crisp pictures. No wonder they have been the main focus of renowned electronics manufacturers for years. Samsung and Sony have been launching high-performing LEDs, OLEDs, and QLEDs, but Samsung's QN90B and Sony's A90J stole all the spotlight from others. Although they were released a couple of years ago, many people still indulge in the "Samsung QN90B vs Sony A90J" argument.
OLED screens are known for brightness, but modern QLEDs aren't less than them. The Samsung QN90B QLED combines Mini LED and Quantum Dot technologies to offer more or less the same contrast and HDR picture quality. It also has a mind-blowing audio output and a local dimming feature.
Sony A90J, on the other hand, is an efficient 4K TV that delivers exceptional picture quality from its self-emitting pixels. Its display creates magical blacks and an ideal contrast ratio no matter what you watch. It supports HDR and Dolby Vision for smooth picture motion, making it suitable for gaming. So, what are the most noticeable differences between the two? Let's find the answers in our Samsung QN90B QLED vs Sony A90J comparison.
Samsung QN90B vs Sony A90J Side-by-Side Comparison
| | Samsung QN90B QLED | Sony A90J OLED |
| --- | --- | --- |
| Initial release | 2022 | 2021 |
| Display | 4K HDR | 4K HDR |
| Screen size | 43″, 50″, 55″, 65″, 75″, 85″, 98″ | 55″, 65″, and 83″ |
| Resolution | 3,840 x 2,160 | 3,840 x 2,160 |
| Refresh rate | 120Hz (Up to 144Hz) | 120Hz |
| Picture processor | Neo Quantum Processor 4K | Cognitive Processor XR |
| Connectivity | WiFi5 and Bluetooth (BT5.2) | WiFi and Bluetooth (4.2) |
| HDR compatibility | HDR and HDR 10+ | HDR10, HLG, and Dolby Vision |
| Sound output | 60W | 60W |
| Price range | $1,199.99- 14,999.99 | $1,398.00 – $4,498.00 |
Best QLED
SAMSUNG QN90B 65-Inch Class Neo QLED 4K
Samsung's ultra-precise Quantum Mini LEDs
Quantum HDR 32X
Neo Quantum Processor 4K uses AI-based deep learning to analyze content and optimize it to full 4K
Anti-glare
Ultra viewing angle
We earn a commission if you make a purchase, at no additional cost to you.
Samsung QN90B vs Sony A90J: What's the Difference?
The Samsung QN90B and Sony A90J have different display types, yet you'll find them similar in many aspects. Both are one of the hottest LED choices with different standing points, making it pretty hard to choose one.
If you're on a similar bandwagon, here are some factors you must consider when purchasing a Samsung QN90B or Sony A90J.
Design
Starting with the design, you won't be disappointed with the design of both Samsung and Sony products. Both have sleek bodies with smooth edges and bezels. Since they were released one after the other, you'll find many similarities in their stands and accents.
The Samsung QN90B has a slim stand and bezels, taking up less space in total. The TV's back has a brushed aluminum look since it's made of high-quality plastic. Its rear area also has multiple channels to manage cables and horizontal etched lines.
This QLED also has ports for OneConnect Box that you can easily control when the TV is on a stand. However, accessing the inputs is difficult when the TV is mounted on the wall.
If you've previously used Sony OLEDs, you'll find no noticeable difference in the A90J's design. But the stand seems more sturdy and adjustable. You can set it in two ways: from the feet flat or slightly raised to have space for audio output. On the 83-inch A90J, you can also make the TV's feet face inward to achieve a smaller footprint.
This OLED has metal accents, which give it a sleek and fancy appearance. The cable management on the back is also pretty easy, consisting of cable portions and a cable tie. The rear area also consists of plastic ridges.
Like the Samsung QN90B, the Sony A90J doesn't have side-facing inputs, so you may find it hard to access them when the TV is wall mounted. Overall, both LEDs are thin, sturdy, and gorgeous-looking.
Display
Samsung QN90B's display consists of a Quantum Dots layer, giving it a high-end modern finish. This technology works on many tiny nanocrystals, which spark particular colors when the current passes through the TV. Samsung has also enhanced the contrast, brightness, and color combination in this QLED.
The display supports motion in a diverse range with its 120HZ refresh rate. The TV is compatible with various content in HDR10 and HDR10+ except for Dolby Vision HDR. That could be a bummer for some people. However, it won't make much of a difference altogether.
Sony A90J's display will delight you as well, especially its brightness in various modes, whether SDR or HDR. Compared to QLED, OLED TVs work on the electroluminescent film layer made of some sort of organic element. It radiates light when an electric current passes through the TV.
Different tests found Sony A90J one of the brightest OLEDs, but it's no match for Samsung QN90A or QN90B QLEDs. Yet, you'll love the overall ideal brightness and highlight combination in different scenes. In the SDR mode, the TV may not be consistent and show varying luminance levels. The biggest edge A90J has over its competitor is Dolby Vision HDR compatibility.
Overall, the Samsung QN90B has a slightly upper edge over its counterpart regarding display and brightness. But Sony A90J has Dolby Vision HDR, so it's your call!
Picture Quality
Another difference in our Samsung QN90B vs Sony A90J review is in the picture quality. The QN90B is integrated with Neo Quantum Processor 4K, which ensures crisp and fine pictures in different lighting.
This QLED has an amazing color contrast that offers an ideal black level in dark rooms. It also has a wide viewing angle layer, so you may experience a low native contrast. You can increase the contrast ratio of the TV by putting it on a high local dimming setting, but you can't disable it from the picture settings menu.
The Sony A90J's effective OLED panel delivers a near-infinite contrast ratio that produces superior blacks. The picture will appear deep, rich in colors, and slightly inky in dark surroundings, so you'll have the best movie nights.
The QN90B QLED is ideal for brighter, while the A90J OLED is perfect for darker rooms.
Refresh Rate
The Samsung QN90B supports variable refresh rates in all three formats, including 1440, 1080, and 4K. This way, this QLED works amazingly with different types of content while delivering fine, crisp picture quality.
The QN90B also has a low-frame rate compensation (LFC) feature that enhances the frames in games with low refresh rates. It also offers a maximum refresh rate of 144Hz, but only in the 43-inch and 50-inch variants.
Meanwhile, Sony A90J OLED has a 120Hz refresh rate with a variable rate reaching 144Hz. The TV is also compatible with G-SYNC, but the screen may start flickering with the NVIDIA RTX 3060 graphics card in a few games. But with the recent firmware update, you won't face any issues with 1080p signals at 120 fps.
Regarding the refresh rate, we can call it a tie between Samsung QN90B vs Sony A90J. Both devices are ideal for gaming.
Input Lag
A TV's input lag can make or break your gaming experience. A higher input lag rate translates to more delay between your controller and screen. It also indicates that the TV will respond slower.
The Samsung QN90B QLED has very low input lag, especially in "Game Mode." It can be even lower in the "Game Motion Plus," allowing you to enjoy your favorite regardless of their required frame rates. At the maximum setting, you can have 24.4ms of input lag in the Game Motion Plus mode.
On the other hand, Sony A90J also offers a low input lag rate, but it's relatively higher than other OLEDs on the market. Without the "Game" Mode, this rate can be even higher. So, always games in "Graphics" or "Game" Picture Modes for low latency.
The initial input lag for 4K at 120Hz was 14.7ms. With the current firmware update, it increased by 3ms.
Smart Features
The Samsung QN90B QLED operates on Tizen, which ensures a fast and simple interface. In the previous QLED models, you may have seen that the interface filled just the bar. Things are a bit different in the QN90B. The Tizen interface now covers the entire QLED screen, allowing you to easily navigate and find the content you want to watch.
While the TV has all the primary smart apps installed, you can also download your favorite ones from the Samsung App Store. You can also use the video call feature on this TV by installing a webcam, which is compatible with Google Duo.
Meanwhile, the Sony A90J operates on Google TV, similar to an improved version of Android TV. The navigation is pretty smooth and simple without any issues. You can also access your recently-used apps from a single hub where all your favorite content is organized. You can download different apps from the App Store and access them easily from the smart hub. This OLED supports and runs all the apps smoothly.
Samsung QN90B vs Sony A90J: 5 Must-Know Facts
Samsung QN90B QLED has many amazing options that make it a better choice over Sony A90J, especially the input lag rate and display. But the Sony A90J OLED outclasses its counterpart in many aspects. So, let's check out some interesting facts about both TVs:
Samsung QN90B is a QLED that works on Quantum Dot technology. At the same time, the Sony A90J is an OLED operating on an electroluminescent film layer. As a result, both give different types of display and picture quality.
QN90B QLED is ideal for brighter rooms. On the other hand, the Sony A90J is perfect for darker rooms.
The Samsung QN90B QLED has a Tizen OS. The Sony A90J is a Google TV like an Android one.
Playing games in "Game" Mode on Samsung QN90B QLED and Sony A90J will result in low input lag.
Sony A90J comes with a variable refresh rate of 144Hz in all three variants. However, Samsung QN90B only offers VRR in 43-inch and 53-inch options.
Best for Movie Enthusiasts
Sony A90J 65-Inch TV
4K Ultra HD
Supports Dolby Vision, HDR10, and HLG
XR Motion Clarity (120Hz)
Supports HDMI 2.1
Hands-free voice control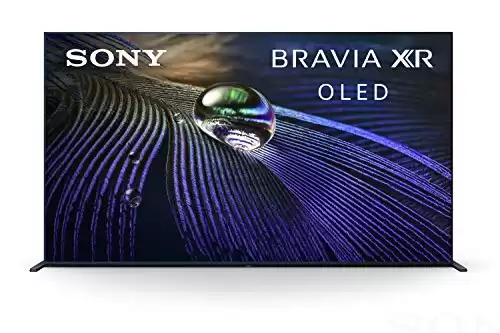 We earn a commission if you make a purchase, at no additional cost to you.
Samsung QN90B QLED and Sony A90J: Recent Updates
The Samsung QN90B QLED and the Sony A90J are high-end TVs that have received positive reviews for their picture quality, performance, and features. Both Samsung and Sony have made some updates to their TVs since February 2023, which include:
Samsung QN90B QLED
New processor: The QN90B has been updated with the Neural Quantum Processor 8K, which improves image quality by upscaling lower resolution content to 8K and by reducing noise and artifacts.
New feature: Object Tracking Sound+ is a new feature that uses AI to track the movement of objects on the screen and adjust the sound accordingly, which creates a more immersive audio experience.
Larger sizes available: Larger sizes are available of the QN90B, including an 85-inch model.
Sony A90J
New processor: The A90J has a new processor called the Cognitive Processor XR, which improves image quality by understanding the way humans see and process images.
New feature: Acoustic Surface Audio+ is a new feature that uses the TV's screen to vibrate and produce sound, creating a more immersive audio experience.
Larger sizes available: Larger sizes are available of the A90J, including an 83-inch model.
Samsung QN90B QLED and Sony A90J: What's Next?
Technology is advancing rapidly and, even though no announcements have been made regarding updates to the Samsung QN90B QLED and the Sony A90J, we might see the following advancements in the next six to 18 months:
Improved image processing: Image processing will continue to improve and may have the ability to further improve the quality of upscaled content and to further reduce noise and artifacts.
New features for gaming: Because gaming is increasing in popularity, we might see support for higher frame rates, variable refresh rate (VRR), and auto low latency mode (ALLM).
Improved smart TV capabilities: There are already a wide range of smart features available, but we could see even more, such as new streaming services, better voice control, and more integration with smart home devices.
New design options: We could see updated design options with more bezel-less displays or with built-in soundbars.
Samsung QN90B vs Sony A90J: Which One Is Better? Which One Should You Use?
Hopefully, you'd have made up your mind for any one TV after going through the detailed Samsung QN90B vs Sony A90J comparison. But if you still haven't, worry not; we will make it simpler for you. First, note your expectations from the LED TV. For instance, determine whether you need it for a dark or bright room.
The Sony A90J OLED will be ideal if it's a dark room. Otherwise, you should opt for Samsung QN90B for brighter spaces. The QN90B QLED is also available in massive sizes, including the 98-inch one. So, if you want a bigger screen, go for it. Nevertheless, the Sony A90J also comes in 83 inches.
Samsung has better HDR and lower input lag, but Sony has wider viewing angles with an ideal balance of gray and black levels. So, match every TV's features with your preferences and pick the one that checks most boxes.
The image featured at the top of this post is ©8th.creator/Shutterstock.com.