Few home electronic purchases are both as exciting and frustrating as a new television. When you know it's a piece of technology you are going to use daily, you want something really great, but what if every TV looks really great?
Trying to compare two excellent televisions like the Samsung QN90B and the LG C1 isn't easy as they are both excellent TVs in their own right. For LG, it's an opportunity to show OLED dominance while Samsung is fighting to show that QLED is just as good as its OLED rivals.
The good news is that no matter which of these TVs you pick, you're going to be happy, but the question is, will one make you happier than the other?
Let's take a deeper look at the Samsung QN90B versus the LG C1 and see which is more deserving of a place in your home.
Samsung QN90B vs. LG C1: Side-by-Side Comparison
| | Samsung QN90B | LG C1 |
| --- | --- | --- |
| Price | $1,099 (before sale pricing on 43-inch) | $1,299 (before sale pricing on 48-inch) |
| Model Year | 2022 | 2021 |
| Screen Sizes | 43, 50, 55, 65, 75, 85, 98-inch | 48, 55, 65, 83-inch |
| Processor | Neo Quantum Processor 4K | Alpha 9 Gen 4 Processor 4K |
| Display Type | Neo QLED | OLED |
| Resolution | 4K | 4K UHD |
| Smart TV Software | Tizen | webOS 6.0 |
| Voice Assistance | Samsung Bixby, Google Assistant, Amazon Alexa | Google Assistant, Amazon Alexa |
| Refresh Rate | 120Hz | 120Hz |
| VRR Support? | No | Yes |
| Inputs | 4 HDMI 2.1, 2 USB, eARC | 4 HDMI 2.1, 3 USB, eARC |
| Speakers | 20W | 40W |
Best QLED
SAMSUNG QN90B 65-Inch Class Neo QLED 4K
Samsung's ultra-precise Quantum Mini LEDs
Quantum HDR 32X
Neo Quantum Processor 4K uses AI-based deep learning to analyze content and optimize it to full 4K
Anti-glare
Ultra viewing angle
We earn a commission if you make a purchase, at no additional cost to you.
Reliable Choice
LG C1 65-Inch Class OLED
Self-lit OLED pixels with deep black and rich colors
Stunning pictures and excellent sound
Cinema HDR, Dolby Vision IQ, and Dolby Atmos
Fantastic gaming monitor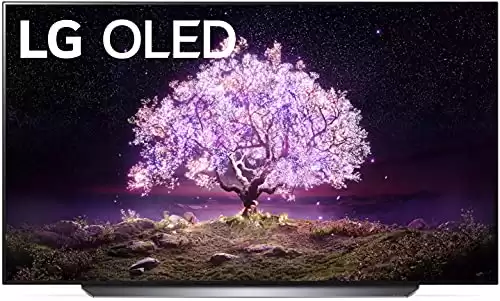 We earn a commission if you make a purchase, at no additional cost to you.
Samsung QN90B vs. LG C1: What's the Difference?
Build and Design
Sitting near the high end of Samsung's 4K Neo lineup, the QN90B is a sharp-looking black television that fits comfortably in any home. Its ultra-slim design offers a slightly curved black panel with a very modern look that sits on a pedestal rather than the more traditional left and right side legs. The result is a more sturdy and elegant look that gives Samsung a premium feel alongside its premium price.
The LG C1 is an equally good-looking TV from the front and, for the most part, it's a razor-thin OLED screen, so on the thinness scale, it surpasses Samsung's already super thin approach. LG likes to tout that its OLED screens are thinner than a smartphone and one look at the LG C1 from the side and you know that's not a false claim.
However, the bottom middle part of the LG is where all of the components live so it's a little meatier than the rest of the TV, but not so thick as to protrude too far off a wall. Samsung's approach to spreading the components out results in a thinner frame altogether but most important is that both TVs look really good.
Smart TV
One of the biggest initial differences as soon as the Samsung QN90B and LG C1 turn off is in smart TV capabilities and interface differences.
Samsung's Smart Hub is powered by its proprietary Tizen software and it's very much icon-based with apps, properly organizing recent shows along with showing you what's currently playing. There's also a row of shows you can continue watching so long as the streaming services properly integrate with the Tizen software.
The downside to Samsung's smart TV interface is its heavy reliance on ads as there are just too many of them. Even if they don't pop up everywhere, they are frequent enough to be a real distraction and, ultimately, a disappointment that takes the shine off of an otherwise attractive smart TV system.
LG's webOS has been upgraded to webOS 22 and, like Samsung, there's support for every major app and you'll be hard-pressed to find a streaming service that doesn't appear. What makes LG's system slightly better than Samsung's is that the latter is understandably focused on their own integrations where webOS can play the Apple, Amazon, and Google field, integrating any feature they want without any allegiances.
The webOS interface is snappy and it's a joy to use with the LG Magic Remote which works like a Wii remote by pointing and selecting an app. Sports integration is also a fun tool where you can tell the LG which teams you'd like to track and it will let you know scores as games are being played.
Gaming
Samsung is definitely a great TV for gaming and it's immediately worth highlighting that the QN90B integrates Xbox Game Pass in the Samsung Gaming Hub. It's an exciting addition as you can play games directly from the television without a physical console which is a glimpse into the future of remote gameplay. Along with Xbox, Samsung has also partnered with Amazon's Luna gaming service, GeForceNOW, and Twitch to up its gaming street cred.
While the Samsung QN90B offers HDMI 2.1 for 4K gameplay with a 120Hz refresh rate, it leaves variable refresh rate (VRR) off the table. Thankfully, it does add FreeSync through AMD for very low latency HDR gaming which keeps it in the running with the LG C1.
LG has long touted its televisions with its outstanding OLED panels as one of the best ways to enjoy the latest gaming consoles. With its 120Hz displays and HDMI 2.1 ports, the LG C1 makes the case as a better TV when you factor in the addition of VRR, FreeSync, and G-Sync. Most important is the inclusion of Game Optimizer mode, which takes all of the features like VRR and FreeSync and automatically adjusts the response time to minimize lag. The result is a 1ms response time, which is among the best in the TV industry and it positions the LG C1 as one of the best TVs to use for both the PlayStation 5 and Xbox Series X/S.
Features
With all of the extras we have in our homes these days, the number of inputs on any TV is important. The Samsung QN90B is full of inputs with four HDMI 2.1 ports, including one HDMI slot supporting eARC for better audio. There are two USB-A ports for connecting older devices and an optical digital audio out for connecting to a soundbar in the event you don't want or can't use eARC.
The LG C1 is roughly the same as far as inputs but it adds an extra USB-A port for a total of 3 USB-A ports. There are also four HDMI 2.1 ports that are capable of 120Hz gaming and 40 Gbps data transfer rates. Like the Samsung, one HDMI port is properly labeled for support with eARC which is ideal for connecting a soundbar for use with LG's audio output.
Sound
Samsung has always been well-regarded for its sound experience and with the QN90B, that reputation continues to be well warranted. One of the best aspects of the QN90B is the inclusion of Object Tracking Sound+ which is a terrific way to enjoy movies. Essentially, if you hear something like a car or jet enter the screen from one side, you'll be able to hear it as it drives or flies across the screen. The same goes for falling rain as it acts as something of a virtual surround sound. Add in Dolby Atmos and you have a complete audio experience that is only hampered by the underpowered 20W speakers.
Thankfully, Samsung has a solution for sound with its Q-Symphony experience that enables QN90B owners to pair a Samsung soundbar together with the TV for a much-improved experience. Samsung even set the QN90B screen high enough off a flat surface when used with its stand to allow a soundbar to go directly underneath the television.
LG comes to the table with an immediate advantage thanks to its 40W speakers so the sound is more powerful. The addition of Dolby Atmos helps create a multi-dimensional sound that makes the sound coming out of the C1 feel very cinematic. Like Samsung, LG touts the ability to hook up two additional LG speakers through Bluetooth to create a true surround sound experience. However, out of the box, Samsung definitely has a leg up in terms of mimicking virtual surround sound, so one point to Samsung.
Performance
Samsung
For a long time LG has dominated the picture quality scene with its excellent OLED panels and that streak continues with the LG C1. However, Samsung has come a long way with its lineup, and the QN90B is full of brightness, crisp colors, and plenty of anti-glare to help improve viewing angles. Ultra Viewing Angle technology is even built right into the Samsung and really does provide marked improvements over previous models.
Backed by the Neo Quantum Processor 4K and Quantum Matrix Technology, the Quantum mini LEDs that comprise the new QLED screen are really exceptional. The processor does a fantastic job of upscaling to 4K quality, and even without 4K upscaling, the billion-plus colors come together and show off really great detail. Blacks are detailed, the brightness is really strong, and you can calibrate the screen to what Samsung called professional quality with a downloadable app and 12 minutes time.
Throw in EyeComfort Mode to help with increasing or decreasing blue light and the Samsung QN90B is really showing off some of the best Samsung has to offer.
LG
As good as the Samsung QN90B is, it's a tall order to ask any television to match the quality provided by the LG C1 and its OLED display. One of the biggest benefits of the LG C1 OLED panel is just how best-in-class the blacks are as they are truly deep and really pop when you are streaming a film or watching a nightly favorite. Infinite contrast is LG's way to provide colors that look very natural which easily comes across when you're watching sports or games.
Another benefit of the LG C1 is that the light sensor is built directly into the TV, which enables the screen to measure ambient light and then adjust the picture based on those measurements. When you're watching during the day, the screen knows to add more brightness and vice versa for the evening. Best of all, the viewing angles are among the best of any comparatively priced television which is great for large rooms.
Samsung QN90B vs. LG C1: 5 Must-Know Facts
The Samsung QN90B only offers 20W of audio but with Object Tracking Sound+ it adds a better audio experience over the LG C1's 40W of audio output.
When it comes to gaming, the LG C1 and its Game Optimizer mode with FreeSync, G-Sync, and VRR provide one of the best console experiences across any television on the market.
Samsung's Tizen smart TV software on the QN90B is very user-friendly but is disappointingly littered with too many ads.
The OLED screen on the LG C1 provides deeper blacks and better contrast over the Samsung QN90B's Neo QLED screen.
LG makes its own OLED panels and shares them with the industry which further emphasizes the strength of its displays.
Best QLED
SAMSUNG QN90B 65-Inch Class Neo QLED 4K
Samsung's ultra-precise Quantum Mini LEDs
Quantum HDR 32X
Neo Quantum Processor 4K uses AI-based deep learning to analyze content and optimize it to full 4K
Anti-glare
Ultra viewing angle
We earn a commission if you make a purchase, at no additional cost to you.
Reliable Choice
LG C1 65-Inch Class OLED
Self-lit OLED pixels with deep black and rich colors
Stunning pictures and excellent sound
Cinema HDR, Dolby Vision IQ, and Dolby Atmos
Fantastic gaming monitor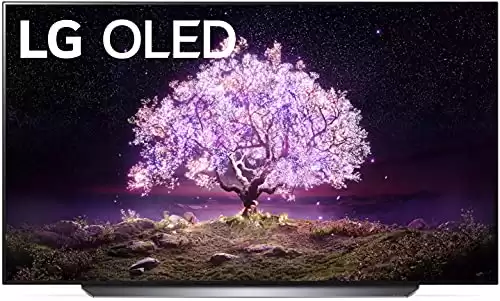 We earn a commission if you make a purchase, at no additional cost to you.
Samsung QN90B vs. LG C1: Which One is Better?
There is no question that choosing between these two TVs is a tough decision. They both offer excellent screen quality with beautiful pictures, incredible sound and all the streaming features you could ever want.
Ultimately, the strength of the LG OLED panels really comes to the forefront as one of the best reasons to pick up the LG C1. Combine that with the improved gaming features, less ad-intrusive smart TV interface, and a price point that's very similar to that of Samsung, and the question of which TV is better goes to the LG C1.
Samsung QN90B QLED and LG C1: Technology Updates
Recently, both the Samsung QN90B QLED and LG C1 have undergone notable technological updates, ushering in a range of enhancements:
Samsung QN90B QLED:
Neo Quantum Processor 8K: A significant advancement comes in the form of the newly integrated Neo Quantum Processor 8K. This advanced processor boasts superior image processing and upscaling capabilities, contributing to an overall heightened visual experience compared to its predecessor.
144Hz Panel: The QN90B QLED now features a 144Hz panel, a notable enhancement for gaming enthusiasts and those engaged in fast-paced content consumption. This upgraded panel refresh rate ensures smoother motion and a more immersive gaming and viewing experience.
Object Tracking Sound: The introduction of Object Tracking Sound is a noteworthy audio innovation. This technology intelligently tracks on-screen object movements and dynamically adjusts the audio output, resulting in a more immersive and captivating sound experience.
LG C1:
Alpha 9 Gen 5 AI Processor: The LG C1 has integrated the powerful Alpha 9 Gen 5 AI processor, marking a substantial leap forward in image processing and upscaling capabilities. This processor contributes to heightened image quality and a more refined viewing experience compared to its predecessor.
webOS 22: The inclusion of webOS 22, the latest iteration of LG's smart TV platform, stands as a prominent update for the LG C1. This revamped platform introduces an array of new features, including a redesigned home screen, an enhanced voice assistant, and an innovative gaming mode.
Game Optimizer: The LG C1 now features Game Optimizer, a game-changing addition tailored to gaming enthusiasts. This feature empowers users to optimize their gaming experience by fine-tuning various settings that directly impact picture quality and gaming performance.
Samsung QN90B QLED and LG C1: Looking Forward
The future landscape for the Samsung QN90B QLED and LG C1 holds the promise of several anticipated technological updates, poised to redefine the television experience:
MicroLED Marvels: The emergence of MicroLED panels heralds an exciting advancement. Poised to surpass the capabilities of Neo QLED or OLED panels, MicroLED panels offer even superior picture quality, coupled with heightened brightness and enhanced durability. The possibility of Samsung and LG venturing into MicroLED TVs looms, although the exact timeline for such an introduction remains uncertain.
Advancing into 8K Realms: The trajectory towards 8K resolution represents a logical evolution. With four times the pixel count of 4K, 8K resolution delivers an incredibly sharp and detailed visual experience. Although the specifics of Samsung and LG's foray into 8K TVs remain hazy, the potential to witness these manufacturers embrace this advanced resolution looms on the horizon.
Illuminating with Dolby Vision IQ: The incorporation of Dolby Vision IQ stands as a prospective enhancement. This innovative technology employs AI-driven adjustments to tailor the picture quality of Dolby Vision content based on ambient lighting conditions, thereby ensuring a consistently immersive and pleasurable viewing encounter. Samsung and LG may embrace Dolby Vision IQ in the future, contributing to an optimized and harmonious visual experience.
Syncing with Variable Refresh Rate (VRR): The potential addition of Variable Refresh Rate (VRR) introduces a boon for both casual viewers and avid gamers. By synchronizing the TV's refresh rate with the source device's frame rate, VRR mitigates issues like screen tearing and stuttering, thereby enhancing the overall gaming experience. The integration of VRR into the offerings of Samsung and LG TVs holds the potential to elevate both entertainment and gaming realms.
The image featured at the top of this post is ©Vasyl Shulga/Shutterstock.com.