So many 4K TV types, so little time. How can you possibly know which one you're supposed to choose when the options seem endless and the brand names seem even harder to distinguish? LCD, LED, Plasma, QLED… Sony, Vizio, TCL, Toshiba… cutting through all the competing types and brands, the ones that stand the tallest are Samsung and LG OLED TVs.
But how do Samsung OLED vs LG OLED compete? Let's take a look at their key differences, examine their specs, and weigh their respective pros and cons in order to come up with an answer.
Samsung OLED vs LG OLED: Side-by-Side Comparison
| | Samsung OLED | LG OLED |
| --- | --- | --- |
| Model Name | S95B | C2 |
| OLED Type | QD-OLED | WOLED |
| Resolution | 2160p 4K | 2160p 4K |
| Available Sizes | 55″, 65″ | 42″, 48″, 55″, 65″, 77″, 83″ |
| Screen Border | 0.31″ | 0.28″ |
| Thickness | 1.61″ | 1.73″ |
| HDR Support | HDR10, HDR10+, HLG | HDR10, Dolby Vision, HLG |
| HDMI Ports | 4 | 4 |
| USB Ports | 2 | 3 |
| Dolby Atmos Support | Yes | Yes |
| Operating System | Tizen | webOS |
| Average Power Consumption | 113 W | 77 W |
| Max Power Consumption | 242 W | 179 W |
Samsung OLED vs LG OLED: What's the Difference?
Now that we've laid out the specs of Samsung OLED vs LG OLED TVs, it's worth diving deeper into the main differences between the two. This boils down to six key differences, each of which we'll discuss at greater length below.
OLED Type
Best Design
We earn a commission if you make a purchase, at no additional cost to you.
While Samsung OLED and LG OLED are obviously both OLED TVs, their particular type of OLED tech differs tremendously. Samsung relies on QD-OLED, while LG relies on WOLED. What exactly does this mean? Well, for starters, QD-OLED stands for Quantum Dot OLED, while WOLED stands for White OLED.
Samsung's Quantum Dot technology adds a thin layer of nanocrystals to the screen, while LG's WOLED technology adds a beam of white light. Both are intended to improve picture quality, but the Samsung OLED ends up looking ever so slightly brighter (read: better) than LG OLED.
Available Sizes
While we know that the Samsung OLED TVs have a brighter picture quality, we don't know anything about the kind of sizes available for either Samsung OLED vs LG OLED. Here's how it all breaks down.
Samsung offers its OLED TVs in two sizes: 55 inches and 65 inches. On the other hand, LG offers many more OLED TV options: 42 inches, 48 inches, 55 inches, 65 inches, 77 inches, and 83 inches.
Not only does the LG OLED come in larger sizes, but it also comes in smaller ones. The Samsung OLED TV might be brighter, but there are clearly far fewer size options available.
Build
Now that we know a thing or two about OLED types and available sizes for Samsung OLED vs LG OLED TVs, what's there to say about the build of each of these TV types? How thick are these TVs? How much space is around each screen?
The Samsung OLED models have a border of 0.31 inches thick, while the LG OLED models have a border of 0.28 inches thick. Similarly, Samsung OLED TVs are 1.61 inches thin, while LG OLED TVs are 1.73 inches thin. The Samsungs might have a wider border, but they have a much thinner build overall.
HDR Support
These days, it's not enough for your television to simply be 4K. There are other considerations now, including HDR support for formats like HDR10+ and Dolby Vision. What kind of HDR support is offered by Samsung OLED vs LG OLED?
Well, LG supports HDR10, Dolby Vision, and HLG, while Samsung OLED supports HDR10, HDR10+, and HLG. Both brands suffer a blow here, as LG lacks HDR10+ while Samsung lacks Dolby Vision.
This doesn't bode well for either TV, but it looks worse for Samsung. Dolby Vision is practically a standard at this point, so not supporting it feels almost intentional.
Number of Ports
Gaming systems, 4K Blu-ray players, smart home setups, streaming boxes, external displays… there are a lot of different devices and tech we need to plug into our televisions these days. So, with this in mind, what kind of ports do Samsung OLEDs and LG OLEDs have to offer?
Both televisions have four HDMI ports, which is pretty standard for 4K TVs today. However, the Samsung OLED TV only has two USB ports compared to LG OLED's three USB ports. This is a disadvantage for Samsung and an advantage for LG, as it gives them a slight edge in this regard.
Operating System
Last but not least, there are operating systems to consider. Smart TVs rely on their operating systems to deliver seamless, easy-to-use streaming hubs. For Samsung OLED, that operating system is Tizen: a Linux-based OS used almost exclusively by Samsung.
For LG OLED, that's webOS: another Linux-based OS that is conversely used almost exclusively by LG. Both are easy to use, but Samsung has a slight edge. It's just ever so slightly smoother and sleeker than LG's. However, LG's OS offers slightly more customization.
The History of OLED
Though we understand that OLED is a highly coveted 4K TV type (and that Samsung OLED vs LG OLED is one of the most contentious debates in the OLED sphere), we haven't said much about what OLED actually is. Allow this little explainer to help.
OLED — also known as Organic LED, organic light-emitting diode, or organic electroluminescent diode — represents the latest in LED television technology today. Powered by an emissive electroluminescent layer of film charged by an electric current, this organic compound naturally emits light when put in contact with electricity.
Bright Colors
Sony OLED 65-Inch BRAVIA XR A80K
Features XR Cognitive Processor developed by Sony
Triluminos Pro enhances the already outstanding picture
Dolby Vision HDR and Auto HDR tone mapping for PS5
8.5ms input lag
4K at 120Hz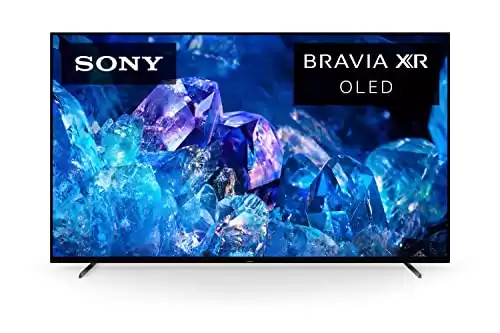 We earn a commission if you make a purchase, at no additional cost to you.
Because OLED puts off its own organic light when electricity passes through it, there's no need for the traditional backlight associated with most other 4K televisions. This allows for a much thinner, much lighter, much starker television with more true-to-life colors. (Not to mention much more energy-efficient.)
Because of the sheer number of advantages of OLED, from picture quality to energy consumption to overall size and weight, it far surpasses all competing 4K TV types. LCD, Plasma, QLED, and the list goes on. OLED triumphs over them all.
Of course, as with any technology, there are some notable disadvantages to OLED technology; no matter if it's Samsung OLED vs LG OLED or a completely different brand entirely. Because OLED tech relies on organic compounds, there's an inherent lifespan to an OLED panel.
Back in the late 2000s, when OLED tech was still burgeoning, early testing showed a panel lifespan of just 1,000 before quality began to dip. These panels reached half their original brightness by 14,000 hours — much less than LCD or LED's 25,000–40,000 hours. However, LG is working hard to correct this in the modern day.
How Samsung OLED vs LG OLED Compete
Though Sony was undoubtedly the OLED forerunner, LG was still one of the earliest to arrive at OLED technology. After acquiring Kodak's entire OLED division in 2009, LG received something of a jump-start in OLED way ahead of the rest of its competition.
This wasn't just some random acquisition, either. Kodak was as much of a forerunner as Sony when it came to OLED. This helped LG bring an OLED TV to market all the way back in 2010, years and years before competitors could do the same. While small, they would go on to scale their OLED division over the next decade or so.
Increased Lifespan
Years later, LG is still one of the best in consumer-grade OLED TVs. LG continues to grow its TVs in size and expand the overall lifespan of its OLED panels. They'd increased said lifespan from an estimated 36,0000 hours in 2013 to well over 100,000 by 2016.
Also worth mentioning? Due to their one-of-a-kind pairing with top OLED producer Universal Display Corporation, LG was the one and only source for OLED panels throughout the 2010s. In other words, if your OLED TV was made in the 2010s, it more than likely got its OLED panel from LG. Not Samsung, though.
Speaking of Samsung, this majority market share used to be theirs. In the early 2000s, Samsung was responsible for as much as 40% of the world's OLED panels. By 2010, that had grown to a 98% hold on the AMOLED market.
They even had the largest OLED TV on the market for a time (though it was just 21 inches in all). And yet, by 2013, Samsung had seemingly moved on from OLED tech.
Whether it be poor sales or high costs, Samsung didn't touch OLED again until 2022. This allowed LG to take hold of the market instead. Still, Samsung insisted on its own OLED panels instead of using LG's.
Samsung OLED: Pros and Cons
| Pros of Samsung OLED | Cons of Samsung OLED |
| --- | --- |
| One of the thinnest OLED TVs on the market | Samsung's first OLED TV in almost a decade means bugs are inevitable |
| The contrast ratio is near-infinite for superior blacks | Only two available sizes |
| QD-OLED technology is an industry leader | Thicker screen border than rival OLED TVs |
| Superior TV OS | No support for Dolby Vision |
LG OLED: Pros and Cons
| Pros of LG OLED | Cons of LG OLED |
| --- | --- |
| Dolby Vision and Dolby Atmos support | Imperfect contrast ratio, which means worse blacks |
| Offers a much greater variety of sizes | Smaller models lack the brightness of bigger models |
| Great for gaming, watching movies, TV, or sports | Thicker television screen than rival OLED brands |
| Consumes less power than rival OLED TVs | No support for HDR10+ |
Samsung OLED vs LG OLED: 5 Must-Know Facts
Despite its similar-sounding name, QLED technology is much closer in function to LCD technology than OLED technology. OLED remains the superior 4K TV technology.
Kodak deserves credit for discovering OLED technology all the way back in the early 1980s. However, this technology would not be fully embraced by the television manufacturing industry until more than 20 years later.
OLED is its own light source, unlike other TVs that require a backlight in order to illuminate. This means that OLED can achieve truer blacks and brighter colors. Backlit televisions will always emit light, even in the darkest scenes. OLED doesn't have to.
In addition to OLED TVs, OLED has also seen use in computer monitors, portable gaming systems, and smartphones.
OLED televisions have a viewing angle of nearly 180 degrees. An OLED TV's viewing angle of 170 degrees is practically double that of an LCD TV, which only boasts around 88 degrees or more.
Samsung OLED vs LG OLED: Which One Is Better?
So, when it comes down to it, which TV is best: Samsung OLED vs LG OLED? The answer isn't as simple as naming one over the other. As you've seen, there are a lot of considerations to mull over before knowing for certain which OLED TV is actually superior.
Alas, from specific OLED type to overall picture quality, from physical build to virtual operating system, Samsung OLED comes out on top again and again. LG OLED is by no means a bad OLED television. As a matter of fact, it's still one of the best on the market. However, Samsung OLED just ends up coming out on top in the end.
The image featured at the top of this post is ©Sorbis/Shutterstock.com.