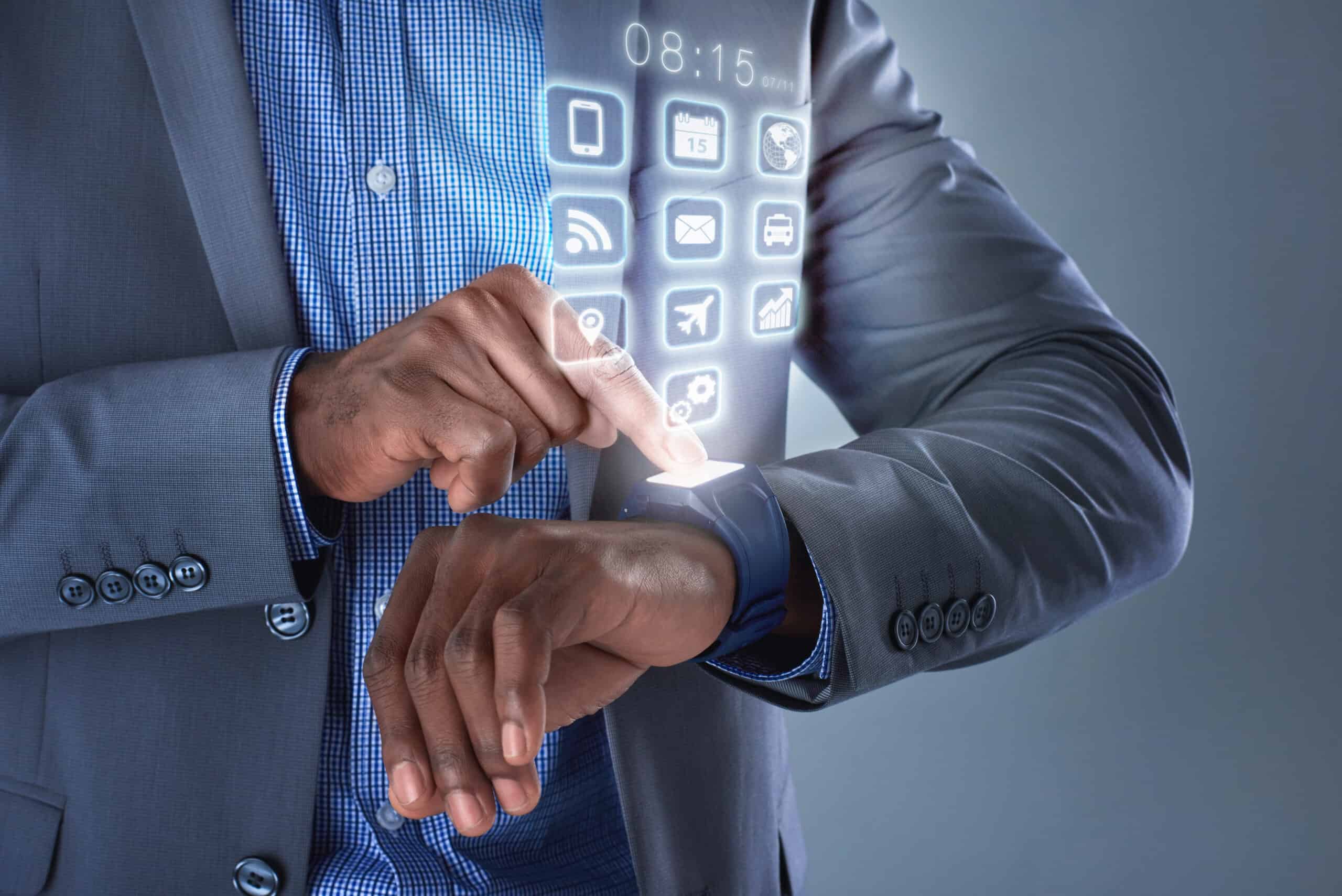 From tracking your fitness and workouts to playing music and games, smartwatches make an awesome gift for the holidays, especially for those that love their tech.
Both of Samsung's fourth-generation Galaxy smartwatches were released on August 27 last year but can still provide a lot of value, entertainment, and convenience at a lower price than the latest models.
Let's compare the Galaxy Watch 4 and Galaxy Watch 4 Classic to see which device is the best choice for you!
Galaxy Watch 4 vs. Galaxy Watch 4 Classic: A Side-by-Side Comparison
Galaxy Watch 4
Galaxy Watch 4 Classic
Dimensions
40mm: 40.4 x 39.3 x 98 mm
42mm: 44.4 x 43.3 x 98 mm
42mm: 41.5 x 41.5 x 11.2 mm
46mm: 45.5 x 45.5 x 11.0 mm
Weight
40mm: 25.9 g
42mm: 30.3 g
42mm: 46.5 g
46mm: 52 g
Colors
40mm: Black, Green, Pink, Gold, Silver
42mm: Black, Green, Silver
Black, Silver
Display
40mm: 1.2″ Super AMOLED
42mm: 1.4″ Super AMOLED
42mm: 1.2″ Super AMOLED
46mm: 1.4″ Super AMOLED
RAM
1.5GB
1.5GB
Operating System
WearOS 3.0
WearOS 3.0
Processor
Exynos W920
Exynos W920
GPU
Mali-G68
Mali-G68
Connectivity
Wi-Fi, Bluetooth, LTE, NFC, GPS
Wi-Fi, Bluetooth, LTE, NFC, GPS
Battery
40mm: 247 mAh
42mm: 361 mAh
42mm: 247 mAh
46mm: 361 mAh
Storage
16GB
16GB
Price
From $149.99
42mm: From $149.99
46mm: From $168.00
Galaxy Watch 4 vs. Galaxy Watch 4 Classic: What's the Difference? 
Design
The designs of the models are similar, though each comes in two varieties: the Galaxy Watch 4 is available with case sizes of 40 and 44 mm, and the Galaxy Galaxy Watch 4 Classic comes with sizes of 42 and 46 mm.
All models are considerably more streamlined than the Galaxy Watch 3 devices, so that's a bonus if you're after something less bulky. With that said, the Classic range is noticeably chunkier, especially when it comes to thickness. The standard Watch 4 has more of a sporty feel than the Classic, more akin to an Apple Watch. A key difference is that the Galaxy Watch 4 uses a touch-sensitive bezel to navigate between apps and screens, whereas the Classic uses a rotating bezel instead. 
We can see as we go through the models that the weight steadily increases, but this change is most apparent between the Watch 4 and the Galaxy Watch 4 Classic. Overall, they're all not too heavy, but fans of a heftier watch will appreciate the Classic more. All models use the same 20mm straps, so there's no difference there, but it should be said the Watch 4 has an aluminum case while the Classic uses stainless steel.
Another difference is the color options available; where the smaller Watch 4 has five colors to choose from, the bigger version only has three. The situation is worse with the Classic, as you only get the option of Black or Silver. These are arguably more "classic" colors, but some alternatives would've been nice.
Display
All models use a Super AMOLED display, which has a sharper resolution and brighter screen than their predecessors. The sizes vary slightly, but the smaller versions of the Watch 4 and Galaxy Watch 4 Classic have the same size screen, while their larger versions also have the same size display.
All models also have a rather efficient always-on-display mode, due to the Cortex-M55 display processor, which reduces energy consumption by offloading tasks from the main CPU when in sleep mode. The 0.2" variation may not seem like much, but as a smartwatch has a much smaller display than a smartphone, it's more noticeable. You might decide to go with one of the larger models simply for this reason.
Sensors
One of the most common reasons to own a smartwatch is, well… the smart functionality! This mostly involves the use of sensors, allowing users to track their fitness and various health parameters such as steps walked, blood pressure, heart rate, and even things like air pressure and heart monitoring using an ECG. While the Watch 3 could measure heart rate and had ECG hardware, the Galaxy Watch 4's sensors are improved and do a better job on the whole.
The BioActive sensor array has an optical heart rate sensor, an ECG sensor, and a sensor for measuring bioelectrical impedance, which relies on measurements like water retention and mass to calculate a body fat reading for the user. Some of these additional features require a Samsung phone to make use of them, though, so that's definitely worth keeping in mind.
Battery Life
We can see from the comparison table that both the smaller and larger versions of both models have the same batteries. Naturally, these are a lot smaller than what you'd find in a smartphone, but the power consumption of a smartwatch is drastically lower.
Samsung reports the battery life of all the Galaxy Watch 4s to be around 40 hours, though obviously, this will depend on your personal usage. Obtaining a full charge will take around 2 hours with any of the models, pretty similar to a modern smartphone.
In the worst-case scenario, the charge may last only around a day, so there aren't too many options with these devices apart from charging them more often.
Tech Specs
Concerning the operating system, RAM, processor, GPU, and storage, all the models are basically identical. The watches are reported to have 20% better performance than the Watch 3 range, no doubt due to upgrades in all these departments, so will have no issue cycling through the hardware you'll use.
Having 50% more RAM and double the storage of the previous series are certainly welcome changes with the Galaxy Watch 4. All the watches also have the same connectivity options –- Wi-Fi, NFC, 4G, and GPS capabilities.
Each comes in either a Bluetooth or LTE version, though; the LTE version is capable of making phone calls independent of a smartphone, whereas Bluetooth versions must rely on a connection with a smartphone to access the internet and make calls. Which version you go with will largely depend on your individual needs and preferences.
Price
This is one area where we see a significant contrast. The bigger versions tend to be more expensive, as do the Classic models, but as of the time of writing, the price differences aren't that significant.
With discounts included, you can actually buy either Watch 4 model as well as the smaller Galaxy Watch 4 Classic for the same price. What price you can get one for is an important factor, as well as whether you prefer the streamlined aluminum of the Watch 4 or the sturdier steel of the Watch 4 Classic.
The difference in materials is essentially the biggest difference between the two devices.
We earn a commission if you make a purchase, at no additional cost to you.
Samsung Galaxy Watch 4 Classic 42mm Smartwatch with ECG Monitor Tracker for Health Fitness Running Sleep Cycles GPS Fall Detection LTE US Version, Black (Renewed)
1.2 "(30.5mm) w/ Rotating Bezel, Super AMOLED, 396 x 396 pixels (~330 ppi density), 16M Colors, CPU: Dual-Core 1.15GHz, 247mAh Battery, Android Wear OS, One UI Watch 3, Bluetooth, Wi-Fi
The Galaxy Watch4 Classic uses red LEDs and infrared rays to calculate your SpO2 levels or the amount of oxygen in your blood.
Glass front (Gorilla Glass DX+), MIL-STD-810G compliant, 50m water-resistant (IP68), Compatible with standard 20mm straps, ECG certified, Blood pressure monitor
5 ATM / IP68 The water and dust resistance rating, Military-grade durability, Larger screen but lighter and thinner for more comfort.
Cellular LTE model Compatible with Cellular Network, Contact Carrier to Register on your account. Compatible with Android and iOS devices. Supports Samsung Pay. 4G LTE Bands: B2 (1900 MHz), B4 (1700...
We earn a commission if you make a purchase, at no additional cost to you.
Galaxy Watch 4 vs. Galaxy Watch 4 Classic: 4 Must-Know Facts
The Galaxy Watch 4 has a sleeker, more lightweight feel with its aluminum case, whereas the Watch 4 Classic is sturdier and more rigid with its stainless steel design.
Generally, the Classic models are more expensive, as are the bigger versions, but this isn't always true, so check before you buy.
There are only two color options with the Classic models, but the standard Watch 4 models have more colors to choose from.
Both models have the same operating system, chipset, GPU, RAM, and storage.
Galaxy Watch 4 vs. Galaxy Watch 4 Classic: Which One is Best?
In many respects, the devices are virtually the same. The main differences come in the user experience when navigating through the system, the dimensions, color options, and the overall sturdiness of the watch.
Those after a timeless look and a heftier design will prefer the Watch 4 Classic, but those after a more sporty watch in a color other than black or silver likely will want to go with the standard Watch 4 model instead.
Up Next: