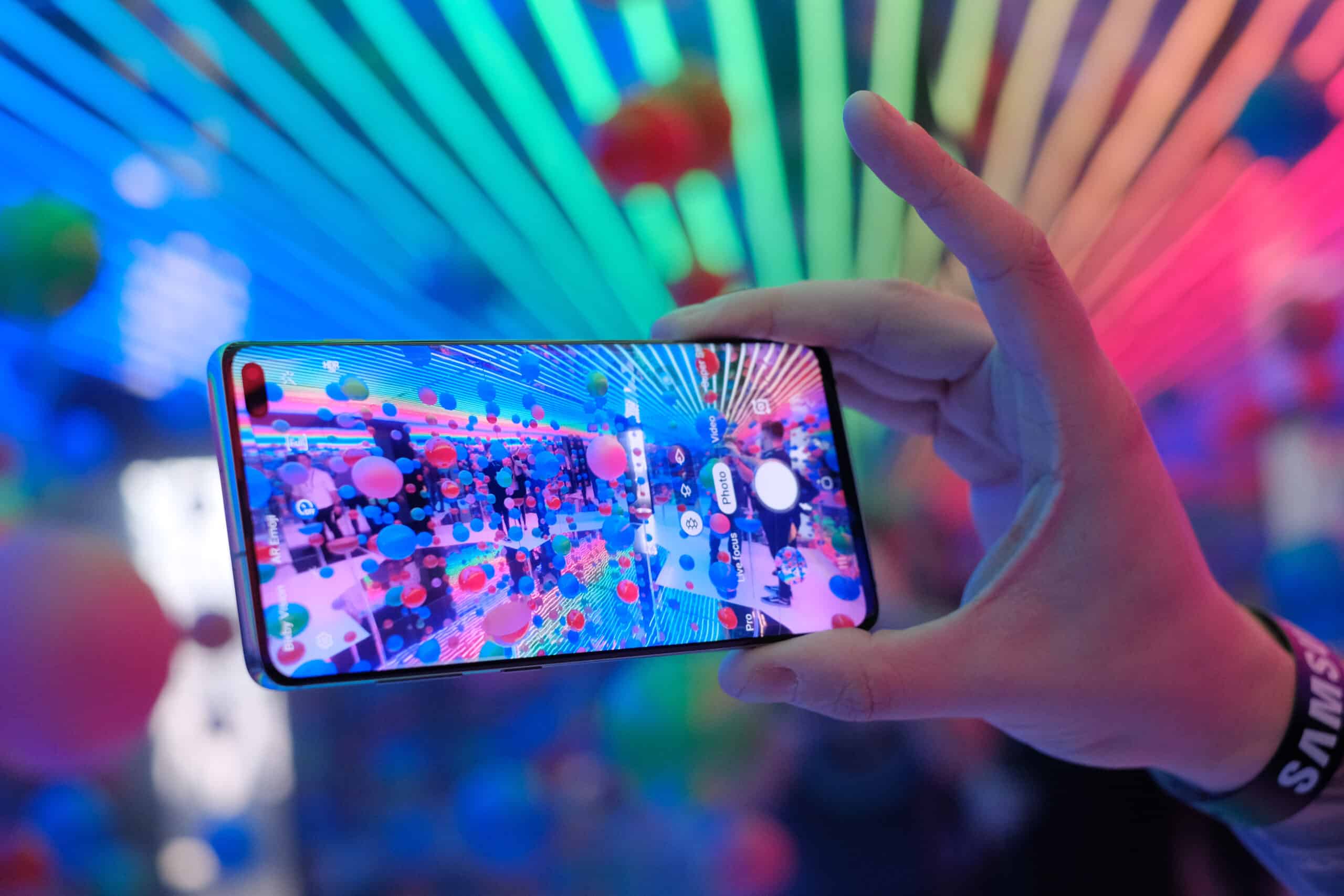 S10 vs. S10E: Which one provides the best value for money? If you're shopping for a new smartphone, the Samsung Galaxy S10 and S10 E are two formidable options. Samsung has loaded both devices with top-notch features and impressive specs. The S10 stands tall with a sleek, premium design and an ultra-wide camera to help you showcase your photography skills. The addition of a powerful processor and a high-resolution AMOLED display makes it ideal for gaming and streaming content. 
On the other hand, the S10 E can do most of what the S10 does but at a lower price tag, making it a wise choice for those looking to save cash. It also has a durable design with an IP68 rating. So, which one is the right pick for you? Continue reading to find out as we explore both devices.
Samsung Galaxy S10 vs. S10E: 5 Must-Know Facts
Samsung introduced the S10 and S10E smartphones at their Galaxy Unpacked event on February 20, 2019.
S10 has a better camera, with three rear-facing camera modules, compared with the dual camera setup for the S10E
S10 has no 256GB variant, while the S10 has no 512 GB variant
S10 is available in 8 different colors ranging from prism black to cardinal red, whereas S10E has six different color options
GeekBench and AnTuTu scores for both devices are similar, indicating similar performance for both beasts. 
Samsung Galaxy S10 vs. S10E: Side By Side Comparison
Galaxy S10
Galaxy S10E
Starting price
$899 for the base model
$749 for the base model
Weight
157g
150g 
Broadband
Supports 2G,3G,4G
Supports 2G, 3G,4G
Operating system
Android 09, Upgradable to Android 12 (One UI 4.1)
Android 09, Upgradable to Android 12 (One UI 4.1)
Storage
2 x 128 GB variants with 6 and 8 GB RAM512GB with 8GB RAM
2 x128 GB variants with 6GB and 8GB RAM256GB with 8GB RAM
Processor
Snapdragon 855 (7nm) (USA)Exynos 9820 (8nm) (Global Market)
Snapdragon 855 (7nm) (USA)Exynos 9820 (8nm) (Global Market)
Display 
Size: 6.1 inches (88.3% screen-to-body ratio)Type: Dynamic AMOLED, HDR 10+Resolution: 1440 x 3040 pixelsProtection: Gorilla Glass 6
Size:5.8 inches (83.3% screen to body ratio)Type: Dynamic AMOLED, HDR 10+Resolution: 1080 x 2280 pixelsProtection: Gorilla Glass 5
Cameras
Triple Back cameras: 12MP main camera12 MP: Telephoto camera16MP: Ultrawide Camera
Single front-facing camera: 10MP primary camera
Dual Back cameras: 12 MP main camera16MP: Ultrawide Camera

Single front-facing camera: 10 MP primary camera
Battery capacity
3,400 mAh Li-ion battery
3,100 mAh Li-ion battery
Ports
USB Type CHeadphone Jack
USB Type CHeadphone Jack
Videography
Up to 4k @60fps
Up to 4k @60fps
Samsung Galaxy S10 vs. S10E: What's the Difference?
Samsung has reserved its Galaxy series for its best smartphones. These phones establish the company's superiority among the other tech giants, and users have loved these phones for over a decade. Every year Samsung updates its Galaxy series with a new phone, bumped-up specs, and design improvements. These are the most expensive smartphones available, but with the S10 series, Samsung decided to make them more affordable.
Samsung introduced a more affordable smartphone in their galaxy lineup in the shape of the S10e. They played an intelligent move by keeping the specs that hook the buyer's interest, similar to their flagship S10, but decreasing the camera quality and battery life by some margin. This allowed them to offer the S10e for $150 cheaper than the S10. On paper, it might be similar to S10, but how do both compare in real life? Stay with us to find out! 
Samsung Galaxy S10, 128GB, Prism Black - Unlocked (Renewed)
This phone is unlocked and compatible with any carrier of choice on GSM and CDMA networks (e.g. AT&T, T-Mobile, Sprint, Verizon, US Cellular, Cricket, Metro, Tracfone, Mint Mobile, etc.).
Tested for battery health and guaranteed to have a minimum battery capacity of 80%.
Successfully passed a full diagnostic test which ensures like-new functionality and removal of any prior-user personal information.
The device does not come with headphones or a SIM card. It includes either a generic or original charger and charging cable.
Inspected and guaranteed to have minimal cosmetic damage, which is not noticeable when the device is held at arm's length.
We earn a commission if you make a purchase, at no additional cost to you.
Design
Samsung Galaxy S10 and S10e have a similar design overall, with a glass back and aluminum build to give a premium look and feel. But there are some key differences as well. S10 offers a more refined and polished design, with the screen melting over the edges, continuing the legacy that Samsung started with the S6 edge. As we move to the back, there is a triple camera setup with a heart rate and blood oxygen sensor. It is also slightly larger and weighs more than the S10e. 
In contrast, S10e has a more compact design, with flattened edges and thicker bezels. It weighs around 150g, contrasting to 157g for the S10. It is more suitable for one-handed use due to its smaller dimensions. Samsung has introduced a side-mounted fingerprint sensor embedded into the lock button, whereas the S10 houses an in-display fingerprint sensor loaded with ultrasonic technology.
Both devices have multiple color options, with different shades of white, blue, black, and even yellow on the S10e. But S10 wins the battle with a ceramic finish, which adds more to the aesthetic vibe of the phone.  
Display
S10 and S10e have impressive displays. Both smartphones are equipped with Samsung's super bright AMOLED displays with a high resolution and excellent pixel density. However, S10 has a slightly larger display, measuring 6.1" diagonally, compared to the 5.8" display on the S10e. There are two key differences between them.
One of their significant differences is the curvature. S10 has a curved display, melting over the edges. This gives a unique look to the phone and eliminates the side bezels. The curvature provides a more immersive display experience while watching your favorite shows or playing high-graphic games. However, the flatter display on S10e might be more beneficial for typing or taking notes.
Another factor establishing the superiority of S10's display is the in-display fingerprint sensor. This ultrasonic sensor buried beneath the display works with facial recognition to deliver the most secure biometrics experience.
Camera
One of the key differences in the Galaxy S10 vs. S10E battle is the camera quality. S10 has a triple camera setup on the back, including a 12MP wide lens, a 16MP ultra-wide lens, and a 12MP telephoto lens. This enables the S10 to capture ultra-wide angle and close-up shots with greater detail and deeper colors. Samsung introduced a variable aperture in S10, which means the lens can adjust the amount of light entering the sensor by increasing or decreasing the aperture. This provides better low-light photos. 
S10e, on the other hand, has a dual camera setup on the back, including a wide-angle and telephoto lens. It misses the ultra-wide lens present on its elder brother, the S10. However, it still offers a good range of photography and confers enough detail to the photographs to make them look sharp and colorful. One major downside is the absence of a variable aperture which affects the picture quality in low-lighting conditions.
Both devices can shoot up to 4k videos at 30 frames per second and have built-in portrait mode. The portrait mode works with the front camera as well. It offers good edge detection in sufficient lighting conditions. Users can easily take professional-looking portrait photos using these devices, as there is good foreground and background separation. 
Software
S10 and S10e are powered by the Android operating system, with Samsung's One UI custom user interface on top. Samsung has designed its One UI to be easier to navigate, with a greater focus on one-handed use. Many customization options are available. You can change wallpapers, font, icons, and even the overall theme of the phone.
Having Samsung's software also means having pre-installed Samsung apps, including Samsung Notes, Samsung Music, and Samsung Gallery. However, the device also supports Google's set of apps, including Google Maps, Google Drive, e and photos. This boosts productivity and ease of use. 
S10 takes a slight advantage with the "Samsung DEX feature." It allows the users to connect their smartphone to a laptop or a computer and view the smartphone screen on a bigger scale. It enables great work flexibility and greater coherence between multiple devices. There is no need to carry a laptop. Just connect your phone to any nearby screen and get to work.
In terms of accessibility, both phones are loaded with a lot of features. These include a built-in screen reader, magnification, increased font size, high contrast mode, and more. Both also support third-party accessibility apps, like Voice Access and Talkback. Built-in Alexa can also help you control your phone by voice commands only.
Performance
Both smartphones perform exceptionally well in day-to-day usage, and both are equally capable of efficiently handling bursts of intensity usage. Samsung has installed the Snapdragon 855 chip in the USA and China versions of the phones, based on 7nm technology. In contrast, the rest of the world gets Samsung's own Exynos 9820 chip, based on 8nm technology. 
Both S10 and S10e are capable of handling a variety of tasks and applications without any lag or stutter. Expect both devices to function smoothly, regardless of multiple apps opening in the background. Snapdragon 855 is a powerful chip that can handle all games quite well at high frame rates. 
The AnTuTu benchmark scores on Snapdragon 855 touch half a million, and the GeekBench scores are equally impressive for single and multi-core performance. It can easily handle the following games:
PUBG Mobile: 58 FPS and Ultra Graphic Settings
Call of Duty: Mobile: 56 FPS and Ultra Graphic Settings
Fortnite: 28 FPS and Ultra Graphic Settings
Shadowgun Legends: 51 FPS and Ultra Graphic Settings
The performance may vary significantly based on the phone model. USA and China models have Snapdragon, whereas the global market gets Exynos-powered phones. Exynos is less efficient and powerful than Snapdragon, and there have been reports of lag and heat issues with long-term use.
Battery:
S10 and S10e have larger batteries that can last an entire day, meeting your moderate to intense usage needs. S10 comes with a 3400 mAh battery, and S10e has a 3,100 mAh battery. At full charge, both devices can support an entire day of web browsing, video streaming, social media scrolling, and slight gaming.
But things become interesting when we translate those numbers into real-life usage. S10e surprisingly beats the S10 in this aspect because of a smaller screen and lower resolution. This puts less strain on the battery and allows the Snapdragon 855 to handle the tasks efficiently. Adaptive Power Saving can also help extend the battery life by an hour or two.
S10 lags behind due to its 6.1" display and Quad HD resolution compared to the 5.8" display and Full HD+ resolution on the S10e. But Samsung has complemented this shortcoming by introducing fast charging, which quickly helps to recharge the battery. Both phones support 15W fast charging, both wired and wireless. Moreover, users can also use the 4W reverse charging option on these phones to charge their earbuds or smartwatch. 
SAMSUNG Galaxy S10e (128GB, 6GB) 5.8" AMOLED, Snapdragon 855, 4G LTE Fully Unlocked (AT&T, Verizon, T-Mobile, GoogleFi) G970U (Fast Car Charger Bundle, Prism Black)
2G: GSM 850/900/1800/1900, 3G: HSDPA 850/900/1700/1900/2100, 4G LTE: 1/2/3/4/5/7/8/12/13/14/17/18/19/20/25/26/28/29/30/38/39/40/41/46/66/71
5.8" Full HD+ Dynamic AMOLED Infinity-O Display (2280x1440) 438 ppi HDR10+ certified) - Android 9.0 (Pie) - Front/back glass (Gorilla Glass 6), aluminum frame - IP68 dust/water proof (up to 1.5m for...
128GB + 6GB RAM - microSD, up to 512 GB - Snapdragon 855 64-bit Octa-Core Processor - Non-removable Li-Ion 3100 mAh battery.
Main (REAR) Dual camera:12 MP, f/1.5-2.4, 26mm (wide) + 16 MP, f/2.2, 12mm (ultrawide) - Selfie (FRONT) camera:10 MP, f/1.9, Dual Pixel PDAF - OIS (Optical Image Stabilization) - Video:4K UHD video...
T-Mobile Unlocked Version. Compatible with Most GSM and CDMA Carriers like AT&T, T-Mobile, MetroPCS, Google Fi, Verizon, Sprint, etc.
We earn a commission if you make a purchase, at no additional cost to you.
Samsung Galaxy S10 vs. S10E: Which One is Better?
Choosing the best option is never absolute. Between the Galaxy S10 vs. S10E, the choice always comes down to personal preferences and what you want in a smartphone. These phones deliver power-packed performance in the compact and sleek designed body. 
S10 has better aesthetics with a slim body, display melting over the edges, tri-camera setup on the back, ceramic finish, and in-display fingerprint sensor gives a hint of tech evolution. S10e, on the other hand, is designed for people who are not much into photography and only need a simple device to stay connected with the world.
Both are excellent choices, but in our opinion, S10 is worth all that extra 150 bucks you will pay over the S10e. Moreover, the phone has been in the market for over two years, and online platforms sell it at significant discounts. This gives another reason to choose it over the S10e.