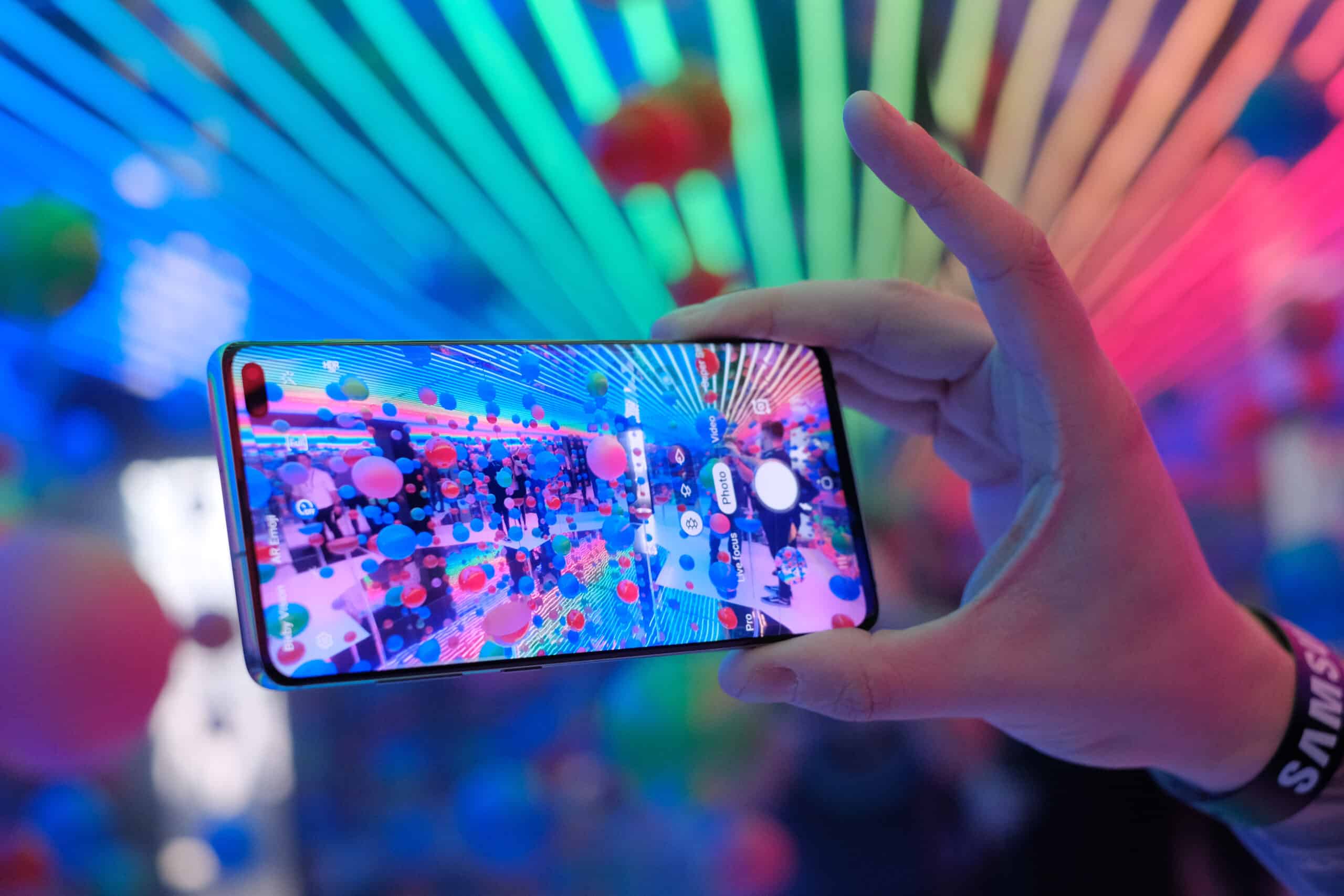 By now, you're probably getting tired of seeing $1000+ price tags on new smartphones. Not everybody wants to make a gigantic investment to get the latest and greatest tech. But what if you didn't have to drop a rent payment on a PHONE?
If you're skeptical of cheap phones, Samsung is trying to change your mind with the A14 5G. We know what you're thinking: how could a cheap phone actually be good?
Well, times have changed, and the technology to make a decent phone is no longer as expensive as it used to be. Today's article is going to take a deep dive into this phone and all of its details. But be warned: we don't have a lot of bad things to say about it, especially at this price point.
Samsung Galaxy A14 5G: Overview
Samsung has once again raised the bar with the launch of its latest smartphone, the A14 5G. The device was officially announced at CES on January 4, 2023, and just eight days later, it hit store shelves around the world. It is available at an affordable price of just $200! At such a low price point, you get a device that is packed with features that were once exclusive to high-end smartphones. 
Features
This phone is every tech lover's dream, offering a range of advanced features that are sure to impress. The device has a side-mounted fingerprint sensor that keeps your device secure while providing easy access for you.
Its accelerometer and gyro sensors enable quick and responsive movements, while the proximity sensor ensures seamless communication. The compass feature helps you find your way and get to your destination with ease, while the barometer feature provides accurate atmospheric pressure readings for those who enjoy outdoor activities or need to keep an eye on the weather. 
Specifications
OS Software
Android 13, One UI Core 5
Memory
64GB 4GB RAM, 128GB 4GB RAM, 128GB 6GB RAM, 128GB 8GB RAM; microSDXC 
Display
6.60″ PLS LCD, 90Hz, 1080 x 2408px resolution, 20:9 aspect ratio, 400 PPI
Battery
5000mAh; 15W wired
Chipset
Mali-G57 MC2 GPU. Exynos 1330:Octa-core CPU (2×2.4 GHz & 6×2.0 GHz), Mali-G68 MC4 GPU, OR Mediatek MT6833 Dimensity 700 (7 nm), Octa-core CPU (2×2.2 GHz Cortex-A76 & 6×2.0 GHz Cortex-A55)
Front Camera
13 MP, f/2.0, (wide)
Video Capture
Rear Camera: [email protected];
Front Camera: [email protected]
Rear Camera
Wide (main): 50 MP, f/1.8, PDAF; Macro: 2 MP, f/2.4; Depth: 2 MP, f/2.4
Misc
Fingerprint reader (side-mounted); NFC; 3.5mm jack
Body
167.7 x 78.0 x9.1 mm, 202g; Glass front, plastic back, plastic frame
Samsung Galaxy A14 5G: Review
While it may not be a massive upgrade from the A13 5G, this phone offers several welcome improvements. The new gen's larger 6.6-inch display is a sweet upgrade, having a 1080p resolution compared to the 720p on the older model.
The waterdrop notch at the top of the display now houses a 13MP selfie camera, a significant upgrade from the 5MP on the A13 5G. The 50MP rear camera system remains the same, along with the 2MP macro and depth units. Using this device is a seamless experience, owing to its responsive and powerful chipset. We can't say that about the budget smartphones of five years ago, that's for sure.
The device handles day-to-day tasks with ease, and the battery life is impressive, lasting over two days. The side-mounted fingerprint sensor ensures that your device is secure, while the accelerometer, gyro, and proximity sensors offer precise and accurate navigation. The rear camera system delivers sharp and detailed photos, and the larger, high-resolution display makes streaming movies and playing games a joy.
Design
The A14 5G exudes the familiar aura of its flagship siblings, particularly the Galaxy S23+. This budget-friendly phone carries a striking resemblance to its higher-end counterparts, showcasing Samsung's consistent and stylish design language. Despite its larger form factor, the A14 5G maintains the premium look and feel that Samsung devices are renowned for.
Although the A14 5G is constructed with a plastic frame, it still has a sleek and modern vibe. The rear panel of the phone is also made of plastic, but Samsung has added a unique touch with concentric circles in the top left corner.
This pattern adds a subtle yet distinctive flair to the phone's design, and the texture it creates is satisfyingly tactile. The black colorway of the US version is the perfect complement to this sophisticated and polished design.
Our Pick
SAMSUNG Galaxy A14 5G
64GB of internal memory (up to 1TB more with a microSD card)

13MP front camera

Adaptive 90Hz Infinity-V FHD+ display

Simple yet classy finish
We earn a commission if you make a purchase, at no additional cost to you.
The plastic material of its back panel has a few advantages, one of which is its superior grip compared to glass. It is also more durable, making it a wise choice for those who tend to be a bit clumsy.
The phone's edges are smooth and well-defined, and the power button and volume rocker are conveniently located on the right side. The power button doubles as a fingerprint sensor, which is impressively responsive and works seamlessly with both the right thumb and left index finger.
One standout feature of the design is its dual nano SIM tray that also supports microSD. This added functionality is a thoughtful touch that enables users to customize their phone usage to their needs. The card slot is located on the left side, opposite the power and volume buttons, and is easy to access.
Display
This phone's 6.6-inch LCD display may not be AMOLED, but it still packs a punch. With a Full HD resolution of 1080 x 2408px, it has a pixel density of 400 PPI, making for a sharp and clear display. Its brightness level of 519 nits is amazing, both when manually adjusted and when under Adaptive brightness control, making it easy to use even on sunny days.
While LCD displays can sometimes suffer from illumination when displaying black, its contrast ratio of 1334:1 is fairly standard for Samsung LCDs, and there are no major contrast shifts when viewed at different angles.
The display also remains usable outdoors in bright light, which is a big plus. However, it's worth noting that OLED displays still reign supreme when it comes to contrast, and some rivaling OLEDs can also beat the A14 in terms of brightness.
The A14's panel covers the sRGB color space and goes just a bit wider, but color accuracy is not its strongest suit. There is a significant blue shift to white and the entire grayscale range, and there are no color modes available to adjust this.
However, the Motion smoothness menu does offer two refresh rate options — Adaptive and Standard. The former allows the phone to operate at 90Hz while in use and automatically dial down to 60Hz when not in use, resulting in a more fluid and responsive experience. 
Camera
Let's talk about the camera system on this device. It's a triple-camera setup, but let's be honest, the primary 50MP camera steals the show. The two 2MP units are more like backup dancers, but they do serve a purpose — one of them is a 'macro' camera, while the other is a 'depth' sensor.
The selfie camera is also a step up from the A13 5G, with a 13MP SK-Hynix hi-1336 sensor that's also found in some Galaxy S21 FE models. The main camera uses Samsung's JN1 sensor, which is a bit of a rarity, and has a large 1/2.76″ optical format.
Our Pick
SAMSUNG Galaxy A14 5G
64GB of internal memory (up to 1TB more with a microSD card)

13MP front camera

Adaptive 90Hz Infinity-V FHD+ display

Simple yet classy finish
We earn a commission if you make a purchase, at no additional cost to you.
It has 50 million 0.64µm pixels, which it bins 4-to-1 to produce 12.5MP images by default. The lens has a 26 mm equivalent focal length and an f/1.8 aperture, which makes it great for low-light photography.
The standout feature of the camera system is the portrait mode, which produces excellent results with proficient subject detection and a natural-looking blur. The default blur level comes out at 8MP, but that's not really a big deal.
The camera app is pretty standard, with basic operations like switching between front and rear cameras, and swiping left and right to switch between modes. There is also a Pro mode for manual controls, but it's rather basic and only allows you to tweak white balance, exposure compensation, and ISO.
Performance
The A14 has great performance, especially compared to its more affordable counterparts. With the MediaTek Dimensity 700 5G and 4 GB of RAM, users can juggle multiple apps without any noticeable lag or slowdown. In fact, it outperforms its predecessor, the A13 5G, despite having the same chipset and RAM. This is likely due to better optimization, which is evident in the overall user experience.
The phone handles graphically intensive games such as Alto's Odyssey, CarX Highway Racing, and Dead Cells with ease, and switching between apps is generally smooth. While there may be occasional stutters or the need to force close an app, overall, it offers fast and reliable performance for daily use, from browsing social media to responding to emails and managing work tasks.
Battery
This device comes equipped with a 5,000 mAh battery, which is quite standard for most smartphones these days. It offers similar battery life as the A22 5G, but with a slight improvement overall. One thing to keep in mind is that it has a 15W charging rating, but it doesn't come with an adapter in the box. 
Samsung Galaxy A14 5G: Pros and Cons
Pros:
Good performance,
Great main camera,
Decent battery life.
Cons:
No charger included in the box,
Slow charging speeds,
Mono speaker.
Samsung Galaxy A14 5G: Is It a Buy?
Buy it if…
…You need a reliable and affordable 5G smartphone.
The Galaxy A14 5G offers excellent value for its price, making it a great option if you are looking for a 5G smartphone without breaking the bank.
…You're looking for a device that delivers a solid performance.
The MediaTek Dimensity 700 5G and 4 GB of RAM ensure that the Galaxy A14 5G runs smoothly, even when you are pushing the phone to the limit with a bunch of open apps.
…You want a phone with a large display.
The Galaxy A14 5G comes with a 6.6-inch HD+ display, making it a great choice if you like to watch videos or play games on your phone.
…You're on a tight budget.
The Samsung Galaxy A14 5G is one of the most affordable 5G smartphones on the market, so it is a great option if you are looking for a new device without spending too much money.
…You need a reliable phone for everyday use.
The Galaxy A14 5G is a dependable smartphone that can handle most day-to-day tasks, such as checking emails, browsing social media, and making calls.
Don't buy it if…
…You're looking for a flagship-level camera.
While the camera on the Galaxy A14 5G is decent, it may not be up to par with some of the high-end smartphones on the market. If you prioritize photography and want the best image quality possible, you may want to look at other options, like an entry-level iPhone.
…You need a longer battery life.
The battery life on the Galaxy A14 5G is perfect, but it may not last as long as some of the other mid-range smartphones on the market. So, if you use your phone extensively throughout the day and don't want to worry about where your charger is, you might want to look into phones like the Moto G Power.
…You want the latest and greatest features.
While this phone offers 5G connectivity, it lacks some of the latest and greatest features that you may find in more expensive smartphones. If you need cutting-edge tech, you might want to look at something like the Samsung Galaxy Z Fold or Flip, or even one of the newer iPhones.