A place called home provides comfort and brings everyone together. Good television is an integral part of providing comfort. While the choice of a TV can seem simple, it is tricky to choose the one that fully captures the concept of home. Samsung The Frame and the LG OLED TV are industry leaders in top-quality TV production.
The TVs offer similar features to users but set each other apart with their particulars. These details are enough to determine which one complements your home setting better.
This article will give an in-depth comparison of the two top-tier TVs on the market. Both TVs come in different sizes but retain the same features across all of them. With different power consumption and aesthetics, we will help buyers to know which of the TVs is best for them.
Samsung Frame vs LG OLEDs: Side-by-Side Comparison
The different inch sizes of Samsung Frame and LG OLED can be tricky to compare but, as stated before, other features remain the same regardless of size. Surely, the inch size will mean a considerable difference in weight, energy consumption, and other hardware components. For this side-by-side comparison, we chose the 65-inch size of both TVs to provide you with what they offer.
| | Samsung Frame | LG OLEDs |
| --- | --- | --- |
| Size | 32, 43, 50, 55, 65, 75, and 85 inches | 42, 48, 50, 55, 65, 77, and 85 inches |
| Price | $599 – $4,299.99 | $599 – $4,299.99 |
| Resolution | 4K Ultra HD | 4K Ultra HD |
| TV Display Technology | QLED | OLED |
| Color Enhancement | 100% Colour Volume with Quantum Dot | AI Picture Pro, Billion Rich Color, Perfect Black, HDR Dynamic Tone Mapping Pro |
| Motion Enhancement Technology | Motion Xcelerator Turbo+ | AI Upscaling, OLED Motion, G-Sync Compatible |
| Video Modes | Standard; Movie; Filmmaker; Dynamic Mode; Natural | Vivid, Standard, Eco, Cinema, Sports, Game, Filmmaker, (ISF)Expert(Bright Room or Dark Room) |
| Audio Enhancement | OTS, Adaptive Sound+ | AI Sound Pro (Virtual 7.1.2 Up-mix), Dolby Atmos®, Bluetooth Surround Ready, WiSA Ready |
| USB Media Port | 2 – Back | 3-Side |
| TV Operating System | Tizen OS | webOS |
| Typical Consumption | 90 Watts | 115 Watts |
| Voice Assistant Built-In | Yes | Yes |
| Weight without Stand | 49.4 lbs (22.4 kg) | 32.6 lbs (14.8 kg) |
| Refresh Rate | 120Hz | 120Hz |
| Energy Saving Mode | Yes | Yes |
| Bluetooth | Yes | Yes |
| Internet Connectivity | Wi-Fi and Wired | Wi-Fi and Wired |
Samsung Frame vs LG OLEDs: What's the Difference?
Display
Samsung and LG OLED have a 4K Ultra HD resolution powered by different technology. Samsung's The Frame is built on the QLED panel, unlike the OLED panel of LG. The Frame has edge-lit backlight technology, which LG OLED lacks. The always-on feature of The Frame allows users to display lovely artwork on their TV when it is not active.
Both TVs have cutting-edge color and motion enhancement technology. The motion enhancement of LG OLED is powered by AI upscaling, OLED motion, and G-Sync compatibility. What's more, The Frame has Motion Xcelerator Turbo+, stabilizing the image when playing a fast game or watching intense movies.
The enhancement of Samsung Frame is 100% color volume with a quantum dot. Meanwhile, LG OLED has technologies like AI Picture Pro, HDR Dynamic Tone Mapping Pro, Billion Rich Color, and Perfect black. These features provide viewers with an immersive viewing experience and analyze video in real-time to adjust for the best image.
The video modes available on both TVs vary, but provide almost identical physical appeal to viewers. Some video modes available to LG OLED are Vivid, Standard, Eco, Cinema, and Sports, among others. Meanwhile, The Frame has Standard, Movie, Natural, Dynamic Mode, and Filmmaker as its preset video modes.
Size and Power
The width and height of Samsung's 65-inch Frame, without a stand, measure 57.4 and 32.8 inches, respectively. LG OLED 65-inch TV measures 56.73 and 32.52 inches in width and height, respectively. To buy The Frame, you need to consider a strong wall attachment.
At 13 lbs (6 kg), it weighs more than LG's OLED. But size doesn't matter with power consumption; LG OLED consumes about 115 watts, while The Frame consumes way less at about 90 watts.
The wall mount for The Frame is included in the package, but it's optional for LG OLED. Also, the wall mount specification for LG OLED is 200 x 300, lower than The Frame's 300 x 400. Hence, The Frame is bigger than LG OLED and consumes more power.
Connectivity and Software
There are three USB ports on the LG OLED, but The Frame only made space for two ports. As a plus to LG OLED, it has one coaxial cable unit with an Ethernet port. The Frame has none of these except for a USB -C camera. Although both TVs are equipped with Wi-Fi 5, Samsung's The Frame edges LG OLED with its Bluetooth 5.2.
Best Self-Lit OLED
LG B2 Series 65-Inch Class OLED Smart TV
8 million self-lit OLED pixels for vivid viewing experience
Advance α7 Gen5 AI Processor 4K algorithmically adapts and adjusts picture and sound quality
120Hz refresh rate for fast-paced games
LG Game Optimizer mode with NVIDIA G-SYNC, FreeSync Premium, and Variable Refresh Rate (VRR)
We earn a commission if you make a purchase, at no additional cost to you.
There is a custom-built operating system for these TVs. The Frame has Tizen OS and is preloaded with applications like Samsung TV Plus, Netflix, Prime, Disney Plus, Apple TV, YouTube, SmartThings, Gallery, and Samsung Health. Meanwhile, LG OLED comes with webOS and the following applications: LG Channels, Netflix, Prime Video, Crave, Apple TV, Cineplex Store, and Tubi.
Samsung' The Frame has its voice assistant, Bixby, but it is still compatible with Amazon Alexa and Google Assistant. LG OLED is also compatible with Alexa and Google Assistant only but has Chromecast built-in; this means you can project from your mobile phone to the LG OLED TV. Although, Samsung SmartThings is a feature that can counter this because it allows you to project from other gadgets also.
One critical piece of information that must be noted in this Samsung Frame TV vs LG OLED comparison is that the former does not support Apple HomeKit. This can be linked to the fact that Apple is one of the major competitors of Samsung in mobile phones and other accessories. Hence, LG OLED TVs support Apple Homekit. Apple users can be calm and feel comfortable with this OLED TV in their house.
Samsung Frame vs LG OLEDs: 10 Must-Know Facts
Samsung Frame has QLED technology, While LG is built on OLED.
Both Samsung Frame and OLED are compatible with Airplay 2, thus allowing projection from Apple products.
LG OLED has seven preset video modes, while Samsung has only five.
Samsung Frame weighs at least 11 lbs (5 kg) more than LG OLED.
LG OLED consumes more power than Samsung Frame.
Samsung Frame has Samsung SmartThings, while LG OLED has Chromecast built-in to allow projection from other gadgets.
Both TVs have four HDMI ports, but LG OLED has three USBs. That's one more than the Samsung Frame TV.
LG wired connection ports are located at the back. While Samsung connections are on the side.
Both TVs support Alexa and Google Assistant, but Samsung Frame comes with its voice assistant, Bixby.
LG OLED supports Apple Homekit, which Samsung Frame TV does not provide support for.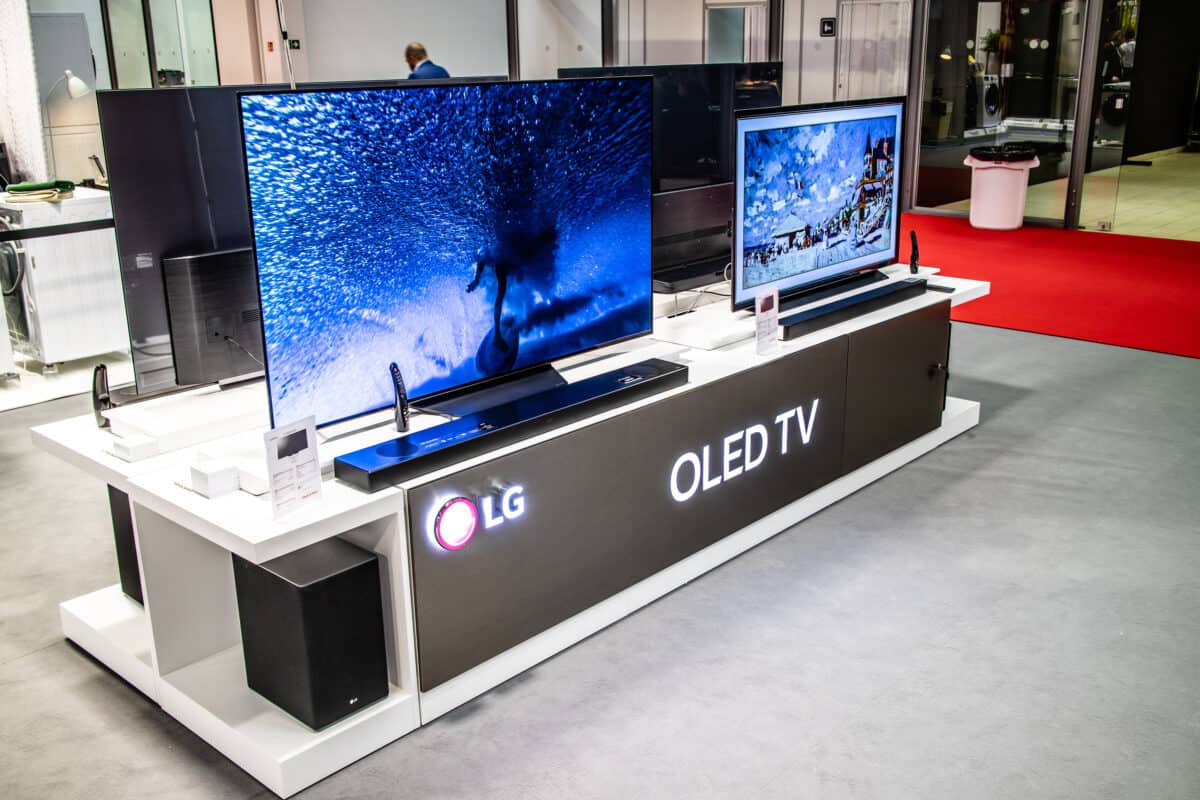 Samsung Frame TV vs LG OLEDs: Which One Is Better? Which One Should You Use?
Making a judgment between these two great TVs will be very hard. Both are developed on different technologies but provide viewers with similar video and audio output. However, the choice of which one to buy will surely depend on the buyer's preference. We tried to highlight a few of these preferences and which of the TVs will complement your choice.
If you are using Samsung devices, it's a no-brainer which TV you should for. The Frame is the best for you to buy. It will ensure a seamless connection between your gadgets and The Frame.
If you are using Apple gadgets, LG OLED TV is the best for you. The TV supports Apple Homekit, which provides an integrative interface between the TV and your Apple gadgets.
If you are concerned about power consumption or weight, Samsung's The Frame consumes considerably less power than LG OLED TVs. But LG OLED is much lighter than The Frame.
If you like aesthetic display, you want to consider The Frame because it can offer the same display as LG OLED TV, but tops it with a customized artwork frame that can adjust itself to accommodate the room's brightness. With a different bezel and artwork display when turned off, The Frame can easily disguise itself and provide more aesthetics to your home.
With QLED technology, Samsung's TV provides a better viewing experience in a well-lit room. Then again, if you prefer more wired connections, LG OLED provides more options than Samsung TVs. However, its ports are located at the back, which proves more of a hurdle than easy-to-reach Samsung Frame ports, located on the side.
The Samsung Frame and LG OLED in the News
As of 2023, the Samsung Frame continues to add new and exciting art that users can display to make their televisions blend seamlessly with any gallery wall in their homes. In addition to adding new sizes, new magnetic frames are available to completely change the look and aesthetic of your Samsung Frame.
As recently as July 2023, LG has announced a whole new lineup of OLED televisions that will be on the market within the next year. The LG C2, G3, A2, Z2, and B2 will have innovative upgrades like better picture quality and smart TV functionality.
Looking Forward
Both Samsung and LG are making improvements on their popular television products. For the Samsung Frame, a new 32-inch model is planned that has a Quantum Dot panel. Additionally, the LG OLED plans to add exciting new gaming features to it's roster, including more pixels to adjust to the world of gaming graphics that only seems to improve in quality every year.