Samsung The Frame rocked the television world back in 2017 when it became the first art television for home use. Since then, it has inspired numerous brands to come up with similar TV lines. While rather late to the party, Hisense announced its first art TV, the M1, at CES 2023. How does it compare to The Frame? Should you make the switch? This guide to Samsung Frame vs. Hisense M1 can help you decide.
Samsung Frame vs. Hisense M1: Side-by-Side Comparison
Samsung The Frame has been around for a while. The art TV was launched in 2017, with subsequent versions bringing upgrades and improvements over the original design. The 2022 version is readily available on the market, and we can expect a new variant later this year.
Hisense M1 is part of the brand's 2023 lineup, but the product hasn't been yet launched. While Hisense didn't release loads of info regarding it, this comparison between Samsung Frame vs. Hisense M1 shows what we know so far.
| | Samsung Frame | Hisense M1 |
| --- | --- | --- |
| Year | 2022 | 2023 |
| Display type | QLED | Mini-LED |
| Display resolution | 4K | 4K |
| Picture processor | Quantum Processor 4K | MediaTek |
| Refresh rate | 120Hz | 120Hz |
| Available sizes | 32", 43", 50", 55", 65", 75", 85" | 65" |
| Price | More expensive | Less expensive |
Samsung Frame vs. Hisense M1: What's the Difference?
Comparing a tried and tested television with one that's not even here yet doesn't seem fair. However, if you want a new art TV and can't decide whether to wait or buy one right now, you might want to find out everything there is to know about the upcoming Hisense M1. With Samsung The Frame being one of the few art TVs on the market, here's what you can expect and how the two will likely compare.
Image Quality
The first difference between Samsung The Frame and the Hisense M1 is the display type. The Frame features Samsung's proprietary QLED technology. These quantum dot displays are essentially LCD screens covered by a film of nanoparticles. Similar to NanoCell displays, the particles reflect light in a determined way, improving image quality and color accuracy.
The main purpose of quantum dots is to mitigate the "blooming" effect of LCD screens when displaying lighter colors. There might be some blooming compared to technologies such as OLED, but the image quality is usually excellent.
Hisense doesn't disclose too much about its M1 television, but we do know that it will feature a mini-LED screen. This is likely the same screen type as the one used in the brand's top-of-the-range U8H TV, perhaps with some improvements over the 2022 model.
Even if the company decides to use the exact same screen, it is still expected to deliver higher image quality than The Frame. That's because Mini-LED TVs are capable of producing brighter images and deeper contrasts than QLED.
If the U8H is any indication, we can expect a brightness of around 1,500 nits. Meanwhile, the 2022 Frame TV has a brightness of only 351 nits.
Color Accuracy
Another expected difference between The Frame and Hisense M1 is the color accuracy — which will likely be better on the Hisense TV. Once again, the difference stems from the different technologies.
Quantum dot nanoparticles have different dimensions, with each dimension reflecting a certain color. However, brightness and contrast play an important role in color accuracy and definition, and The Frame struggles to deliver. While you can expect good color quality, the Hisense M1 will likely display more life-like colors and greater accuracy.
Perhaps the lack of local dimming is one of the reasons The Frame doesn't deliver the same color quality we've come to expect from Samsung televisions. From an art TV standpoint, however, The Frame is spectacular. This television can display famous works of art with almost life-like accuracy, easily turning your home into a gallery.
We don't know if the M1 will be able to deliver the same immersive feeling. While the color accuracy will likely be higher in TV mode, the art mode might disappoint.
Art Mode
Image quality and color accuracy aside, the main purpose of buying an art TV is to enjoy famous works of art. Hisense didn't say much about its M1's art mode. Meanwhile, we know what to expect from Samsung.
The Frame is a versatile television that can be installed in landscape and portrait modes alike — the former is a better choice if you want more than works of art on a wall. However, if your main goal is to enjoy a certain painting, nobody stops you from hanging it in portrait style.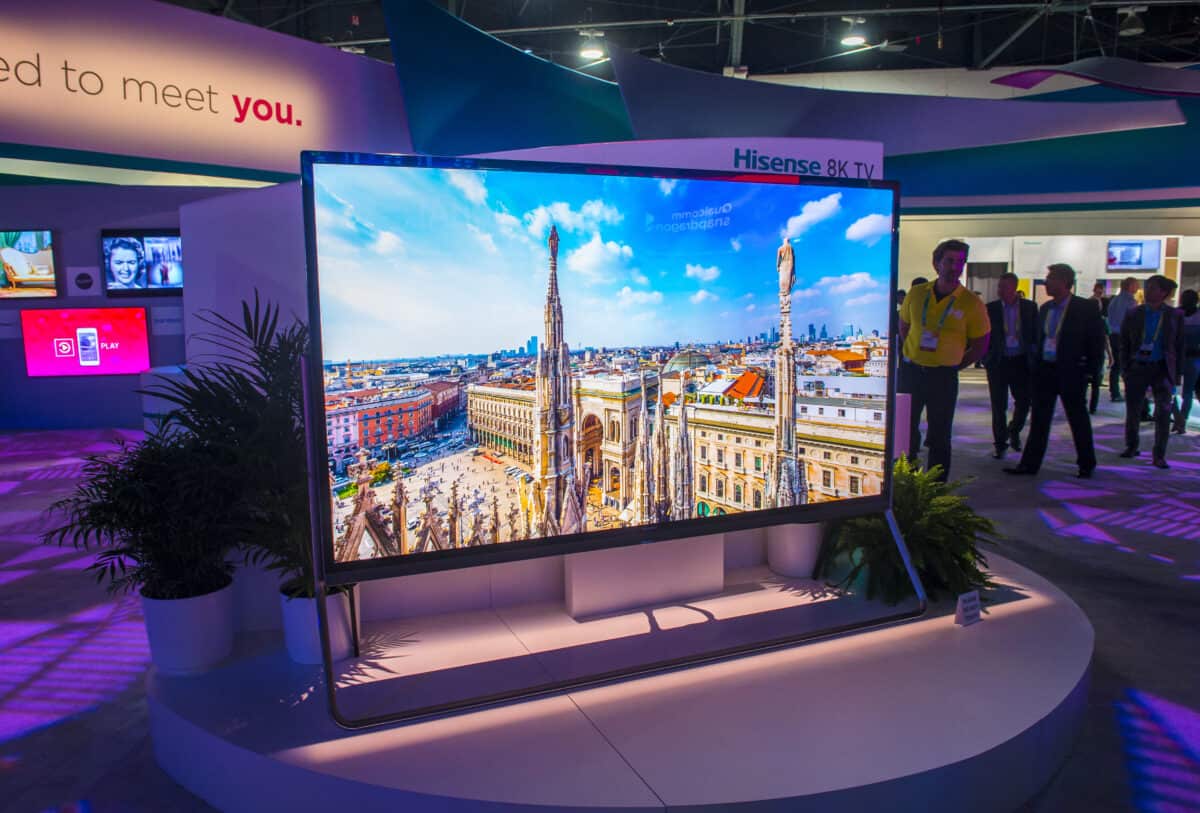 A matte display improves image quality when the TV is used in art mode. As presented at CES 2023, the Hisense M1 comes with a standard screen that reflects light. This display type may cut off some of its art mode enjoyment.
The Frame allows users to upload up to 1,200 photos from the phone or via a USB flash drive. Alternatively, you can find as many beautiful works of art as you want in the Samsung Art Store. We don't know yet if Hisense will have an art store or how many photos you'll be able to store on the device.
Another great feature on the Samsung TV is a motion sensor that detects when you're in the room, turning the screen on to display your favorite art. The Hisense M1 will likely have a motion sensor, too, but rumors have yet to be confirmed.
Design
As art televisions, both The Frame and Hisense M1 have a minimalist design. However, The Frame is thinner and easier to blend into your interior design. Similar to wall art frames, it is only one inch thick.
At 1.08 inches, the Hisense M1 is only slightly thicker, but the difference might be noticeable if you hang the television near other framed pictures. If you don't want to hang the television on a wall, The Frame comes with an easel-like stand. Hisense might come with a stand, too.
Size-wise, the Hisense M1 is no competition for The Frame. For now, the M1 comes in only one size, which is 65 inches. Samsung The Frame comes in various sizes, from 32 to 85 inches. This makes it easy to match the TV size to your room. The Frame also features a customizable bezel for smooth integration into your interior.
Smart Features
Samsung Frame and Hisense M1 might be art TVs, but they are also smart. The former uses Samsung's Tizen, which is similar to LG's webOS. In the 2022 Frame version, an improved Tizen variant ensures seamless navigation and enhanced user experience compared to the earlier versions.
The Hisense M1 is essentially a Google TV. Its smart features are powered by Android, navigation is straightforward, and the user experience is excellent. Both TVs come with built-in Alexa and compatibility with other smart home devices, such as Apple and Google Home.
Price
Hisense has not yet revealed the price of its M1 art TV. However, considering the price of Mini-LED televisions launched in 2022, we can expect it to cost around $1,000 — perhaps slightly more if the brand brings any improvements to technology.
Samsung The Frame is dubbed a true art TV, and the price reflects it. The 55-inch variant is currently priced at around $1,497. Larger screens are a lot more expensive, with the 85-inch version setting you back almost $4,300. If you want a good TV on a budget, Hisense is likely a better option.
Samsung Frame vs. Hisense M1: 5 Must-Known Facts
Samsung The Frame is the first art TV launched in 2017. The 2022 version brings multiple improvements over the original design.
Hisense M1 is a new art TV announced at CES 2023. This television is part of Hisense's 2023 TV lineup and is expected to be launched in the first half of 2023.
Samsung The Frame features matte display technology. This technology displays works of art with almost life-like accuracy, but colors in TV mode are not as bright and life-like compared to other QLED televisions.
The M1's Mini-LED technology will likely bring higher color accuracy and image quality compared to the QLED from Samsung.
The Frame TV features customizable bezels, a flush-with-the-wall design, and a motion sensor that turns on the display when you're in the room. The Hisense M1 is also flush with the wall and will have a customizable bezel, but it is not yet clear whether it will have a motion sensor.
Samsung Frame vs. Hisense M1: Which One Is Better? Which One Should You Use?
The Hisense M1 is a promising art TV, especially if you want almost true blacks, greater contrast, and more brightness. However, the TV is not yet on the market. If you want an art TV right now, Samsung The Frame is your only option.
While you might not get the enhanced TV image quality we've come to expect from modern TVs, the image quality in art mode is superlative. You can choose from various sizes, customize the bezel, and install the TV in either landscape or portrait mode. Without a doubt, The Frame can be a valuable addition to your home.
Samsung Frame and Hisense M1: Technology Updates
Recent technological advancements have touched upon the Samsung Frame and Hisense M1 TVs:
Samsung Frame:
The 2023 iterations of the Samsung Frame TVs have undergone notable enhancements. This includes an integration of the new Quantum Processor 4K+ AI chip, poised to elevate both picture quality and audio performance. A fresh addition to the lineup is the Ambient Mode+, an innovative feature facilitating the display of personalized content on the screen when the TV is inactive.
Hisense M1:
Similar strides have been made with the 2023 Hisense M1 TVs. A novel Quantum Dot panel has been seamlessly incorporated, assuring heightened color vibrancy in visual output. Additionally, the inclusion of MEMC (Motion Estimation, Motion Compensation) technology has been instrumental in mitigating blur during fast-paced sequences, enhancing overall viewing clarity.
Moreover, beyond these targeted technology enhancements, both the Samsung Frame and Hisense M1 TVs have also received broader software updates recently. These encompass vital bug fixes and performance optimizations, contributing to a more seamless and refined user experience.
Samsung Frame and Hisense M1: Looking Forward
Anticipated technological advancements for the Samsung Frame and Hisense M1 TVs within the upcoming six to 18 months encompass:
8K Resolution: The trajectory of technological progress suggests that both the Samsung Frame and Hisense M1 TVs, currently configured with 4K resolution, are likely to embrace the surging popularity of 8K TVs. As consumer demand grows, it's foreseeable that both brands will unveil 8K iterations of their artistic TVs, potentially within the next year or two.
Mini LED Backlight: A burgeoning innovation, Mini LED technology boasts superior contrast and black levels in comparison to conventional LED backlighting. The Samsung Frame and Hisense M1 TVs may undergo updates integrating Mini LED backlights, leading to enhanced visual performance and display quality.
HDMI 2.1 Integration: The impending updates for both TV models could entail the adoption of HDMI 2.1, the latest evolution of the HDMI standard. HDMI 2.1 brings forth support for cutting-edge features like 4K 120Hz gaming and Variable Refresh Rate (VRR), contributing to a heightened and more immersive viewing and gaming experience.
Novel AI Features: The innovative spirit of both Samsung and Hisense is continually propelling the development of new AI features for their TV offerings. Prospective advancements may materialize on the Samsung Frame and Hisense M1 TVs, potentially encompassing capabilities like automated picture setting adjustments tailored to diverse content types or AI-driven noise reduction for images.