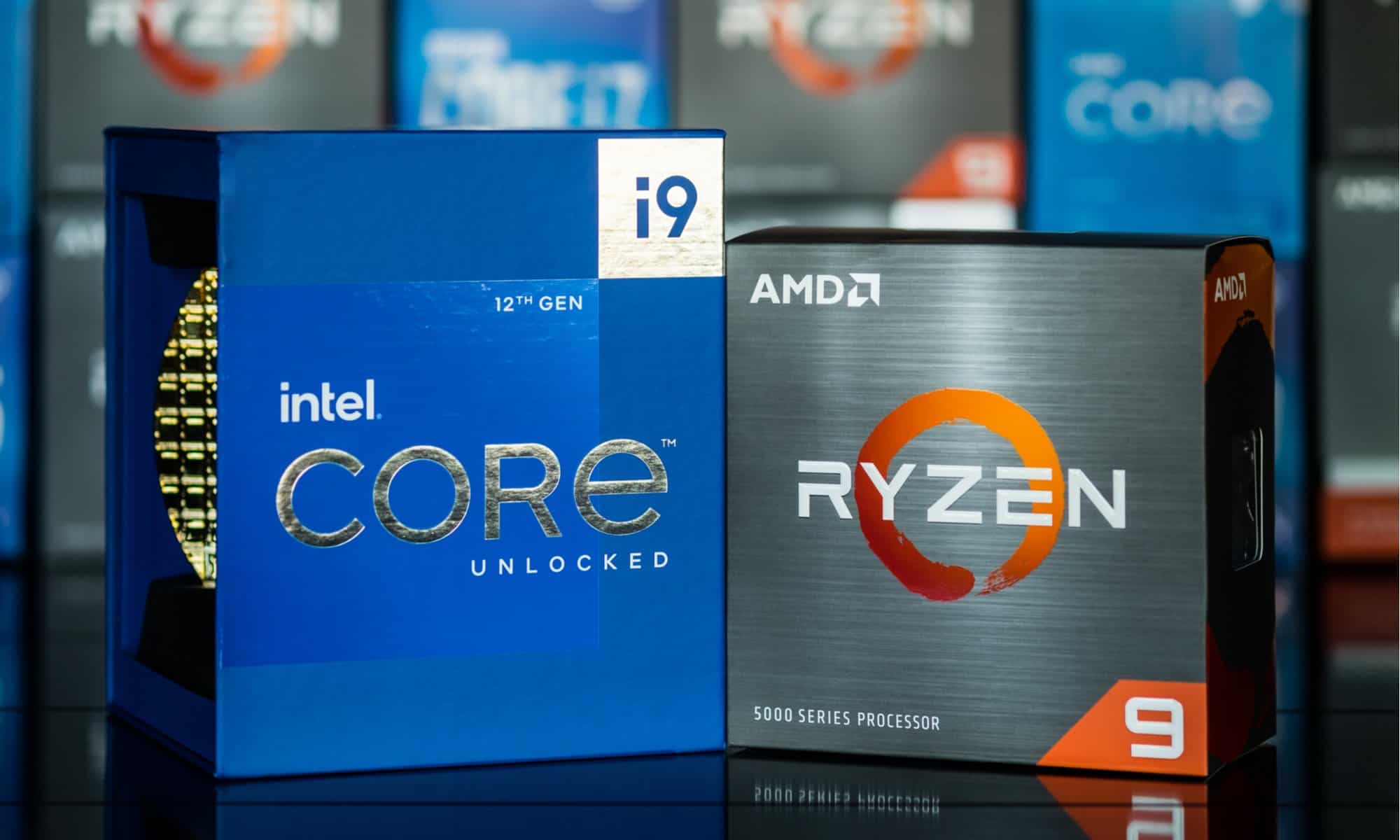 Ryzen vs Intel: A Decades-long Battle of the Processors
Ryzen vs Intel: The battle has been raging on now for over three decades between the biggest processor makers in the world. In one corner you have Intel, with their flagship Core i-series processors: The Core i3, i5, i7, and i9. In the other corner is AMD, with its lineup of powerful Ryzen processors, the 3000, 5000, 7000, and 9000 series CPUs. 
If you're looking to buy a new gaming laptop or build a PC, you have probably seen the choices for CPU: Intel or Ryzen. But what is the difference between Intel and Ryzen? Is one really better than the other? That's what we're going to talk about in today's article.
Intel has always been the go-to source for the fastest processors. Everyone knew that Intel was the leader when it came to gaming performance. But with the release of the new Ryzen series processors from AMD, all of that changed. The performance and price disparity between Intel and AMD used to make Intel a clear winner and an obvious choice. AMD now has very competitive processors, and Intel may not be the ultimate leader anymore.
If you're stuck trying to select a processor configuration, you may get confusing advice. Some may tell you that Intel is better than Ryzen or vice versa without knowing the facts. That's why we have brought you nothing but the facts to help you make an informed decision.
What's the Difference Between Ryzen and Intel?
Intel has been in the processor business for quite a while, and the past decade has brought us amazing increases in processing power thanks to this rivalry. 
While performance differences between Intel and AMD stemmed mainly from their radically different approaches to architecture over the past ten years, the Ryzen lineup from AMD challenges previously held standards. AMD's "Bulldozer" architecture was defined by having a high number of cores, but the power consumption and price-to-performance ratio were terrible. Intel led the processor market for years thanks to AMD's lower-quality processors.
AMD truly redefined our expectations for processors when they released the new Zen-based architecture. While Intel was stuck on the older 14nm process and Skylake architecture, AMD revamped their whole lineup with a new, more powerful, and power-efficient series of processors.
Since AMD has always been known for its economical, yet subpar CPUs, Intel was always seen as the superior force. Ever since the Ryzen series was released, Intel has been going head to head with AMD to stay on top. Intel has reduced its CPU prices across the board and is now in line with AMD's Ryzen price point.
If you're looking for a processor with integrated graphics, then Intel is going to be the ideal CPU for you. Ryzen does have a few models with integrated graphics, most notably the Ryzen 5 5600G and the Ryzen 7 5700G APUs, however, the rest of AMD's Ryzen lineup does not support integrated graphics at all. If you are gaming, this won't be an issue for you, since you'll want a decent graphics card anyway.
With the release of the new Alder Lake processors, Intel provides full support for PCIe 5.0 and DDR5. Ryzen's older PCIe 4.0 and DDR4 technologies can seem a little outdated in comparison. Unfortunately, this new technology brings with it a significant increase in motherboard costs. Luckily, Intel's Alder Laker processors still support the older DDR4 standard if you don't want to upgrade your motherboard.
Ryzen vs Intel: Side-by-Side Comparison
Sale
Sale
AMD Ryzen 9 5900X 12-core, 24-Thread Unlocked Desktop Processor
The world's best gaming desktop processor, with 12 cores and 24 processing threads
Can deliver elite 100-plus FPS performance in the world's most popular games
Cooler not included, high-performance cooler recommended. Max Temperature- 90°C
4.8 GHz Max Boost, unlocked for overclocking, 70 MB of cache, DDR-3200 support
For the advanced Socket AM4 platform, can support PCIe 4.0 on X570 and B550 motherboards
Intel Core i7-12700K Desktop Processor 12 (8P+4E) Cores up to 5.0 GHz Unlocked  LGA1700 600 Series Chipset 125W
Intel Core i7 3.60 GHz processor offers more cache space and the hyper-threading architecture delivers high performance for demanding applications with better onboard graphics and faster turbo boost
The processor features Socket LGA-1700 socket for installation on the PCB
25 MB of L3 cache to boost the instruction processing and system performance
Intel 7 Architecture enables improved performance per watt and micro architecture makes it power-efficient
To boost graphics and visual quality, the chipset has a built in Intel UHD Graphics controller
Ryzen vs Intel: Which is Better For Gaming?
The current mix of value, price, and performance seen in the Ryzen processors makes them a very tempting choice. With lower power consumption and cheaper motherboards, Ryzen can easily go up against Intel, but who is the gaming leader? 
When it comes to which CPU is better for gaming, Intel still has the advantage. Intel's new Alder Lake chips are faster than Ryzen when put to the test in gaming benchmarks. In all price points, Intel beats Ryzen by a small margin.
You'll need a high-end graphics card to really notice any difference between Intel and Ryzen when it comes to gameplay. If you are a serious gamer, bent on getting every last frame out of your games, then the Intel Core i9 12900K is going to be the best processor for the job. Even though Ryzen provides some solid competition in the form of the Ryzen 9 5900X, there is still no beating Intel at gaming.
Which is the Better Choice for Video Editing?
If you're considering which processor is better when it comes to video editing, you may be stumped trying to choose between Ryzen and Intel. That's because both processors are excellent choices. Nonetheless, Intel has a slight lead over Ryzen in the benchmarks.
When tested with Davinci Resolve and Adobe Premiere Pro, the Intel Core i9 12900K was the clear leader, leaving the AMD Ryzen 9 5950X in the dust. Although the Ryzen is still a solid choice for video editing, there is no beating the faster DDR5 memory support offered by Intel. For this reason, we have to say that Intel is the better choice for video editing.
Which is the Better Value and Price?
If you were to select the better processor solely on price, Ryzen takes the lead. AMD has always provided a great value in its CPUs, beating Intel time and time again when it comes to price. The Bulldozer architecture of ten years ago meant that you could save a lot of money by switching to AMD, but with a noticeable decrease in performance.
Since the release of the Ryzen series processors in 2017, AMD has been working overtime to prove that they are not just a value processor anymore. Going with a Ryzen series processor means that you don't have to sacrifice performance for the price, as the Ryzen CPUs are now extremely competitive with Intel.
When it comes to value, Intel and Ryzen go head to head. As we can see from the table below, the best processors from both manufacturers are extremely similar.
Both Intel and Ryzen offer fully unlocked CPUs so you can overclock to achieve your desired performance levels. One thing you'll notice pretty quickly is the power usage between Intel and Ryzen; Ryzen is significantly more efficient. This could lead to sizable energy savings over time, another thing to keep in mind when comparing the costs of both processors.
Even with the energy savings, Intel still offers cheaper CPUs than Ryzen. For instance, Ryzen has nothing competitive in the sub-$200 price point, whereas Intel provides the Core i5 11400F, and the Core i5 10100, two solid choices for budget processors. In comparison, AMD's Ryzen 3 and Ryzen 5 processors just don't beat Intel's lower-end CPUs.
Which One Uses More Power?
We've already touched on the differences in power draw between Ryzen and Intel, but the extent of the difference should make you think twice about choosing Intel if you care about energy usage. Since the launch of their 12th generation of CPUs, Intel has managed to surpass Ryzen in the performance benchmarks, but at the cost of a significantly higher power draw.
The Intel Core i9 12900K uses up to 241 watts of peak power when tested under multi-threaded workloads. Ryzen, on the other hand, comes in with a peak rating of just 105 watts. Over time, this power usage can end up costing you more on your energy bills. Although the difference is not very noticeable during regular use, you may need to consider using a stronger power supply if you choose Intel.
The amazing energy efficiency of the Ryzen series processors makes it our recommendation when it comes to which CPU is better for power draw. There is simply no beating Ryzen when it comes to energy efficiency.
Intel vs Ryzen: Which CPU Wins?
For now, we're giving the crown of best CPU to Intel. Ryzen still has some catching up to do. The battle still rages on to this day, and there is no end in sight. The rivalry between Intel and Ryzen has brought us some amazing new technology. With each new generation, these processor makers surpass each other. While Intel may be the best bet now, the next generation of Ryzen CPUs may come along and change everything.
Last update on 2022-09-17 / Affiliate links / Images from Amazon Product Advertising API