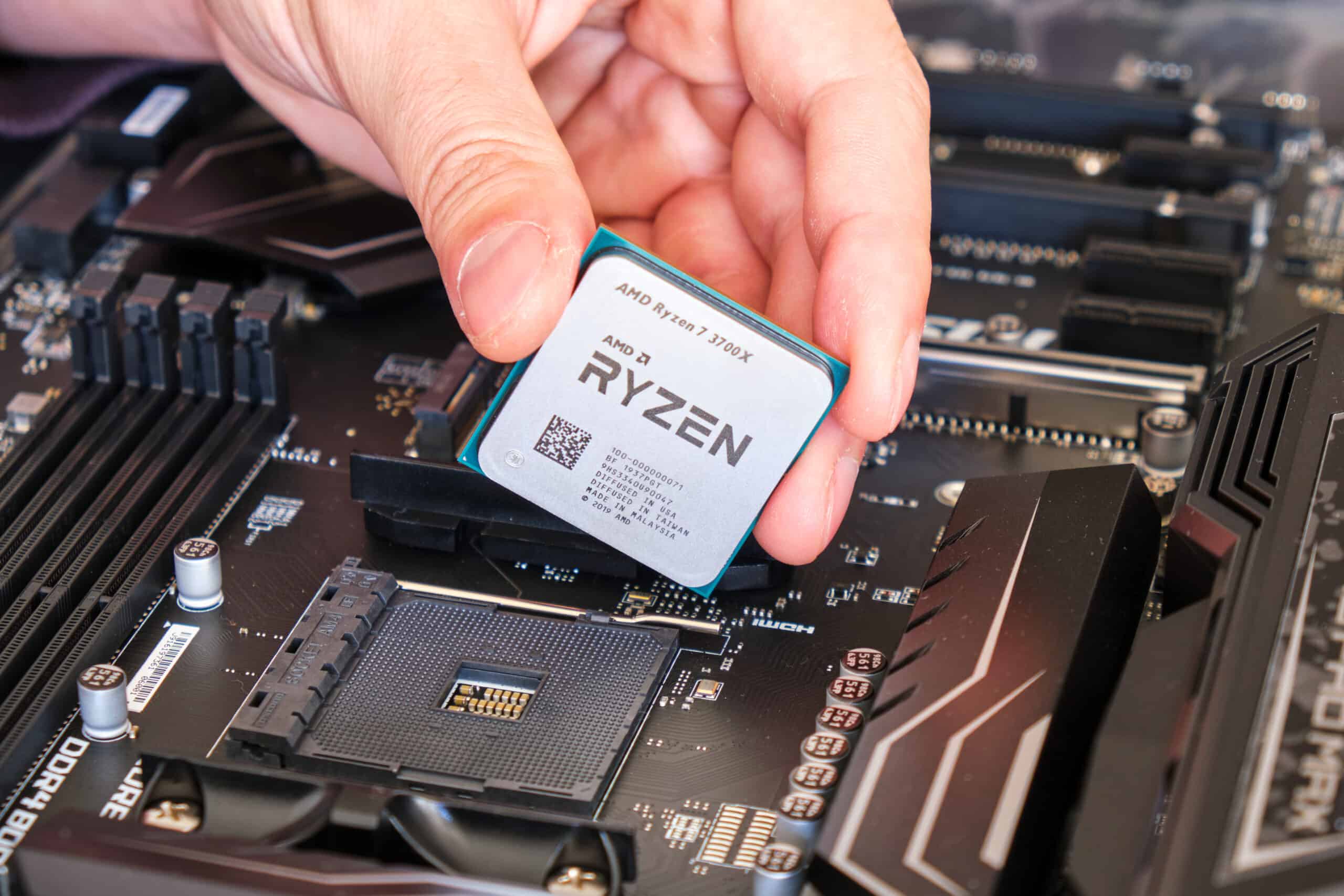 Ryzen 5 vs Ryzen 7: Two Famous Processors From AMD
In today's article, we are going to look at a broad overview of AMD's Ryzen 5 and Ryzen 7 processor lineup. Although it is not as simple as just assuming the Ryzen 7 is better than the Ryzen 5, there are many more factors that come into play when discussing these two CPU series. A newer Ryzen 5 can be similar to or even better than an older Ryzen 7.
Additionally, though Ryzen 7 processors typically come with higher core counts and clock speeds, this does not necessarily mean they are better overall for your needs. Some users will be better suited by a Ryzen 5 for a number of reasons.
We're going to dive deep into the Ryzen 5 and Ryzen 7 series and figure out which one is better for different uses. Having the right processor for the job is very important, whether you are using your PC for gaming, streaming, video editing, or 3D rendering. Furthermore, the subtle differences between similar models in each generation can mean that a different choice is justified. To make things easier for you when shopping for a new CPU, let's take a look at the Ryzen 5 and Ryzen 7 processors and gain a deeper understanding of them.
Ryzen 5 vs Ryzen 7 Comparison:
The biggest difference between Ryzen 5 and Ryzen 7 processors comes down to the core count and thread count. We had to compare at least two generations of Ryzen processors to paint an accurate picture of what makes them similar and what makes them different. Have a look at the table below to see for yourself:
| Specs | Ryzen 5 3600x | Ryzen 7 3800x | Ryzen 5 5600x | Ryzen 7 5800x |
| --- | --- | --- | --- | --- |
| Number of Cores | 6 | 8 | 6 | 8 |
| Number of Threads | 12 | 16 | 12 | 16 |
| Base Clock Speed | 3.80GHz | 3.90GHz | 3.70GHz | 3.70GHz |
| Boost Clock Speed | 4.40GHz | 4.50GHz | 4.60GHz | 4.70GHz |
| L2 Cache Size | 512k (per core) | 512k (per core) | 512k (per core) | 512k (per core) |
| L3 Cache Size | 32MB shared | 32MB shared | 32MB shared | 32MB shared |
| Unlocked? | Yes | Yes | Yes | Yes |
| TDP Rating | 95 Watts | 105 Watts | 65 Watts | 105 Watts |
| Memory Type | DDR4 | DDR4 | DDR4 | DDR4 |
| PCI Version | PCI-E 4.0 | PCI-E 4.0 | PCI-E 4.0 | PCI-E 4.0 |
| CPU Socket | AM4 | AM4 | AM4 | AM4 |
| CPU Architecture | 7NM Zen 2 | 7NM Zen 2 | 7NM Zen 3 | 7NM Zen 3 |
As we can see from the comparison, AMD has equipped each Ryzen 5 series CPU with 6 cores and 12 threads, while the Ryzen 7 series CPUs are typically equipped with at least 8 cores and 16 threads. AMD uses Simultaneous Multithreading technology to split each core into two logical cores for faster effective processing speed.
Ryzen 5 vs Ryzen 7: A Brief History
After losing the processor war to Intel for many years, AMD needed something new and innovative to turn things around. The "Bulldozer" architecture that AMD had been using since 2011 was falling farther behind Intel's technology with each passing year. Intel processors were faster and more power-efficient. 
The only way AMD could even compete was by slashing the price. AMD became known as the budget processor, but with Intel beginning to lower their prices as well, the tides were turning. Then 2017 came and everything changed forever. The Ryzen series processors officially launched, and to everybody's surprise, AMD had made something that could really give Intel a run for its money. You could say Intel didn't even see it coming.
AMD shocked the world when they released the first Ryzen 7 CPU on March 2, 2017. The first Ryzen 7 destroyed the Intel equivalent when it came to CPU benchmark tests. The closest competitor to the new Ryzen 7 was the Intel Core i7-7700K. Furthermore, with a lower MSRP and a higher benchmark performance rating, everyone flocked to the new Ryzen processors, leaving Intel in the dust.
Ryzen 5 vs Ryzen 7: What Are the Similarities?
You may have a general understanding of the difference between the Ryzen 5 and the Ryzen 7, but there are also plenty of similarities. Both CPUs rely on the standard AM4 socket from AMD. If you have an older AMD processor, such as one from the "Bulldozer" generation, you will need to upgrade your motherboard to fit the new Ryzen CPUs. The good news is that once you have a Ryzen-compatible motherboard, you won't need to upgrade again. Both older and newer generations of Ryzen processors use the same socket type. Even if you are upgrading from a Ryzen 3 CPU to a Ryzen 7, you can use the same socket and the same motherboard.
Additionally, both CPUs are compatible with the latest DDR4 RAM and typically allow you to use up to 128GB of dual-channel RAM as well. Although the maximum ram is ultimately dependent on what motherboard you are using, the generous maximums allowed by the Ryzen CPUs mean that you will never have to worry about running out of RAM.
Furthermore, most Ryzen 5 and Ryzen 7 processors have a fully unlocked multiplier, allowing you the ability to overclock. Overclocking can drastically increase your performance, but only on CPUs that are unlocked. You want to look for a Ryzen processor with an "X" in the model identifier such as the 5600x or the 5800x. You can easily tell a locked Ryzen apart because there will be no "X" in the model. These locked processors are typically used in laptops and prebuilt computers anyway, so it is easier to spot them.
Additionally, both the Ryzen 5 and Ryzen 7 processors are very energy-efficient. Compared to the previous generation CPUs from AMD, which ran at peak wattages of between 95 and 220 watts under load, the Ryzen 5 and Ryzen 7 processors are rated for much less. The Ryzen 5 series is particularly efficient, with newer models rated for just 65 watts.
Which One Is Better For Gaming: Ryzen 5 vs Ryzen 7?
One of the most important factors when trying to figure out which processor is better is how well they play games. If you are going to use your CPU for gaming, that's really all you care about. Testing gaming performance comes down to many factors, including your GPU and RAM configuration as well as other subtleties of your PC, so we compiled general benchmarks that test a few specific categories.
Additionally, digging into each area of performance gives us a clear picture of how these processors perform relative to each other. As expected, the latest and greatest Ryzen 7 series CPUs are better than older Ryzen 5 CPUs, but not by as much as you would expect. The entire Ryzen lineup scores well, and in general, is great for gaming.
| Test | Ryzen 5 3600x | Ryzen 7 3800x | Ryzen 5 5600x | Ryzen 7 5800x |
| --- | --- | --- | --- | --- |
| Memory latency | 87.9 points | 88.3 points | 94.8 points | 95.1 points |
| Single-core | 135 points | 137 points | 165 points | 170 points |
| Dual-core | 266 points | 272 points | 327 points | 339 points |
| Quad-core | 514 points | 528 points | 640 points | 657 points |
| Octa-core | 877 points | 995 points | 1046 points | 1196 points |
Typically, each generation of Ryzen CPU shows between a 10% and 20% increase in performance over the last. The Ryzen 7 series is ultimately more powerful than the Ryzen 5, as you might have guessed. Depending on what you are doing, you may want to pick one over the other.
Ryzen 5 vs Ryzen 7: Which One Should You Choose?
If you are looking for the most powerful processor you can get, the Ryzen 7 is the way to go. Although it comes with a higher price tag, the Ryzen 7 dominates in gaming benchmarks and is also more suitable for 4K video editing, streaming, and 3D rendering. With a higher core and thread count, the Ryzen 7 delivers more raw processing power when it is needed.
On the other hand, the Ryzen 5 is a suitable CPU for those who still want a powerful processor, but at a lower price tag. Although not as fast as the Ryzen 7, the Ryzen 5 series processors still pack a lot of performance and provide more energy efficiency. No matter which CPU you choose, either one is a far cry from the days of old when AMD used to make power-hungry, low-performance CPUs strictly for the budget user. The new Ryzen processors stand up to Intel and are better in many ways.