The battle for the ultimate graphics card supremacy is never-ending. NVIDIA leads the conquest with a track record of high-performance graphics cards that, in most cases, guarantee unprecedented productivity. Battling it out today, we have the Geforce RTX 4090 vs Titan RTX, two of the most in-demand NVIDIA GPUs to hit the market.
Besides performance, the most obvious difference is that one is a Geforce, whereas the other is a Titan. Geforce GPUs are generally more affordable and come in a range of features that better suit the needs of mainstream gamers.
On the other hand, Titans are relatively high-end and expensive. Their features are ideal for professionals who need maximum performance and reliability, such as scientists who use GPUs for data processing and machine learning.
RTX 4090 vs Titan RTX: Overview
While it's clear that Titan has more powerful GPUs, performance metrics comparing RTX 4090 vs Titan RTX indicate that the GeForce RTX 4090 is the better option.
But that's understandable because Titax RTX is a much older GPU, launched on Dec 18, 2018, whereas the RTX 4090 hit the market on October 12, 2022. As is the norm, technology advances with time; as is the case with the two GPUs.
But what brings about these differences? What are the feature specifications that make one more desirable than the other? Here's a full RTX 4090 vs. Titan RTX comparison.
RTX 4090 vs Titan RTX: Side-by-Side Comparison
| | RTX 4090 | Titan RTX |
| --- | --- | --- |
| Architecture | NVIDIA ADA Lovelace | NVIDIA Turing |
| Base clock speed | 2,235 MHz | 1350 MHz |
| Boost clock speed | 2,520 MHz | 1770 MHz |
| CUDA Cores | 16,384 | 4608 |
| Memory Type | GDDR6X | GDDR6 |
| Memory size | 24 GB | 24 GB |
| Memory Interface | 384-bit | 384-bit |
| Memory Bandwidth | 1008 GB/s | 672 GB/s |
| Tensor Cores | 512 | 576 |
| RT Cores | 128 | 72 |
| Transistor count | 76.3 billion | 18.6 billion |
| Thermal Design Power | 450 watts | 280 watts |
RTX 4090 vs Titan RTX: What's the Difference?
When comparing the two GPUs, we must look beyond the general definitions of the supporting GPU lines. Why do they have varied target audiences, and why do most tests pick RTX 4090 as the better option?
First, one must examine the differences in feature specifications and how they affect performance. From the above table, these features include architecture, clock speeds (base and boost), CUDA cores, memory type, memory size, RT cores, transistor count, memory bandwidth, and thermal design power (TDP), among others.
It's apparent how the two are different, as summarized in the table above. This section goes a step further to explain how these differences account for expected performance.
Architecture
NVIDIA comes up with GPU architectures every so often. The main role of these architectures is to facilitate high-performance computing by parallel processing large amounts of data. Originally, the main role was to hasten the process of rendering computer graphics, but they became more methodical because of their ability to handle parallel workloads more efficiently than CPUs.
High Efficiency
NVIDIA GeForce RTX 4090
Has 16,384 NVIDIA CUDA Cores
Supports 4K 120Hz HDR, 8K 60Hz HDR
Up to 2x performance and power efficiency
Fourth-Gen Tensor Cores that offer 2x AI performance
Third-Gen RT Cores
AI-Accelerated Performance: NVIDIA DLSS 3
NVIDIA Reflex low-latency platform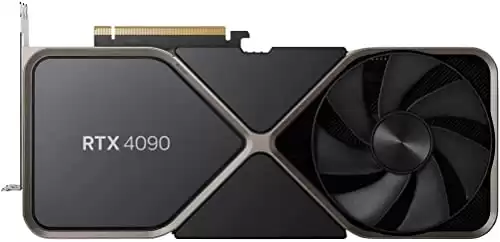 We earn a commission if you make a purchase, at no additional cost to you.
NVIDIA's RTX 4090 is based on the Ada Lovelace architecture, whereas the Titan RTX is founded on the Turing architecture. Ada Lovelace is the newest form of GPU microarchitecture, released on 20th September 2022, and succeeds the Ampere architecture. NVIDIA released the Turing architecture four years earlier, on September 20, 2018.
Looking at the performance of these GPUs, Ada Lovelace introduces new features like advanced hardware support for ray tracing and variable ray shading. We've seen real-time ray tracing made possible by introducing dedicated RT cores within other architectures.
However, Ada Lovelace takes it a notch higher with its third-generation RT cores that twice increase the performance of RT-TFLOP. Moreover, Ada Lovelace's advanced 5nm process allows for improved power efficiency and higher performance compared to Turing microarchitecture, which encompasses the 12nm process.
Essentially, this means that Ada Lovelace has more transistors and a higher density of components, ensuring improved performance and power efficiency.
Clock Speeds
Under clock speeds, we have the base and boost clock speeds. Base clock speed is the minimum clock speed the GPU operates when it's not under heavy use, whereas boost clock speed is the speed the GPU can reach under maximum use.
Therefore, a GPU running a heavy application will automatically increase the boost speed to the maximum to offer the best possible performance. The RTX 4090 has higher base and boost clock speeds, 2,235 MHz and 2,520 MHz, respectively, whereas the Titan RTX has relatively lower clock speeds (1,350 MHz and 1,770 MHz, respectively).
In this regard, the Titan RTX will reach its maximum boost clock speeds much faster, hindering performance. However, boost clock speeds are not always sustained and may drop if the GPU heats up or the power supply can't sustain demand. As such, the actual clock speeds vary depending on the use condition.
CUDA Cores
CUDA cores are the basic building blocks of NVIDIA GPUs. Each CUDA core is a small individual processor optimized for parallel processing and can perform thousands of arithmetic computations simultaneously. CUDA core functionality is applicable in intensive computational applications like machine learning, scientific simulations, and other data-intensive applications.
Generally, more CUDA cores lead to better performance in tasks that demand parallel processing. The more CUDA cores, the more parallel processing units are available to facilitate simultaneous computations. RTX 4090 is the clear winner in this regard. It has 16,384 CUDA cores, more than four times that of the Titan RTX at 4,608.
While the number of Cuda cores is an excellent way to measure GPU performance, it's crucial to note that performance gain from CUDA cores isn't always linear. Ideally, an increase in performance often depends on other factors, like the specific task being performed, the running application, and the efficiency of the running code.
Memory Type, Size, and Bandwidth
Another crucial difference between RTX 4090 and Titan RTX lies in the GPU's memory type, size, and bandwidth. Both have 24 GB memory, so size isn't a big deal. However, RTX 4090 uses GDDR6X, a relatively newer memory type than the GDDR6 used in the Titan RTX GPU.
Also, GDDR6X has a higher memory bandwidth at 1008 GB/s which translates to faster transfer speeds than GDDR6's 672GB/s. While the GDDR6 isn't as fast, it doesn't slump. It's still a good memory type that offers an excellent balance between speed and power consumption.
Our Pick
NVIDIA Titan RTX Graphics Card
GPU Clock Speed: 1350 MHz

New 72 RT cores for the acceleration of ray tracing
576 Tensor Cores for AI acceleration
24 GB of GDDR6 memory
We earn a commission if you make a purchase, at no additional cost to you.
You can use it to accelerate multi-app workflows and build immersive worlds with exciting characters. Coupled with the 72-ray tracing cores that deliver 11 Gigarays per second, users can tackle even the most demanding projects.
Tensor Cores
The main application of Tensor cores is to accelerate deep learning and artificial intelligence workloads by performing matrix operations much faster than traditional processing units. The high-precision matrix multiplication and accumulation are ideal for researchers and developers running complex applications, like training AI models.
Titan RTX stands out with its 586 Turing mixed-precision Tensor cores capable of delivering up to 130 TFLOPS AI performance using mixed precision calculations. This high level of AI performance means the Titan RTX performs extremely well in AI-related applications.
These include image processing, speech recognition, and the development of autonomous vehicles. For these reasons, researchers and developers, more than gamers, find more use in the Titan RTX.
On the other hand, the RTX 4090 features 512 Tensor cores. While you'd expect it to be on the slower end, it takes things a notch higher with the introduction of DLSS 3 (Deep Learning Super Sampling) technology. This revolutionary AI-powered performance multiplier massively boosts the graphical performance of the RTX 4090.
However, the application of DLSS 3 plus the fourth-gen Tensor core is more on the gaming side because you can use it to create additional high-quality frames, thus increasing resolution and performance simultaneously.
Transistor Count
A higher transistor count means that a GPU can perform complex computations and handle more data simultaneously. Transistors are semiconductors used to amplify electronic signal switches. In GPUs, transistors implement several chip components like input and output interfaces, memory controllers, and processing units.
Therefore, a GPU with more transistors packs more components into the chip, allowing for more complex computations. Tensor cores available in both Ada Lovelace and Turing architectures require transistors to function effectively, and the more transistors, the better.
RTX 4090 is the clear winner when it comes to transistor counts. With 76.3 billion transistors, we expect it to be much faster than Titan RTX, which has 18.6 billion transistors.
Thermal Design Power (TDP)
Thermal design power, measured in watts (W), is the power a GPU consumes when operating at a base frequency under typical workloads. Builders and PC enthusiasts who want to ensure an efficient cooling system for their PC must take note of the TDP to ensure the PC can effectively dissipate the heat emanating from the GPU.
Some factors affecting TDP include the number of transistors, manufacturing process, and clock speeds. The RTX 4090 has a TDP of 450 watts, whereas the Titan RTX has a TDP of 280 watts. While you'll require more energy to operate an RTX 4090, higher TDP values usually indicate high-performance GPUs.
Price and Availability
The GeForce RTX 4090 is available on the official NVIDIA website for $1,599.99. The founder's edition of the same GPU is on the official NVIDIA Amazon store, priced at $2,599.99. On other Amazon seller platforms, like MSI, the GPU costs about $1,889.95. We can say that this card is readily available.
NVIDIA sells the Titan RTX for $2,499.00, which is relatively expensive compared to the company selling the RTX 4090 on the official page. On Amazon, the card sells for $1,899.99. The Titan RTX isn't as readily available as the RTX 4090.
RTX 4090 vs Titan RTX: 7 Must-Know Facts
RTX 4090 runs on the Ada Lovelace architecture, whereas the Titan RTX runs on the Turing architecture.
The RTX 4090 features a DLSS 3 AI-powered performance multiplier with fourth-gen tensor cores that massively boost graphic performance.
The RTX 4090 has 16,384 CUDA cores, whereas the Titan RTX has 4608 CUDA cores.
Both have 24 GB memory size, but the RTX 4090 uses a GDDR6X memory type, whereas the Titan RTX uses a GDDRG memory type.
Both GPUs have a memory interface width of 384-bit.
The total graphics power of the RTX 4090 is 450 watts, whereas that of the Titan RTX is 280 watts.
RTX 4090 is a GeForce GPU, whereas Titan RTX is a Titan GPU.
RTX 4090 vs Titan RTX: Which One Is Better? Which One Should You Use?
The RTX 4090 and Titan RTX are high-end graphic cards that suit various applications, such as machine learning, gaming, and content creation. However, the two have varying features that massively affect their performance. The RTX 4090 is the more powerful version boasting more CUDA cores, transistors, clock speeds, RT cores, and memory bandwidth.
The RTX 4090 is a GeForce card and, for a long time now, this card has been synonymous with mainstream gaming. However, because of its high-end features and top-performance capabilities, professionals can also use this card for machine learning and running artificial intelligence workloads.
Titan GPUs are usually high-end processors that come at a relatively high cost. However, this card is relatively cheaper compared to the Titan RTX. Despite being designed for professional use cases like 3D modeling and animation, it doesn't match the power exhibited by the RTX 4090. Still, it can reliably perform these tasks.
Has 16,384 NVIDIA CUDA Cores
Supports 4K 120Hz HDR, 8K 60Hz HDR
Up to 2x performance and power efficiency
Fourth-Gen Tensor Cores that offer 2x AI performance
Third-Gen RT Cores
AI-Accelerated Performance: NVIDIA DLSS 3
NVIDIA Reflex low-latency platform

Buy on Amazon

We earn a commission if you make a purchase, at no additional cost to you.

09/24/2023 06:19 am GMT

GPU Clock Speed: 1350 MHz

New 72 RT cores for the acceleration of ray tracing
576 Tensor Cores for AI acceleration
24 GB of GDDR6 memory

Buy Now on Amazon

We earn a commission if you make a purchase, at no additional cost to you.

09/24/2023 02:49 am GMT