If you're in the market for a reliable GPU, your best bet would be either Nvidia or AMD. However, choosing between these two popular graphics card brands can be tricky. AMD launched the pocket-friendly RX 6950 XT in May 2022 to a positive reception. A few months later, Nvidia released the RTX 4090, and people were confused about where to place their money.
RTX 4090 received praise because of its Ada Lovelace architecture, which is more powerful for ray tracing and AI-based neural graphics than AMD RDNA 2 architecture. However, there's more to consider when picking a GPU. For this reason, we will look at RTX 4090 vs. RX 6950 XT in depth so you can make a smart, informed decision.
RTX 4090 vs. RX 6950 XT: Side-by-Side Comparison
| | NVIDIA GeForce RTX 4090 | AMD Radeon RX 6950 XT |
| --- | --- | --- |
| Architecture | Ada Lovelace | RDNA 2 |
| Manufacturing process | 4nm | 7nm |
| Base clock speed | 2,235 MHz | 1925 MHz |
| Maximum clock speed | 2,520 MHz | 2,324 MHz |
| Memory | 24 GB GDDR6X | 16 GB GDDR6 |
| Memory bus width | 384-bit | 256-bit |
| Memory bandwidth | 936 GB/s | 512 GB/s |
| Ray tracing cores | 10496 | Not specified |
| Tensor cores | 328 | Not specified |
| TDP | 450W | 335W |
High Efficiency
NVIDIA GeForce RTX 4090
Has 16,384 NVIDIA CUDA Cores
Supports 4K 120Hz HDR, 8K 60Hz HDR
Up to 2x performance and power efficiency
Fourth-Gen Tensor Cores that offer 2x AI performance
Third-Gen RT Cores
AI-Accelerated Performance: NVIDIA DLSS 3
NVIDIA Reflex low-latency platform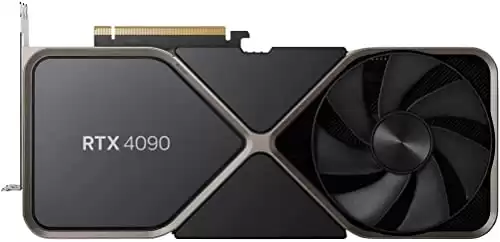 We earn a commission if you make a purchase, at no additional cost to you.
RTX 4090 vs. RX 6950 XT: What's the Difference?
Apparently, RTX 4090 and RX 6950 XT differ in some ways, which can impact their performance.
Performance
RTX 4090 is one generation ahead of the RX 6950 XT in terms of GPU architecture, memory, and other significant specs. Both graphic cards have outstanding 4K gaming performance. However, th RTX 4090 takes the lead with an average of 108.3 frames per second (fps), while the RX 6950 XT provides an average of 55.3 fps.
Based on their overall gaming performance, RX 6950 XT is the best value graphic card if you play games at 1440p. However, if you plan to play games above 1440p, RTX 4090 will be ideal because of its new technologies, such as DLSS 3. Nvidia RTX 4090 is a step up from the RTX 3000 series, with its 60-70% higher performance. It can run 2K@240Hz and 4K@144Hz effectively without lagging.
Undoubtedly, the RX 6950 XT can't outshine the RTX 4090, and that's why AMD has invested in their next-gen Radeon RX 7000 graphic cards to include the RDNA 3 architecture. Although the RX 6950 XT doesn't equal Nvidia's flagship, it is still relevant, considering its price plus the high gaming performance in 4K video games. So, before fixing your mind on RTX 4090 because of its overall performance, it is best to get a better understanding of both GPUs.
Architectural Differences
Nvidia has made significant advancements by introducing the Ada Lovelace architecture for the GeForce 40 series (including the RTX 4090). It claims that the Lovelace architecture is four times better in performance than its predecessor, the Ampere architecture. A lot is expected with the new RTX 4090 architecture that can run CUDA compute capabilities 8.9 and 4th generation Tensor Cores with FP8, FP16, float 16, TensorFloat-32, and sparsity acceleration. Additionally, you get to enjoy real-time ray tracing, which is powered by 3rd-generation Nvidia RT cores to improve the beauty and realism of image displays.
Still, RTX 4090 includes Nvidia DLSS technology that displays high-quality images in real-time using AI. It also consists of a new scheduling system, the Shader Execution Reordering (SER), which is purposely made to increase the optimizing shader runtime performance.
Looking at the RX 6950 XT, there is little in terms of architectural advancements. It still uses the RDNA 2 graphics architecture similar to other Radeon RX 6000 cards. We can't deny that RDNA 2's performance is above average, with variable rate shading and hardware ray tracing essential for gaming. But more is needed to match the RTX 4090's Lovelace architecture. In fact, RDNA 2 architecture performance is at the same level as Nvidia's second-generation Ampere architecture, which is a big blow to AMD.
Memory, Bandwidth, and Speed
A graphic's card memory size and bandwidth are crucial to overcoming lagging and loading time challenges. The bigger the memory size and bandwidth, the faster the GPU. So, ensure the memory and bandwidth are suitable for the games you will be playing before picking on a GPU.
RTX 4090 promises a better gaming experience than the RX 6950 XT because of its big memory capacity and bandwidth. RTX 4090 boasts a memory of 24GB GDDR6X, while RX 6950 XT is behind with 16GB GDDR6 memory size. Keep in mind that the GDDR6X memory has a higher speed than the GDDR6 and is significant in controlling GPU bottlenecks.
Looking at both GPUS' bandwidths, RTX 4090 is the ultimate winner with 1,018GBps, which is 2 times better than RX 6950 XT's 576GBps. Finally, on the memory bus, the RTX 4090 offers 384-bit, while the RX 6950 XT offers 256-bit.
The RTX 4090 will serve you best if you play graphically demanding PC games. Although the specifications above are against the RX 6950 XT, it doesn't necessarily mean it's unworthy. The 16GB memory size is considerable for solid game playing and running intense computer programs.
Speed: Core, Boost, and Overclocking
The graphic clock speed of your GPU is crucial because it determines how fast it responds to commands, processes data, and renders 3D graphics. You should aim for a GPU with high core speed, processor speed, and boost speed to ensure you run high graphic games smoothly.
The RTX 4090 has a base clock speed of 2,235 MHz. Its competitor, the RX 6950 XT, has a base clock speed of 1,925 MHz, which is significant for video editing and fast loading in gaming applications. RTX 4090 takes the throne if we compare the two GPUs based on their boost clock speed. It has a maximum clock speed of 2,520 MHz, while the RX 6950 XT offers 2,324 MHz.
The difference between their maximum clock speed is something to consider if you are into complex video editing and play graphically demanding games.
Process Size
Process size is crucial in the overall performance of your graphics card, especially in determining its processing power and energy consumption. The best GPU will have a smaller processing node or circuit size, meaning the GPU has lower power consumption and smaller transistors that make it run at higher speeds.
RTX 4090 and RX 6950 XT did adopt TSMC's technology, which has the most advanced process technology. The RTX 4090 has TSMC 4nm, While RX 6950 XT stands at TSMC 7nm. Although the RTX 4090 seems more reliable than the RX 6950 XT based on the processing size, both GPUs' processing is above average and will surely fulfill your gaming and video editing needs.
TDP and Power Consumption
You should consider the thermal design power (TDP) and power consumption of the GPU you buy to ensure it serves you for long hours while maintaining high performance. Note that the TDP refers to the energy consumption under maximum theoretical load, while power consumption measures the total power use of your graphic card. Also, a higher TPD will mean the GPU uses more power, but the advantage is that it will have better processor performance.
The RTX 4090 has a higher TDP of 450 watts than the RX 6950 XT, with an official power draw of 335 watts. This means the RTX 4090 will consume more power than the RX 6950 XT, but you will enjoy more GPU power under load.
GPU Cores
Although the advancements in GPU architecture have made the cores somehow irrelevant, it still counts if you want to land the best GPU in the market. A GPU with more cores translates into more raw computing power. Some gaming enthusiasts claim that more cores don't necessarily mean better performance. But based on our hands-on experience, graphic card cores are key in performing complex calculations, 3D computer rendering, and running machine learning algorithms.
RTX 4090 has 16,384 CUDA cores making it one of the most powerful GPUs today. That's not much of a surprise, as Nvidia has always outshined other graphic cards when it comes to cores' performance. RX 6950 XT, on the other hand, lags with 5,120 cores, making it unreliable for complex computer tasks.
Gaming Performance
The RTX 4090 is the dominant GPU in terms of gaming performance. Although the RX 6950 XT performance is okay for most modern video games, it doesn't equal the RTX 4090. While the RTX 4090 provides an average of 108.3 fps in 4K, the RX 6950 XT's performance is 55.3 fps.
The performance level of both GPUs varies depending on the games played. For instance, In Forza Horizon 5, the RX 6950 XT has a high-performance rate of 119 fps, which is way better than the results of other graphics cards. However, the RX 6950 XT's performance is not enough to crush the RTX 4090, which has an average of 176.3 fps on the same game. Surprisingly, the RTX 6950 XT can't overpower the RTX 4090, even in AMD's promoted titles.
Cost and Availability
Both GPUs are widely available but with different price tags. The RX 6950 XT is the cheaper option, priced at $1,099 during its launch. But the price has dropped, and you can now buy one for $900 at some retailers.
On the other hand, the RTX 4090 is more expensive than the RX 6950 XT, with its founder edition being priced at $1,599. However, based on the specification above and the modern technology incorporated in RTX 4090, it stands to be more cost-efficient than the RX 6950 XT. But this will make more sense if you are not planning on a tight budget and are ready to spend an additional $500 to get the RTX 4090.
RTX 4090 vs. RX 6950 XT: 6 Must-Know Facts
The RTX 4090 incorporates the Ada Lovelace generation architecture, which is extremely powerful than its predecessor, the Ampere Architecture, while the RX 6950 XT still maintains the RDNA 2 graphics architecture.
Both GPUs were released in 2022, with AMD releasing the RX 6950 XT on 10th May, while the RTX 4090 was released on 12th October.
RTX 4090 has a more significant memory of 24GB GDDR6X, while the RX 6950 XT has a memory size of 16GB GDDR6.
RTX 4090 is more powerful in data transfer with 1,018GBps than RX 6950 XT's 576GBps.
RTX 4090 has a higher graphic clock speed than the RX 6950 XT.
RTX 4090 has a higher TDP at 450 watts than the RTX 6950 XT's 335 watts.
Top-of-the-Line Performance
We earn a commission if you make a purchase, at no additional cost to you.
RTX 4090 vs. RX 6950 XT: Which One Is Better? Which One Should You Use?
The RTX 4090 is the overall winner in this contest, but that doesn't mean it's a must-buy graphics card. The best GPU will depend on your needs and budget. We recommend the RTX 4090 for graphically demanding games and complex video editing.
However, the RTX 4090 will only provide a significant impact if your favorite games are above 1440p, and that's why we recommend the RX 6950 XT. Apart from saving money, you will enjoy an average of 149 fps playing 4K games at 1440p.
RTX 4090 is a power-hungry graphics card with a TDP of 450W, and the power draw is likely to hit a peak of 600W. So, keep in mind that you will require a robust power supply to run the RTX 4090 compared to the RX 6950 XT, which has a lower TDP of 335W.
Generally, the RTX 4090 is what any gaming enthusiast will go for, as it has modern technology and can run games at higher fps. If you are on a tight budget or need a GPU for normal use, the RX 6950 XT can be a good option.
The image featured at the top of this post is ©Aleksandr Grechanyuk/Shutterstock.com.