As gaming and graphic design industries continue to push technology limits, demand for high-end graphics cards has surged. Recently, two of the most talked-about graphics cards in the market are RTX 4090 vs. RX 6900 XT.
With such impressive specifications and performance capabilities, deciding which is the better investment for your needs can be challenging. We'll explore critical differences between these two powerful machines so you can decide which one is right for you — so let's get started!
RTX 4090 vs. RX 6900 XT: Side-By-Side Comparison
| | | |
| --- | --- | --- |
| Specifications | RTX 4090 | RX 6900 XT |
| Architecture | Ada Lovelace | AMD RDNA™ 2 |
| Year of Release | 2022 | 2020 |
| Length | 304mm | 267mm |
| Boost Clock | 2.52GHz | 2.25GHz |
| Memory | 24GB GDDR6X | 16GB GDDR6 |
| Core Count | 16,384 CUDA Cores | 5120 Stream Processors |
| Memory Interface | 384-bit | 256-bit |
| TDP | 450W | 300W |
High Efficiency
NVIDIA GeForce RTX 4090
Has 16,384 NVIDIA CUDA Cores
Supports 4K 120Hz HDR, 8K 60Hz HDR
Up to 2x performance and power efficiency
Fourth-Gen Tensor Cores that offer 2x AI performance
Third-Gen RT Cores
AI-Accelerated Performance: NVIDIA DLSS 3
NVIDIA Reflex low-latency platform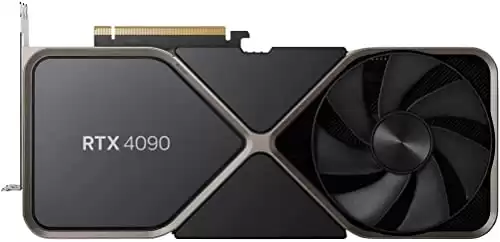 We earn a commission if you make a purchase, at no additional cost to you.
RTX 4090 vs. RX 6900 XT: What's the Difference?
NVIDIA's RTX 4090 and AMD's RX 6900 XT offer impressive features, cutting-edge technology, and impressive performance levels that appeal to demanding gamers and professionals. But how do they stack up against one another, and which should you choose? Let's take a closer look at each option in comparison.
Architecture and Manufacturing Process
Graphics cards have seen tremendous growth and development over the years, with two of the most powerful currently on the market: NVIDIA's RTX 4090 and AMD's RX 6900 XT. Each has advantages that make them suitable for different applications; one significant distinction between them is their architecture and manufacturing process.
The RTX 4090 is built upon NVIDIA's Ada Lovelace architecture, unveiled at the 2022 GTC conference. This architecture delivers an impressive leap in performance and efficiency through technologies such as chiplets, 3D stacking, and more. This model is also manufactured on a 4nm process, further improving both characteristics.
On the other hand, AMD's RDNA 2 architecture, released in 2020, underpins the RX 6900 XT. Compared to its predecessor, RDNA 2 offered better performance, power efficiency, and support for new technologies like ray tracing. Furthermore, manufacturing on a 7nm process ensures it can deliver impressive performance while keeping power consumption under wraps.
The RTX 4090 and RX 6900 XT are impressive graphics cards, but the RTX 4090 stands head and shoulders above its rival. Boasting Ada Lovelace architecture, massive amounts of memory, dedicated ray Tracing, and tensor cores, it's an unbeatable choice for professionals and enthusiasts who demand top performance.
Performance
One of the critical distinctions between these cards is their processing power. The RTX 4090 boasts 16,384 CUDA cores, three times more Stream Processors than its rival, RX 6900 XT. This gives it significantly higher processing capability, enabling it to handle more demanding tasks easily. Furthermore, its base clock speed of 2.23GHz and boost clock speed of 2.52GHz are higher than RX 6900 XT's 1.825GHz and 2.25GHz, respectively.
Another distinction between the two graphics cards is their memory capacity. The RTX 4090 boasts 24GB of GDDR6X memory, one of the fastest and most advanced technologies available. By comparison, the RX 6900 XT only has 16GB GDDR6, which is still ample for most applications.
These processing power and memory differences translate to superior performance for the RTX 4090. In most benchmarks, it outpaces the RX 6900 XT, particularly for tasks requiring high levels of processing power, such as gaming at high resolutions, 3D rendering, and machine learning.
Ray Tracing
Ray tracing is a cutting-edge rendering technique used in graphics cards that simulates the behavior of light in a virtual environment. It is a complex process that involves tracing the path of each ray of light as it interacts with objects in the scene and then calculating how the light will be reflected, refracted, or absorbed by those objects. Ray tracing allows applications such as games to create more realistic lighting and shadows; both cards support it, but with more dedicated cores on RT 4090, it makes it better suited to demanding ray tracing projects.
The RTX 4090 boasts 128 RT cores, while the RX 6900 XT only has 80. This may seem a slight distinction, but it can enormously affect performance when running specific applications. With more RT cores, the RTX 4090 can handle more complex ray tracing calculations faster — leading to smoother lighting effects and shadows in games and other software programs.
DLSS
Deep Learning Super Sampling (DLSS) is an advanced technology that utilizes Artificial Intelligence (AI) to boost the performance of games and applications. It's a game-changer for gamers and content creators alike, as DLSS helps enhance visual quality while keeping games running at a high frame rate. The RTX 4090 and RX 6900 XT differ in their support for DLSS capabilities.
NVIDIA's DLSS 3 technology utilizes deep learning to boost game resolutions without sacrificing frame rates. Games with this feature can run at higher resolutions with better image quality while maintaining fast frame rates – especially beneficial in graphically demanding titles that need high performance to ensure a smooth gaming experience. As one of the few graphics cards on the market that supports DLSS 3, gamers can enjoy high-quality visuals without sacrificing performance.
On the other hand, the RX 6900 XT does not support DLSS 3, making it a significant distinction between them. This means that games designed for DLSS won't run as smoothly on the RX 6900 XT, and users may need to lower their graphics settings to maintain an acceptable frame rate. This could pose a problem for gamers who desire their games' highest visual quality and performance.
Furthermore, DLSS 3 support isn't just limited to gaming applications. It can also enhance the visual quality and performance of other applications like video editing and rendering, proving especially helpful to content creators who require high-quality visuals.
Good Value
AMD Radeon RX 6900 XT
1825 MHz base clock and 2250 MHz boost clock
PCI-E Interface
5120 Stream Processors
RDNA 2 Architecture
We earn a commission if you make a purchase, at no additional cost to you.
RTX 4090 vs. RX 6900 XT: 5 Must-Know Facts
The RTX 4090 boasts a total board power of 450W, while the RX 6900 XT offers 300W.
The RTX 4090 boasts 24GB of GDDR6X memory, while the RX 6900 XT offers 16GB.
The RTX 4090 supports NVIDIA DLSS and ray tracing, while the RX 6900 XT features AMD FidelityFX Super Resolution and ray tracing.
The RTX 4090 features a boost clock speed of 2.52GHz, while the RX 6900 XT features 2.25 GHz.
The RTX 4090 is built upon Ada Lovelace architecture, while the RX 6900 XT relies on AMD's RDNA 2 architecture.
RTX 4090 vs. RX 6900 XT: Which One Is Better?
Gaming-wise, both cards offer superior performance — the RTX 4090 has 16,384 CUDA Cores and 4th Generation Tensor cores, while the RX 6900 XT features 5,120 stream processors. However, in real-world benchmark tests, the RTX 4090 tends to outpace the RX 6900 XT in most games, particularly at higher resolutions or with ray tracing enabled.
The RTX 4090's tensor cores and DLSS technology make it the clear choice for video editing and other creative tasks. These features enable faster rendering times and improved image quality — ideal for professionals who require the highest performance.
For machine learning and other AI tasks, the RTX 4090 is the superior option due to its dedicated tensor cores and improved CUDA performance. Furthermore, its massive 24GB of GDDR6X memory makes it ideal for demanding AI tasks. While RX 6900 XT can also be utilized in these scenarios, its performance may not match the RTX 4090.
The RTX 4090 is significantly pricier than the RX 6900 XT, with a suggested retail price of $2,340 versus just $999 for the latter model. While some may find the performance advantages of the RTX 4090 more compelling than those offered by its smaller sibling, some users may find that paying extra is not worth it. The choice between the RTX 4090 and RX 6900 XT comes down to individual needs and budget. If you're a gamer seeking the best performance, the RTX 4090 is your clear winner.
Has 16,384 NVIDIA CUDA Cores
Supports 4K 120Hz HDR, 8K 60Hz HDR
Up to 2x performance and power efficiency
Fourth-Gen Tensor Cores that offer 2x AI performance
Third-Gen RT Cores
AI-Accelerated Performance: NVIDIA DLSS 3
NVIDIA Reflex low-latency platform

Buy on Amazon

We earn a commission if you make a purchase, at no additional cost to you.

08/28/2023 07:36 pm GMT

1825 MHz base clock and 2250 MHz boost clock
PCI-E Interface
5120 Stream Processors
RDNA 2 Architecture

Buy Now on Amazon

We earn a commission if you make a purchase, at no additional cost to you.

08/28/2023 10:02 pm GMT