October 2022 witnessed Rivian recall 12,212 of its electric vehicles due to wheel fastener problems. Some of the bolts connecting the upper control arm to the steering knuckle weren't torqued tightly enough during assembly. As a result, they could work loose, causing wobbling or tilting wheels and making the affected EV hard to control. In serious cases the wheel could separate from the steering, making driving control impossible.
All three of Rivian's current EV models had improperly torqued bolts. These include the EDV electric commercial delivery van, the R1T pickup truck, and the R1S SUV. While Rivian believes the issue only a tiny portion of the EVs, it urges car owners to bring them in for service. Here's what we know about the situation right now.
Rivian Bolt Recall: The Details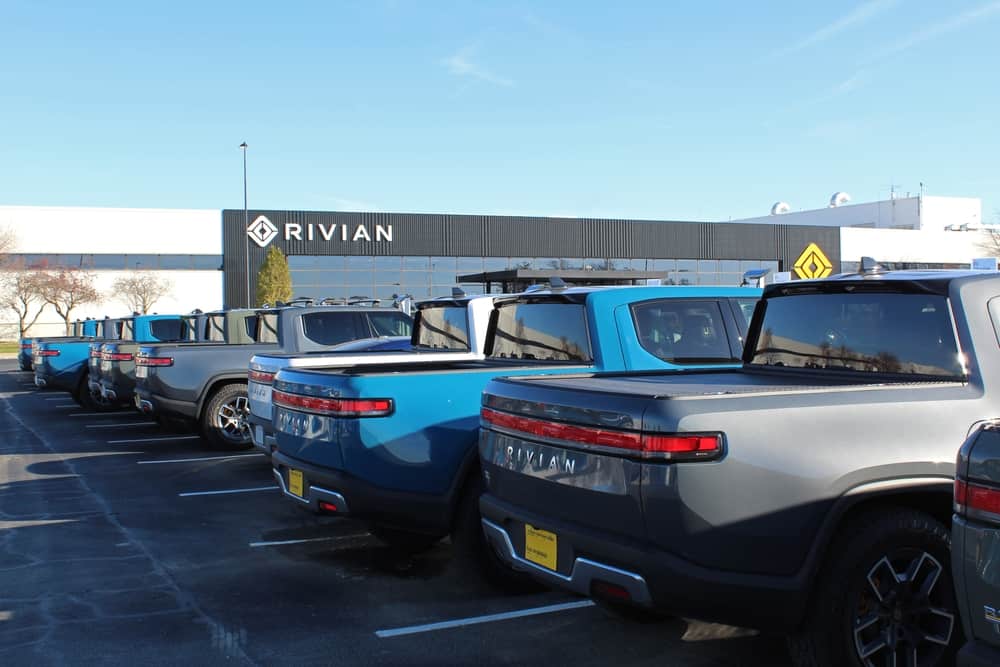 Rivian caught the bolt loosening defect before any injuries were reported. According to the National Highway Traffic Safety Administration (NHTSA) recall report workers didn't correctly torque the bolt between the steering knuckle and control arm. Rivian says "excessive noise, vibration, and harshness from the front suspension and/or a change in steering performance or feel" are symptoms of a loose bolt.
A loose bolt is most likely to cause increased wheel camber, Rivian says. Camber is the inward or outward tilt of the wheel and affects handling and steering. Many vehicles have slight positive or negative camber engineered in to improve their handling. Engineers base factory camber on careful mathematical calculation.
The Rivian problem could theoretically make the camber change unpredictably and more than a few degrees. Some possible results include pulling to one side, reduced control and handling on curves and turns, or traction loss. Tilted wheels can also increase tire wear, chance of a puncture, and risk of damage to brakes or suspension components. If the bolt separates totally the driver could lose control and crash.
The recall affected almost all the EVs Rivian delivered so far. The company delivered 920 total vehicles during 2021 because of supply chain issues slowing production, AutoBlog recounts. Manufacture and deliveries picked up in 2022, however. Rivian delivered 1,227 vehicles in the first quarter (Q1) 2022, 4,467 in Q2 2022, and 6,584 during Q3 2022.
Thousands more have likely been delivered since but at Q3 2022's end somewhere around 13,198 EVs were in consumer hands. These figures mean that possibly up to 92.5% of Rivian EVs deliveries are affected by the recall. However, the company estimates only about 1% of the recalled EVs have loose bolts, meaning approximately 122 in all.
Rivian's Response
Rivian says the affected vehicles are those made between August 23rd, 2021 and September 27th, 2022. An InsideEVs reporter gave more details on exactly what happened with the manufacturing error. Rivian's manufacturing process calls for the process to tighten the steering knuckle bolt to 120 newton-meters, or about 88 ft-lbs. The defectively fastened bolts were only tightened to 70 newton-meters, or 51.6 ft-lbs, just 58% of specified torque. The undertorqued bolts work loose, with the writers' already loosened to 64 newton-meters after three weeks of ownership.
Rivian "didn't sugarcoat it, we said that we're going to go fix this," according to CEO Robert "RJ" Scaringe. Speaking at TechCrunch Disrupt, Scaringe noted "There's going to unfortunately be recalls – they happen" as reported by Yahoo! Finance. Rivian responded quickly and observed that the problem's correction is fast and easy, involving no more than torquing the bolts to 120 Nm.
Scaringe reported "a significant majority" of Rivian EVs had been checked and, with repairs being done within 10 days, per TechCrunch. Rivian's manufacturing database, which provides a complete trace of everything including individual vehicles' torque measurements, helped streamline the process. The company offers the bolt tightening both at its dedicated service centers and at temporary, pop-up service areas in regions of high Rivian ownership.
Thos who have brought their Rivian EVs in to get the proper bolt torque applied report a quick and straightforward procedure. A typical fix for the problem takes just 3 minutes to complete at Rivian service, InsideEVs says. While an appointment is advisable, some owners have simply driven up without one and gotten their vehicle fixed anyway.
The Recall's Effects
While the bolt working loose could cause a serious accident, none has so far been reported. Rivian likely responded quickly and aggressively enough to head off most problems. The fix is quick and simple enough, so the company doesn't expect significant costs recals. The speed also helps minimize the impact on Rivian EV owners.
The company's stock value took a hit right after the announcement. Dan Ives, an analyst at Wedbush, said he considers the recall "a black eye for Rivian." He went on to say the recall itself isn't a major issue, but if another recall happens Rivian's credibility could take a serious hit. The company's stock is already trading at less than half of its twelve-month high.
While stock price doesn't directly affect Rivian EV drivers, low valuation makes the company less unattractive. If the stock value drops far enough this could affect its rating. Rivian could have a hard time getting lenders or investors to give it money to continue or expand manufacture. Since it's still operating in the red despite mushrooming sales, this could be a problem for the EV maker.
Earlier Rivian Recalls
This isn't the first time Rivian has issued a recall for its electric vehicles, but the third. All three recalls have happened during 2022 as increased production brings lurking design and manufacture glitches out of the woodwork. Both previous recalls were also voluntarily issued by Rivian as the company discovered potential safety problems.
Rivian reported a front seat child safety issue to the NHTSA on May 10th, 2022. The recall affected 502 R1T pickup truck EVs and involved a faulty occupant classification system, or OCS. The OCS is supposed to detect if a child or a child seat is in the front passenger seat. If a child is present, the OCS should deactivate the airbag. In the case of the batch of R1T pickups, the company said the airbag might deploy anyway, possibly injuring the child. The company sent out owner notification letters and provided a free replacement of the defective seats.
Rivian reported the second defect to the NHTSA on August 25th, 2022 — in this case, weakly attached front seat belts. Rivian declared the front seat belt anchors could break off the B pillar during a collision, reducing the seat belts' effectiveness. Assembly plant workers installed the defective anchors in only a very small number of vehicles. The problem affected exactly 198 Rivian R1T pickup trucks and 9 R1S EV SUVs for a total of 207 vehicles.
No accidents or injuries resulted from the seat belt anchorage problem. Rivian repaired the seat belts free of charge. It also reimbursed the owners if they had already paid a local mechanic to fix the problem.
What Does the Rivian Recall Mean for the Future?
The electric car world is constantly under a publicity microscope, and Rivian naysayers will doubtless pounce on this latest incident. Commentators will likely question the company's viability, and that of EVs in general. Rivian's two other recalls during a relatively brief span of time may add more fuel to the controversy.
However, a glance at automotive recall history puts the Rivian steering bolt recall in perspective as a minor speed bump. Ford Pintos in the 1970s caught fire with amazing ease in collisions, killing 27 people as HowStuffWorks reports. Ford could have easily solved the problem with a cheap plastic fuel tank part but resisted until a compulsory NHTSA recall. Deadly shrapnel-spraying airbags made by Takata are in 19 automakers' vehicles, with 4 million cars recalled so far. And even EV leader Tesla issued a recall for defective parking brakes in 53,000 of its vehicles back in 2017. This was 70% of its 2017 manufacturing output, prompting a critical Vox article with the melodramatic URL slug "Tesla Doomed."
Rivian may have some teething pains as a brand-new automaker, but so far it is handling problems competently. The latest steering bolt recall shows it is catching manufacturing defects quickly and responding to them effectively. Instead of arm-twisting like Ford with the Pinto, Rivian did issue a voluntary recall before any injuries were reported. The EV maker is applying quick and effective fix.. Far from a disaster, Rivian deserves credit for its swift and professional handling of the bolt torque recall.