Rivian is one of the biggest names in the world of EVs, but are they set to last? Well, it depends on who you ask. Despite debuting with a truly historic IPO (initial public offering), things have faltered and downright fallen to equally historic lows for the company. Even worse, Rivian finally started releasing their first vehicles off the line, only to have a massive recall hit that will require them to bring in nearly every single one of those newly released cars. What will Rivian's stock price be in 2025? Let's find out.
Rivian's IPO Debut
The tale of Rivian's fall from grace begins back in 2021. How can you fall from great heights without first looking out over your overhyped kingdom? As we come up on November 2022, it's important to remember that Rivian only just went public a year ago. November 9th, 2021, to be specific. The market a year ago was bolstered by the COVID-era breaks, a massive influx of cash, and the global market finally opening up after years of consumer suppression (lockdowns). All in all, things seemed to be going really well for nearly everyone. In fact, the NASDAQ hit ATHs (all-time highs) only three days after Rivian's IPO. But…
The good news wasn't to last long. After topping $129.95 a share and reaching a market cap of $127.28B, the slow decline began. Tumbling from their ATH, Rivian continued to lose value despite massive announcements for the company. A few weeks post-IPO, the decline didn't stop, even against news that would historically induce a rally, including a $5 billion plant in Atlanta, and a 67% increase in vehicle production quarter to quarter. Rivian was bleeding.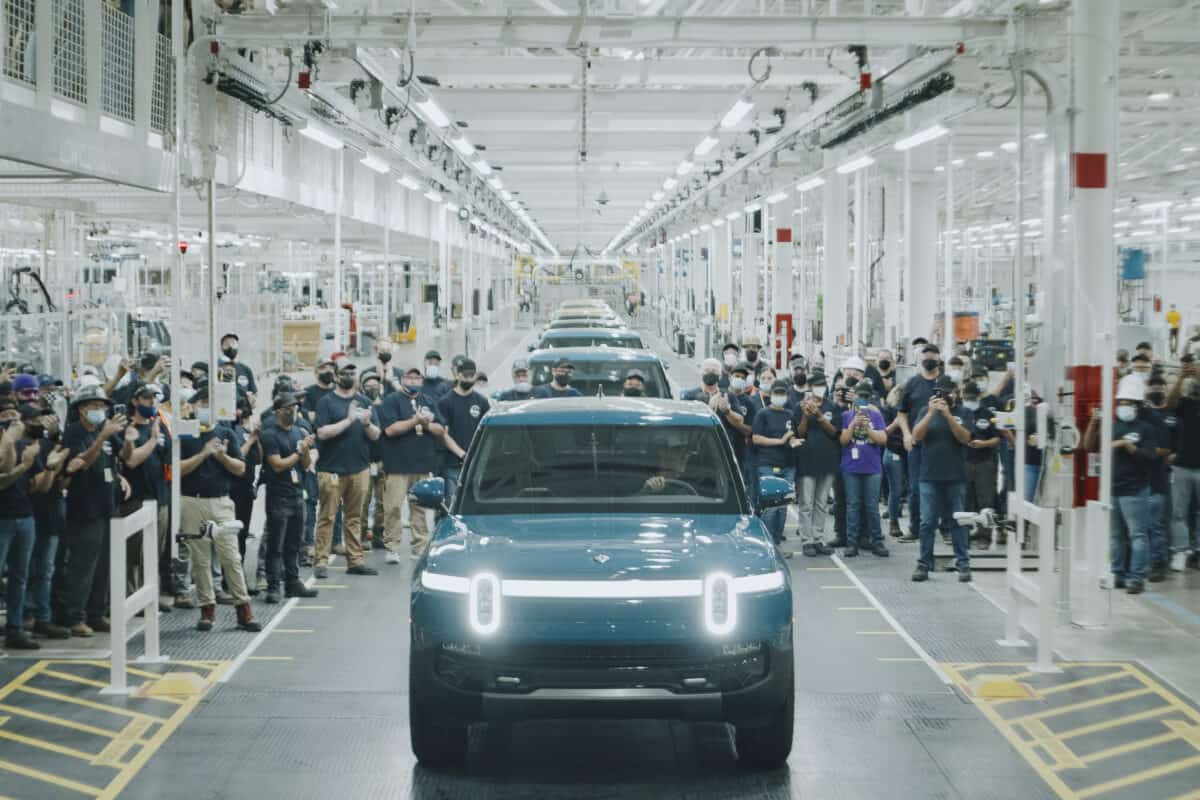 A Sign Of The Times Or A Monumental Flop?
Strictly looking at Rivian's price history tells us some of the story, but not all. The question for many potential investors is whether Rivian is simply reflecting the current economic correction (that we all knew was coming) and supply chain issues, or more dangerously, a broader disinterest in Rivian's product as a whole. Simply put, is Rivian poised for long-term growth and recovery, or are they set to become another failed EV maker in America?
In order to answer this question, let's bake ourselves a Rivian cake. We need:
1 cup overvaluation
2 tablespoons of insufficient demand
1 cup supply chain problems (no chips, no cars)
1 tablespoon of painfully slow production ramp-up
2 cups of daddy's money (Amazon)
1 heaping handful of a surprisingly well-made product
Want a slice?
No matter which way you cut it, Rivian has had its fair share of problems, some out of its control, others not. Still, it seems that they really are making a good product, and, more importantly, delivering said product. We don't think the company is down and out yet, especially with the amount of money pouring in from companies with a vested interest in seeing them succeed. That being said, they need to be smart.
Rivian's Current Situation
At the time of writing, Rivian is sitting pretty at $31.62 a share. Backing up a bit, it looks like the slow decline from their ATH has stopped and leveled out. Even as hysteria continues to mount surrounding interest rates and inflation, and the market continues to trend towards something rather bearlike, Rivian seems to have stabilized for the time being. Here's where they currently stand.
Deliveries
As of October 2022, Rivian has delivered around 14,000 vehicles to customers. With only two months to go in 2022, Rivian would need to deliver over 10,000 more cars in order to meet their annual goal, a promise they still seem determined to deliver on. While these numbers seem paltry when compared to Tesla (343,000 deliveries in Q3 of 2022), it's still a massive win, especially in the EV space. What investors need right now is reassurance that Rivian can make AND deliver cars to customers. That being said…
2022 Recall
After promising to make their Q4 delivery promises, Rivian also announced that they would be conducting a voluntary recall on 13,000 of their 14,000 delivered vehicles. After finally getting cars to customers (and starting to build back some trust with investors), it seems delivery goals may be foiled by a loose screw. Literally. The recall involves an essential screw that, if malfunctioning, would cause the driver to completely lose control of the steering wheel. In light of the recall, shares slumped nearly 10% throughout the day.
A Damn Good Truck
Somehow we've come all this way without talking about Rivian's actual product in any real detail. If there is one thing that Rivian seems to understand, it's how to make a compelling electric truck. Currently, there are three production models, all based on a single "skateboard" body that different chassis can be built around. The most notable is the R1T, the truck, but other models include the R1S and the Amazon delivery van. As it stands, the R1T is the only model being produced in numbers that matter, although the R1S will likely be a top seller. Additionally, Amazon's contract with Rivian is for 100,000 electric vans, and a few small tests have already been conducted in certain markets domestically.
As is probably music to Rivian investors' ears, people are really liking their cars. Rivian didn't risk too much with the design (looking at you, Cybertruck), but it seems to be what people want. Consumer and professional reviews alike seem to unanimously concur that the R1T is worth every penny of the $73,000 price tag. The main problems that people are having (small glitches and unresponsive touch screens) are all apt to improve via over-the-air updates, especially as the company continues to deliver cars. As long as they continue to make AND deliver good cars, they should continue to grow.
Rivian Stock Price Prediction: 2025
In our opinion, Rivian probably isn't going anywhere anytime soon. There are only a handful of cars that can even come close to competing with Tesla, and it seems that Rivian is part of that select few. Even more, the IPO debacle isn't entirely Rivian's fault. They were overvalued, and people bought the hype. Rivian is still in its baby stages and hasn't even started making money yet (they lost $1.7B in Q2 2022 alone). This isn't all that surprising with companies nowadays (losses now for growth later), but Rivian is now entering into its stage of development where it will need to start showing it has the potential to make money. If it can do that and continues to ramp production (without massive recalls), it may very well become one of the largest EV makers in the United States.
Our Prediction:
Rivian could reach something around its initial ATH at IPO ($129.95) in 2025. This would represent an increase of over 300% within three years.
Here's what we think will happen:
Rivian will continue to have a negative EPS (earnings per share) for the foreseeable future. This is natural and seems to be on par with other EV automakers that hope to aggressively scale using investor money, not profits. Even more, there has only been a single year of earnings to extrapolate from.
Rivian will continue to ramp production, hopefully delivering more vehicles and meeting demand. As income increases, investors will look at Rivian as a serious long-term company that has gone through the gauntlet of startup troubles. Security and revenue = more investors.

Right now is probably among the more lucrative and unstable times to invest in the company.

As a potential recession looms, investors are going cash-heavy as the market downturns. In the future, as the market recovers, Rivian (if it survives) will be poised to capitalize on the cash-heavy investors looking for a somewhat secure place to park it. With a product and infrastructure with good bones, Rivian could be that parking spot.
The future of EVs is inevitable, and current legislation seems to be doing more than ever to usher in this push. As the market begins to tip, consumers in the market will begin to explore the options available to them (especially in the years to come) and find Rivian a viable alternative to Tesla. Market saturation is expected to reach 20% by 2025, a historical benchmark for fast and widespread adoption. If Rivian is around, it should be able to capitalize on this massive swing.