6 Facts About the Rivian R1X
The Rivian R1X is a brand new, just-revealed EV with no official specs yet released. What's known so far looks impressive, but any data could change before its public debut.
Rivian R1X will feature a quad-motor setup as standard, rather than as an option in the base dual-motor R1T or R1S.
R1X will likely output 1,200 horsepower and 1,200 ft-lbs of torque.
R1X may use the same highly effective hydropneumatic suspension as its larger cousins.
It will include a new, potentially more powerful battery pack.
Its $115,000 worth of sticker shock makes it ineligible for the $7,500 EV tax credit. The credit will soon apply only to SUVs costing under $80,000, per Carbuzz reporting.
Roaring into the electric vehicle SUV arena hard on the heels of the R1T pickup and the R1S full-size SUV EV, the Rivian R1X is a high-end fastback compact SUV promising sizzling performance both on- and off-road.
Rumors intimate that the R1X is a powerful all-round adventure vehicle that will leave gasoline muscle cars in the rear-view mirror. It's said to be at par with the agile Jeep Wrangler 4xe in conquering the most difficult trails and rock-crawling challenges off-road.
Quick Facts
Release Date

01/12/2023

Original price

$115,000

Units Sold

N/A
Mystery may be adding to outsized expectations, but reports suggest that the Rivian R1X SUV does in fact have impressive potential. The EV is built on a shortened version of Rivian's electric skateboard chassis, MotorTrend says.
This results in a two-row interior probably seating 5 people, unlike the R1S's three-row, 7-passenger, interior. The R1X is lighter and nimbler, and looks to make the most of its quad-motor propulsion's power.
Rivian R1X Specs
| Specs | Rivian R1X |
| --- | --- |
| | |
| Price | $115,000 |
| Range | Unknown |
| Seating | Up to 5 (estimated) |
| Top Speed | Unknown |
| Acceleration | Unknown |
| Display (Infotainment) | Unknown |
| Drive | Quad-motor All Wheel Drive (AWD) |
| Cargp Volume | Unknown |
| Wheels | Unknown |
| Dimensions | Unknown |
| Wheelbase | Unknown |
| Warranty | Unknown, but likely 60,000 miles or 5-year basic vehicle; 175,000 miles or 8-year battery pack and drivetrain; unlimited miles and 8-year limited corrosion warranty. |
Rivian R1X SUV: Where to Buy
Streamlined reservation and purchasing options for the R1X will become available through the Rivian website once the company is ready for orders. As with the R1T pickup, a few simple clicks will get potential buyers to the R1X's reservation page. There they can arrange a $1,000 reservation payment, enter their information, and see the latest delivery estimates.
Rivian's online purchasing aims to give potential R1X owners maximum convenience while configuring their R1X EV. The order page will show the latest release date, availability, and vehicle price data. It will also allow buyers to use a trade-in as a partial credit toward the R1X's purchase price.
Rivian's trade-in service lets buyers enter information about their current vehicle and get an estimated credit. The trade-in vehicle is then picked up at the time the R1X is eventually delivered. Rivian also offers quick-decision financing with easy application on its website.
R1X Demos and Deliveries
Rivian periodically invites account holders to take a vehicle for a "demo drive," and this test drive will likely also expand to the R1X. If Rivian chooses an account for a demo drive, the account holder can then decide if they want to participate.
The drive may start at the potential buyer's home or a Rivian service center, depending on location. The demo includes a half-hour drive plus a detailed walk-around and a questions and answers session with a Rivian representative.
Once the vehicle is ready for pickup, Rivian delivers it to the nearest service center for pick-up or the buyer's home. The vehicle arrives already registered with the DMV, with the fees and taxes added to its price during purchase.
As of summer 2022, Rivian has service centers in 17 US states, including five in California. The company says it is working on significantly expanding this network.
The History of the Rivian R1X: What to Know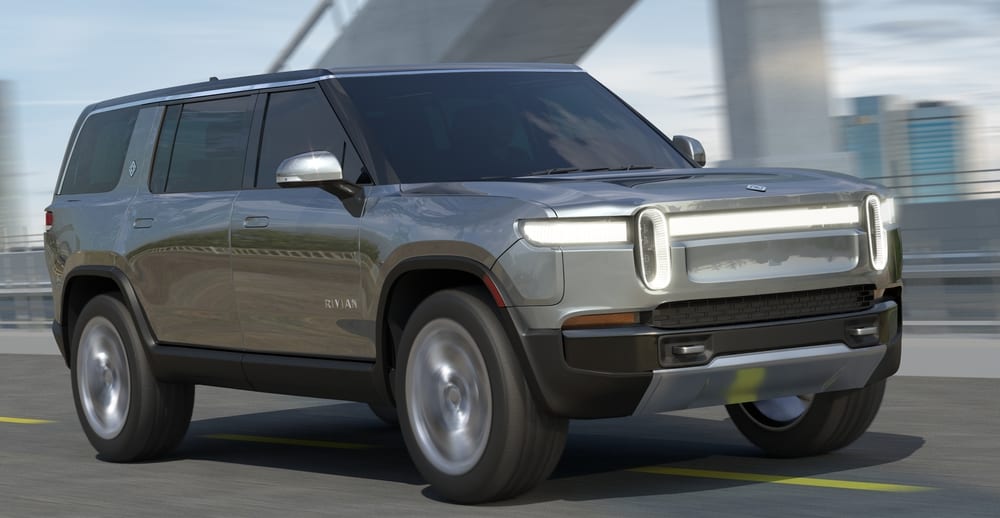 Unveiled in early August 2022, the Rivian R1X EV is an offshoot of Rivian's R1 "skateboard" chassis platform.
This chassis, like all electric skateboards, is a four-wheeled platform with a battery pack and electric motors. The EV is created by building the rest of the vehicle atop it, enabling greater modularity than gasoline vehicles.
Rivian's R1 skateboard derives from the original EV skateboard. This was first revealed by CEO Robert Scaringe in 2018 at the Michigan Designing the Future summit. Rivian's designers made the R1 platform to support full-size vehicles like the R1T pickup and the Rivian R1S EV SUV.
Rivian is currently working on a probably smaller, less costly R2 platform. During a recent earnings conference call, Scaringe said the R2 might qualify for the $7,500 affordable EV tax credit. However, Rivian opted to build the R1X on a shortened version of the R1 platform.
As a premium vehicle, tax credit eligibility doesn't matter, and the immediate availability of the R1 clearly made it the better choice.
The little we know about the R1X comes from some Rivian statements, backed up by spy shots from current testing. Rivian has a long history of keeping its moves secret until development is almost completed. It remained in "stealth mode" for a full 9 years between its 2009 founding and the 2018 reveal of the R1T and R1S models.
The R1X's exact creation history will likely stay shrouded in uncertainty until much closer to its tentative Q4 2023 release. But it does appear to be a natural development from the bigger, heftier R1 full-size models.
A smaller, nimbler, more powerful model was a logical progression from Rivian's current "juggernauts."
Rivian R1X Versions: Each Edition
With the R1X still mostly "a mystery wrapped in an enigma," specific R1X trim levels are unknown at this time. The R1X could even be a single trim considering its top-end price and specifications. However, some of its details are known, at least.
Motors and Powertrain
An all-wheel drive (AWD) vehicle, the Rivian R1X features four motors, one for each wheel. The R1T and R1S come with twin motors in their base configurations with quad-motor setup as an upgraded option. Engineers designed the motors with carbon-sleeved rotors.
Present in the Tesla Model S Plaid, carbon sleeves enabled higher RPMs and create a stronger electromagnetic field. Both of these features increase the power output of the motors, helping achieve the R1X's outstanding 1,200 horsepower and 1,200 ft-lbs of torque (estimated).
R1X 0-60 mph times are unknown. But potent torque and the mechanical advantage of electric motors should enable a launch to sixty in a few seconds. Torque will also help with rock crawling and ledge climbing at slow, off-road speeds. The vehicle should also have decent towing capacity if it's built with a trailer hitch.
Battery
Rivian's use of a shorter R1 platform version means a redesign of the battery pack. The new battery pack, designed in-house, may also increase energy density and available power. It seems likely to be able to match the R1S's 316 mile Extended battery pack range, though this is pure speculation.
With improved battery design and a shorter, lighter vehicle to propel, the battery might even reach Rivian's planned Max battery pack range of 400 miles.
Design, Features, and Styling
The Rivian R1X is a shorter, more athletic-looking vehicle than the R1S SUV. It has a high stance with plenty of ground clearance for off-roading according to spy photos and artistic mockups.
Like other EVs, though, the weight of the battery pack in the chassis floor should help lower its center of gravity. The result is a more stable and less top-heavy R1X despite the rock-clearing space underneath it.
Similar to R1T and R1S, the R1X could be capable of at least 36 inches of water fording. We aren't sure if it will feature the air suspension found in the R1S SUV. However, this feature would be a good fit for a premium EV with strong off-road competence.
The R1S's air suspension enables raising and lowering ground clearance between 8 inches and almost 15 inches.
Designers appear to be giving the Rivian a fastback body style. The compact size will reduce interior seating from three rows to two, and thus total passengers from 7 to 5. The current base price is approximately $115,000, more than the GMC Hummer EV. Speculation from some sources puts base price at $150,000.
Even the R1X nameplate is speculative at this point. Rivian tried to trademark the name in 2021, but the R1X could wear a different moniker when released to the public.
The Public Response
Public response to the R1X on automotive forums is mostly positive. Reviewers are also cautiously enthusiastic.
The R1X is seen as taking the flexibility of the R1T or R1S and increasing it with extra power and a smaller, more maneuverable physique. The jaw-dropping horsepower and torque figures come in for praise. Specific commentary is limited by the unknowns, especially R1X's plain, factual specs.
The one critical commentary on the R1X from Gear Patrol acknowledges all the same pluses as the other commentators.
On balance, however, it questions whether a six-figure high-performance EV can stand out in a field increasingly crowded with expensive, powerful EVs. Instead, it asks if a humbler, much more affordable EV wouldn't be the more innovative play.
The Rivian R1X will be a sporty, high-powered, high-performance, and high-priced compact SUV for off-roaders seeking a premium adventure EV.
Next Up…