The Rivian R1T is a luxury electric pickup truck with technology and handy features capable of hauling, towing, and off-roading. Although Ram Revolution EV pickup will soon offer strong competition, the R1T stands among today's leading electric pickups.
The Car Connection on Fox 8 News calls the Rivian R1T 2023's best luxury car option for its all-around competence. The R1T made the 2023 10Best Trucks and SUVs list published by Car and Driver, too. Car and Driver cited the Rivian pickup's power, speed, comfort, luxurious interior, solid off-roading chops, and innovative features like the Gear Tunnel as major positives. Even Consumer Reports, which didn't recommend it based on untested reliability, saluted its build quality, numerous groundbreaking features, and spacious storage.
However, potential buyers of the Rivian R1T pickup may face very long waits before production catches up to orders. And they will also need to choose between the Standard battery pack and the Large battery pack, at least for dual-motor trims. The quad-motor trim level comes with a Large Pack. Here are the differences and how to choose between the two.
Standard Pack vs. Large Pack: Side by Side Comparison
| | | |
| --- | --- | --- |
| | Standard Pack | Large Pack |
| kWh | 105 kWh | 135 kWh |
| Range | 260+ miles | 320+ miles |
| Price | — | $6,000 |
| Dual-Motor Availability | Standard | Optional for $6,000 |
| Quad-Motor Availability | — | Standard |
Standard Pack vs. Large Pack: What's the Difference?
Rivian currently offers two battery options for the R1T pickup truck; the Standard Pack and the Large Pack. The Standard battery offers 260 miles of range per charge, while a single charge provides 320 miles to the Large battery. Rivian recently delayed the release of some Max battery pack options, which will have a claimed range of 400 or more miles.
Choosing the Large Pack battery adds $6,000 to the Rivian R1T's price. The Large Pack is a 135.0-kWh battery compared to the 105-kWh capacity of the Standard Pack. The Max Pack, available only on the dual-motor setup starting in late 2023, will be a 180.0-kWh battery. Rivian also says the Max battery option will cost $10,000, though this is an estimate and may be subject to change.
Daily Driving
The Standard battery pack suffices for most people during standard warm-weather daily driving. Most drivers won't come anywhere near using up the Standard Pack's charge in a single day or several days of driving. The Bureau of Transportation Statistics said Americans drove an average of 40 miles per day in 2017. Even if the figure rose higher over the past five years, it's still far below R1T battery range. The typical driver "tops up" their Rivian Standard Pack easily by plugging the EV pickup in overnight.
Saving money with a smaller battery makes sense if an owner uses their Rivian R1T truck mostly for daily driving. The bigger option could be "overkill" in the right climate and with mostly short-range driving inside one town. However, there are a lot of other factors that could change the Standard Pack's viability. We'll look at those next.
Towing, Hauling, and Off-Roading
Drivers using the R1T for daily city driving in a warm climate may find a Standard Pack good enough. However, Rivian's engineers built the R1T as a pickup usable for hauling, towing, and work. The Rivian R1T can tow up to 11,000 lbs. However, an EV pickup towing a trailer of any weight will likely lose a good part of its range. Towing cuts EV range by 45% to 50%, MotorBiscuit reports. Various sources and testers independently confirm these results. Users intending to drive the R1T as a work vehicle with frequent hauling or towing can extend towing range with a Large pack.
The Rivian R1T pickup drives well off-road, too, with up to 14.4 inches of ground clearance with the suspension fully raised. Its electric motors give immense torque for pushing over obstacles and difficult ground. While less effective than the Hummer EV's "crabwalk," the R1T's "tank turn" helps get through tight, technical off-road spots.
However, the features that make the Rivian R1T truck a good off-roader also drain battery power faster. Climbing a difficult pass or rock crawling uses up electricity quickly. If the R1T runs out of power on the trail, a passing friend can't simply fill up the tank from a jerry can of gasoline. A Large pack seems highly advisable for off-roading.
Cold Climates
Cold weather sucks the electricity out of EV battery packs faster when parked and in operation. An electric vehicle's ideal environmental operating temperature range is 40° to 115°. When the mercury drops to freezing or below, range and charging speed start diminishing. Some EV companies equip their electric vehicles with heat pumps to partly offset this drain. The R1T's first generation lacks a heat pump, though the company says it is "developing a heat pump-based thermal system for improved cold weather efficiency."
Testers and sources disagree on how much cold weather drains EV batteries. Wired magazine says cold cuts range by 20%, while AAA claims a 41% drop. Consumer Reports predicted a 50% range decrease, InsideHook reported. The tests likely used different vehicles and temperatures, leading to the variation.
Drivers who intend to use their Rivian R1Ts in California or Arizona's warm, sunny climate likely won't encounter much battery drain. The same is true in the wetter but still warm regions of the southern U.S., whether in Florida or the Ozarks. In these regions, a cheaper Standard Pack might be more attractive.
Rivian R1T owners in the frozen north might consider a Large Pack more viable. The Large Pack starts with more range and retains more range even if it's partly drained by a long series of frigid nights on the Nebraska plains or in Michigan's forests. The extra capacity gives more cold-climate leeway in another way, too. Extremely cold weather slows down charging. Having an extra "reserve" of available mileage could help an R1T owner stay mobile when the cold delays recharging.
Network Availability
Buyers choosing between Standard and Large battery packs for the Rivian R1T should also consider network availability. The harder it is to easily find a working Level 3 fast charger, the more important it becomes to have the longer range available.
Much like cold versus warm climates, network availability varies by region. It's fairly easy to find a charger in the areas where EVs are most popular. This includes California, the American Southwest, and most major North American cities. R1T drivers may find it harder to locate a fast charger nearby in less populated or less EV-interested areas. Large battery capacity gets more important off the beaten path of the Level 3 charger network.
Level 3 DC fast charger networks continue growing today. Rivian plans 3,500 charging stations in its Adventure Network, though only 16 are active or nearly so today. The EV automaker is about to launch its first East Coast charger station along the scenic Blue Ridge Parkway in North Carolina.
Tesla's Supercharger Network is the biggest and best in the game currently. However, while Tesla continues promising in January 2023 to open its Superchargers to non-Tesla EVs, it still hasn't done so. Tesla's proprietary connector still shuts out Rivian R1Ts from charging, making Tesla's chargers unavailable and future availability uncertain.
(June 8, 2023 update — Ford and General Motors (GM) EVs will be able to use an adaptor to charge at 12,000 Tesla Superstations starting in 2024. And in 2025, both automotive companies will feature Tesla's North American Charging Standard connector. This adoption likely signals a move toward a U.S. charging standard.)
Fast charger network remains limited in many areas, and a Large Pack battery adds a safety net to travel in many areas. EV chargers aren't that reliable, with about 20% of public charging attempts failing in 2023. Research firm J.D. Power reports public charger reliability has been declining sharply since 2021. Americans' network satisfaction is also at its lowest ebb, highlighting a potentially strong incentive to opt for a Large Pack.
Standard Pack vs. Large Pack: 6 Must-Know Facts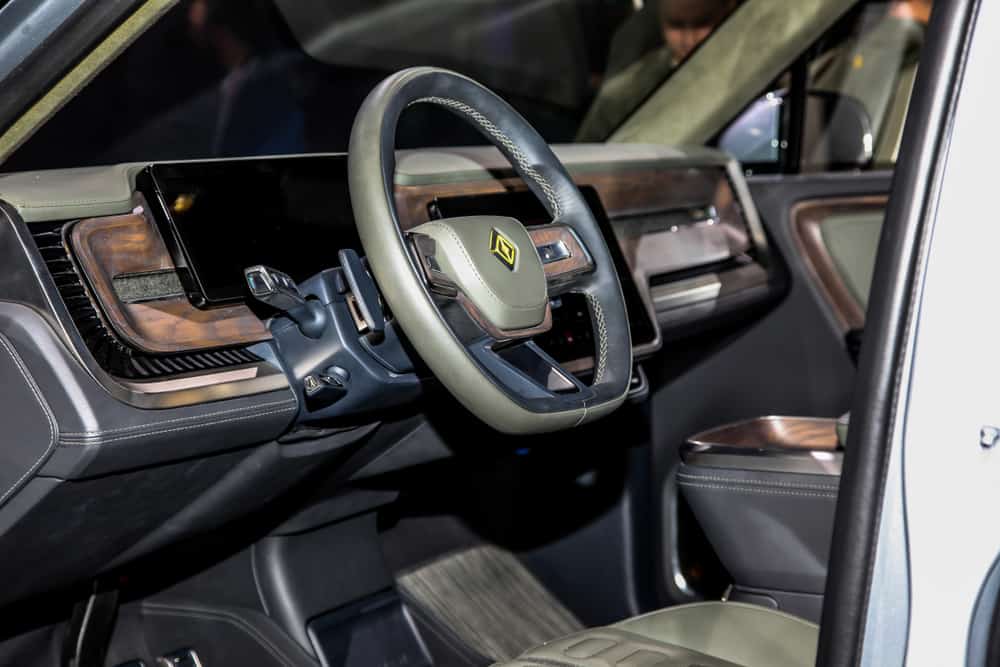 The Standard Pack offers 260 miles of range, the Large pack 320 miles.
The Large Pack costs $6,000 extra.
R1T dual-motor trucks come with a Standard Pack as standard. The Large Pack is optional.
The quad-motor R1T only comes with a Large Pack at this point.
The Max Pack with a 400-mile range will arrive in late 2023 on dual-motor models.
The Max Pack for quad-motor models has been delayed until 2024.
Recent Updates to the Rivian R1T Standard and Large Packs
While there hasn't been any major updates to these battery packs since February 2023, Rivian did announce the inclusion of a Max Pack which will be available late 2023. This Max pack will have 180 kWh of power, making it the most powerful pack Rivian will offer.
Standard Pack vs. Large Pack: Which One Is Better?
Rivian R1T buyers choosing the Standard Pack will save $6,000 compared to those who don't. That's a big incentive to choose the shorter-range pack. Additionally, most people don't drive long distances often and therefore don't need long range most of the time. The Standard Pack won't lose range to cold weather in California and other warm regions with high EV adoption.
However, the extra range is useful in many different ways. Drivers can work around network failures, malfunctioning chargers, cold snaps, emergencies, and other problems easier with a more available range. The large battery makes towing, hauling, and off-roading more effective by extending the range in situations likely to drain power faster. The bigger battery improves EV viability in colder climates, especially during the winter. Overall, the Large battery boosts the Rivian R1T's flexibility and potential uses.
As a final consideration, the 2023 Rivian R1T carries a $74,800 MSRP. The $6,000 price for the Large Pack battery is 8% of the dual-motor EV pickup's base price. This means choosing the large battery increases monthly payments by only 8% while increasing the truck's range (and thus its utility for other purposes, including towing and off-roading) by 23%. Overall, for those who can afford it, the Large Pack battery seems like a worthwhile enhancement to the Rivian R1T EV pickup.
The Future of the Rivian R1T Standard and Large Packs
Rivian is on the cutting-edge of EV battery technology, so we can expect to see more updates from them as time goes on. In the following six to 18 months, we may see the following:
Improved energy density with the possible inclusion of solid-state batteries over the traditional lithium-ion batteries.
Faster charging to offer more convenience to EV drivers.
Lower costs as popularity in EVs increases and newer battery technologies are released, making for a more competitive market.
The image featured at the top of this post is ©Tada Images/Shutterstock.com.