Powerful, well-built, and off-road capable, the Rivian R1T pickup is already making a name for itself in the light-duty EV truck market. Rivian's engineers built it on the company's R1 skateboard platform, and it shares 91% of its components with its sister vehicle, the Rivian R1S EV SUV. Seating 5 people, the R1T beats many gasoline sports cars with its potent electric-motor acceleration. It also offers good acceleration for a pickup.
Configured as a pickup truck, the R1T provides a cargo-carrying utility with its bed plus and can tow up to 11,000 lbs. Some users find the single, relatively short bed length option limiting, but the R1T additionally has the "Gear Tunnel" feature for some extra stowage. It's also a burly off-road machine capable of fording more than 3 feet of water and performing rock-crawling feats. Each unit costs $67,500, a price that looks justifiable given its its topnotch build quality and elite finishing touches.
Quick Facts
Original price

$67,500 (Explore trim), 73,000 (Adventure trim)

Units Sold

49,000+
5 Key Points and Facts About the Rivian R1T
The Rivian R1T can drive up to 400 miles on a single charge.
All variants are all-wheel drive, with both dual-motor and quad-motor drivetrains available.
The EV pickup can tow up to 11,000 lbs and has a 4.5-foot bed.
R1T zero to sixty times are 3 to 4 secncludes eight different driving modes for everything from highways and streets to extreme off-roading

.
Rivian R1T Specs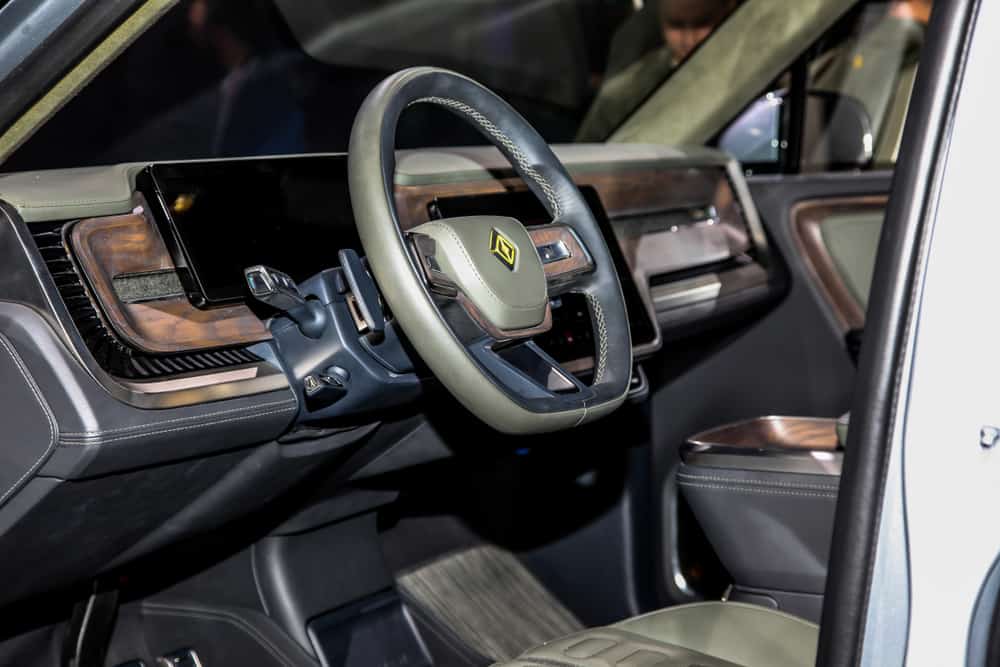 | Specs | Rivian R1T |
| --- | --- |
| Price | $67,500 (Explore), $73,000 (Adventure) |
| Range | 260 miles (Standard Battery), 316-320 miles (Large Battery), 400 miles (Max Battery) |
| Seating | Up to 5 |
| Top Speed | 115 mph |
| Acceleration (0-60 mph) | 4 seconds (dual motor), 3 seconds (quad motor) |
| Display (Infotainment) | Touchscreen with 8 driving modes |
| Drive | Dual-motor All Wheel Drive, Quad-motor All Wheel Drive |
| Cargo Volume | 62 cubic feet total |
| Wheels | 2″, 21″, 22″ |
| Dimensions | 77.3-in high, 200.8-in long, 81.8-in wide |
| Wheelbase | 135.8 inches |
| Warranty | 60,000 miles or 5-year basic vehicle; 175,000 miles or 8-year battery pack and drivetrain; unlimited miles and 8-year limited corrosion warranty. |
Rivian R1T Pickup: Where to Buy
You can make an R1T reservervation online through the Rivian website. Potential buyers must make a $1,000 down payment and clear the balance when their cars are ready for pickup. From their website, you can arrange financing and trade-in directly. The company accepts most makes and models for trade-in purposes. But they may do appraisals.
Potential buyers can't arrange a test drive in the traditional sense. However, they can sign up with an account on the Rivian website. From time to time, Rivian selects people with website accounts for participation in a "demo drive" and sends them an invitation. Those invited can visit a service center or even have an R1T or other Rivian vehicle brought to their house. The demo drive includes a 30-minute drive, walk-around, and consultation with a Rivian rep.
Rivian can deliver the R1T to the customer's house or the nearest service center (with service centers currently present in 17 states). Wait time from reservation to delivery can range from 40 days to several months. For trade-ins, one of the reps will pick up your car when delivering your R1T truck. The rep will also describe and demonstrate the new vehicle's features. The pickup arrives already registered with the appropriate Department of Motor Vehicles (DMV), with the fees included in the purchase price.
The History of the Rivian R1T: What to Know
The Rivian R1T is one of the two original vehicle models founder and CEO Robert Scaringe launched his company to build. An engineer, Scaringe, set out to turn the electric "skateboard" EV chassis concept into working vehicles. The skateboard was invented in 2003, and Rivian went into business in 2009 with its skateboard variant known as the R1.
At this point, much of the R1T's development history is unknown. Rivian, originally named Avera Motors, didn't want to box itself in with projections, promises, or deadlines early on. Scaringe and his team kept quiet for years about what was happening, with the CEO dubbing this deliberate policy "stealth mode."
The company's information and news blackout only ended in 2018 when they had concrete results to report. Scaringe presented the R1T pickup and its sibling, the Rivian R1S SUV, to the public in the summer of that year, along with the R1 platform. Since then, the Rivian underwent final development and at least one major price hike. However, its main features and specs haven't changed significantly since its 2018 unveiling.
Rivian R1T Versions: Each Edition
Like the Rivian R1S, the R1T pickup comes in two basic trims, the Explore and the Adventure.
R1T Explore Trim
The Explore and Adventure models of the R1T are practically identical in performance and equipment. Both have the exact dimensions, bed size, and capabilities. Both trims come standard with a dual-motor AWD drivetrain, with the option to upgrade to a more powerful quad-motor AWD configuration. Besides the omission of two built-in front bumper tow hooks, the Explore trim differs from Adventure only in interior details.
The Explore model's cabin interior is of solid quality and is serviceable but plainer than the more high-end alternative. Comfort features include a heated seat, driver's side lumbar adjustment, a heated steering wheel, and vegan leather seating with "performance stitching." Rivian used matte black plastic for interior trim pieces. The headliner and floor mats are both fabric, the latter 100% recycled.
R1T Adventure Trim
The Adventure Trim comes with all the standard features of the Explore trim, plus some more luxurious cabin flourishes. Ventilation is added to the seats to keep them more relaxed and fresher in summer. The passenger seat also includes lumbar adjustment.
The standard audio system is replaced with a fancier Meridian "Rivian Elevation" system. Rivian says the Elevation is carefully balanced to create an "immersive soundscape." It adds four dome speakers made from aluminum to the ceiling. One speaker is removable and has a Bluetooth connection to be used outside the vehicle.
Other than these differences, most of the Adventure's upgrades involve using more premium materials. Real ash wood with natural grain replaces the black plastic trim pieces of the Explore model. Plain floor mats give place to expensive Chilewich mats that are easy to clean. The headliner becomes 100% recycled microfiber, and the vegan leather seats now feature perforations and decorative stitching.
Other R1T Features
Dual-motor versus Quad-motor
Both trims of R1T EV pickup come with a dual-motor all-wheel drive (AWD) drivetrain as standard. The two motor version develops 600 horsepower and 600 ft-lbs of torque at maximum output. Alternately, buyers can opt for a quad-motor AWD drivetrain churning out 835 horsepower and 908 ft-lbs.
0-60 mph times differ only slightly between the two. The dual-motor model can hit sixty from a standstill in 4 seconds, while the quad motor layout shaves this to 3 seconds. The Rivian R1T can tow 11,000 lbs with four motors installed and a Large battery pack.
Battery Packs and Charging Options
Explore and Adventure packages come with the Standard capacity battery pack installed. This battery pack is only available with the dual-motor drivetrain and gives approximately 260 miles of range. The quad-motor drivetrain comes with the Large battery pack and a range of 320 miles. Finally, the optional Max battery pack holds enough charge for 400 miles of driving. Putting on different size tires than the standard 21 inches can reduce these ranges by anywhere from 5% to 15%.
The R1T can charge using Level 1, 2, or 3 chargers. Rivian plans a 10,000 charger Rivian Waypoints network in the USA and Canada. Waypoints offer Level 2 chargers where an hour plugged in adds about 25 miles to the car's range. The exclusive Rivian Adventure Network, located on or near popular off-road trails, consists of 3,500 Level 3 DC fast chargers. These chargers blast electricity into the R1T's battery at a rate of 140 miles range per 20 minutes plugged in. All of the electricity provided through the Adventure Network comes from renewable sources.
Cargo Capacity
The Rivian R1T boasts three separate cargo spaces, made possible because there's no bulky engine or transmission inside. These include a "frunk" or front trunk holding 11.1 cubic feet of cargo. The Gear Tunnel just behind the cab holds another 11.7 cubic feet. The Gear Tunnel's folding side doors drop down to serve as steps when needed, capable of supporting 250 lbs apiece.
Meanwhile, Rivian offers only one bed length – 54.1 inches, or 4.5 feet – though the tailgate folds down with a gooseneck hinge. This setup extends bed length to 84 inches in a pinch. The bed includes four built-in tie-down rings. Owners can choose between a manually operated tonneau cover or a powered one, with both versions lockable. The bed features an air compressor with up to 150 psi output, plus a spare tire well hidden under the bed floor.
Off-Road Toughness
Rivian built the R1T with the stamina and features needed for serious off-roading. The truck possesses adjustable air suspension that can lower ground clearance to around 8 inches or boost it to nearly 15 inches. Its wading depth through water is over 3 feet (36 inches) since its motors don't require airflow.
The Rivian R1T's approach angle is 35.5º, while it has a departure angle of 30º. Breakover is 26.4º. Multiple off-road driving modes are available, including auto (light trails), rock crawl (steep slopes and rock climbing), rally (fast, stable gravel driving), and drift (for loose surfaces like sand or snow).
The Public Response
With only a few thousand R1T pickups currently on the road, ordinary drivers' reception seems positive overall. Rivian forum members note the truck's acceleration, interior space, quietness, and good handling among the design's standout benefits. Most complaints are minor and revolve around the tonneau cover fitment on the bed and the feel of interior trim.
Professional reviewers are more enthusiastic in their praise for the R1T pickup. Motortrend notes the small bed and lack of major variants as downsides but hails the electric vehicle's power, range, and highly effective off-roading skills. The website described the blend of sporty driving, utility, and boulder conquering off-road mobility as "annoyingly good."
Consumer Reports also raved over the R1T, citing its speed and host of highly innovative features like the Gear Tunnel. Other reviewers who test-drove the R1T, sometimes for 4,000 miles or more, shared the major websites' positivity.
Up Next…
Let's keep looking into more about the Rivian!
The image featured at the top of this post is ©James Yarbrough/Shutterstock.com.