Offering the rugged adaptability of traditional SUVs and capable of handling cross-country trails or road trips, the 2022 Rivian R1S EV's lives up to its moniker "Electric Adventure Vehicle." This powerful electric vehicle resembles a Land Rover, and goes head-to-head with the GMC Hummer EV's SUV variant. Its design focused on cargo capacity, towing, off-road ground clearance, water fording, and similar features. All these set it apart from many hatchback car-style crossover SUV EVs like the Tesla Model Y.
R1S is available in multiple configurations, each capable of carrying out different tasks. With specific battery pack, motor, and wheel choices, the R1S SUV can cover approximately 316 miles. It's also capable of robust off-roading and rock-crawling, and can seat 7 people, rivaling the cargo space of a minivan with the rear seat rows folded flat. The Rivian R1S EV SUV offers flexibility, options, and a solid design for drivers in the great outdoors.
Quick Facts
Release Date

01/12/2021

Original price

$72,500 for Explore, $78,000 for Adventure

Units Sold

35,000+
5 Key Points and Facts about Rivian R1S
R1S can go from 0-60 in 3 seconds on a sporty highway.
Two R1S trims are available: basic level explore trim and adventure trim.
Eligible drivers can test drive the R1S through Rivian's "First Mile" program.
R1's infotainment area has a touch screen with eight driving modes
A standard battery pack goes for 260 miles, while the large battery covers 320+ miles,
Rivian R1S SUV EV: Specs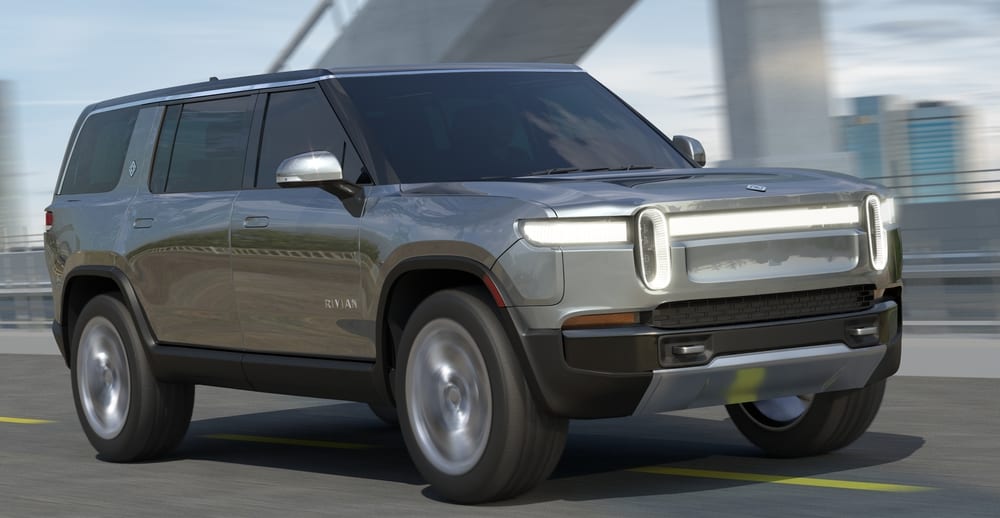 | | |
| --- | --- |
| | Rivian R1S |
| Price | $72,500 (Explore trim), $78,000 (Adventure Trim) |
| Range | 260 miles (Standard Battery), 316-320 miles (Large Battery) |
| Seating | Up to 7 |
| Top Speed | 124.9 mph |
| Acceleration (0-60 mph) | 4 seconds (dual motor), 3 seconds (quad motor) |
| Display (Infotainment) | Touchscreen with 8 driving modes |
| Drive | Dual-motor All Wheel Drive, Quad-motor All Wheel Drive |
| Cargo Volume | 104 cubic feet total |
| Wheels | 20″, 21″, 22″ |
| Dimensions | 77.3-in high, 200.8-in long, 81.8-in wide |
| Wheelbase | 121.1 inches |
| Warranty | 60,000 miles or 5-year basic vehicle; 175,000 miles or 8-year battery pack and drivetrain; unlimited miles and 8-year limited corrosion warranty. |
Where to Buy
Rivian sells all its vehicles, including the R1S EV SUV, online. Simply make your reservation for the R1S at Rivian's website using your smartphone or PC. You can request financing, buy insurance, get an approximate value on a trade-in, and set up delivery from a central system. If accepted, the company will deduct the value of trade-ins from the price of the R1S SUV purchased.
Some potential buyers are eligible for a test drive through Rivian's "First Mile" program. Sign up with your name, email address, and zip code. If Rivian later decides to run First Mile test drives in that area, it will send invitations to locals who previously signed up. Test drives are 30 minutes long. The drive may start at a Rivian service center or see the vehicle brought directly to your home.
Rivian makes the delivery once the pre-ordered or purchased vehicle is available. Sometimes, you can choose whether to have the R1S brought directly to your home or pick it up at a service center. In others, only service center pickup or home delivery is available, depending on the location and situation. A Rivian representative is always present to walk you through the SUV's features and answer questions.
The History of the Rivian R1S: What to Know
The Rivian R1S has been part of the company's planned EV lineup since its founding. Rivian started in 2009 as Avera Motors with a single employee, founder and CEO Robert Scaringe. He changed Avera's name to Rivian, a portmanteau of the Indian River, following legal objections by Hyundai Motor Company. Hyundai alleged the Avera name infringed on its Azera sedan nameplate.
Rivian had plans to develop a pickup truck and an SUV model from the beginning. Originally, these bore the names A1T (Avera 1 Truck) and A1S (Avera 1 SUV). However, once the company adopted the Rivian name, these became the R1T and the R1S, respectively. Rivian bought a closing Mitsubishi factory located in Normal, Illinois, for $16 million in 2016.
Until 2018, Rivian remained in what it called "stealth mode," releasing practically no news. CEO Robert Scaringe said, " We decided to go deep into stealth mode, and to avoid the distraction of committing to things," according to NPR station WGLT. In 2018, however, the company unveiled its SUV and pickup truck EVs, plus the "skateboard" chassis it builds the vehicles on.
Rivian R1S Versions: Each Edition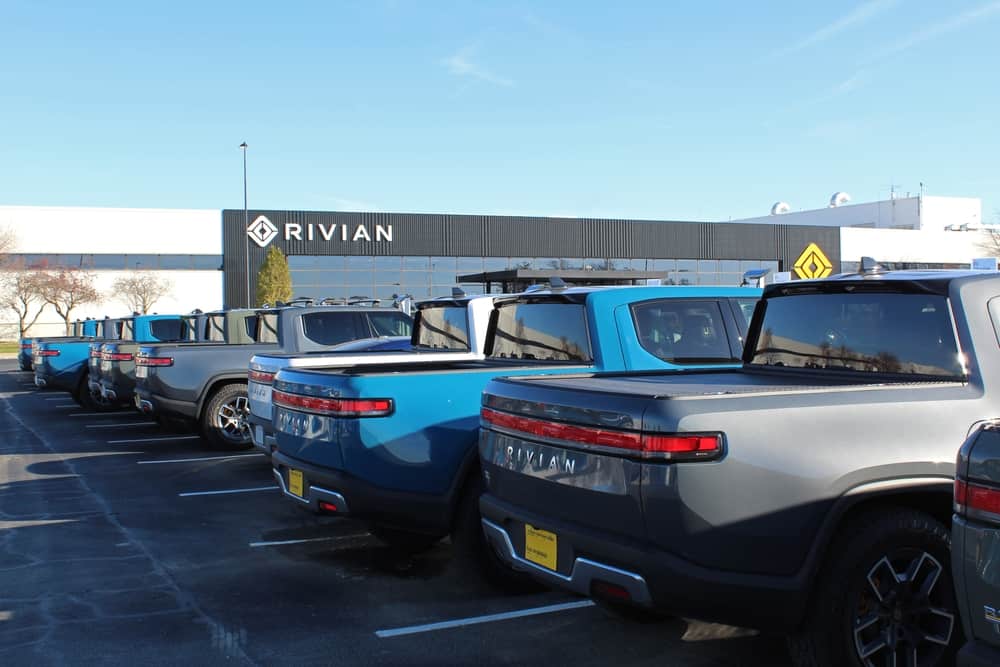 R1S Explore Trim
The basic level Explore trim has the same specs as the top-end Adventure Trim. Both include a standard battery, dual-motor AWD propulsion, and seating for 7 occupants. They also have a built-in air compressor, a heated steering wheel, and a power rear liftgate. Interior details account for most differences between the two currently available models. The Explore has a standard audio system, cloth headliner, and recycled cloth floor mats. Only the driver's seat has lumbar adjustments, and the seats are heated but not ventilated. Interior trim pieces are simple matte black plastic.
R1S Adventure Trim
Rivian makes the R1S Adventure with a much more luxurious interior. As a result, occupants can enjoy heated and ventilated seats while feasting their eyes on real, natural-grained ash wood interior trim. Other interior accents are a special "Compass Yellow" color. Premium hose-off, quick-dry Chilewich floor mats cover the floors, while the headliner is 100% recycled microfiber. The occupants can also listen to an upgraded Meridian audio system dubbed the "Rivian Elevation."
The Rivian Adventure's one functional difference from the Explore is the addition of two built-in front bumper tow hooks.
Battery Packs and Wheel Size
The choice between a Standard or Large battery pack when buying a Rivian R1S SUV has more impact on performance than trim levels. Both cars are built with a default Standard battery pack. The range for a Standard battery pack is 260 miles, according to Rivian. Dual-motor AWD with a Large battery boosts this to 320+ miles, according to Rivian, though the EPA claims 316 miles.
Wheel size also affects the R1S's range. According to Rivian, the 21" wheel option gives the most efficient driving and longest range. Using 20" wheels cuts range by 10% to 15%, while 22" wheels result in a 5% to 10% range reduction. Extrapolating from these figures (using EPA maximum estimates) gives the following approximate ranges for different wheel and battery combos:
| | | |
| --- | --- | --- |
| Wheel Size | Standard Battery | Large Battery |
| 20" | 221-234 miles | 268-284 miles |
| 21" | 260 miles | 316 miles |
| 22" | 234-247 miles | 284-300 miles |
Rivian plans to add a "Max" battery pack option with at least 400 miles of range but there's no specific release date.
Dual-Motor AWD versus Quad-Motor AWD
You can also pick a dual-motor or a quad-motor all-wheel drive (AWD) option for your Rivian R1S. Dual-motor AWD models with one front and one rear motor deliver 600 horsepower and 600 ft-lbs of torque. The dual-motor model can burn rubber from 0 to 60 mph in 4 seconds. The quad-motor AWD upgrade raises horsepower and torque to 835 and 908 ft-lbs, respectively. Quad-motor Rivian R1S SUVs can blast from 0-60 mph in 3 seconds. All models have a 1,800 lb payload capacity and can tow 7,700 lbs.
The Public Response
Rivian's "Stealth Mode" resulted in a low public profile for many years, with consumer interest only picking up in June 2018 with the R1S reveal. As of 2020, InsideEVs reported social media buzz showed much more interest in the R1T pickup than in the R1S SUV. But by early 2022, other sources piecing together pre-order data suggested R1S pre-orders accounted for 43% of likely sales. R1T pre-orders were about equal, and roughly 10% of orders selected both. The R1S SUV EV seems to have caught up in popularity.
Professional Rivian R1S reviews express strongly positive opinions about the electric vehicle. A Popular Mechanics reviewer praised the R1S SUV's roomy, comfortable interior, pleasant and powerful on-road driving, and strong off-road capability. CNN Business describes the R1S as "great" and notes its Land Rover style off-road power and rock-crawling ability as a major advantage over the competition. AutoBlog noted smooth, agile road driving combined with good off-road driving modes and off-road engineering that makes the SUV "impressively capable."
Up Next…
We have plenty more of articles about Rivian to look through.
The image featured at the top of this post is ©James Yarbrough/Shutterstock.com.