Rivian has made a name for itself by producing high-performance electric trucks and SUVs. The Rivian R1S and R1T are both high-performing vehicles, capable of great traction coupled with a pretty solid range.
This power comes from a quad motor array, with each motor corresponding to a wheel. This is great for performance, navigating tricky terrain, and acceleration, but bumps the cost considerably. Rivian has discussed a dual motor all-wheel drive, as well, delivering lesser performance and a much lower cost.
How do these two options stack up against each other? Users might be curious as to whether purchasing a dual motor or quad motor results in lesser performance. Let's take a look at the established stats, and discover which Rivian R1S configuration might be best for you.
Rivian R1S: Dual vs Quad Motor: Side-by-Side Comparison
| | Rivian R1S Dual Motor | Rivian R1S Quad Motor |
| --- | --- | --- |
| Horsepower | 600hp | 800hp |
| Torque | 600 ft-lbs | 900 ft-lbs |
| Operational Range | 261 miles | 321 miles |
| Torque Vectoring | Yes, front and rear torque vectoring | Independent torque vectoring per wheel |
| 0-60 mph time | 4.5 seconds | 3 seconds |
| Towing Capacity | 7,700 lbs | 7,700 lbs |
| MSRP | $78,000 | $92,000 |
Rivian R1S: Dual vs Quad Motor: What's the Difference?
The similarities between both configurations aren't entirely shocking, as the capabilities of the vehicle aren't vastly different. Instead, there are a few key distinctions that arise with the Quad-Motor configuration.
Performance
Right off the bat, the Rivian R1S Dual-Motor configuration has less horsepower and less torque. It isn't a slouch by any means when it comes to power, and boasts a great towing capacity for an EV.
The Quad-Motor R1S has 200 more horsepower than the Dual-Motor configuration, going from 600 to 800. With this comes more torque, naturally, as well as faster acceleration.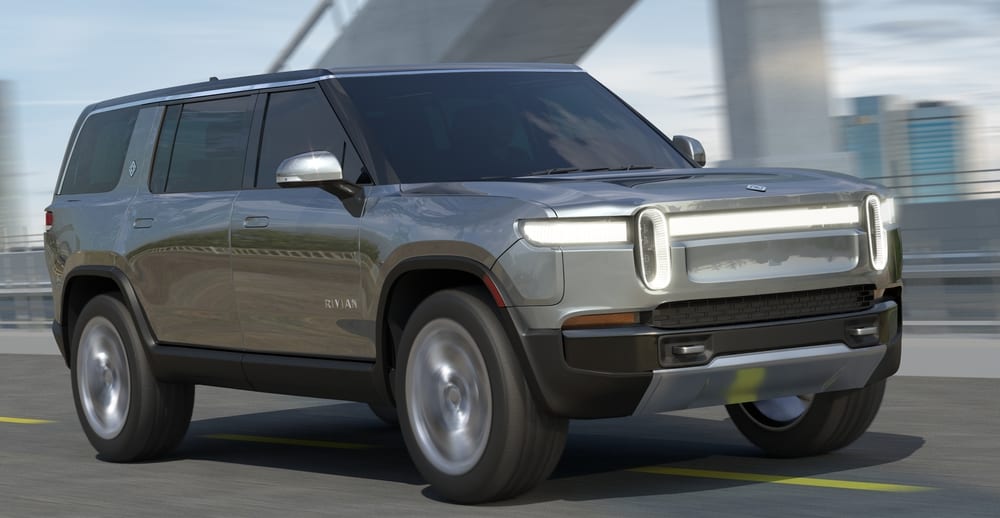 The Quad Motor doesn't make any difference in terms of towing capacity and focuses more on providing traction while under load. Users may find it easier to tow heavier workloads with the Quad Motor over the Dual Motor, especially on less-than-ideal terrain.
Torque Vectoring is also another area where these two configurations differ. The Dual Motor allows for independent control of torque distributed between both axles. Rivian's Quad Motor allows for this same technique to be applied to each individual wheel, allowing for greater traction and control where it counts.
Really, it comes down to the intended use for your R1S. If you're seeking a long-range EV with the ability to tow, then the Dual Motor is a great choice. Those looking to use their R1S to work might do well to pick the Quad Motor.
Operational Range
The Rivian R1S Dual Motor's stock configuration has an operational range of under 300 miles, with an estimated 261 miles on a full charge. This is contrasted with the Quad Motor which comes with a larger battery pack and boosts the operational range up another 60 miles.
On paper, this might lean potential purchasers to the Quad Motor, but for most city driving, 261 miles is plenty for day-to-day driving.
Where operational range is a larger consideration is when towing or carrying workloads. The additional strain from the weight can greatly reduce potential range, and having a larger capacity battery readily rectifies this.
With this in mind, potential purchasers can also opt to have the extended battery from Rivian installed. This runs an additional $6,000 but brings the range in line with the Quad Motor configuration. Even with the extended battery installed, the Dual Motor comes in at a lesser MSRP than the Quad Motor.
What Is Torque Vectoring?
Torque Vectoring is a technology employed by Rivian vehicles that allow for finer control across both axles. In practice, this neutralizes oversteering and understeering and maintains better control while navigating your vehicle.
This is a great feature for those who are taking their EVs off-road, as it allows for more solid control while going across variable control. The Quad Motor has individual wheel control and greater torque control than a standard differential.
For city driving, this is mostly a waste, but for those looking to take their R1S camping, it makes for a great option. It isn't a function of the vehicle that is a complete deal breaker, but rather something to take into consideration when budgeting for your next EV purchase.
Rivian R1S: Dual Motor vs Quad Motor: 6 Must-Know Facts
The Dual-Motor configuration is not currently being shipped.
The Dual-Motor configuration relies on domestically made batteries and motors from Rivian.
The Dual-Motor configuration is available in standard and enhanced trim packages.
The Quad-Motor configuration is the most common Rivian configuration on the road.
The Quad-Motor configuration uses batteries provided by Samsung, with production moving to Rivian soon.
The Quad-Motor configuration is the only configuration readily available for order currently.
Rivian R1S: Dual Motor vs Quad Motor: Which One Is Better? Which One Should You Choose?
Picking the trim level of a vehicle is always a difficult choice. Once you've decided on a vehicle, it's really a matter of deciding which features matter the most to you when considering a potential purchase. On paper, the Quad Motor is the clear winner.
It has better performance, greater range, and better traction control when navigating harsher or irregular terrain. The Quad Motor's pricing, however, is more in line with a luxury vehicle than a truck meant to bang around in the great outdoors.
The Dual Motor configuration has lesser performance, but can easily achieve parity of range with an additional purchase. For those looking for a sporty vehicle for their commute, the Dual Motor configuration is a great choice.
It costs considerably less with the standard battery pack. While you may lose out on the option of using the vehicle as a generator, it is still a very capable vehicle for off-roading and general work.
Whichever choice you make, it is less about which of these configurations is the correct choice and more about your needs. A contractor looking for an EV is going to have different concerns about what is important for a vehicle than someone looking for a new vehicle for their daily driving around town.