Key Points:
Netflix is a great example of a innovative tech company that was able to pivot successfully with changes in the entertainment industry.
Hastings was able to sell his company Pure Atria and then turn that sale into his investment into co-founding Netflix.
Netflix was a pioneer in niche of movie and show rentals.
Who is Reed Hastings?
Reed Hastings is an American entrepreneur from Boston, Massachusetts. While he has been involved in several businesses, his most famous contribution is co-founding Netflix and leading the media-streaming company as CEO since 1998, He's well-known for his unique leadership style and success in entrepreneurism. Explore the early life, career, and achievements of this self-made billionaire and American media mogul.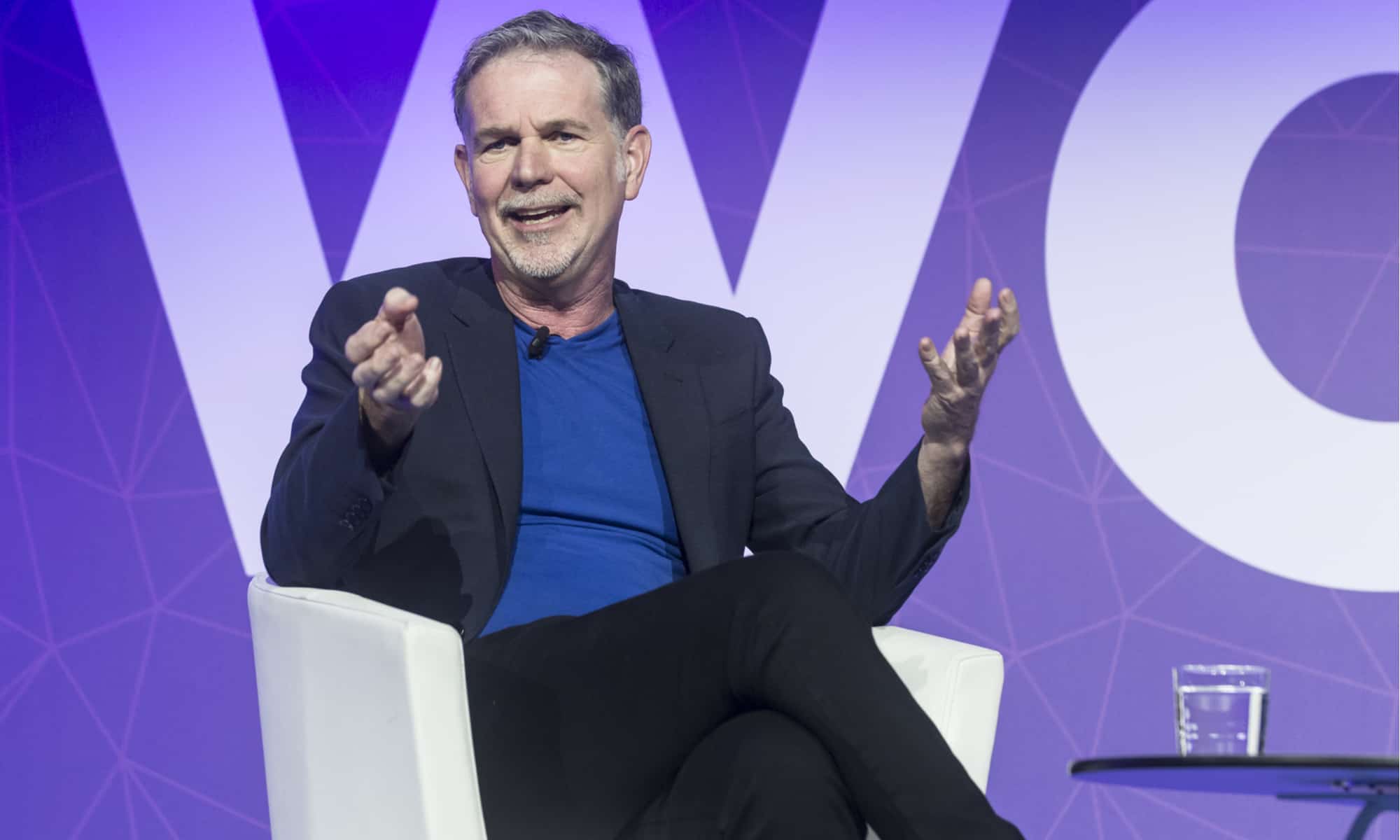 Early Life
After graduating from Buckingham Browne & Nichols School in 1978, Hastings took a gap year to work as a door-to-door vacuum cleaner salesman. He attended Bowdoin College as a mathematics major and attended Marine Corps training during the summers of his college years. He also went to Officers Candidate School in 1981.
Instead of a career in the Marine Corps, Hastings turned to the Peace Corps to teach mathematics from 1983 to 1985 in Eswatini (then known as Swaziland), Africa. Hastings then received a Master in Computer Science degree from Stanford University in 1988 and started working as a software developer.
Career
Beyond his brief stints in vacuum sales, Marine Corps training, and Peace Corps volunteering, Reed Hastings has spent his career primarily in two phases: as a software developer and a CEO. He participated in both careers as a founder or co-founder, which helped him gain his current wealth and success in the media industry.
Pure Software: 1991-1997
Pure Software, which Hastings founded in 1991, created a debugging tool that engineers could use. It was a successful business that doubled its revenue every year. Morgan Stanley went public with the company in 1995, so Hastings moved from engineer to Chief Executive Officer.
Hastings sold Pure Software, then known as Pure Atria, in 1997 for $750 million. Rational Software acquired the company, giving Hastings enough funds to focus on his next entrepreneurial venture as an upcoming media mogul.
Netflix: 1997-Present
It took Hastings some time to develop the idea of Netflix. He wanted to start a new venture and reached out to his former coworker and the former VP of Corporate Marketing from Pure Atria, Marc Randolph. Randolph was interested in helping fund a company that could enjoy the same widespread use and success as Amazon. After exploring e-commerce ideas as varied as home-delivery shampoo and surfboards, the two entrepreneurs decided to create a mail-order service for one of the latest media technologies: the DVD.
Hastings became the chair of Netflix on August 29, 1997. He had 70% ownership and, while Randolph initially served as the CEO, Hastings became the CEO in 1998. The company grew quickly and expanded its library and audience. Netflix went public in 2002, Randolph stepped down as the CEO in 2003, and the company began streaming content in 2007. It's become particularly popular for shows like House of Cards, 13 Reasons Why, and Squid Game. Much of Netflix's success is attributed to Hastings' leadership style.
What is Reed Hastings Known for?
Reed Hastings is known as an entrepreneur and philanthropist. He has served on the board of directors at Facebook and several non-profit organizations. He's best known, however, as one of the key founders of Netflix.
Founding Netflix
The media giant was a pioneer in the industry. Not only did it disrupt the movie rental industry through convenient, widespread DVD-by-mail services, but it also paved the way for streaming services.
As a streaming service leader, Netflix has greatly expanded access to on-demand entertainment. Hastings has led the company as it transitioned from DVD rental to streaming TV shows, documentaries, and films, in addition to its growing collection of Netflix Originals.
Hastings became known for his hands-off leadership style while CEO of Netflix, giving his employers opportunities to innovate and introduce new show ideas, like House of Cards.
Reed Hastings: Marriage, Divorce, Children, and Personal Life
Reed Hastings, the billionaire entrepreneur and media mogul, is married and has two children. Beyond these facts, little is known about his personal or family life. Explore each area of his personal life to learn more about this successful CEO and philanthropist.
Net Worth
In 2022, Hastings' net worth is estimated to be $2.6 billion Though he only owns about 1% of Netflix since it went public in 2022, his successful leadership of the company and other financial strategies have allowed him to become a self-made billionaire. He's ranked number 801 on the Forbes list of billionaires, as of 2022.
Marriage
Hastings married his wife, Patricia Ann Quillin, in 1991. She doesn't have a publicity team and tends to avoid the spotlight, so not much is known about her personal life.
Divorce
Reed Hastings and his wife, Patricia Ann Quillin, are still married and haven't filed for divorce. There haven't been any rumors or concerns that Hastings may become divorced.
Children
Reed Hastings and Patricia Quillin have two children. Their firstborn, Molly Hastings, is a musician. The family lives a private life and little is known about them in the public media.
Tragedy
In his personal and family life, Hastings hasn't experienced any significant tragedy that's been shared with the public. He reportedly broke his leg during a skiing accident in 2015 but otherwise has avoided any public tragedy or personal controversy.
Reed Hastings: Awards and Achievements
Since his years in college, Hastings has won many significant awards and achieved success throughout his business career. Netflix also won a significant amount of awards under his leadership, like House of Cards winning seven Primetime Emmy Awards. Here are a few of the more prominent awards throughout his lifetime.
1981: Smyth Prize
While still a mathematics major at Bowdoin College, Hastings earned the Smyth Prize.
1983: Hammond Prize
Hastings went on to win the Hammond Prize in 1983 while still a student at Bowdoin College.
2014: Henry Crown Leadership Award
The Henry Crown Leadership Award is presented by the Henry and Gladys Crown Charitable Trust Fund and the Henry Crown Fellowship Program of the Aspen Institute. It was awarded to Hastings in honor of his integrity, philanthropy, industry, and other leadership characteristics as one founder and the CEO of Netflix.
2001: Charles F. Jenkins Lifetime Achievement Award
The 73rd Engineering Emmy Awards, announced by the Television Academy, included the Charles F. Jenkins Lifetime Achievement Award. Hastings was recognized for his contributions to the field of engineering, specifically for television technology.
Reed Hastings: Published Works and Books
We earn a commission if you make a purchase, at no additional cost to you.
This book, co-authored with Erin Meyer, was shortlisted for the 2020 Financial Times & McKinsey Business Book of the Year. Hastings and Meyer outline the strategies and decisions behind Netflix's tremendous success. He describes prioritizing people over process, giving employees context, and other new standards Hastings believes led to his success while leading Netflix.
Reed Hastings Quotes
"My first company, a Pure Software, was exciting and innovative in the first few years and bureaucratic and painful in the last few before it got acquired. The problem was we tried to systemize everything and set up perfect procedures."
"Stone Age. Bronze Age. Iron Age. We define entire epics of humanity by the technology they use."
"I've worked very hard, but my life's always been fun."
"Most entrepreneurial ideas will sound crazy, stupid, and uneconomic, and then they'll turn out to be right."
"Companies rarely die from moving too fast, and they frequently die from moving too slowly."
Up Next…
We have plenty more for you to read about streaming platforms and similar articles.
The image featured at the top of this post is ©catwalker/Shutterstock.com.