Key Points
Reddit is a reliable source for PS5 game recommendations due to the authenticity and honesty of Redditors.
The best PS5 games include The Last of Us Part I, UNCHARTED: Legacy of Thieves Collection, God of War Ragnarok, Devil May Cry 5 Special Edition, and Final Fantasy VII Remake Intergrade.
Returnal offers a unique and challenging gaming experience, while Ghost of Tsushima provides a rich narrative and fast-paced combat.
Elden Ring is a ruthlessly unforgiving RPG, Gran Turismo 7 offers an immersive racing experience, and Resident Evil 4 Remake brings a scarier survival-horror feel.
Aside from Nintendo, Sony is one of the biggest players in the world of gaming. Their development strategy is markedly different from the former, however. Whereas Nintendo seems to try to release as many new video game systems as possible, Sony's gone the route of sticking with a good thing and trying to make it even better. This tactic has paid off well for them, as the PlayStation is one of the most beloved consoles ever created. In fact, the PS2 is the best-selling gaming system of all time. It's not too surprising then that the long-anticipated PS5 sent shockwaves throughout the Sony fanbase upon release. The superior graphics and processing speeds of the newest model are nothing to sniff at. And neither are the stellar titles in its game library. Today, we're going to take a close look at the best PS5 games on offer, as suggested by Reddit.
Why Go to Reddit for Game Suggestions?
If you're not familiar with the website, it may seem strange to go to Reddit looking for recommendations. One of the main reasons for this is that Reddit users (or "Redditors") seem to tend more towards authenticity and honesty (sometimes brutality) than other websites. While we love to check out what the developers themselves have to say about their latest releases, there's understandably usually some sort of marketing spin involved. After all, if they don't promote their games well, they won't sell as much. Of course, not everything written on Reddit is sacred, but there's a definite sense that people are being genuine more often than not.
Redditors are usually very passionate about their hobbies, be it video games, movies, or anime. There are no conflicting interests here, so you're mostly going to get the whole truth from users who have hands-on experience with the titles they're talking about. Everyone has their own preferences when it comes to playing video games, but hearing from real people helps you get a better idea of whether a game would be a worthwhile buy. All kinds of platforms are discussed, from the Switch to the PlayStation and more. The games we've listed here are mostly from the r/gaming, r/PS5, r/playstation, and r/PlayStationPlus subreddits, which are all forums dedicated to the wonderful world of gaming. Now, it's to see what titles have made an impression on the community.
1. The Last of Us Part I
Heart-Wrenching Apocalypse
The Last of Us Part I – PS5
Enhanced visuals with intricate environments
Fast-loading for seamless gaming
Haptic feedback support for weapons
Adaptive triggers for combat immersion
Newly upgraded 3D audio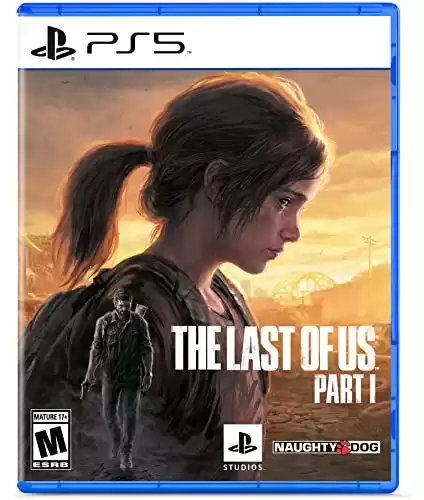 We earn a commission if you make a purchase, at no additional cost to you.
As if this title wasn't already a spectacular PS4 release, it's been souped up even more for the PS5. The atmosphere is more ambient, the graphics and lighting are more realistic and the monsters are even more terrifying. You won't get as much of a breather between scenes either, thanks to the improved loading times. Sometimes, we don't see much of a difference when a game transitions from the PS4 to the PS5, but this title really has had new life breathed into it.
Part intense combat, part stealth adventure, the gameplay here is gripping and reminiscent of both Resident Evil and Metal Gear. And let's not forget the heart-wrenching storyline. In a harsh world where humans struggle to survive against the odds, you'll feel Joel and Ellie's pain, almost as if you're there with them.
2. UNCHARTED: Legacy of Thieves Collection 
Life of Adventure
We earn a commission if you make a purchase, at no additional cost to you.
Even one of these critically acclaimed titles would be enough to make it onto this list. But you're getting two amazing games here, for less than you could usually buy one for. With jaw-dropping landscapes, thrilling action sequences and nuanced narratives with humorous charms, there's a lot to love in UNCHARTED. And of course, all this entertainment rolls out even smoother on the PS5.
Almost as if Tomb Raider and Prince of Persia had a lovechild, UNCHARTED takes you on a trip around the world, filled with immersive fight scenes and puzzles galore. If you love an explorative action title, this is one of the best PS5 games to add to your collection.
 3. God of War Ragnarök
Norse God Experience
God of War Ragnarök – PlayStation 5
Norse realms with mythological landscapes
Multidirectional 3D audio alerts you of enemies
Game in full 4K resolution
Stunning graphics with rich detail
We earn a commission if you make a purchase, at no additional cost to you.
The latest release in the universally esteemed God of War series, Ragnarök, takes place in the Norse mythology setting, a departure from the original games that were steeped in ancient Greek realms and themes. Join father and son as they fight both personal and joint battles, in a story as enthralling as it is poignant.
As with most PS5 titles, lightning-fast loading speeds and lifelike graphics are guaranteed. Hack and slash your way through this mythic world, opening new paths and obtaining new items as you close off the Norse era.
4. Devil May Cry 5 Special Edition
Edgy Action
Devil May Cry 5 Special Edition (PS5)
Dark Knight mode and Turbo mode for added challenges
Play as one of four characters, including Vergil
Supercharged 4K graphics
All-new DLC in the Special Edition
We earn a commission if you make a purchase, at no additional cost to you.
When it comes to PlayStation action games, the Devil May Cry series is often one of the first mentioned. The franchise has been going strong for over 20 years, ever since the first game was released in 2001. There have been a few missed swings, but overall, the titles are considered some of the best for the console. The adrenaline-fueled gameplay gets taken to new heights with the latest release, with exciting new modes to tackle.
Players who want a challenge can take on the incredibly difficult Dark Knight mode or test their reflexes in Turbo mode. Not only can you play as Dante, Nero, or V, but Dante's twin brother Vergil becomes a playable character in the improved Special Edition. Of course, Dante is a classic character, but Vergil's flashy moves and stylish controls make an already great game even better. The graphics are crisp, and the battles are sure to leave you breathless. If you're a fan of the series, we can't stress enough how much you need to play this game.
5. Final Fantasy VII Remake Intergrade 
Remake of an Icon
FINAL FANTASY VII REMAKE INTERGRADE (PS5)
Classic title reimagined for a new era
Yuffie stars in her very own DLC adventure
New characters added to the roster
Perfect for retro fans and those new to the series
We earn a commission if you make a purchase, at no additional cost to you.
Yes, we've been blessed with yet another remastered version of Final Fantasy VII. This isn't too surprising, however, seeing as it's probably the most iconic in the series. Whether you're new to the game or a longtime loyal fan, there's something for everyone in this remake. The cutscenes are so realistic you'll probably forget you're playing a game and not at the cinema. Of course, there are a lot of changes since the original, but the experience is nostalgic all the same. If you love Yuffie, you'll be delighted to hear the chirpy, star-wielding ninja makes an appearance once again, unlike the previous remake. In the DLC, she even features as the main protagonist. This nets you hours of shuriken-filled fun with a glorious soundtrack to boot. Not only that, but new characters have been added to the roster as well.
The only drawback here is that the entire original game isn't found in this title. The developers have decided to split the story over multiple discs, which may be a little frustrating to some players. But considering the revamped graphics and extra content, this seems unavoidable. We can't fault the game itself for this, however, as it's a dream for FFVII fans and RPG lovers alike.
6. Returnal 
Die to Live
Returnal - PlayStation 5
Unique mechanics as inventive as they are challenging
Play solo or team up in co-op mode
Ever-changing environment means a different experience with every playthrough
Ideal for fans of the roguelike genre
We earn a commission if you make a purchase, at no additional cost to you.
Returnal is one of those fairly experimental titles that ends up being pretty polarizing. Going in a new direction with a game is always a risk, but overall, it paid off here. While some players find it frustratingly challenging, most find it quite refreshing to find a modern game with almost old-school levels of difficulty. Reminiscent of retro roguelike titles, Returnal prompts the player to gradually explore a strange and transformative world piece by piece.
The main mechanic at play is equal parts strange, thoughtful, and brilliant. You won't find yourself surviving for more than an hour, and each time you meet your death, you're transported back to the crash site you started at. But not everything stays the same. Aside from the environment around you changing with each rebirth, you'll retain certain items and navigate your way through new paths, to do battle with the planet's menacing denizens and try to find a means of escape. Returnal certainly isn't to everyone's tastes but offers a deeply engaging and unconventional gaming experience to those players willing to take on the challenge.
7. Ghost of Tsushima
Ancient Samurai
We earn a commission if you make a purchase, at no additional cost to you.
Get ready to be the Samurai you always secretly wanted to be. Lush 4K landscapes steeped in Japanese culture meet rich narratives and fast-paced combat in Ghost of Tsushima. Anyone who's a fan of Samurai or Mass Effect-style plot-impacting decision making will be excited to get their hands on this title. The original release was already spectacular in its own right. But the Director's Cut really takes the experience to a whole new level. Often, a DLC doesn't add much, but that couldn't be further from the truth here. With a whole new island to explore, the complex story is made even deeper. We couldn't be happier about it.
While the main story sees you taking on the role of a sole Samurai warrior determined to protect his land, you don't have to shoulder this burden alone. If you have a PlayStation Plus membership, you can take advantage of the other amazing DLC additions. Team up online as part of a duo to conquer the storyline, or a group of four to fight back relentless waves of foes. This one is a no-brainer for fans of the genre. However, we can't help but recommend it to anyone who owns a PS5.
8. Elden Ring
Modern Dark Souls
Elden Ring – PlayStation 5
Set in a mysterious, perilous world
Traverse a stunning world on foot or horseback
Create your character, and define their play style
Experiment with a range of weapons, skills
Decide how to explore or combat enemies
We earn a commission if you make a purchase, at no additional cost to you.
Another game on our list isn't exactly for the fainthearted. Elden Ring harks back to a time when RPGs were ruthlessly unforgiving. If you're up to the task, you'll be greatly rewarded. The open world is absurdly big, but luckily, you can travel on horseback to make things easier. The exploration doesn't stop there, though. To battle your way effectively through the game, you'll need to experiment with different skills and character builds. Elden Ring doesn't exactly make this easy, so you may need to do your own research. However, this is hardly a point against it, but more a matter of personal preference.
The gameplay can't really be said to be innovative. The battle sequences are more of an excellent nod to pre-existing mechanics than redefining in themselves. But if you're looking for a title to smack you back to square one unexpectedly and force you to reevaluate your choices, you'll appreciate the merciless moments Elden Ring has to offer.
9. Gran Turismo 7
Gran Turismo 7 - For PlayStation 5
Collect over 400 vehicles from more than 60 manufacturers
Customize your dream car, choosing from classic or new models
Race cars around traditional tracks and modern routes
Compete online in intense multiplayer modes
Goes great with a racing wheel or the PSVR 2
We earn a commission if you make a purchase, at no additional cost to you.
Any racing game fan will be familiar with the Gran Turismo series. These games have been out for a quarter of a century, and show no sign of hitting the brakes anytime soon. With the seventh entry, you'll be on the edge of your driving seat as the outstanding graphics and game design put you right in the center of the action. The intricate lighting, weather conditions, and unique mechanics of each car inject a heavy dose of realism that's hard to find with other driving simulators. As it is, the gameplay is extremely addictive and satisfying. For the ultimate immersive experience, though, we recommend pairing this game with a racing wheel setup or the PS VR2.
We particularly love the blend of the classic and the modern in Gran Turismo 7. Fan favorite modes, tracks, and vehicles have been included. But there's a ton of new and exciting content to get to grips with too. If you're feeling tough enough, there's a world of intensely fun competition waiting for you in online modes. Although we won't blame you if you opt for a solo jaunt through your favorite races.
10. Resident Evil 4 Remake
The Classic Remastered
Resident Evil 4
Revamped gameplay that stays true to the original
Updated graphics and dialogue
Survival horror elements are heightened
New customization options and knife maneuvers
We earn a commission if you make a purchase, at no additional cost to you.
If you own a console with some of the best graphics ever created, why not scare yourself senseless? That sentiment might confuse you. But longtime survival horror fans will jump out of their skins to play this scarier-than-ever retelling of Resident Evil 4. Rest assured, though, if zombies aren't exactly your thing, this title still brings the action. Staying faithful to the original while introducing meaningful improvements is always a hard line to tow. However, Capcom has done an excellent job here.
Everything we loved about the initial release of Resident Evil 4 is still present, but there's definitively more of a survival-horror feel going on here than simply an action-horror vibe. Dialogue has been expanded (fans of the merchant will be especially happy with his increased airtime), enemies have been rendered to new heights of terror, and even your trusty knife has some new tricks to show off. We can't say the controls are as smooth as most of the best PS5 games. But that's essentially a core part of the survival horror formula, so we can't be too mad. If there's ever a title that can be given a new life, it's one from the Resident Evil series.
Summary Table
| Rank | Game |
| --- | --- |
| #1 | The Last of Us Part I |
| #2 | UNCHARTED: Legacy of Thieves Collection |
| #3 | God of War Ragnarök |
| #4 | Devil May Cry 5 Special Edition |
| #5 | Final Fantasy VII Remake Intergrade |
| #6 | Returnal |
| #7 | Ghost of Tsushima |
| #8 | Elden Ring |
| #9 | Gran Turismo 7 |
| #10 | Resident Evil 4 Remake |
The image featured at the top of this post is ©Girts Ragelis/Shutterstock.com.