Key Points
Reddit's #1 Best Overall Office Chair is the WorkPro Quantum 9000.
The perfect office chair will allow you to fully focus on your tasks.
The top criteria for selecting an office chair are comfort, adjustability, and durability.
Before selecting an office chair, it's helpful to know your ideal seat height based on your measurements.
By establishing a budget, you can ensure you strike a balance between affordability and desired features.
The average desk worker spends 15 hours sitting every day. Unfortunately, many sit in uncomfortable and ill-fitting chairs, inflicting serious pain on their backs and bodies.
It's no surprise, then, that desk workers worldwide are turning to Reddit for advice on the best office chairs. Armed with their collective wisdom and real-life experiences, Redditors have shared their insights on the best, most ergonomic chairs that promise to turn your workstation into a sanctuary of comfort.
In this article, we'll explore some of their top recommendations, providing various options to suit different needs. Take a look at the best office below according to Reddit. Let's get started!
#1 Best Overall: WorkPro Quantum 9000
Best Overall Office Chair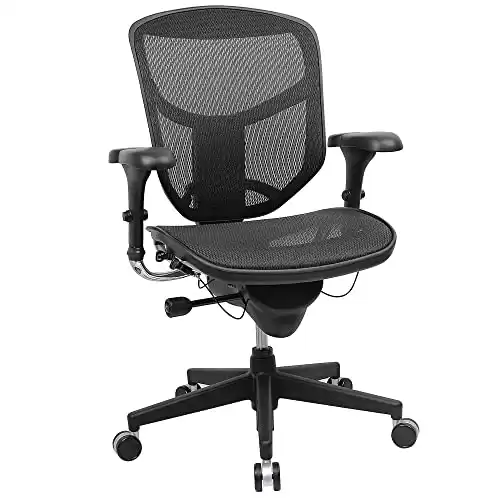 We earn a commission if you make a purchase, at no additional cost to you.
Redditors love the WorkPro Quantum 9000 so much that they'd prefer to replace worn-out parts instead of buying a new chair.
The WorkPro Quantum 9000 is equipped with height-adjustable, width-adjustable, and swiveling gel armrests, making it an excellent option for compact workspaces and versatile setups. This functionality promotes good posture and helps reduce arm fatigue, ensuring a more comfortable and productive work experience for people of various sizes.
This level of adjustability extends to the backrest, which is height-adjustable, with the entire backrest capable of raising to 3″. A tension knob allows you to modify the force needed to tilt the chair. The backrest tilts up to 30 degrees, but it's also lockable if you prefer to maintain a certain angle.
A mesh seat provides both breathability and support, featuring a waterfall edge that curves away from your legs. This allows you to sit comfortably without feeling as though the edge of the seat is digging into your thighs.
The WorkPro Quantum 9000 offers excellent value, but some users noted that the swiveling armrests are overly sensitive. If you bump one accidentally, it may cause the angle to change. Check out the WorkPro Quantum 9000 on Amazon.
| Pros | Cons |
| --- | --- |
| The armrests are height-adjustable and swivel. | Bumping into the armrests may cause them to swivel unintentionally. |
| The backrest is height-adjustable and tilts up to 30 degrees, with the option to lock it at the desired angle. | |
| It strikes a balance between breathability and support. | |
| The seat's waterfall edge won't cut into your thighs. | |
Best Budget-Friendly Option: SIHOO M57 Ergonomic Office Chair
Best Budget-Friendly Option
We earn a commission if you make a purchase, at no additional cost to you.
For those on a budget, Redditors recommend the SIHOO M57 Ergonomic Office Chair, with some even preferring it over more premium options.
Designed to provide head-to-toe support, this chair will comfortably cradle you, conforming to your back's natural "S" shape. By promoting proper alignment, the chair helps reduce the risk of strain and discomfort, allowing you to stay focused and productive throughout your workday.
A significant advantage of the SIHOO M57 is its high level of adjustability. Recognizing that everybody is unique, the chair allows you to customize its settings to suit your specific needs. Beyond basic height adjustments, this office chair allows you to reposition the armrests, neck rest, lumbar support, and tilt depth, ensuring that it comfortably accommodates various body types and evolving changes in positioning.
Unlike some office chairs that trap heat and sweat, forcing you to peel yourself away at the end of a work session, the SIHOO 57 provides superior ventilation with its breathable mesh seat, backrest, and headrest.
While this chair excels in terms of support and adjustability, some users mentioned that it's fairly firm. For those who desire plush cushioning, exploring other options might be more suitable. Check out the SIHOO M57 Ergonomic Office Chair on Amazon.
| Pros | Cons |
| --- | --- |
| This affordable option is highly supportive. | Users who prefer more plush cushioning may find this chair to be too firm. |
| Its customizable settings accommodate a wide range of body types. | |
| The breathable mesh will keep you cool. | |
Best Upgrade: Steelcase Gesture Office Chair
The Steelcase Gesture may have a higher price tag, but according to Redditors, it's worth every penny.
The Gesture's tension is perfectly calibrated, ensuring you can recline with ease and stay comfortably in position, unlike average office chairs that require continuous force. This is made possible by LiveBack, a proprietary technology that facilitates ease of movement, mirroring the flexibility of your spine.
As you recline, the armrests remain parallel to your desk, ensuring a convenient position for typing or interacting with devices. Moreover, the armrests offer a high level of adjustability, allowing you to customize them in various directions: up/down, in/out, and rotating 360 degrees.
The Steelcase Gesture goes the extra mile to ensure comfort and support in the seat as well. The cushion has built-in air pockets that conform to your body and won't flatten out over time, providing you with soft support all day long.
While we think the Steelcase Gesture justifies its price with outstanding features and functionality, some users noted that the rubber armrests lack cushioning. Check out the Steelcase Gesture on Amazon.
| Pros | Cons |
| --- | --- |
| This chair mirrors your natural movements using components that flex like a spine. | Some users may prefer more cushioning on the armrests. |
| It has perfectly calibrated tension settings for easy reclining and continuous support. | |
| The armrests remain parallel to your workstation so you can stay productive while reclining. | |
| Air pockets in the seat cushion conform to your body and provide long-lasting soft support. | |
Best for Larger People: SIHOO M18 Ergonomic Office Chair
Best for Larger People
We earn a commission if you make a purchase, at no additional cost to you.
Although the SIHOO M18 is perfect for larger individuals seeking a chair that can accommodate heavier weights and longer proportions, many Redditors highly recommend it due to its overall comfort.
This chair offers adjustable lumbar support, allowing users to position it higher or lower for personalized comfort. A padded "W" shaped seat further enhances comfort, evenly distributing pressure to eliminate discomfort. This thoughtfully curved seat gently cradles the user, ensuring a secure and stable seating experience even during dynamic movements or posture changes.
Built with heavy-duty materials, the SIHOO M18 exceeds BIFMA standards for comfort, durability, safety, and sustainability. With a weight capacity of up to 330 lbs, this chair can easily provide reliable support for larger individuals.
Backed by a lifetime warranty, the SIHOO M18 guarantees long-lasting quality and performance. While this chair is a great choice for larger individuals, it's essential to note that the chair has its limitations and may not be suitable for individuals taller than 6'2″. Check out the SIHOO M18 on Amazon.
| Pros | Cons |
| --- | --- |
| It can accommodate larger users. | If you are taller than 6'2″, this chair may not be a good fit. |
| By offering customized lumbar support, users can enjoy improved spinal alignment regardless of their size or position. | |
| The "W" shaped seat eliminates pressure points. | |
| It is built with durable materials that can stand up to heavier weights. | |
| A lifetime warranty ensures long-lasting performance. | |
Best for Smaller People: Herman Miller Aeron Size B Office Chair
Best for Smaller People
We earn a commission if you make a purchase, at no additional cost to you.
If you're struggling to find a chair that goes low enough to plant your feet firmly on the floor, Reddit recommends the Herman Miller Aeron Size B Office Chair.
It's available in three sizes, with size B being the most common. The seat height of the size B chair ranges from 16″ to 20.5″, making it suitable for individuals from 4'11" to 6'4″.
Beyond its broad height range, the Aeron chair boasts numerous features that contribute to its popularity. One standout feature is the adjustable lumbar support, which effectively stabilizes the base of the spine. This effectively promotes a healthy sitting posture and reduces the risk of back pain.
With its breathable mesh seat offering optimal ventilation and foam-padded armrests providing extra comfort, the chair ensures you stay relaxed and well-supported, even during extended periods of use.
While the size B chair can accommodate most, you may need to opt for the size A chair if you are shorter than 4'11". Check out the Herman Aeron Size B Office Chair on Amazon.
| Pros | Cons |
| --- | --- |
| Since the seat height has a wide range, it can accommodate many different heights. | If you are shorter than 4'11", the B size may not be the best fit. |
| The adjustable lumbar support promotes a healthy posture and reduces the risk of back pain. | |
| A breathable mesh seat allows for ventilation. | |
| This chair is comfortable enough for all-day use. | |
Best for Back Pain: Nouhaus Ergo3D Office Chair
Best for Back Pain
We earn a commission if you make a purchase, at no additional cost to you.
The Nouhaus Ergo3D Office Chair gained significant popularity after being prominently featured in one of the most upvoted Reddit threads discussing the best office chairs.
What sets the Ergo3D apart from typical office chairs is its adjustable lumbar support. While the typical office chair may offer lumbar support, it's usually only height-adjustable. In contrast, the Ergo3D's lumbar support offers three-dimensional adjustability, allowing users to fine-tune support as they change positions. Furthermore, users can enjoy up to 135 degrees of tilt — more than any other chair on our list.
Other notable features include the 3D adjustable armrests and swiveling headrest. These features allow users to tailor support to their individual needs, eliminating the discomfort that can arise from sitting for extended periods in an ill-fitting chair.
While the chair comes with clear instructions, some individuals found the assembly process a bit more involved than they expected. However, many users also mention that once the chair is assembled, its ergonomic features make it well worth the effort. Check out the Nouhaus Ergo3D Office Chair on Amazon.
| Pros | Cons |
| --- | --- |
| The lumbar support is exceptional. | The assembly process may be more complex compared to other options. |
| With up to 135 degrees of tilt, the chair offers more reclining options than most alternatives. | |
| Multiple adjustable features allow users to tailor the chair's support to their preferences. | |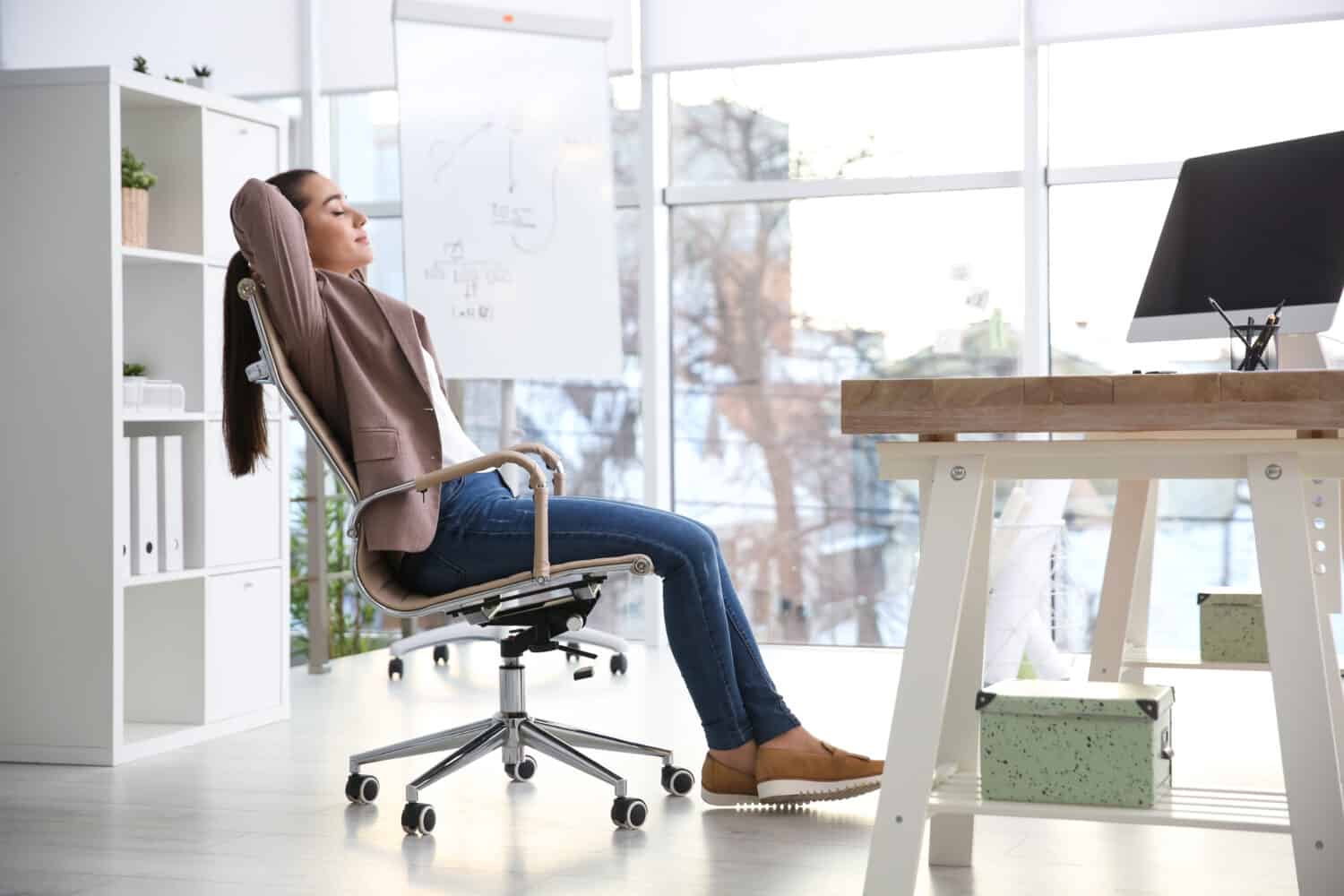 How to Pick the Best Office Chair: Step-by-Step
When choosing an office chair, these are the main criteria to consider:
Comfort
Adjustability
Durability
Let's review them in more detail.
Comfort
A chair that leaves you wincing in pain will affect your well-being and your capacity to be productive. For optimal comfort, your chair needs to fit your body type, promote good posture, and allow for natural movement.
To avoid back pain, look for a chair that has adequate lumbar support. It's best if this is adjustable since it can do more harm than good if it's improperly positioned.
Additionally, consider the amount of cushion you prefer. Some individuals prefer a firmer seat with minimal cushioning, while others may opt for a more plush cushion for a cozy sitting experience. Finding the right balance of cushioning that suits your preferences and provides adequate support is crucial in ensuring you can avoid the distraction of discomfort.
Adjustability
While office chairs are designed to fit most people, body types can vary significantly. For the best sitting experience, it is essential to consider chairs that offer key adjustable features.
Height adjustability is one of the most crucial aspects of an office chair. Being able to adjust the chair's height ensures that your feet rest flat on the floor, maintaining proper alignment and reducing pressure on your lower back.
In addition to height adjustability, adjustable armrests are also essential components in an office chair. They should be adjustable in height and width to allow users to position them at the most comfortable level, reducing strain on the shoulders and neck. Pivoting or swiveling armrests further enable users to position their arms optimally.
While some may view tilt functionality as a bonus feature, it's actually critically important to allow for natural changes in position. Sitting bolt upright for extended periods can put pressure on the hip bones and lower back, potentially leading to severe pain over time. While you don't need any dramatic reclining ability, incorporating a gentle tilt is helpful in alleviating pressure.
Durability
Office chairs can be significant investments, with some high-end models costing well into the thousands. Even if you're purchasing a budget-friendly option, you'll want it to be durable enough to stand up to everyday use.
Look for chairs made from sturdy metals or reinforced plastic frames that can handle regular use without warping or bending. The chair's base should be stable and robust, supporting your weight and movement without wobbling or loosening over time.
When it comes to the seat and backrest, consider the material used for upholstery. Durable fabrics or premium leather can resist wear and tear better than low-quality materials, ensuring the chair maintains its appearance and comfort for years.
Lastly, pay attention to the manufacturer's warranty, as it often indicates their confidence in the chair's durability. A more extended warranty period typically implies that the company stands behind the chair's quality and is willing to address any defects or issues that may arise.
What to Know Before Buying an Office Chair
Optimal Seat Height
Before purchasing an office chair, determine the optimal seat height for your body type. The ideal seat height allows your feet to rest flat on the floor while keeping your knees at a 90-degree angle. This promotes proper posture, reduces strain on your lower back, and enhances overall comfort during extended periods of sitting.
Online calculators can be very helpful in determining the right seat height based on your measurements. Since office chair heights can vary, taking the time to do this step will ensure that you make a well-informed choice.
Budget Constraints
Establishing a budget is essential when searching for the right office chair. Office chairs come in a wide price range, from budget-friendly options to high-end models. Determining your budget beforehand will help you focus on chairs that meet your comfort and ergonomic requirements without overspending.
While it may be tempting to opt for the most inexpensive option, be careful not to sacrifice your overall comfort. By balancing your budget with desirable features, you can find a chair that meets your needs without compromising on quality or functionality.
Using an Office Chair: What It's Like
The beauty of the perfect office chair lies in its ability to seamlessly blend into the background. Since you feel comfortable and supported, you can fully immerse yourself in your tasks, free from discomfort or strain.
Throughout the day, the chair's flexible frame and swiveling base enable you to move effortlessly as you engage in various activities like typing, talking on the phone, collaborating with colleagues, or taking a moment to relax in a reclined position. Unlike an inferior chair that may leave you feeling fatigued and achy after long hours of work, the perfect office chair ensures you feel ready to take on the next challenge.
As you step away from your workspace, you'll come to appreciate the chair's role in boosting your productivity and overall well-being. You may even find yourself looking forward to returning to work, knowing your chair is there to support you.
Up Next:
The image featured at the top of this post is ©fizkes/Shutterstock.com.