Bose Qc45 headphones are some of the best headphones you can buy for the price, but they're not exactly cheap. So it makes sense to weigh all of the pros and cons if you are thinking about buying a pair for yourself.
Bose has been a household name in high-end audio equipment for decades, with speakers, soundbars, and home theater systems making up the bulk of the company's offerings. Since entering the headphone market over a decade ago, Bose has made a name for itself by offering the same unmistakable quality that consumers have come to expect from the brand.
In today's article, we're looking at all of the reasons you should give the Bose Qc45 headphones a listen. Let's get into it!
Reason # 1: Excellent Sound Quality
Having thoroughly tested out a pair of these headphones myself, I can say that they offer an undeniable experience as soon as you put them on. No matter what type of music you listen to, everything sounds excellent on these headphones. Bose definitely went the extra mile to design quality over-ear headphones, but what makes the sound quality so good?
It comes down to a combination of active noise-canceling technology and tried-and-tested speaker design. The mids and highs sound particularly bright, while the bass delivers rich and full deep frequencies. This comes from decades of experience and audio research. But let's talk about how the ANC comes into play on these headphones because that is a game changer.
Reason # 2: Active Noise Cancellation
ANC, short for, you guessed it, "Active Noise Cancellation," is what makes these headphones truly shine. Thanks to the over-ear design, you can experience the full potential of ANC, compared to earbuds, which struggle to deliver quality noise cancellation.
The ANC works by picking up external noise and generating the opposite frequency to cancel it out. As a result, when you have it turned on, you don't hear a thing unless it's really loud. This is great if you're commuting, sitting on a bus, or have construction going on nearby.
The Bose Qc45 headphones let you turn this feature on and off too. You can tap the button on the left side of your headphones to enable aware mode, which will pick up external sound just like regular headphones. While the ANC is great for blocking out most noise, it will struggle a bit if it is really windy, and you'll get some slight wind noises in the background.
#1 Best Overall
Bose QuietComfort 45
Excellent and comfortable design
High-fidelity audio
Active noise cancelation
Get up to 22 hours of battery life
We earn a commission if you make a purchase, at no additional cost to you.
Reason # 3: Adjustable EQ
If you like to have a little more control over the exact sound of your music, the Bose Qc45 headphones have you covered. Thanks to the Bose app, you can take advantage of an adjustable equalizer and get your sound just right.
Download the app on your Android or iOS device, and you can set your mids, lows, and highs precisely how you like them. This really comes in handy if you're someone who likes enjoying all types of audio, such as books, podcasts, and videos, in addition to music. No matter what you're listening to, whether it is bass-heavy music or mid-heavy vocals, you can get the audio perfect.
Reason # 4: Bluetooth
Bluetooth might not be a new invention when it comes to headphones. We've been seeing wireless headphones for quite a while. But the Bose Qc45 headphones have, particularly admirable Bluetooth quality. With support for SBC and AAC Bluetooth codecs, you can enjoy excellent audio quality without dropping your signal.
You can still plug your headphones in via a USB C or standard audio cable if you prefer a wired connection. And, of course, you will need to plug your headphones in for charging. But the Bluetooth capabilities are a welcome addition to high-quality headphones like these.
Reason # 5: Comfortable
This one is actually in the name, as QC stands for "Quiet Comfort." The Bose Qc45 headphones definitely live up to this title, thanks to the thick padding on each side. Each ear pad is thick and plush, and you won't have any problem wearing these for hours at a time.
Additionally, there is more padding across the top of the headphones, making them even more comfortable to wear for extended periods. You won't have to deal with a metal bar rubbing against your head as you do with competing headphone models.
Reason # 6: Build quality
Build quality is another area where the Bose Qc45 headphones shine. The minimal design makes them very sturdy, and while they aren't too heavy, they are very solidly built. One especially desirable feature is the folding design. When you're ready to put your headphones away, you can easily fold them up to be ultra-compact for storage.
While the build quality of the Bose Qc45 headphones is decent, it would be even better if they were water-resistant. The bad news is that they have no IP rating, so be careful not to get them wet. Although–and I don't recommend this–I did take them out in a light rain for a brief period of time after I bought them, and they worked perfectly fine.
Reason #7: Long Battery Life
This is one of the best parts about the Bose Qc45 headphones. Thanks to being so overly large, you can enjoy all the benefits of a massive battery pack. If you take your headphones on long commutes or study sessions, you can leave the charger at home. You also don't need to worry much if you're going on a long plane ride since the battery life in these headphones will last you halfway around the world.
You might think that's an overstatement, but with roughly 25 hours of battery life, it is pretty accurate. One thing that will drain the battery a little bit faster is the ANC. If you have ANC turned on and the volume all the way up, you can expect under 20 hours. But still, that's impressive compared to earbuds or other headphones.
#1 Best Overall
Bose QuietComfort 45
Excellent and comfortable design
High-fidelity audio
Active noise cancelation
Get up to 22 hours of battery life
We earn a commission if you make a purchase, at no additional cost to you.
Reason # 8: Integrated Microphone
You don't even notice the microphone on the Bose Qc45 headphones, but trust me, it's there. If you like having the ability to make and answer phone calls without taking your headphones off, you'll definitely appreciate the integrated microphone.
The audio quality is excellent, and you can hear the other person very well. The microphone picks up your voice without also picking up too much background noise. Thanks to the Bluetooth connection, your music will automatically lower if you get an incoming call, and you can answer or decline without much trouble.
Reason # 9: Easy Controls
Another thing you'll love about the Bose Qc45 headphones is the intuitive control system. You get a few physical buttons, but not too many. If you're comparing these against something like the Apple Airpods Pro Max, which relies a little too heavily on gestures, then you'll love these.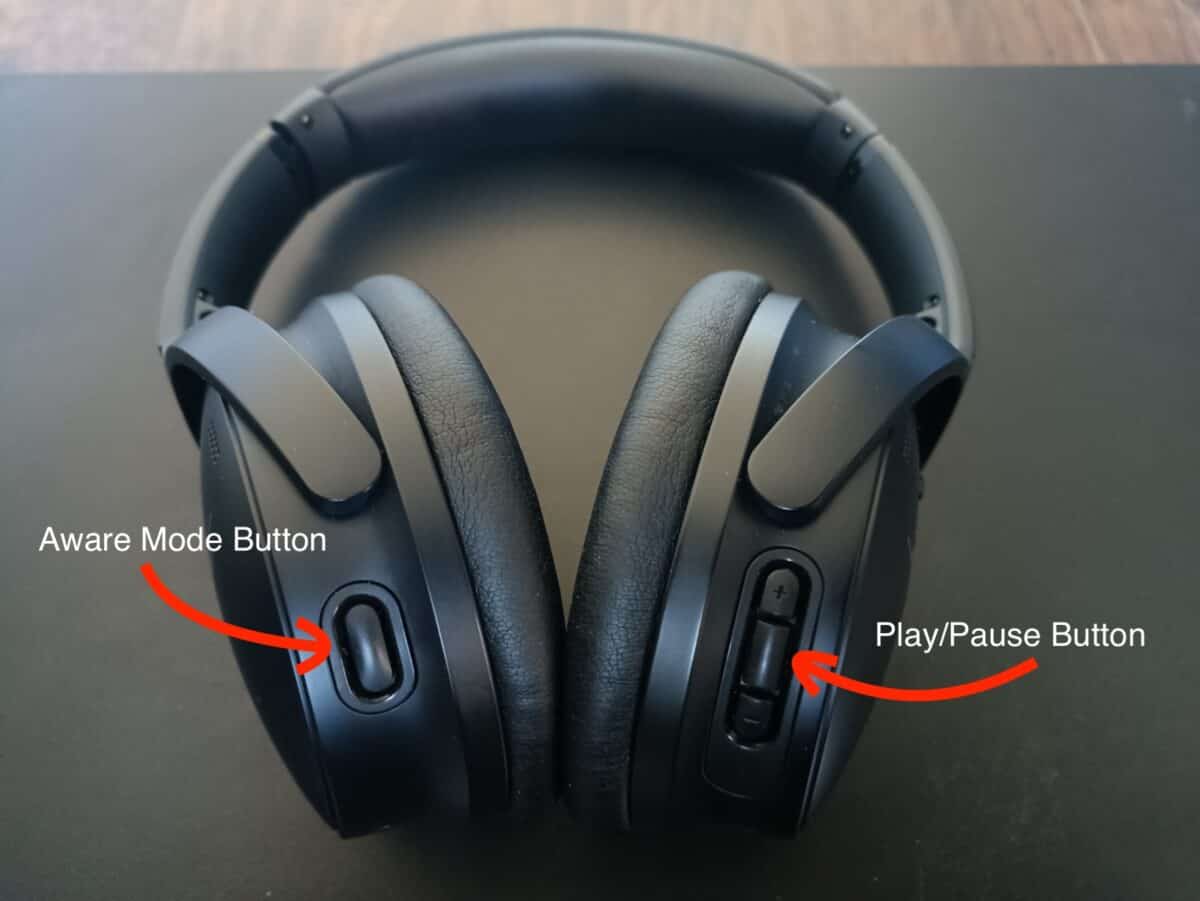 On the left ear, you have the Aware mode button. Tapping this will turn ANC on or off. On the right ear you have a switch to turn the headphones on or off, and to enable Bluetooth pairing mode. Right below that, along the back of the right ear, you get three more buttons: a volume up, volume down, and play/pause. Tapping the play/pause button once will start and stop the music. Tapping it twice will skip to the next track. And tapping it three times will go back to the previous track.
Final Thoughts
Overall, the Bose Qc45 headphones offer great performance for the price. Sure, they're not ultra-high-end, and you don't get the latest Bluetooth codecs. But the battery life, coupled with superior ANC technology, makes them a great buy. If you care about audio quality, these headphones certainly won't let you down, and for the price, you can't go wrong.