Key Points
AirPods seamlessly connect to Apple devices and can also connect to non-Apple devices via Bluetooth.
The AirPods case doubles as a charger and includes its own rechargeable battery.
The third-generation AirPods feature spatial audio technology that simulates surround sound and adjusts audio based on the listener's position.
AirPods have easy-to-use touch controls for pausing, skipping songs, answering calls, and activating Siri.
AirPods have a compact and comfortable design that fits securely in the ear and is completely wireless.
AirPods start at a reasonable price compared to other high-end wireless earbuds.
AirPods provide great sound quality with a built-in equalizer and a range of sound levels.
Apple's AirPods are one of the most popular earbuds on the market, but they are a relatively new entrant into the world of high-quality audio. Apple's acquisition of Beats back in 2014 helped pave the way for the company to create some of the best wireless earbuds.
The third generation of AirPods came out back in 2021 but they hardly show their age. AirPods are great because they work seamlessly for a wide range of tasks. In this article, we will specifically look at the features and specs of the third-generation AirPods, but you can also find second-generation AirPods still available at many retailers.
To better understand why AirPods are awesome, we've put together a list of ten reasons why you should purchase Apple's latest AirPods today. Let's break it down!
Apple AirPods Background
The first generation of AirPods came out back in 2016 with a fair amount of skepticism. AirPods looked promising as an all-in-one earbud that was completely wireless, but questions remained about the fit and battery life. However, they quickly grew in popularity despite their high starting price. Since the initial release, Apple added several audio products, such as AirPods Pro and AirPods Max.
AirPods still remain unique because of their charging case, which removes the need for a bulky charging port on the headphones. The charging case also holds power to recharge the earbuds between use. Additionally, Apple created a new processor for AirPods known as the H1 chip back in 2019 to facilitate Siri and provide longer talk time.
Best New Generation
Apple AirPods (3rd Generation)
Personalized Spatial Audio with dynamic head tracking
Single fit
Force sensor
Sweat-and water-resistant
Lightning Charging Case or MagSafe Charging Case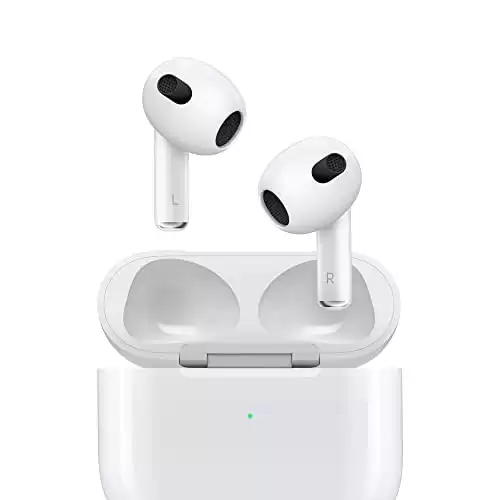 We earn a commission if you make a purchase, at no additional cost to you.
Top 10 Reasons to Buy Apple AirPods Today
By now, you may be wondering what is so great about AirPods. The answer is that there is a lot to like. From listening to music to participating in Zoom calls, Air Pods are an essential part of the Apple ecosystem. Check out these ten reasons why you will love Apple's third-generation Airpods.
They Seamlessly Connect to Apple Devices
The first reason you may want to consider Apple AirPods is that they easily connect to your Apple devices. To pair AirPods to an iPhone, iPad, or Mac, all you have to do is move them close and open the case. The device will automatically recognize the earbuds and connect to them. When you put the AirPods in your ear, the device will even recognize you are wearing them.
All phone calls, music, and other audio then play through the AirPods rather than the speakers on the device. Similarly, when you take the AirPods out of your ear, they will automatically pause or switch speakers. You can also use AirPods with non-Apple devices as well. They can connect to almost any phone, tablet, or laptop via Bluetooth.
The Case Serves as a Charger
The next reason to buy a pair of Apple AirPods is that the included case doubles as a charger. The plastic case is surprisingly well-built and even features a metal hinge. However, it does much more than just provide protection for the earbuds. It also serves as a means of charging the AirPods since they don't feature a standard charging port.
A really nice addition to the third-generation AirPods is that the case can charge with either a standard Lightning cable or an optional MagSafe wireless charger. Beyond the convenience of the case also doubling as a charger, it also includes its own battery. The charging case contains a rechargeable battery that automatically recharges the AirPods, so you don't have to plug it into a charger as often.
Spatial Audio is a Game Changer
Spatial audio is another new feature for the third generation of Apple AirPods. Although Apple previously used spatial audio technology in the AirPods Pro, it was not available in standard AirPods until now. The technology is similar to surround sound in that the audio coming from the earbuds simulates coming from different directions.
Spatial audio is used for a number of different things, such as creating a surround sound effect while watching movies. But it can also make the listener hear things based on their position. For instance, the spatial audio in AirPods can make the sound feel like it is coming from your phone, even when you turn your head away from it.
Easy-to-Use Controls
Unlike many other wireless earbuds on the market, Apple's AirPods have a number of controls built in. While some similar devices have a simple button to mute or pause a song, the AirPods take things to another level. Unfortunately, the third-generation AirPods didn't get the same advanced touch controls as the second-generation AirPods Pro.
However, they still feature buttonless controls that sense touch and how much pressure you apply. Not only can you pause, mute, and answer calls with the buttons, but you can also skip songs. You can even get Siri by holding one of the buttons.
Being able to control what is going on without having to pull out a phone is very convenient and a major reason to consider purchasing AirPods.
Best Earbuds
We earn a commission if you make a purchase, at no additional cost to you.
Compact Design
Apple's AirPods have a sleek and stylish design that makes them very comfortable to wear. Earbuds are often uncomfortable, but modern advancements in speaker technology made smaller and better-fitting options possible. In fact, AirPods go into the wearer's ear and fit snuggly to prevent falling out and the need for over-the-ear support.
In addition, AirPods are completely wireless compared to other "wireless" earbuds that still use a cord to connect the left and right sides together. Each AirPod has its own battery, processor, and sensors, which fit in a tiny package that fits comfortably in your ear.
They Start at a Reasonable Price Point
Let's face it, good earbuds are not cheap, and there is no point in wasting money on a cheap set that will not last. Although AirPods are not necessarily cheap, they are a good price compared to other high-end wireless earbuds. Apple's third-generation AirPods has an MSRP of $169 or $179 with the upgraded MagSafe charging case.
In comparison, Beats, which is also owned by Apple, has several wireless earbuds that cost over $200. Apple also sells AirPods Pro for $249, which includes premium features such as noise cancellation. Despite Apple being known for very expensive devices and accessories, AirPods is actually one of the best and most affordable products that Apple sells.
Great Sound
The most important factor in any audio device purchase is the sound quality. If earbuds sound bad, then they have no real value. The good news is that Apple's AirPods sound phenomenal. What is even more amazing is that AirPods manage to deliver great sound in such a small form factor that also contains a battery and processor.
Music sounds fantastic on Apple AirPods, and while they aren't as powerful as AirPods Max, they still provide an exceptional range, including deep bass. We've already talked about spatial audio that adds dimension to AirPods, but there is also a built-in equalizer that ensures you always hear the perfect sound levels. This is critical, considering AirPods work for a range of different from music to phone calls.
Comes with a Microphone
AirPods are extremely versatile since they are so compact. Because of this, a range of different industries have actually found uses for AirPods far beyond just listening to music. If you've watched the news or a reality TV show recently, chances are you've seen someone wearing AirPods. That is because they have a really good microphone built in.
For many years Apple had a microphone integrated into the cable of its standard earbuds. However, the microphone quality on the AirPods is a major improvement. You can use the microphone to make phone calls, talk to Siri, participate in video conferences, or even record audio.
Long Battery Life
Another reason that AirPods outperform the competition is that they have long battery life. Wireless earbuds must be very small and lightweight to hang from the wearer's ear, which doesn't leave much room for a battery. Thanks to advancements in battery technology, Apple has managed to get an insane amount of power into these little earbuds.
The third-generation AirPods hold a whopping six hours of listening time on a single charge, which is the same amount as the AirPods Pro. This is also a decent upgrade over the five-hour lifespan of the second-generation AirPods. You can always recharge using the charging case that stores 30 hours of battery life. While many wireless earbuds have enough power to go for a run, AirPods have enough for the whole day.
Impressive Durability
The final reason that you should consider buying Apple AirPods is for their strength and durability. At a time when products are made with cheap components and poor quality control, AirPods certainly stand out. Apple is well-known for its well-built products, using machined aluminum for many of its devices, while its competitors use plastic.
The charging case is made of a solid plastic that is very dense to resist breaking. The AirPods themselves are made of a similar material that holds up well to heavy use. But most important is that AirPods and the charging case are sweat and water-resistant. So, you don't have to panic if they get a little wet. In addition, you can always purchase a protective case to better shield your AirPods from potential damage.
Protective and Fun
We earn a commission if you make a purchase, at no additional cost to you.
Summary: Reasons to Buy Apple AirPods
1. They seamlessly connect to Apple devices.
2. The case serves as a charger.
3. Spatial audio is a game changer.
4. AirPods have easy-to-use controls.
5. They come with a compact design.
6. AirPods start at a reasonable price point.
7. They provide great sound quality.
8. You can use them as a microphone.
9. The battery life is long.
10. They have impressive durability.
Best New Generation
Apple AirPods (3rd Generation)
Personalized Spatial Audio with dynamic head tracking
Single fit
Force sensor
Sweat-and water-resistant
Lightning Charging Case or MagSafe Charging Case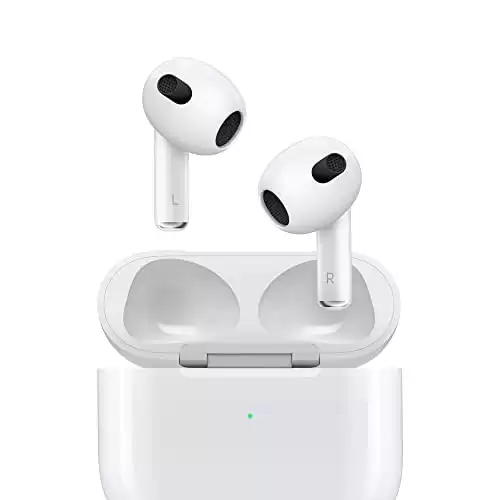 We earn a commission if you make a purchase, at no additional cost to you.
Wrapping Up
AirPods are certainly a great option if you are looking for wireless earbuds. They are especially good for owners of Apple products such as MacBooks, iPads, and iPhones because they seamlessly connect. However, you may want to consider going a bit farther and looking at AirPods Pro or AirPods Max, which deliver an even better level of audio quality.