Key Points
The  Volkswagon ID.4 is a spacious and family-friendly vehicle with ample storage space and the option to tow up to 2,200 pounds.
Fast charging capabilities allow the ID.4 to charge from 10-80% in as little as 30 minutes.
The ID.4 has a 'Ready to Drive' feature that starts the vehicle as soon as the driver sits down.
IQ.Drive safety suite is included as standard, offering features like Adaptive Cruise Control and Active Blind Spot Monitoring.
There are eight different trim options available for the ID.4, providing choices for different preferences and budgets.
When it comes to family-friendly electric vehicles, there are few models on the road that match up to the Volkswagen ID.4. Originally released in September 2020, the ID.4 represents Volkswagen's first public offering in the North American EV space and has already been met with plenty of praise.
A competitor to the Hyundai Ioniq 5 and Kia EV6, Volkswagen is hoping to lure customers away with value, range, and a host of vehicle options. The family-friendly approach, in particular, is one of the areas Volkswagen is really counting on customers coming into their showrooms looking for the right car to shuttle kids to and from activities.
Let's look at the 9 reasons why you should buy a Volkswagen ID.4 right away.
Quick Facts: Volkswagen ID.4
| | |
| --- | --- |
| Date of Release | September 2020 |
| Starting Cost | $38,995 MSRP |
| Range | Up to 275 miles |
| 0-60 Speed | 5.7 second (model-dependent) |
| Charging Speed | 10-80% in up to 36 minutes on DC Fast Charger |
| Number of Seats | 5 |
| Cargo Space | 30.3 cubic feet |
| Self-Driving | IQ.Drive |
| Warranty | 4-year 50,000-mile new vehicle limited warranty, 8-year 100,000-mile battery warranty |
Standard IQ.Drive
One of the best reasons to look at the Volkswagen ID.4 is its safety suite, IQ.Drive, which is available standard on the ID.4. Included within IQ.Drive, customers can look to take advantage of Adaptive Cruise Control, which utilizes sensors to help adjust the vehicle's speed and distance while on busy roads. Active Blind Spot Monitoring will also ensure the ID.4 will instantly move when another vehicle may be in your blind spot and help provide counter-steering when necessary to help limit the possibility of an accident.
Rear Traffic Alerts will assist you in backing out of a parking space by instantly informing you of traffic or pedestrians that are on the side of the vehicle. If necessary, the ID.4 will immediately brake if the driver does not stop quickly. The same technology applies to the Volkswagen ID.4's Front Assist technology as well, which monitors the road and instantly provides both visual and audio alerts when a collision is imminent. If necessary, Front Assist tech will automatically brake the vehicle to mitigate the possibility of an accident. Finally, IQ.Drive ensures that when the ID.4 is traveling at 35 miles per hour or faster, you cannot accidentally drift into another lane without a turn signal being activated.
Full Tax Credit
After a bit of back and forth with the government, as of April 2023, the Volkswagen ID.4 receives the full $7,500 federal EV tax credit. This is great news as it's true across the lineup for the Volkswagen ID.4, regardless if your model is equipped with the 62kWh or 82kWh battery size. Volkswagen confirmed the qualification after it was originally believed the car would be removed as April 2023 saw a revamp of government regulations for EV manufacturers to receive the tax credit.
The American-made Volkswagen ID.4 now qualifies for the foreseeable future and adds a huge incentive to help swing customers in Volkswagen's direction.
Traditional Style
Unlike vehicles like the Tesla Model Y or Hyundai Ioniq 5 that have attempted to reset what we know to be true about vehicle looks, the Volkswagen ID.4 is sticking with what the company knows works well. Instead of attempting a major exterior revamp, Volkswagen chose to adopt a style with the ID.4 that isn't too far from its gas-powered siblings. This means the ID.4 still offers a sporty-looking exterior with clean lines and fun-looking rims without feeling as if it's hoping to try and outclass Mercedes or Audi.
The same familiar style applies to the interior of the Volkswagen ID.4 as well. Instead of attempting to create an interior that is all screen à la Tesla, the Volkswagen ID.4 offers the best of both worlds. There are still plenty of buttons on the steering wheel to adjust volume and tracks plus the opportunity to use the onboard voice assistance for making phone calls as well as activate cruise control. Volkswagen is hoping that it found the right balance with the ID.4 by updating its interior to make it more streamlined without shocking its customers with a whole new approach and fortunately, they found the right balance.
No Gas
As is the case with every electric vehicle, the ability to say goodbye to gas forever is a huge bonus. As gas costs continue to bounce up and down depending on world events, electric vehicle owners of the ID.4 can rest assured they are always fully powered up.
Traditionally, over the last 12 months, gas costs for a standard SUV have cost between $50-$60 a week, and with multiple fill-ups a month, costs can quickly add up. While charging your EV at home isn't free, the idea that your electric bill will only increase by approximately $20-$30 a month is equivalent to less than one complete gas fill-up.
Fast Charging
When looking at an electric vehicle, charging time is one of the biggest factors to consider. Using a Level 2 home charger, depending on the battery capacity and model you own of the Volkswagen ID.4, a full charge overnight can take place between 6.5 to 7.5 hours. This time accounts for using a Level 2 240V charger that likely needs to be installed in your home. If you only achieve a charging time close to 7.5 hours, the Volkswagen ID.4 is still pretty competitive against the likes of the Hyundai Ioniq 5 and Kia EV6, which take right around the same time.
Looking at DC Fast Charging for the Volkswagen ID.4 gets a little more interesting as Volkswagen has ensured you can charge up and be on the go in a reasonable amount of time. Upon plugging your ID.4 into a Level 3 DC Fast Charger, you can expect to go from 10-80% in around 30-36 minutes depending on the output of the individual fast charging station.
Where Volkswagen gives itself a leg up with the ID.4 is that it is currently offering customers complimentary 30-minute charging sessions at Electrify America's nationwide network of DC fast-charging stations. This means you can stop at any of Electrify America's 1,700 charging stations or 9,500 charging plugs for your 30 minutes of free charging.
Ready to Drive
While the interior of the Volkswagen ID.4 looks to appeal to everyone, Volkswagen is still providing its customer with some dedicated EV benefits. With the "Ready to Drive" feature, the Volkswagen ID.4 senses as soon as you sit in the driver seat and immediately starts the vehicle when you step on the brake. The only caveat is that you need the vehicle key in your pocket and, assuming it's already in your pocket, just put your foot on the brake, shift into gear, and go, go, go!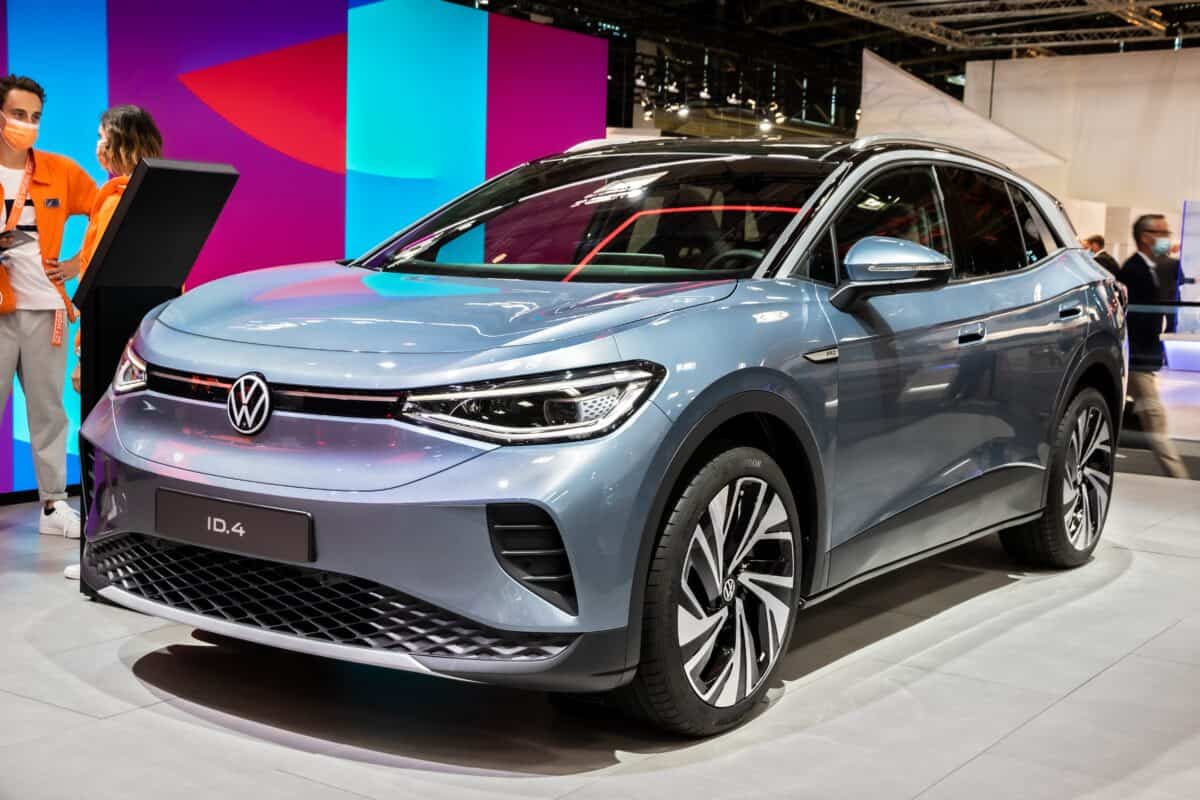 Plenty of Choices
When you are ready to buy the Volkswagen ID.4, you are going to have plenty of choices as there are eight total models starting at $38,995. The good news is that these eight models are really a combination of two similar models, one with rear-wheel drive and one with all-wheel drive. Starting with entry-level trims in the form of the Standard model, you receive up to 209 miles of range while the next step up with the ID.4 Pro RWD enables up to 275 miles. Should you want to look at the Volkswagen ID.4 Pro AWD, expect to go up in cost a few thousand dollars while losing 20 miles of range for an estimated 255 miles of range.
The ID.4 S offers three different trims starting at $43,995 with the ID.4 S, ID.4 Pro S and the ID.4 AWD Pro S. These three trims provide you with 209, 275, and 255 miles of range, respectively. The last two models are the ID.4 Pro S Plus and the ID.4 AWD Pro S Plus, which offer 275 and 255 miles of range, respectively, starting at $51,445.
When you consider the higher trim levels starting with the ID.4 S ($43,995 MSRP), you automatically default to the 20-inch standard alloy wheels, heated steering wheel, and leatherette seating surfaces. These are a few of the perks Volkswagen will use to justify the higher price of the top tier levels of the ID.4.
Great Family Vehicle
Between the ID.4's spacious interior with seating for five and a solid 30.3 cubic feet of storage space, there is plenty of reason to consider the ID.4 as an ideal family mover. Add in a comfortable ride, plenty of driving range for shuffling around town, and a good amount of available technology, including a 12-inch infotainment display, and you should feel very comfortable with the ID.4 as your next family vehicle. Starting with the ID.4 AWD Pro trim and above, you can opt for a towing hitch to tow a boat, camper, or other equipment that you can use as part of a family vacation up to 2,200 pounds.
Standard Features
When you compare the Volkswagen ID.4 to the likes of the Tesla Model Y, every crossover SUV's main rival, you get more standard features with Volkswagen. This includes standard 19-inch wheels, Apple CarPlay, Android Auto, heated seats, navigation, and wireless charging. While CarPlay or Android Auto might not be a huge factor to many people, for others it very may well make the difference between choosing to purchase the Tesla Model 3 or another vehicle. Android Auto is also a big factor outside the United States where Android is a predominant smart operating system.
Another big benefit is having the option of choosing between RWD and AWD, which can be helpful depending on where you live. The AWD version does provide faster acceleration plus additional towing capacity. Being able to choose between the two vehicles as a standard choice is a huge bonus for customers who are on the fence about which ID.4 model they wish to purchase.
9 Reasons to Buy a Volkswagen ID.4
1. The inclusion of IQ.Drive as standard offers a huge value over similarly priced EV competitors.
2. As of April 2023, the Volkswagen ID.4 receives the full $7,500 EV federal tax credit.
3. Volkswagen opted to style the ID.4 similar to its gas-powered cars to limit concerns over a total EV reset.
4. With the Volkswagen ID.4, you never have to worry about filling up a gas tank again.
5. Using a DC Fast Charger, you can be back on the road by charging from 10-80% in as little as 30 minutes.
6. One cool feature of Volkswagen's Ready to Drive technology is the ID.4 can start driving as soon as you sit down in the car.
7. With eight different trim options available, there really is a Volkswagen ID.4 for everyone.
8. The Volkswagen ID.4 is a great family vehicle with room for five, plenty of space, and the capacity to tow over 2,000 pounds.
9. On the Volkswagen ID.4, you have plenty of standard features like Apple CarPlay or Android Auto that competitors like the Tesla Model Y do not offer.
Wrapping Up
As soon as you add up all nine reasons why you should buy a Volkswagen ID.4 available on this list, you can quickly see why it's already a big seller. An ideal family vehicle with plenty of range and storage, the ID.4 also adds a huge benefit with 30 minutes of free charging at all Electrify America stations.
Between this bonus, and a huge range of options across multiple price points, the Volkswagen ID.4 is an easy sell for anyone looking to get into the electric vehicle market without spending a fortune.
Similar Vehicles to the Volkswagen ID.4
The image featured at the top of this post is ©ginger_polina_bublik/Shutterstock.com.