Key Points
Streaming services offer incredible convenience, allowing users to watch shows and movies anytime, anywhere, and on various devices.
Original content from streaming services, such as Netflix's Stranger Things and Disney+'s The Mandalorian, have become award-winning hits.
With thousands of movies and TV episodes available on platforms like Disney+ and Netflix, there is always something to watch.
Scalable pricing models and ad-free options make streaming services more affordable and enjoyable compared to traditional cable.
Personalization features on streaming platforms help users discover new content based on their viewing preferences.
Long live the streaming wars! If you are a fan of watching TV shows or movies, there has never been a better time to sit on your couch and binge. Over the last decade or so, streaming services have come out of nowhere to become one of the most dominant forms of entertainment. From being able to watch your favorite shows or movies, anytime, anywhere, there has never been a better time to pick up a subscription to Netflix, Disney+, Hulu, and more.
Let's take a look at the 7 best reasons to buy a streaming service subscription today.
What is a Streaming Service?
While it may seem fairly obvious as to what a streaming service is, there is still some question as to how broad the definition can extend. For example, is YouTube TV a streaming service since it works off internet connectivity?
Broadly speaking, a streaming service is an online service that acts as an entertainment source for a variety of movies, TV shows, and original programming. Streaming services have also grown in popularity because of how many devices are able to access them like smartphones, televisions, gaming consoles, and more. You can even make a non-smart TV, smart, by plugging in a Chromecast with Google TV.
Best for Google TV
Chromecast with Google TV
Streaming in up to 4K HDR quality
Dedicated Google Assistant button on the included remote
Stream over 700,000 TV shows and films
Compatible with most TVs with an HDMI port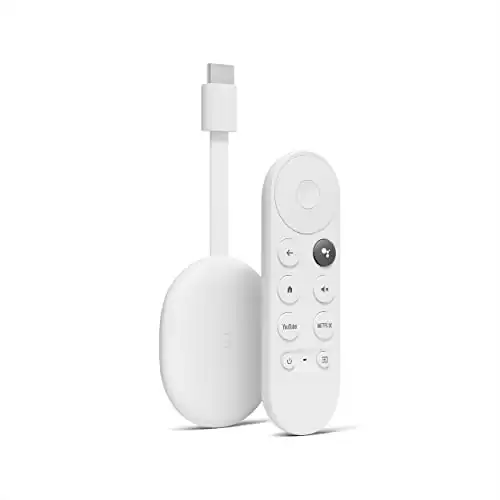 We earn a commission if you make a purchase, at no additional cost to you.
7 Reasons to Buy a Streaming Service Subscription
Incredible Convenience
No matter how you position a streaming service subscription, one of the absolute biggest reasons to buy is the incredible convenience. Unlike traditional cable, which has a set time for airing programs and movies, you can choose when, how, and where to watch a show. This is an incredibly compelling reason for potential subscribers as you can determine exactly how much time you spend watching a show, or if you want to pause today and come back tomorrow.
Streaming services are truly on-demand content opportunities, and as such, you have total control over your content 24/7. Long gone are the days when you could only choose to watch whatever programs are being broadcast at any given time of day. Instead, now you get to decide what you want to watch and for how long. You can even decide to go back and rewatch any of your favorite shows, so long as they remain available on a streaming service.
Original Content
If you have watched any awards shows over the past few years, they are seeing more and more winners coming from streaming service content. Original programming is a huge reason to pick up a subscription to Netflix or Disney+, for example. In the case of Netflix, shows like House of Cards, Stranger Things, Black Mirror, and The Queen's Gambit are all multi-award-winning shows.
On the other hand, you have shows from Disney+ that continue the hugely popular universes of Marvel and Star Wars. Shows like The Mandalorian, What If, Loki, Andor, and Hawkeye are introducing a whole new generation to these hugely popular franchises.
Companies like Netflix, Disney+, HBO, and others are spending billions of dollars each year to create original movies and TV shows to draw in new subscribers. While not every show is a hit, there have been enough hits to argue these original programs are grabbing new subscribers.
Plenty to Watch
Building on the idea of original content, there is still just a lot of content to watch on subscription streaming services. Disney+ is believed to have more than 500 films, 15,000 television episodes, and more than 80 Disney+ originals available. Netflix is believed to have more than 3,600 different movies and 1,800 TV shows available, and it's growing more by the month.
Paramount Plus is believed to offer more than 30,000 TV episodes along with 2,500 movies, while Hulu has 43,000 episodes from 1,650 shows and over 2,500 films. Needless to say, even if you have just one streaming service subscription, you should not have any issues finding something to watch. More importantly, new content for these services is regularly arriving as they all release calendars every month highlighting new releases.
Device Flexibility
Yet another major factor in favor of subscribing to streaming services is the large number of devices you can choose to watch on, like smartphones, tablets, computers, game consoles, smart TVs, set-top boxes, streaming media players, and more. All of these devices allow access to the entire library of content for any of the top streaming services. Everything you want to watch on Netflix on your tablet is also available on your computer and vice versa.
Because of this, there is often no excuse for not being able to watch on any number of internet-connected devices. Even if you do not have a smart TV, there are devices like the Roku Streaming Stick 4K that plug right into any HDMI port on a TV and can immediately connect you to thousands of apps, including all of the available subscription streaming services.
Best for Roku Fans
Roku Streaming Stick 4K
Hides behind your TV
Start streaming channels like Disney+, Netflix, Apple TV+, and more quickly
Long-range Wi-Fi
Voice search & control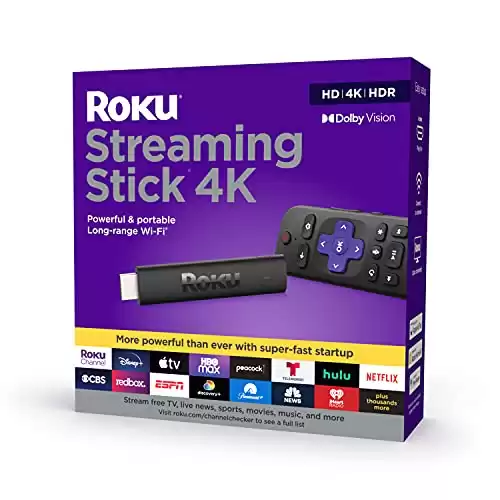 We earn a commission if you make a purchase, at no additional cost to you.
Amazon also makes its own streaming sticks that can plug into televisions to provide immediate access to its platforms, which include access to hundreds of thousands of shows and movies.
Best for Prime Video
Amazon Fire TV Stick 4K
Support for all major HDR formats with Dolby Vision, HDR, and HDR10+
Immersive audio through Dolby Atmos.
Stream content from leading services like Netflix, Prime Video, Disney+, and more
Control your TV and other devices in your home with the Alexa voice remote
We earn a commission if you make a purchase, at no additional cost to you.
Scalable Pricing
One of the biggest reasons that allowed subscription streaming services to grow so big was cost. More specifically, the cost of cable services like Xfinity, Cox, Charter, and more can run into the hundreds of dollars per month for television and internet. This led to the rise of cord-cutting, a movement designed to give up cable in favor of subscription streaming services. Even as costs for services like Netflix and Disney+ have risen over the years to help the companies pay for new content, they are still less expensive than cable companies.
More importantly, companies like Netflix, HBO, Paramount Plus, Disney+, and Hulu all have scalable pricing models. At the lower end of their pricing, subscribers can opt for less expensive tiers that introduce a small number of ads per hour. If you want no ads, you can opt for higher pricing tiers, which are offered by all streaming services. For example, for Disney+, you can pay $7.99 a month with ads or $10.99 a month with no ads.
While the likes of Netflix and Disney+ have increased their prices over the last few years, the result has still been more content and increasing subscription numbers. As the quality of these services continues to improve, they can continue to demand higher prices while offering staggered pricing tiers.
No Advertisements
Building on the idea of scalable pricing, having ad-free content is a huge bonus for streaming service subscribers. If you opt for ad-free plans, you may never see another ad again, which is a huge shift from how traditional cable works. During a standard 60-minute program on NBC, ABC, etc., you may see around 18 minutes of ads, leaving you with only 42 minutes of content. On Netflix's ad-free tier, you may get a similar 60-minute program that is truly that length of time without seeing a single advertisement.
As fun as it can be to see dozens of ads for various medicines across basic cable channels, not having ads is even better. There is no question that paying a few extra dollars to lose ads can help you spend more time watching content and less time waiting for your DVR recording to complete.
Personalization Wins
As you start to dive into the content offerings for each of these platforms, you will start to learn the types of shows and movies you like. The likes of Netflix, Hulu, HBO, Disney+, and other streaming services will then use this knowledge to start showing you other content options available on their respective platforms that might be of interest to you. For example, if you watch House of Cards on Netflix, they might show you other options like Designated Survivor, Madam Secretary, The Diplomat, and Treason.
All of these shows fall within the same political thriller category and one of those might be exactly the kind of show you were looking for after your House of Cards binge. The best part is that every subscription service offers a similar recommendation engine, which helps introduce you to shows you might not have known existed otherwise. These options are shown as soon as you launch most streaming service apps or visit their respective websites so you will definitely know to put these shows or movies on your watch list for the future.
The Best Streaming Services
Netflix
Arguably the biggest and most important name in all subscription streaming services, Netflix is essentially ground zero for the entire industry. Pivoting from DVD rentals to streaming was a big gamble for Netflix beginning in 2007, but more than 235 million subscribers are proof their plan worked. After Netflix began its efforts around original programming in 2013 beginning with Lilyhammer, it has seen exponential growth over time.
Netflix is home to wonderful content options like Stranger Things, Black Mirror, The Witcher, Night Agent, House of Cards, and The Crown. There is no question Netflix is home to many fantastic shows including some of their own productions, not to mention original movies Netflix has produced. The company has made it crystal clear they plan to continue spending big dollars on original content each year so you can absolutely expect more exciting content to be on the way.
Disney+
Likely the biggest rival to Netflix, Disney+ is the third-largest subscription streaming service with 157 million subscribers but has quickly grown to become a formidable competitor in the space. Of course, the meteoric growth of Disney+ was no surprise given that it offers Disney's incredible catalog of original shows and movies from the last 80-plus years. Disney may not compete with Netflix on total content volume, but originals like The Mandalorian, Andor, and High School Musical: The Musical: The Series, have quickly gained big followings of all ages.
What's more is that Disney+ is home to other fantastic shows like all 34 (and counting) seasons of The Simpsons, America's Funniest Home Videos, Daredevil, Luke Cage, and so many more. There is no question that Disney+ is a streaming service titan and will only continue to grow as the Disney brand continues to pump out mountains of new content appealing to its most passionate user bases.
HBO Max
Building on the HBO name, it was no surprise when the popular cable channel released its streaming service in May 2020. While the app was recently renamed to just Max in May 2023, the bulk of the streaming service still relies heavily on the HBO name. Where HBO has really succeeded is on the strength of some of its original shows like Game of Thrones, House of Dragons, Succession, Barry, Euphoria, The Flight Attendant, and more.
HBO Max and HBO are believed to have more than 96.1 million customers worldwide. Between 2,000 films, 600 shows, and now the inclusion of Discovery channels like HGTV, Discovery Channel, Food Network, The CW, Comedy Central, and more, there is no shortage of content to watch.
Apple TV+
While AppleTV+ might not be the first thought when it comes to streaming services, the company has been on a hot streak as of late. Between Severance, Ted Lasso, Shrinking, Mythic Quest, For All Mankind, The Morning Show, Foundation, and now its partnership with both Major League Baseball and Major League Soccer, AppleTV+ is poised for meteoric growth. With a single price point of $6.99 per month standalone or as part of Apple One, it's an outstanding value for customers.
Apple TV+ is available in dozens of countries around the world and Apple has smartly made it available across the same number of devices as its streaming competition. In other words, Apple TV+ is not limited to just Apple devices but to everyone who owns a smart TV, tablet, PC, Google TV, Android (browser only), and various gaming consoles. Apple's content library may not be as deep as the likes of Netflix or Disney+, but it's quickly building up an award-winning mix of original programming, making it one of the best streaming services available today.
Wrapping Up
Streaming service subscriptions are already massively popular and they are still just getting started. There is no question that services like Netflix, Disney+, and Apple TV+ are the future of home entertainment, and that's a good thing. Having flexibility with streaming bundles is also going to ensure you can find the right subscription services for your budget and needs.
Summary Table
| Reason | Explanation |
| --- | --- |
| Incredible Convenience | Watch shows and movies anytime, anywhere, and on any device. |
| Original Content | Award-winning shows and movies exclusive to streaming services. |
| Plenty to Watch | Thousands of movies, TV episodes, and original content available. |
| Device Flexibility | Access streaming services on various devices like smartphones, TVs, and gaming consoles. |
| Scalable Pricing | Choose from different pricing tiers based on your preferences and budget. |
| No Advertisements | Ad-free plans allow uninterrupted viewing experience. |
| Personalization Wins | Recommendation engines help discover new content based on your preferences. |
The image featured at the top of this post is ©Kaspars Grinvalds/Shutterstock.com.