Key Points
Smart food scales connect with nutritional apps, providing dietary information and easy-to-follow recipes.
Kitchen scales offer precise food portioning, ensuring accurate consumption of recommended servings.
Digital scales have built-in smart measurement conversion algorithms, allowing for easy recipe scaling.
A smart food scale helps with baking accuracy by measuring ingredients to the exact ounce.
Smart food scales are user-friendly, portable, and convenient for travel.
Kitchen scales have been a cornerstone of professional kitchens for a long time. Chefs use them to measure ingredients as stated in different recipes and ensure the intended dish comes out right. Besides, kitchen scales require little space, so they are not a nuisance. Aside from commercial setups, a kitchen scale is also a worthy companion for home chefs. Whether brewing coffee, baking, or cooking your meals, you need accurate portions. Instead of having various measuring tools, consider investing in a smart food scale today.
Kitchen scales simplify food preparation. You'll achieve better consistency and measure all ingredients in a recipe accurately. It is a simple device that displays food weight and connects with an app that shares nutritional information.
We've compiled some compelling reasons to buy a smart weighing scale in your kitchen today. But first, here is some background information.
Some Background on Smart Food Scales
Smart food scales are kitchen devices that weigh food ingredients. Even more satisfying, they connect with nutritional apps on your mobile phone that provide dietary information and easy-to-follow recipes. Once you type in the food elements, the app brings up dietary data from a database with hundreds of food items. It shows the protein, carbohydrates, and cholesterol content in that food.
A kitchen scale app is highly accurate too, and measures food items to the nearest decimal. You will find measurements with increments of 0.1lbs., which is impressive. Plus, their lightweight nature allows you to move the gadget across the kitchen quickly. Besides, a digital food scale is durable and made to withstand pressure from other kitchen utensils. You can carry a kitchen scale on a road or camping trip. And when you're not using it, the slim profile ensures it can fit in narrow spaces for storage.
Reasons to Buy a Smart Food Scale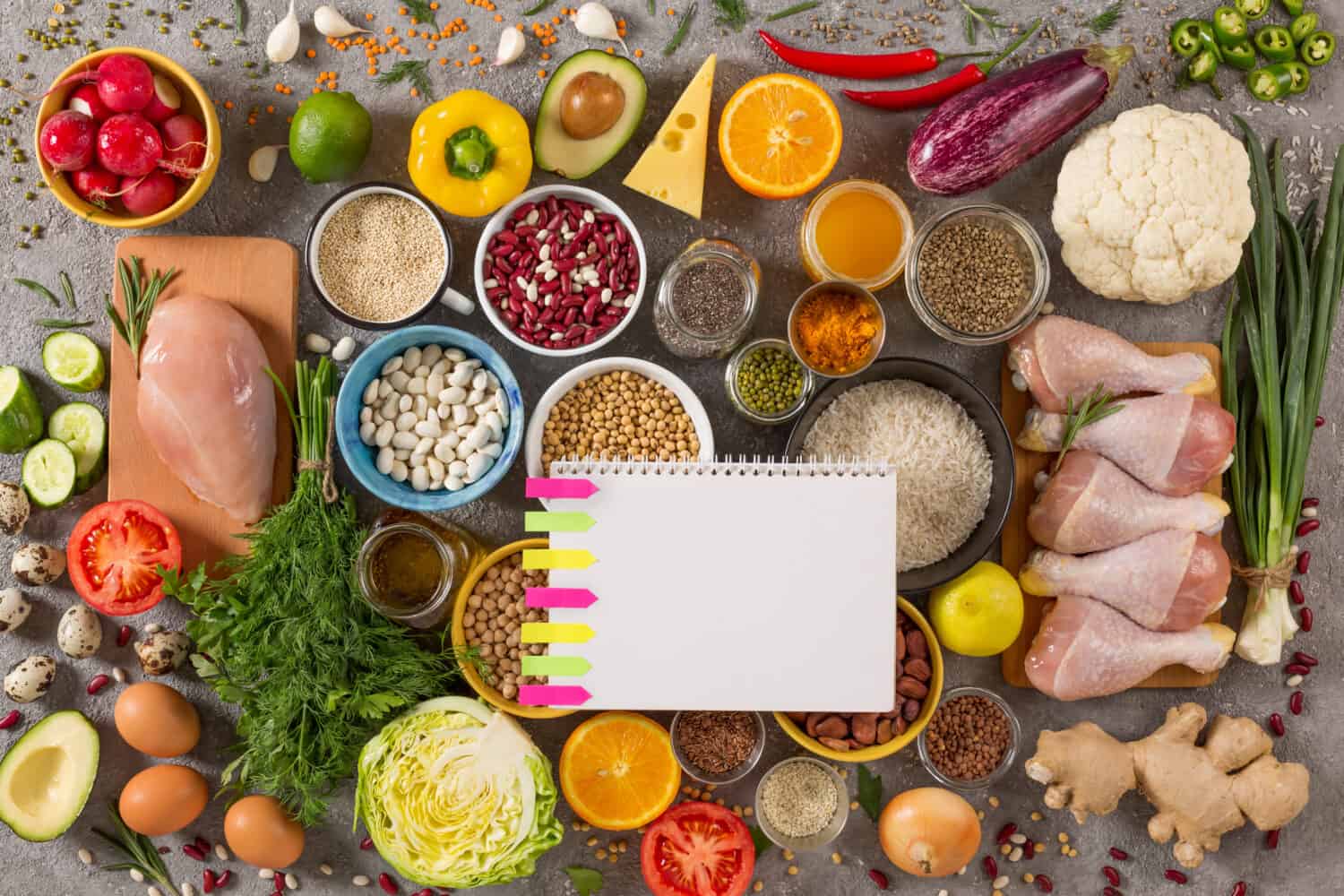 Whether you seek to improve your meal preparation skills or want to track what you eat, you will find a kitchen scale most beneficial. The following are reasons to buy a smart food scale.
Precise Food Portioning
Do you ever read instructions on food packaging and wonder what those servings mean? Buy a smart food scale today. It will help you unpack these and much more. It shows what an ounce of rice or ½ a teaspoon of salt actually amounts to. The food scale measures these portions accurately. It ensures that you consume what is recommended for the dishes you prepare.
Nutrition labels on food packaging show the weight and portion size. Among other things, a food scale measures serving sizes, enabling you to prepare a meal sufficient for all household members. At the same time, a smart food scale takes away the guesswork. For instance, instead of guessing, you can now accurately apportion a kilo of steak into four or five equal portions.
Easy Recipe Scaling
Digital scales have a built-in smart measurement conversion algorithm. You can convert metric units in an instant. A smart food scale has preferences such as grams, ounces, pounds, and kilograms. So, if a recipe you're handling states that you must use ingredients in grams, it's not a problem. Prime the conversion unit and place your bowl on the measuring pan. Next, press the tare button to zero the scale, and you can measure anything else after that in the measuring unit specified.
A gram is a precise metric unit of measurement. It is easier to adjust your recipe content using grams. You don't have to try to reduce a ⅓ cup of flour with a spoon. Let the smart food scale do the magic. Another way a smart food scale helps is by weighing an entire recipe and dividing the outcome into desired servings. Let's say you want five servings from a complete ingredients mixture. Put the whole thing on a scale, then divide the weight by five.
Baking Accuracy
Despite using measuring cups and spoons as measuring aids, they are never accurate. Things get even worse when you're scooping ingredients from a container. The problem is that certain ingredients get compacted when stored, resulting in the same volume of the ingredient actually weighing much more than the recipe expects. And you may not realize it, resulting in accidentally adding far more of the ingredient than you were planning. Flour is the most affected; no wonder you end up with crumbly dough.
Baking requires precision, with wrong or estimated measurements throwing off your recipe. A food scale helps measure the flour to an exact ounce. You only add what the recipe recommends and nothing more. That way, you are confident of using the right amount, and there is no waste.
Moreover, the scale helps to divide batter effortlessly on multiple baking pans. First, you place the pan on the measuring device. Then press the tare button to return the scale back to zero. Add the batter after that and check that you have the correct weight. Repeat the process for every pan. Your cake or bread layers evenly and stacks neatly in the oven. Now that's baking accuracy.
Nutritional Tracking App
People with unique dietary requirements must be conscious of what they consume — every aspect, whether calories or macronutrients, should be exact. A smart food scale has an app that tracks your nutrition progress. It details your progress using graphs, making it easy to see whether you're on course.
A smart food scale measures cholesterol, fiber, carbohydrates, proteins, calories, and vitamins. To use the app:
Download and open it on your phone.
Indicate the ingredient you intend to weigh.
Switch on the food scale and weigh the food, after which the scale will send the measurements to the app.
It will save all these details and update the status as you add more ingredients.
User-Friendly
Modern food measuring gadgets are among the easiest to use. Why? You only need to place the portion in question on the scale. After that, zero it out to remove the measuring bowl's weight, and you end up with an ingredient's weight. Besides, food scales show the weight on a legible display screen. You don't need a calculator, a piece of paper, or a pen to work it out. Everything is automated.
Travel Convenience
Carrying many measuring utensils on a road trip, hike, or camping vacation would be unrealistic and cumbersome. In contrast, a portable food scale has an insignificant effect on your luggage's weight. It is a small, lightweight gadget that only takes up a little room in the car trunk. You can proceed to measure, portion your ingredients, and prepare meals as you would at home. The digital food scale goes wherever you go, and it's hardly noticeable.
The Best Smart Food Scales
Consider aspects like ease of use, readability, design, and load limits when shopping for a smart food scale. Here are our top picks for the best food scales today.
Best Overall Smart Food Scale: Etekcity Food Kitchen Scale
Best Overall
We earn a commission if you make a purchase, at no additional cost to you.
The Etekcity Food Kitchen Scale has a large LCD panel. What impressed us most was its detachable mixing bowl. It also has a food thermometer and an 11-pound capacity with 0.1-ounce increments. Another fabulous feature is the auto-zero function that calculates an ingredient's weight independently. You don't need to press the button again to offset the container's weight.
The stainless steel scale has an accurate sensor and converts weight into pounds, kilograms, grams, and ounces. Its built-in timer is another plus and can program time up to 99 minutes. Besides being our best overall food scale, Etekcity is a baker's companion. The weighing scale has 19 nutrition facts and a UPC barcode scanner.
Further, the Etekcity connects to an app via Bluetooth that tracks your nutritional intake. This unit operates on battery power from two AAA batteries and has an auto shut-off function.
Best LCD Display Design: OXO Good Grips Smart Food Scale
Interesting Display
We earn a commission if you make a purchase, at no additional cost to you.
The OXO Good Grips Stainless Steel Food Scale is a smart food scale with an innovative pull-out display to prevent any obstruction of the readings often caused by large bowls or plates. Moreover, the digital screen has large, legible numbers. Also, the scale features a conversion button with four measurement options, i.e., kilogram (kg), gram (g), pounds (lbs), and ounces (oz). Its capacity is 11 pounds (lbs), and you can tell how close you are to the maximum load limit from an on-screen meter reading.
As the name suggests, the OXO food scale has a sleek stainless steel body. Cleaning the device is easy as the unit has a removable platform that lets you clean conveniently. Further, the food scale has a sturdy frame that prevents damage when dropped accidentally. The OXO has two buttons: the power function and the unit conversion button. The power button also functions as a tare button.
Best Slim-Fit Design Scale: Greater Goods Nourish Digital Kitchen Scale
Slender Design
We earn a commission if you make a purchase, at no additional cost to you.
The Greater Goods Nourish Digital Kitchen Scale features an elegant design that blends with your kitchen décor. It has embedded buttons for selecting or changing conversion units and tare. Its measurement options are ounces, pounds, milliliters, and grams, all high-precision. The screen is an LCD with a large display for quick visibility.
The Greater Goods scale has a capacity of 22 pounds (lbs). Its measurement area elevates above the LCD, ensuring no reading interference when weighing something significant. Besides, the food scale has a slim profile for ease of storage.
Best User-Friendly Scale: Escali Primo Digital Food Scale
Easy to Use
We earn a commission if you make a purchase, at no additional cost to you.
The Escali Primo Digital Food Scale is the most user-friendly scale. It has a small footprint with a well-rounded design ideal for any kitchen space. It also has one of the most precise weight measurements. The food scale boasts 0.05-ounce increments and has an 11-pound weight capacity.
The unit's mode of operation is straightforward. It features two buttons, a unit conversion, and a multi-purpose on/off switch. The Escali toggles weight conversion units between pounds, ounces, and grams. You can get this digital food scale in Warm Red, Royal Blue, Soft Pink, Metallic, Chrome, and Pumpkin Orange if you fancy colors.
It is waterproof, thanks to a seal that covers the control and digital display panels. The unit is an ideal companion in kitchens that often use water and other liquid ingredients. Another impressive aspect is the automatic shut-off mechanism that helps conserve battery. If left unattended, the kitchen scale remains active for four minutes, after which it auto shuts down.
Max weight: 11lbs
Multi-purpose health app functionality included
Connectivity: Bluetooth
Features a barcode scanner function (US only)

Buy Now on Amazon

We earn a commission if you make a purchase, at no additional cost to you.

10/02/2023 01:00 pm GMT

Max weight: 11lbs
Material: Stainless steel
Display uses easy to read font and pulls out so that you can still read it even when measuring large bowls
Measurement units: kg, g, lb, oz

Buy Now on Amazon

We earn a commission if you make a purchase, at no additional cost to you.

10/03/2023 11:35 am GMT

Max weight: 11lbs
Measurement units: ml, lb, oz, g
Stylish minimal design with a smooth surface finish
Size: 8 by 6.1 by 0.6 inches

Buy Now on Amazon

We earn a commission if you make a purchase, at no additional cost to you.

10/03/2023 11:35 am GMT

Max weight: 11lbs/5kg
Measurement increments: 0.05oz/1g
Measurement units: g, oz, lb
Features full control with only 2 buttons

Buy Now on Amazon

We earn a commission if you make a purchase, at no additional cost to you.

10/03/2023 11:39 am GMT
Summary Table
| Smart Food Scale | Key Features |
| --- | --- |
| Etekcity Food Kitchen Scale | Large LCD panel, detachable mixing bowl, food thermometer, 11-pound capacity, auto-zero function, 19 nutrition facts, UPC barcode scanner, Bluetooth app connection |
| OXO Good Grips Smart Food Scale | Innovative pull-out display, large numbers, conversion button, 11-pound capacity, stainless steel body, removable platform, sturdy frame |
| Greater Goods Nourish Digital Kitchen Scale | Elegant design, embedded buttons, LCD display, 22-pound capacity, slim profile for easy storage |
| Escali Primo Digital Food Scale | User-friendly, small footprint, precise weight measurements, 11-pound capacity, waterproof, automatic shut-off mechanism, available in multiple colors |
The image featured at the top of this post is ©Yuriy Golub/Shutterstock.com.