Key Points
The Polestar 2 offers flexible trim options with three primary choices.
The Polestar 2 features adaptive headlights for optimal visibility in low-light conditions.
The Polestar 2 has safety features on par with Volvo's EV offerings.
The infotainment system of the Polestar 2 has a native operating system designed for it.
The Polestar 2 is priced affordably compared to its competitors.
The interior of the Polestar 2 uses eco-friendly vegan materials.
The Polestar 2 has smart features such as driver recognition and automatic adjustment settings.
What are some good reasons to buy a Polestar 2? Polestar is a relative newcomer to the EV market but has an interesting background. The EV manufacturer is a Volvo subsidiary, which certainly reflects when viewing the design and function of its Polestar 2 sedan.
That said, the Polestar 2 is an enticing all-electric sedan that readily competes with the likes of the Tesla Model S and Mercedes-Benz EQS. This guide will cover some solid reasons why you might want to pick it up for your next EV.
What Is the Polestar 2?
The Polestar 2 is an all-electric family sedan, similar in appearance and function to the Volvo S60. Beyond just appearances, it offers a great range and solid performance. It might not be quite as nimble on its feet as the top trim of the Model S, but there is plenty to enjoy for a daily driver.
It comes filled to the brim with safety features, another Volvo trademark. As such, it is an easy recommendation for users who'd rather stick with the sleek lines of a sedan while taking advantage of an electric powertrain.
Specs
| | Polestar 2 |
| --- | --- |
| Horsepower | 295 horsepower for single-motor configuration; up to 449 horsepower for highest dual-motor configuration |
| Torque | 361 lb-ft to 546 lb-ft |
| Range | 297 miles for Standard range single motor, 342 miles for Long range single motor, 303 miles for Long range dual motor |
| Battery Capacity | 75kWh for single-motor, 79kWh for dual-motor |
| Smartphone Support | Apple CarPlay and Android Auto |
| Charging Port | J1772 |
| Autonomous Driving | None |
| Drivetrain | Rear-wheel drive for single-motor, all-wheel drive for dual-motor |
Reasons to Buy a Polestar 2
Here are seven of our favorite reasons to buy a Polestar 2.
Reason #1: Flexible Trim Options
When you finally settle on an EV, finding the right trim option for your needs can be a bit daunting. The Polestar 2 doesn't have a traditional trim structure. It offers two electric powertrain options and three available option packages.
The Long Range AWD offers up the best total range, and the Long Range with Performance Pack offers up the most power. As such, you've got options depending on what you want to prioritize. These flexible trim options are one of the best reasons to buy a Polestar 2.
Reason #2: The Adaptive Headlights
Polestar has a clever design feature for the headlights on the Polestar 2. You get an array of Pixel LEDs for each headlight, but those are individually controlled by the software inside the vehicle.
As such, you can readily use your high beams in all conditions. This is a great feature and is one of the better reasons to buy a Polestar 2. Headlights might seem an odd selling point, but if you do a ton of night driving, you'll appreciate it.
Reason #3: Safety on Par with Volvo
Polestar is a Volvo subsidiary, so that means you're getting safety features with few equals on the market currently. It has a perfect crash test rating from the NHTSA, so you're in safe hands if you're choosing this as a family vehicle.
Beyond the crash test ratings, it comes with a great suite of driver-assistive technologies that might be familiar to Volvo EV enthusiasts. You get access to automated emergency braking and pedestrian detection. Also included are blind-spot monitoring and adaptive cruise control functions.
The keen eye for safety is just another of the reasons to buy a Polestar 2.
Reason #4: The Native Operating System
You're going to be spending a lot of time using the infotainment system of any EV. It helps to have an intuitive and comfortable interface when using it. Polestar has directly addressed this by using a native version of Android purposely tooled to accommodate the EV.
This operating system is quick to use and emphasizes function over style. Make no mistake, it is still quite easy on the eyes but is far quicker to navigate than the likes of the infotainment system seen in the VW ID.4 as an example.
Reason #5: Affordable Pricing
When compared to the likes of the Model S and Mercedes-Benz EQS, the Polestar 2 offers luxury styling for a fraction of the price. You can easily get into a Polestar 2 for around $52,000 for the most basic trim level.
If you want to go toe-to-toe with Model S drivers, you're looking at $64,400 for the high-performance model. It isn't the most affordable choice for families on a budget, but the less expensive pricing is one of the best reasons to buy a Polestar 2.
Reason #6: Eco-Friendly Interior Materials
The default materials used in the Polestar 2 interior feel quite lush but don't carry the same ecological burden as the likes of leather. All fabric, plastics, and wood contained in the interior are eco-friendly and vegan by design.
This might not be one of the best reasons to buy a Polestar 2, but it does show the commitment to creating carbon-neutral vehicles. You can choose leather seating if you really want, but the fabric option is comfortable and a great choice.
Reason #7: It Is a Truly Smart Car
Most users will think of EVs as smart cars. After all, you're using a computerized, fully electric device to get you around daily. The Polestar 2 takes it to another level, and stores six individual driver profiles. Once you download the Polestar app, it'll do the rest of the work for you.
One of the coolest reasons to buy a Polestar 2 is its driver recognition. With the app installed on your phone, it'll recognize who you are automatically when touching the door handle. Once that gets underway, it'll adjust the mirrors, seating, steering, and one-pedal driving settings on the fly.
Alternatives to the Polestar 2
If the Polestar 2 isn't enticing to you, there are three suitable options on the market with a similar level of features.
Tesla Model 3
The Model 3 gets a lot of praise and for good reason. It might lack the luxury styling and feel of its bigger siblings in the Model S and Model X, but it has performance to spare. You've got access to a stellar range, as well.
The Model 3 is roughly the same price as the Polestar 2 when selecting the more deluxe trim options. However, you get better performance out of the gate. The range is comparable, as you might expect. Nevertheless, you get access to Tesla's AutoPilot, which the Polestar 2 sorely lacks.
Ford Mustang Mach-E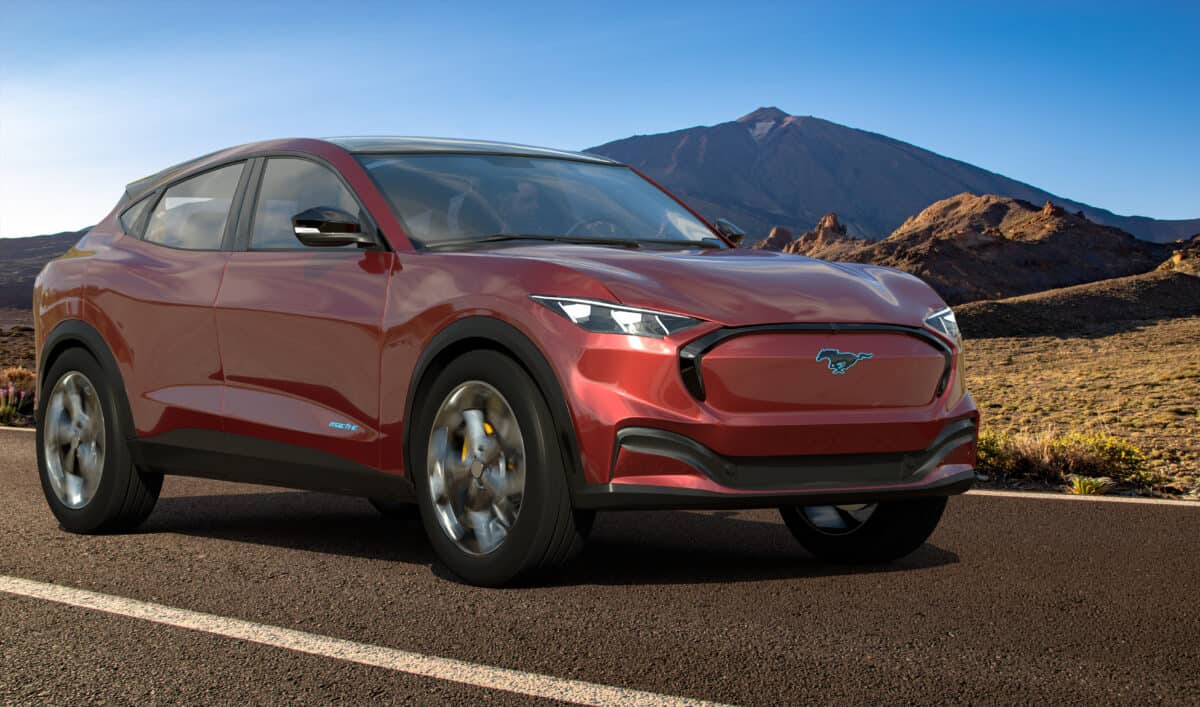 The Mustang Mach-E might seem an odd choice when compared to the Polestar 2. However, you've got access to some astounding power, which is a given considering the Mustang name. Ford's electric SUV offers great mileage on the battery and comes with plenty of options to wow you in terms of power.
It isn't quite as plush as the Polestar 2. That said, it does rank quite highly in terms of safety. Ford also has its own autonomous driving mode, BlueCruise, which isn't readily seen in the Polestar or Volvo lineups currently.
Volvo XC40 Recharge
The Volvo XC40 is probably the closest equivalent to the Polestar 2 but brings SUV storage to the fore. The XC40 is an excellent EV, despite lacking somewhat in performance. The overall mileage available on the battery isn't quite as good as the Polestar 2, but the safety is easily on par.
The XC40 is a great choice if you're looking for safety but want to provide enough legroom for five passengers. You get access to ample storage with the rear trunk, which is always a benefit when planning trips. The XC40 is a stellar choice if you're looking for safety but also need some extra room.
Closing Thoughts
The Polestar 2 is an excellent electric sedan that really brings luxury to a more affordable platform. You could readily choose the likes of the EQS or Model S, but you'd be spending close to double the MSRP of the Polestar 2. As such, the Polestar 2 is an easy EV to recommend for any user.
Reasons to Buy a Polestar 2
1. You have very flexible trim options available.
2. The Polestar 2 features adaptive headlights for maintaining the best visibility in low-light conditions.
3. It has safety on par with Volvo's EV offerings.
4. The infotainment system benefits from having an operating system designed for it.
5. Polestar is pricing it very affordably when looking at competitors.
6. It has eco-friendly vegan materials for the interior.
7. Polestar has packed some very smart features into the vehicle that aren't really seen elsewhere.
The image featured at the top of this post is ©iStock.com/Trygve Finkelsen.