Key Points
The GMC Hummer EV comes with cutting-edge electric technology, including an ultium battery system that provides a range of 381 miles and fast charging capabilities.
The GMC Hummer EV has unmatched off-road prowess, with features like CrabWalk for optimal maneuverability and Extract Mode to raise the vehicle by up to 6 inches to clear tough obstacles.
The GMC Hummer EV offers next-level safety performance, with driver-assisted technologies like SuperCruise for hands-free driving and automatic emergency braking.
The GMC Hummer EV has incredible connectivity, with a large touch screen display, intuitive graphics, and seamless phone and app connectivity.
The GMC Hummer EV has a legendary design and versatility, maintaining the iconic Hummer look while offering convertible and removable roof panels for open-air driving.
You might remember the Hummer as the gas-guzzling leviathan of an SUV of the 2000s. But today's electric Hummer is an entirely different beast. If you turned your nose up at the former type, the new generation might be right up your alley.
But if you're seriously shopping around for a new EV, should you really consider a Hummer, of all things?
With so many different options on the market right now, it can be tough to pick the electric vehicle that's right for you. This is especially true if you're looking for something more on the adventurous side—any sedan version of an electric vehicle is great but may not be ready to hit the trails with you any time soon.
On the other hand, either model of the GMC Hummer EV—SUV or pickup—is ready for any journey you could throw at it. From the mountains to the beach, it's ready to adventure with you. There are more than a handful of reasons to seriously consider buying a Hummer EV. In today's article, we're going to break down the five most substantial ones. Let's get into it!
5 Reasons to Buy the GMC Hummer EV
Many people still today love to focus on the negatives of electric vehicles, but quite frankly, they've come a long way. It might just surprise you how versatile and reliable they are now, especially the GMC Hummer EV.
The old gas-powered Hummer was always criticized for its inefficiency. But there was no denying its off-road capabilities and uniqueness.
Fast forward to today, and the Hummer is back. But now it is rocking an all-electric format, with two sweet options to choose from: SUV or pickup. Don't get us wrong—we're not in cahoots with GMC to sell more Hummers. In fact, we've been pretty vocal on all of the reasons to avoid a Hummer EV.
But negativity aside, let's discuss the positives of this electric beast.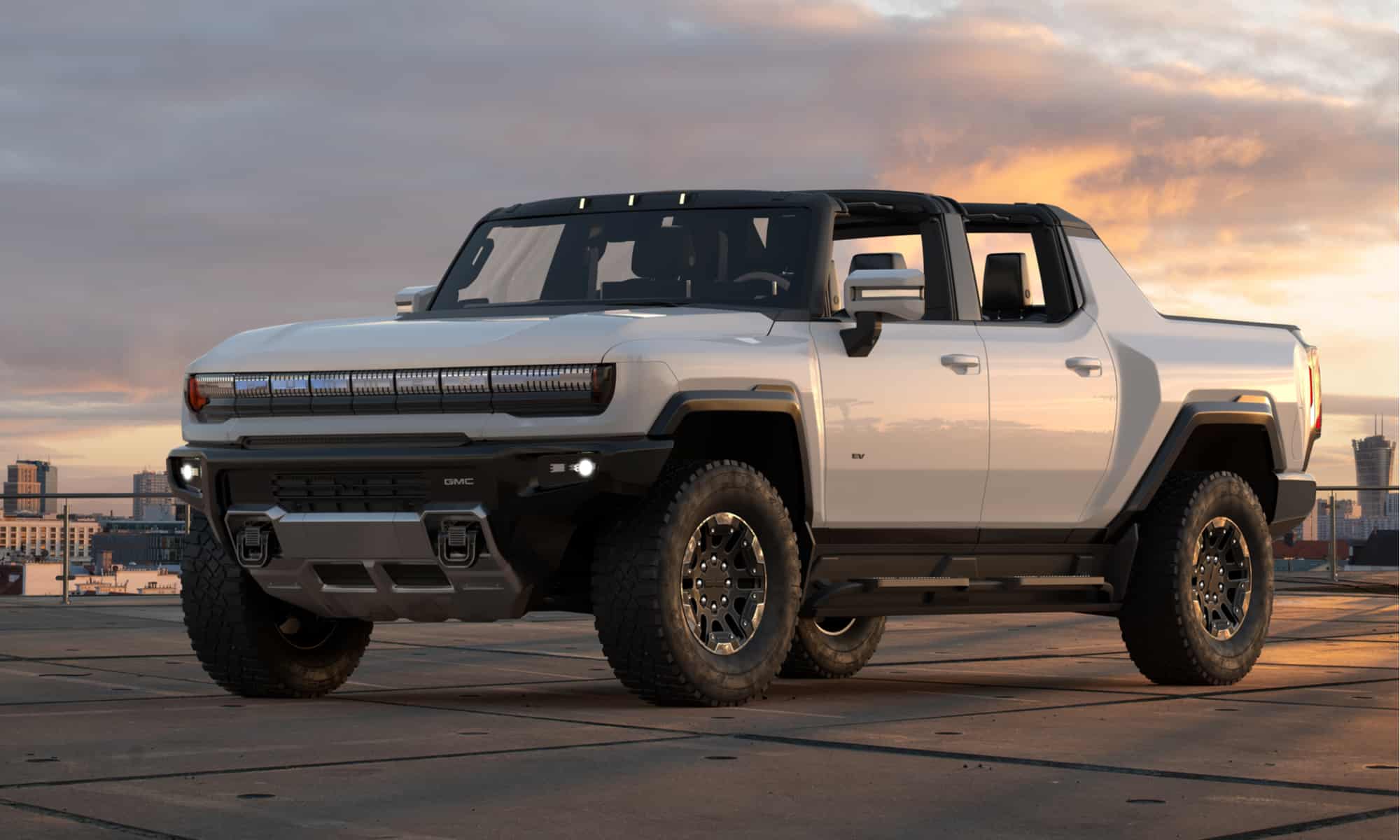 1. Cutting-Edge Electric Technology
You would want your electric vehicle to come capable of incredible technology, but the GMC Hummer EV spared no expense in making their vehicles a force to be reckoned with straight from the future.
One of the best examples of this is the incredible ultium battery system that comes with both models. Not only is the GMC Hummer EV capable of taking you an expected 381 miles before it needs a re-charge, but depending on the charger you use, it can gain you a whopping 100 miles after just 12 minutes of charging.
Another incredible feature is the three electric motors that come with both models of the GMC Hummer EV. The torque vectoring capability with an incredible 11,500 lbs-ft will give you the best traction and control for all of your rough terrain adventures. This vehicle is an off-roader's best friend—at least in the world of electric vehicles. From sand dunes to city streets, it won't disappoint you.
There's also the e4WD CrabWalk feature, and this is a real game-changer. The GMC Hummer EV has the ability to CrabWalk drive diagonally for optimal maneuverability in the toughest obstacles. The GMC Hummer EV will feel less like a vehicle and more like a spaceship the more you use it.
2. Unmatched Off-Road Prowess
The GMC Hummer EV did not mess around when it came to creating the ultimate adventure electric vehicle. Aside from the incredible CrabWalk feature mentioned above, it also comes with Extract Mode. Thanks to the Air Ride Adaptive Suspension System, Extract Mode allows you to raise the vehicle by up to 6 inches to clear particularly tough obstacles in any terrain. This includes everything from rocky mountains to even deep water crossings, there are very few places the GMC Hummer EV can't take you.
It also comes with UltraVision Front and Rear under-body cameras for the best look at your surroundings while driving. This is not only a vital safety feature when in unfamiliar terrain so you have the best visibility, but also to avoid any potentially harmful obstacles that even the GMC Hummer EV can't quite handle. You can trust that you'll be taken care of in and outside of this vehicle.
Lastly, the GMC Hummer EV even comes with Off-Road Widgets and Trail Mapping. This means that even when out of range of service, you'll still be able to track crucial vehicle data. Even more importantly, you'll also have access to offline maps, so you'll never get lost.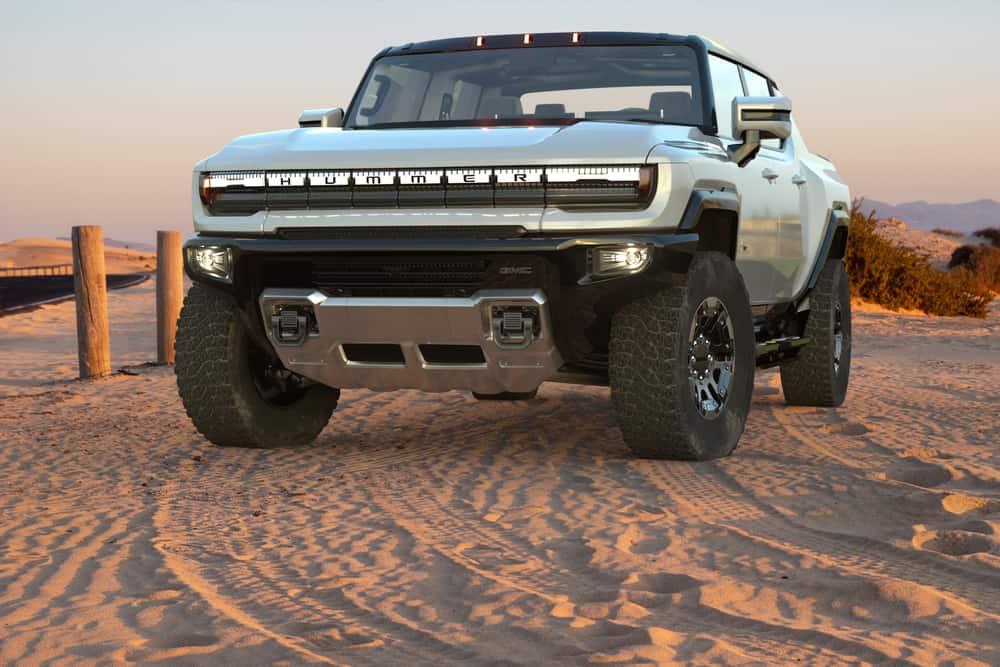 3. Next-Level Safety Performance
We've already discussed the overall enviable technology that comes with the GMC Hummer EV, but let's touch on the incredible safety features included in these vehicles. There are multiple driver-assisted technologies that come with the GMC Hummer EV, including SuperCruise Driver-Assisted Technology. This means that on over 400,000 miles worth of roads across North America, you can enjoy hands-free driving and lane-changing capabilities. There's even a feature where the vehicle will trailer another vehicle, maintaining safe distances and speeds on your behalf.
Other notable safety features include automatic emergency braking, lane changing alert, front and rear parking assistance on certain models, and even front pedestrian braking during the daytime when it detects something in front of you. You should always maintain extreme caution when driving, even if the vehicle is doing it for you, but you'll be well taken care of in a GMC Hummer EV.
4. Incredible Connectivity
The GMC Hummer EV offers the latest tech connectivity inside and out. This vehicle comes with a stunning 13.4 inch diagonal touch screen in the center along with a 12.3 inch Driver Information Center right in front of you so you know what's going on around you at all times.
The 3D graphics on the center screen are not only stunning but highly intuitive, keeping you in tune with the vehicle and all of your other connections. The GMC Hummer EV has a near seamless phone and app connectivity to keep you connected and entertained on the go.
This vehicle also comes with an Energy Assistant and Charging Network Integration, which keeps track of all the nearest charging stations as well as your battery life. So, you're never left stranded looking for the next place to juice up. This will allow you to optimize your journeys for the best charging efficiency, making a road trip in an electric vehicle easier than ever.
5. Legendary Design and Versatility
The GMC Hummer has been an iconic vehicle for quite some time, and they didn't abandon that style for the EV versions. This vehicle carries the same bones with an entirely reimagined electrical system, making it better than ever before. The GMC Hummer EV has a particularly aesthetic appeal to it, capable of suiting those on the more rugged side while also complementing those who prefer a modern, sleek-looking vehicle.
One of the coolest features of the GMC Hummer EV is the roof panels. They are convertible and removable with a storage compartment built into the car for when you want the open-air driving experience. Do you want to get the nature experience even when it's too cold for top-down adventures? No worries, the Infinity Roof comes in Opaque or even transparent Sky Panels, so you still get the full experience even with the panels on.
Reasons to Buy a GMC Hummer EV: Recap
Reasons
Details
Cutting-Edge Electric Technology
Unmatched Off-Road Prowess
UnMatched Off-Road Prowess
The CrabWalk feature is a game changer for off-roading or just rough terrains.
Extract Mode is also incredible for driving over water or larger obstacles.
Off-road Widgets and Trail Mapping mean you won't get lost when you lose connection in remote locations.
Next-Level Safety Performance
There are multiple driver-assisted technologies that come with this vehicle.
Certain roads across North America allow you to drive hands-free (with precautions).
Some models of the GMC Hummer EV even come with front and rear parking assistance.
Incredible Connectivity
This vehicle comes with a 13.4 inch center display and a 12.3 inch Driver Information Center.
Both of these screens are highly intuitive and keep you aware of your surroundings
The GMC Hummer EV allows for seamless connection with your smartphones and numerous apps so you remain connected and entertained.
Legendary Design and Versatility
GMC kept the Hummer look but reimagined the ultimate electric version of the famous vehicle
Suits those who are looking for an adventure vehicle but also people who prefer a more modern, city-appealing vehicle.
Stunning roof panels that can be easily removed for open-air drives or be swapped out for transparent roof panels.
Alternative Electric Vehicles
The GMC Hummer EV is one of the most sought-after electric vehicles on the market right now. When it comes to off-roading or hitting the city, this vehicle can just about do it all. However, it's not the only electric truck on the market right now. Plus, it's quite difficult to get ahold of at the moment.
The current wait time is estimated to be a year or more, and that's only if you have a reservation. While we think it's worth every penny, and certainly worth the wait, some might disagree. Let's take a look at some similar vehicles and compare them to the GMC Hummer EV.
Ford F-150 Lightning
The Ford F-150 Lightning is a true working man's truck. It is designed with tough conditions and outdoor workers in mind. Plus, it comes with an impressive amount of features to aid in helping with these jobs and their accompanying projects. It's also on the lower end of the cost spectrum, making it more affordable for those who desire an electric vehicle but can't necessarily afford the top-of-the-line option.
However, the F-150 Lightning has left a lot to be desired when it comes to endurance on long trips. After numerous tests, many drivers have determined that this truck gets about 100 miles less on a single charge than the GMC Hummer EV does on average. It also doesn't have the same fast charging capabilities. So your road trips are likely to take much longer.
Rivian R1T
Rivian has certainly made a name for itself in the electric vehicle market in the last few years, for both good and bad reasons. The R1T was the first model to hit the market. We have to admit, it comes with some pretty desirable features. As another off-roading electric vehicle, the R1T has impressive towing capabilities and a decent range for remote adventures.
However, there have been more than a few known issues with these vehicles, most of them being safety concerns. Rivian is also an incredibly specialized company, meaning that only Rivian centers are capable of helping work out any issues with your vehicle. Plus, being so new means they are not widespread. If you get a lemon from them, good luck servicing it in any timely manner.
Tesla Cybertruck
The Tesla Cybertruck has been making its rounds in the media for quite some time. We all remember Elon Musk's little incident with the broken window, garnering attention worldwide. But many Tesla fanatics are curbing their enthusiasm. This is mostly due to the fact that production was supposed to start at least two years ago. It has yet to actually happen. This truck should be quite the spectacle if it ever actually launches.
With an incredibly futuristic design and reasonable price, there are already hundreds of thousands of pre-orders for this truck. But if you think waiting a year or so for a GMC Hummer EV is bad, try putting a down payment on a truck that no one knows anything about, and may or may not ever actually exist.
The image featured at the top of this post is ©Mike Mareen/Shutterstock.com.