Key Points
The Fitbit Charge 5 offers advanced heart-tracking features like an ECG sensor.
Smart notifications keep users connected without the need to check their phones.
The Fitbit Charge 5 syncs with popular third-party apps for additional health-tracking options.
The ability to customize the Fitbit Charge 5 with different color bands adds a personal touch.
When it comes to tracking exercise with a smartwatch or wearable, Apple and Samsung are not the only game in town. For its part, Fitbit, which is now a part of Google, is still a viable competitor in the field and hopes to continue growing its market share with products like the Fitbit Charge 5.
While the Charge 5 may have been upsold by its successor, the Charge 6, for those who still want the very best features at a reduced price, the former option remains a great choice. Whether it's tracking your heart with the built-in ECG app or sleep tracking, the Charge 5 is here to remind you that staying healthy is more than just a promise. It's something you can track and monitor.
With that in mind, let's take a look at the top reasons you should buy a Fitbit Charge 5 today. 
What is the Fitbit Charge 5? 
Awesome Tracking Features
We earn a commission if you make a purchase, at no additional cost to you.
Released to the world on August 15, 2021, the Fitbit Charge 5 was immediately considered Fitbit's "most advanced health and fitness track," as stated by their own announcement.
Between being able to monitor stress levels and heart health, and adding a very bright touchscreen, the Fitbit Charge 5 was also the company's first to incorporate the EDA sensor to monitor stress management, ECG tracking for AFib warnings, and the tracking of other key health metrics. 
The Charge 5 also debuted Fitbit's new Daily Readiness Score, which takes all of the available health data it has from your body and lets you know when it believes you are at your physical best. By tracking this score, the Charge 5 would let you know the optimal times to work out or if you need to recover. 
All of these features were well received, which is all the more reason you may want to consider the Fitbit Charge 5 today. 
Check out the Fitbit Charge 5 on Amazon now.
The Top 9 Reasons to Buy a Fitbit Charge 5
#1: Advanced Heart Tracking
While the Fitbit Charge 5 doesn't offer the same screen size as one of the company's smartwatches, this isn't to say the Charge 5 lacks health data. In fact, the opposite is true as the Charge 5 has more than enough sensors to provide you with all of the important health data you could want during the day.
The biggest addition to the Fitbit Charge 5 is the inclusion of the ECG app, which you can use on demand. The ECG app helps detect whether heart rhythm notifications may detect any pattern of AFib while you are sitting still or sleeping, which can let you know if you need to seek medical attention immediately.
Along with the ECG app, the Charge 5 also includes both high and low heart rate notifications that will keep you informed as to when your heart rate is above or below the optimal threshold for your current age and health status.
#2: Sleep Tracking
This isn't the first time Fitbit has included sleep tracking in its product lineup, but it's a great inclusion in the Charge 5 all the same. While active, the sleep tracking sensors on the Fitbit Charge 5 will help detect the amount of time you have spent awake, restless, and asleep. To help detect whether you are restless, the Charge 5 looks to see if you have made any movements while sleeping, which would be something along the lines of tossing or turning throughout the night.
On the other hand, if your Charge 5 detects more excessive movement, something beyond the normal tossing and turning, the sensors will record this as time you have spent awake.
The caveat to all of this is that you need the Fitbit Premium subscription to take full advantage of the sleep tracking features. Assuming you will or do already subscribe to the premium features, you will receive a personalized sleep score every morning. You can also look at your sleep scores over time to see if you can detect patterns and help determine why you might have had an issue sleeping during a particular week.
#3: Stress Tracking
Along the same lines of tracking your sleep score, the Fitbit Charge 5 also does a good job of detecting your overall stress levels by providing you with a Stress Management score. To achieve this, the Charge 5 will measure your body's physical response to in-the-moment activities with the included EDA Scan app.
This app essentially takes a look at the electrical changes in your skin detected by the onboard sensors of the Charge 5 and determines how stressed you are on a scale of 1 to 100. All you have to do is use the sensors on the sides of the screen with your thumb and forefinger for 3 minutes and, after that time, the Charge 5 will come up with the day's score.
Ideally, you would perform multiple scans every day like before going to bed, after an important call at work, pre and post-workout, and any other times during the day you might feel have increased your overall stress level.
#4: Built-in GPS
While it might seem like an obvious addition to any wearable that can track fitness these days, the built-in GPS on the Fitbit Charge 5 is still an important feature worth mentioning. With the support of GPS, you can more easily track your physical activity like cycling, walking, or running without the need for a smartphone. 
However, if you do choose to bring your smartphone along, you can help reduce some of the battery drain of the Charge 5 by having it use Dynamic GPS. This feature allows the Charge 5 to bounce its signal between itself and your smartphone and utilize which signal is currently stronger at the moment to track your location.
The good news is that Fitbit has always had a great reputation for reliable GPS tracking and the Charge 5 is no exception. Users across the internet all return similar feedback in that the GPS is one of the more reliable they have used out of the Fitbit lineup, and with rare exceptions in heavily wooded areas, provided great results overall.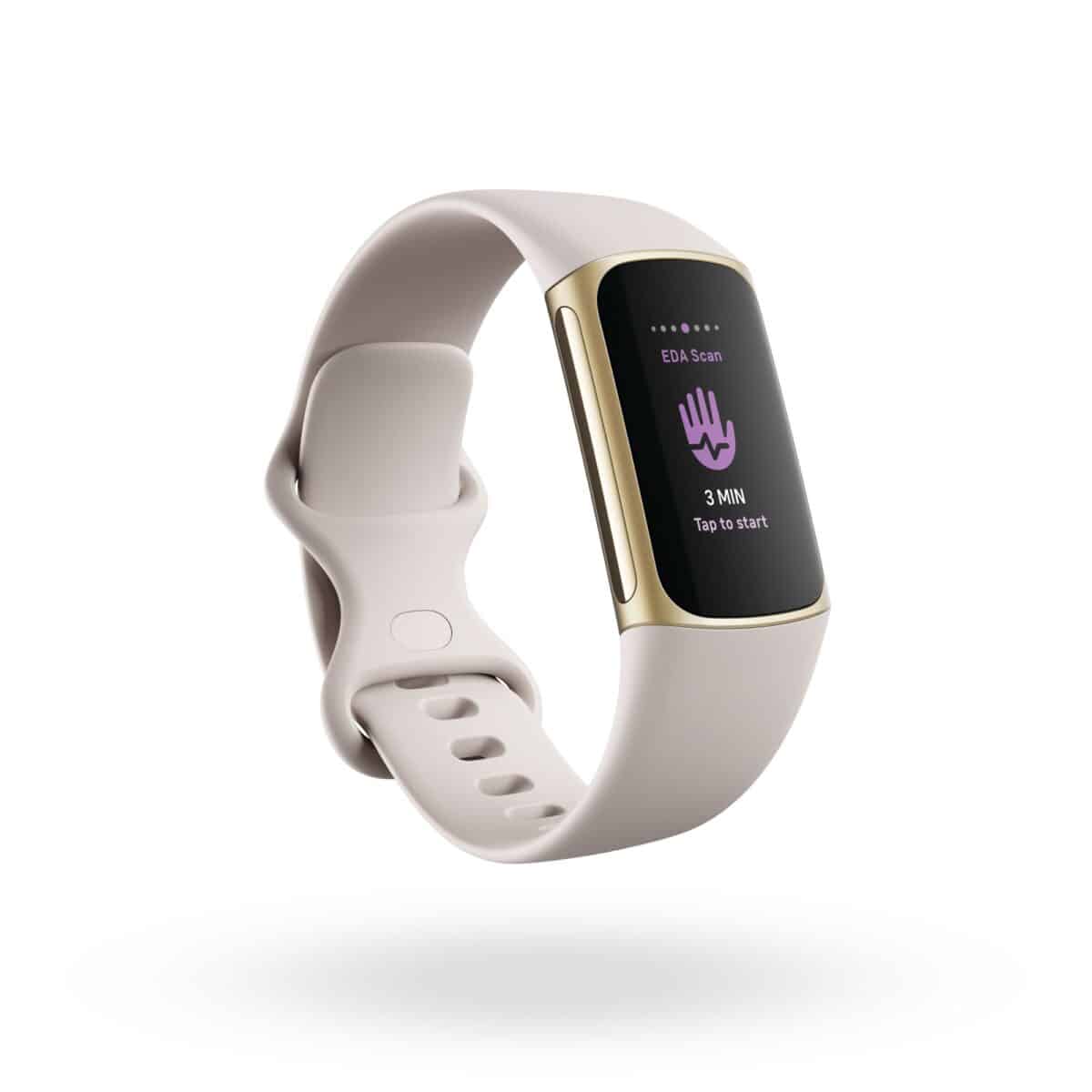 #5: Record Your Workouts
As part of the Fitbit Charge 5 feature set, you have 20 different exercise activities that can be tracked while wearing the fitness tracker. Throughout all of these different exercise modes, you will receive real-time performance metrics that can help you set different goals depending on which exercise you want to take on that day.
Whether it's biking, weights, yoga, runs, or something else that helps get your blood pumping, you'll get all of the data you want right on your wrist. Even if you forget to activate your specific exercise, the Fitbit Charge 5 will automatically detect when you have started to exercise and begin to record your stats, so you never miss a day's worth of health data.
Everything from the number of steps you take and the amount of calories burned to the distance you run or bike is tracked and available to you instantly. Best of all, all of this data comes together to help determine your Daily Readiness Score, which lets you know if you need a day off for optimal performance with your next workout. 
#6: Daily Readiness Score
As part of the overall Fitbit experience, subscribing to Fitbit Premium enables support for the Charge 5 to determine the Daily Readiness Score. This personalized score takes into consideration the intensity of your previous workouts, stress levels, and overall sleep tracking by making a recovery recommendation for you each day.
By achieving this score every day, you are able to get more out of every workout as you will be able to perform at your highest levels rather than pushing yourself day in and day out. Rethinking what your exercise routine looks like with the Daily Readiness Score might seem like something you don't want to consider, but the results speak for themselves.
This is yet another area where Fitbit users jump for joy around how helpful this score is and how much it has helped them rethink optimal exercise times.
#7: Smart Notifications
It's important to know that the Fitbit Charge 5 is a fitness wearable, but not a smartwatch, which is a difference Fitbit wants to remind you of at the time of purchase. However, just because it doesn't have all of the smartwatch features isn't to say the Charge 5 doesn't offer some of the benefits of a smartwatch. 
Things like smart notifications, which help you stay in contact with friends, family, and co-workers through call, text, and calendar notifications are all present. Easy things like being able to accept or reject an incoming call make it very easy to keep your exercise on track without stopping to look at a smartphone.
Notifications from Gmail and WhatsApp are just a small sample of the type of notifications Fitbit Charge 5 owners can expect to receive. The only caveat is that your phone has to be nearby to keep the connection with the Charge 5, but this is the same case for all smartwatches, so it's hardly a dealbreaker.
#8: Exercise App Syncing
If you are someone who has a strong sense of which exercise app works best for you, the good news is the Fitbit Charge 5 works with a number of popular apps.
From being able to track nutrition so you can help balance your diet, to your overall wellness, apps like Strava, Peloton, Runkeeper, Amazon Alexa, SparkPeople, Lumosity, Weight Watchers, MINDBODY, LoseIt!, MyMyRun, and Habit are all available to connect with fitness levels from the Fitbit Charge 5. 
While these apps won't be installed directly on the Charge 5 itself, so long as they are on your smartphone, you can sync the data and use different apps to help track all of your fitness and diet goals. If giving up your favorite fitness app was something holding you back from picking up a fitness tracker, you can rest assured the data syncs up perfectly and not a single calorie is lost between two apps.
#9: Personalize Your Charge 5
Even as the Charge 5 is available from Fitbit in a few different colors, you can do even more personalization by swapping out the included band. Whether it's from Fitbit directly or on Amazon, there are a number of available bands in a variety of different colors and styles to help fit your personality and fashion sense. Better yet, buy a few different bands and customize your watch to match your outfit on any given day. 
Awesome Tracking Features
We earn a commission if you make a purchase, at no additional cost to you.
Reasons to Buy a Fitbit Charge 5: Summarized
| Stress tracking is an important feature in understanding how you may want to change your routine to avoid stress.  | Description |
| --- | --- |
| #1 | The Fitbit Charge 5 offers advanced heart-tracking features like an ECG sensor. |
| #2 | Being able to track your sleep will help you find patterns of restlessness that you can hope to fix. |
| #3 | Stress tracking is an important feature to understanding how you may want to change your routine to avoid stress. |
| #4 | The inclusion of built-in GPS helps you accurately track runs and other exercises. |
| #5 | Having the ability to record your workouts will help you show progress toward your goals. |
| #6 | Fitbit's Daily Readiness Score is important to know if you should take some time to recover. |
| #7 | Having smart notifications built-in will save you from distraction by helping you skip looking at your phone.  |
| #8 | Various third-party apps can sync with the Fitbit health data to open the door to even more opportunities health-wise. |
| #9 | The ability to customize your Fitbit Charge 5 with various color bands makes it easy to fit your personality. |
Wrapping Up
Even though the Fitbit Charge 5 may already be two years old, it was advanced enough that it's still well worth considering today.
This is especially true if your primary focus is tracking health data, which hasn't changed over the years, and with a low cost of entry, the Fitbit Charge 5 may be exactly what you need. As you can select different colors of the Charge 5 and also personalize the band color, it's easy to create some personality with your new fitness tracker.
The image featured at the top of this post is ©iStock.com/Youngoldman.