Surround-sound speakers have been around since the 1930s, but they have certainly come a long way. Today, you can bring cinema-quality sound straight to your living room by just investing in additional speakers.
Despite this, and as is the case with any technology, there are quite a few drawbacks to keep in mind before making such an investment (and it is an investment, indeed).
Join us as we break down the key reasons to avoid surround-sound speakers so you can have all the facts before making any major purchasing decision.
Some Background on Surround-Sound Speakers
Walt Disney's Fantasia (1941) is the first cinematic movie to use surround sound. Disney called it Fantasound. The drawback was the cost. At approximately $85,000 (1.5 million dollars today), only two theaters could afford to install the required fifty-four speakers.
Surround sound speakers began to take hold in the consumer market in the 1980s. The newly released video home system (VHS) format allowed surround sound to be encoded into the tape. The lack of bandwidth in the VHS format forced surround sound to compress audio data from the rear to the front channels. The LaserDisc format provided more bandwidth and audio tracks than VHS. Unfortunately for LaserDisc, consumers selected VHS as the prime at-home movie-watching technology.
The actual consumer embrace of surround sound began in the late 1990s. The home movie format shifted from VHS to digital versatile disk (DVD). The DVD format had state-of-the-art resolution (720 x 480 pixels) and 5.1-channel digital surround sound. The DVD format game provided plenty of space for audio data.
The surround sound speaker craze began in earnest with DVDs encoded with surround sound data.
Quick Facts
| | Surround Sound 3.1 | Surround Sound 5.1 |
| --- | --- | --- |
| Channels | 4 | 6 |
| Speakers | 3 main + subwoofer | 5 main + subwoofer |
| Format | Dolby Atmos | Dolby Digital, DTS |
| Primary Use | Forward sound only | Medium-sized rooms  |
| | Surround Sound 7.1 |
| --- | --- |
| Channels | 8 |
| Speakers | 7 main + subwoofer |
| Format | Dolby TrueHD, DTS-HD Master Audio |
| Primary Use | Large rooms |
Reasons to Avoid New Surround Sound Speakers
A set of surround sound speakers is an audiophile's dream come true. With rich bass, clear dialogue, and directional sound, there's a lot to like.
Unfortunately, there are still a few reasons you should skip purchasing them.
Space Limitation
The dirty little secret about surround sound speakers is that they require a fair amount of space to be effective. Optimum listening occurs with speakers positioned on the sides, front, and rear of your seating position.
Surround sound 7.1, or even 9.1, requires quite a bit of space behind you. Placing the speakers directly behind you is a no-no. The optimal rear speaker placement for surround sound 5.1 is 110° on the left and right of the listening position. The best rear speaker placement for surround sound 7.1 is approximately 135° on your seat's left and right sides.
Wires
Do you like visible wires running all around your entertainment room? We sure hope so, because you're going to have a bunch of them lying on your floor or crawling up your wall. You'll need to run cables to the speakers. Depending on your entertainment center (DVD, PS, receiver, TV, etc.), there may be a lot of wires.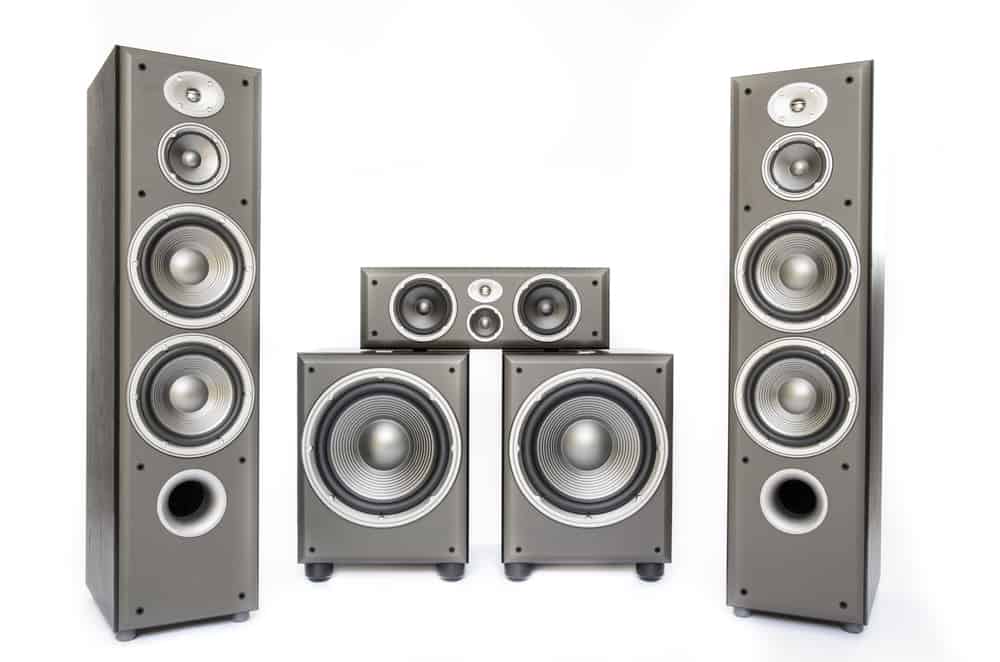 Cost
The brutal fact is that surround-sound speakers can be expensive! Sure, you can pick up an excellent new surround sound for a few hundred bucks… but you're not living in a college dorm room, so having wires running all over the place isn't a great idea.
You may need to add a few electrical outlets and cable runs inside the wall. It's going to cost you! (Sure, you could tuck wires under the floor trim or run a line or two under the carpet.)
Complexity
We've talked about the cost, as in cash out of pocket, but we've not touched on the complexity cost. Surround systems are complex. You'll spend time, maybe a lot of it, running the connection cables and electrical wires and troubleshooting your surround-sound system.
We must correctly configure our smart TV, DVD, PS, AV receiver, and anything else. That's a lot of menu navigation. What's your time worth? Adding new surround-sound speakers may be more complex than you're expecting. (Don't even get us started on lag time!)
Compatibility
Don't tell anyone we told you, but surround sound 7.1 and 9.1 are compatible with only some media types. Not all DVDs or streaming services provide audio in a surround sound 7.1 or 9.1 format. The surround sound will convert the higher-generation content (down) to a generation 5.1 channel configuration. It's good to have flexibility, but make sure you can use what you're paying for — no need to pay extra for 7.1 or 9.1 if your media is encoded 5.1.
Alternatives to Surround-Sound Speakers
The most common alternative to surround-sound speakers is a soundbar, which can come in a variety of types. There are also portable speakers and headphones to consider.
Let's look at a few options and find the best solution for you.
Soundbars
VIZIO M-Series 5.1 Premium Sound Bar
Fantastic Sound Quality
We earn a commission if you make a purchase, at no additional cost to you.
A wireless subwoofer, a single soundbar, and two forward-facing speakers bring the speaker count down to four speaker boxes on the VIZIO M-Series Soundbar. It's an excellent middle ground for a smaller space that isn't large enough to wrap speakers around the room. The soundbar and two speakers face the listener and the subwoofer is placed in front of you or off to the side.
SAMSUNG HW-S50B/ZA 3.0ch All-in-One Soundbar
Best Premium Look
We earn a commission if you make a purchase, at no additional cost to you.
A single forward-facing soundbar is all you need with the SAMSUNG HW-S50B. The soundbar contains two tweeters and woofers — the soundbar projects overlapping directional sound waves "out" into your room. The overlapping sound wave provides a listening experience similar to surround sound.
You'll connect the soundbar to your equipment via an HDMI (ARC) or Digital Optical cable, or via Bluetooth.
Bose Smart Soundbar 600
Room-Filling Sound
Bose Smart Soundbar 600
Features the proprietary TrueSpace technology and two upward-firing transducers to deliver shockingly immersive sound
Bose TrueSpace technology intelligently analyzes signals other than Dolby Atmos, like stereo or 5.1, and upmixes them to create an immersive multi-channel sound experience
5 speakers (including 2 upward-firing) squeezed into a small, 27.5" wide soundbar to spread sound equally around your room
Wi-Fi, Bluetooth, Apple AirPlay 2, Spotify Connect, and Chromecast built-in compatibility
Amazon Alexa voice control built-in
Access works with Google Assistant capabilities with a compatible Google device
Included remote control and the Bose Music app for quick access to your music
We earn a commission if you make a purchase, at no additional cost to you.
You're seriously investing in a soundbar with a Bose Smart Soundbar 600. The soundbar closes in on the listening experience (and the price!) you'll have with a complete set of surround sound speakers. All speakers inside a single sound bar are ideal for keeping your smart TV station free of extra clutter.
Bose TruSpace analyzes the audio signal, mixes the channels, and creates a multi-channel listening experience. Dialogue, music, and special effects are separated and "sent" or "directed" to different areas in the room, creating a surround sound experience.
Sony S100F 2.0ch Soundbar
Best Budget Option
Sony S100F
Tweeter built in, with 2 channel speaker
Bluetooth enabled
Bass Reflex style speaker for an especially deep sound
S-Force Pro Front Surround sound feature included
We earn a commission if you make a purchase, at no additional cost to you.
If you have simple expectations of a soundbar, take a gander at the Sony S100F 2.0ch Soundbar. Sony's budget soundbar entry isn't where you should head if you're looking for a completely immersive, big-budget, PS5, or Hollywood blockbuster cinema experience.
The Sony S100F 2.0ch Soundbar is a solid choice if you're having difficulty discerning and understanding voices from the TV. The soundbar will help clear up muddled dialogue, new reports, or conversation drowned out by music.
Portable Speakers
SEREONIC Portable Wireless TV Speakers
Great Sound Quality
We earn a commission if you make a purchase, at no additional cost to you.
Having a portable speaker to stick by the couch right behind your head may be an ideal solution for those of us who are slightly hard of hearing. The base of the SEREONIC Portable Wireless TV Speakers connects directly to the TV audio output. The rechargeable speaker is placed anywhere you want to listen to the TV. The batteries will last for up to eight hours. Built-in software will clarify dialogue to make it easier to understand.
TREBLAB HD77 Bluetooth Speaker
Great for Outdoors
TREBLAB HD77 Bluetooth Speaker
Loud 360-degree HD surround sound
With great bass
30W stereo
IPX6 waterproof
20h battery life
Bluetooth
Wireless dual pairing
We earn a commission if you make a purchase, at no additional cost to you.
It's hard to beat the portability of a Bluetooth speaker. The TREBLAB HD77 is the ultimate in portable sound. Connect it to your TV, smartphone, or Bluetooth audio streaming device. The TREBLAB HD77 is a great option to have a speaker nearby to enjoy a favorite TV show without overwhelming the neighborhood with the TV's loud volume.
Headphones
Bose Noise Cancelling Headphones 700
Best Design
Bose Noise Canceling Headphones 700
11 levels of active noise cancelation
Built-in beamforming microphone that adapts to noisy and windy environments
Lightweight stainless steel headband and tilted earcups

Up to 20 hours of wireless battery life on a single charge
We earn a commission if you make a purchase, at no additional cost to you.
It's hard to think of a listening experience that's more intense than the Bose Noise Cancelling Headphones 700! Twenty hours of battery life and ten noise-canceling levels make these headphones perfect for any audiophile. A built-in microphone allows you to take telephone calls or give voice commands to Alexa. (We have found them to be a bit "sweaty" after long (10+ hour) flights across the ocean.)
Wrapping Up
You're ready to make a smart purchasing decision now that you've learned the reasons to avoid new surround-sound speakers. Surround-sound speakers can be costly both in money and setup time, and they can be difficult to configure correctly while leaving a ton of wires exposed in your living room.
A good option instead of new surround-sound speakers is a soundbar, which is much easier to configure and has fewer speaker wires, and Bluetooth speakers and headphones, which connect directly to your TV for easy configuration and listening.