Key Points
The Anker Soundcore Flare 2 is a budget-friendly portable Bluetooth speaker.
Weak LED light rings, poor sound quality, and lack of connectivity options are major drawbacks of the Anker Soundcore Flare 2.
PartyCast mode difficulties and the absence of a battery charge indicator are additional reasons to avoid this speaker.
The Anker Soundcore Flare 2 is a budget-friendly portable Bluetooth speaker for general use. This upgraded model of the Soundcore Flare now uses Bluetooth 5.0 and incorporates a Bass Boost feature we will address below. Our review found numerous reasons to avoid a new Anker Soundcore Flare 2 at all costs. There are many other portable Bluetooth speakers available to fit most budgets with better sound quality and user-friendly features. Review our list of negatives to help you make smarter purchasing decisions.
Anker Soundcore Flare 2 Basics
Slightly larger than a standard 16-ounce can (7 x 5 x 3 inches), the Anker Soundcore Flare 2 has two LED light rings (top and bottom), making it noticeably different from its predecessor. The fabric outer covering has an IPX7 waterproof rating, making this speaker great for pool parties. The 360-degree speakers project sound in all directions. Both LED light rings are beat-driven to whatever music is played. PartyCast technology allows you to connect many similar speakers together for better sound coverage. Anker advertises this unit to have 12 hours of playtime before it needs to be recharged. The typical price is around $70.
Reasons to Avoid a New Anker Soundcore Flare 2
Unfortunately, the Anker Soundcore Flare 2 has more against it than going for it. Here are our reasons to avoid a new Anker Souncore Flare 2 portable Bluetooth speaker.
1. Weak LED Light Rings
Anker obviously believed the LED light ring at the bottom of the original Soundcore Flare was an impressive feature, so they added another to the top of the Flare 2. While noticeable in a limited light setting, they really serve no purpose. According to many online customer reviews, the beat synchronization is spotty at best. Plus the weak light is hardly noticeable in the daylight, such as at an outdoor pool party. The purpose of any speaker is to project quality sound, not create a light show. If your party needs accent lighting, it would be best to buy extra lighting.
2. Poor Sound Quality
The Anker Soundcore Flare 2 gets loud, but loud is hardly all you need from a Bluetooth speaker. Even a budget speaker should produce acceptable sound quality — after all, what else are speakers for? The low bass response is weak, and loud music or speaking lacks clarity, with both becoming distorted past about 75% volume. The touted BassUp technology does not improve the sound. This portable speaker will not fill large spaces even with 360-degree sound projection. Large outdoor parties will need multiple speakers or a better-quality Bluetooth speaker.
3. PartyCast Mode Difficulties
If you need more reasons to avoid a new Anker Soundcore Flare 2, besides poor sound quality, just read all the online reviews about PartyCast Mode difficulties. Multiple buyers affirm that the entire process of linking multiple speakers in PartyCast is complex and frustrating. Anker boasts that up to 100 speakers can be linked together, but no reviewer could link more than 10. All had problems linking the additional speakers, and the sound quality was degraded because of weak signal linking. Notably, almost all reviewers said the PartyCast quickstart guide was useless.
4. No Battery Charge Indicator
The attraction of a Bluetooth speaker is freedom from connections at will. The Soundcore Flare 2 has an impressive 5200mAh battery, but the speaker has no battery charge indicator. In order to see how much charge is left or if it is fully charged via the tiny USB-C cable provided, users must find their smartphone, open the Soundcore app, and find the unobtrusive battery power indicator there. Anker boasts a 12-hour battery life for the Soundcore Flare 2, but most reviewers reported getting about eight.
5. The Soundcore App Lacks Sound Quality Settings
The lack of sound quality settings is among the most popular reasons to avoid a new Anker Soundcore Flare 2 portable speaker. The speaker has no setting to adjust sound quality past volume. Users must open the Soundcore app to make adjustments, and the available settings are nothing to get excited about. There are a few EQ presets but no slider settings for precise adjustments. You must tune the speaker sound by ear, which is not an easy task with the already poor sound quality.
6. No Wired Connectivity
We know buyers choose Bluetooth speakers for greater portability. Sometimes, however, a wired connection is useful or even preferred. Even Bluetooth 5.0 can have latency or connectivity issues in some settings. Anker realized this early on because the original Soundcore Flare speaker had a 3.5mm input. The Flare 2 eliminates it entirely. There are no wired connection ports at all for USB, auxiliary, or other inputs.
7. No Wi-Fi Connectivity
Modern devices almost always have Wi-Fi connectivity for even greater convenience — but not the Anker Soundcore Flare 2. Users cannot connect this portable speaker to Apple AirPlay, Google Chromecast, or any device via Wi-Fi. There is also no Amazon Alexa compatibility for voice commands or other features.
Better Alternatives to the Anker Soundcore Flare 2
If you're looking for a better-quality portable Bluetooth speaker and these reasons to avoid a new Anker Soundcore Flare 2 have discouraged you from this product, here are some better alternatives.
Sony SRS-XB32 Bluetooth Speaker
The Sony SRS-XB32 Bluetooth Speaker is a much better Bluetooth portable speaker than the Soundcore Flare 2. Enjoy deep bass and clear sound at every level, with Extra Bass and Live Sound features to enhance your experience. LED lights follow the sound for a visual effect or adjust for a calmer effect (or turn them off, which is nice). Add extra sound effects with Party Boost by tapping the speaker in various places. Users can link this speaker wirelessly to other similar models. Standard and micro USB charging is supported. Access to Siri or Google Assistant is also available. Enjoy 24 hours of use with a single charge or up to 14 hours with Extra Bass enabled.
Deep Bass and Clear Sound
Sony SRS-XB32 Portable Bluetooth Speaker
Dual 48mm speaker unit
24-hour battery life with USB charging
Extra Bass enhances lower tones
Live Sound Mode creates a 3D listening experience
Bluetooth and Near Field Communication (NFC) enabled
IP67-rated waterproof design
Multicolor lights and flashing strobe
We earn a commission if you make a purchase, at no additional cost to you.
Ultimate Ears Boom 3 Bluetooth Speaker
The Ultimate Ears Boom 3 produces balanced yet bold 360-degree surround sound and is reasonably priced. Waterproof and featuring tap controls, this Bluetooth speaker is the perfect portable party experience. This speaker actually floats. Enjoy up to 15 hours of battery life and a 100-foot range from the music source. There is even an available charging dock for wireless charging! Numerous performance settings allow users to choose the level of the party with intuitive controls. Ultimate Ears warrants this incredible speaker for two years.
Speaker Actually Floats!
Ultimate Ears BOOM 3 Portable Waterproof Bluetooth Speaker
Bluetooth speaker with 360° sound
Up to 15 hours of battery life on a single charge via micro USB port
Completely waterproof with an IP67 water and dustproof rating — it even floats!
Play, pause, or skip with a touch of the Magic Button
Pair over 150 speakers to create the ultimate surround sound experience.
Compatible with previous BOOM and MEGABOOM speakers
We earn a commission if you make a purchase, at no additional cost to you.
Sonos Move Bluetooth Speaker
The Sonos Move Bluetooth speaker includes Wi-Fi compatibility built-in for versatile use. Enjoy premium sound quality indoors and outdoors with this well-built and durable speaker. It supports Alexa and Google Assistant for seamless voice control and interactions. Enjoy up to 11 hours of battery time. Numerous features include a built-in microphone, a USB port for connecting with other devices, a wide soundscape, and Trueplay tuning that adjusts the sound for the best quality on every tune, podcast, or other medium.
Best for Premium Sound
Sonos Move
Bluetooth and Wi-Fi connectivity
Up to 11 hours of battery life
Drop-resistant
Automatic Trueplay balances sound depending on the environment and content
IP56 rated for resistance to humidity, rain, snow, dust, salt spray, UV rays, and extreme temperatures
Built-in Alexa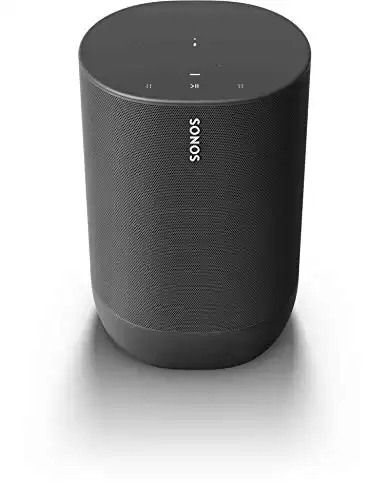 We earn a commission if you make a purchase, at no additional cost to you.
Bang & Olufsen Beosound A1 (2nd Generation)
Need a smaller portable Bluetooth speaker? The Bang & Olufsen Beosound A1 (2nd Gen) is tiny and ultimately carryable but it delivers a huge sound. This compact speaker supports Bluetooth 5.1 and has high ratings for dust and water resistance. Pack this tiny speaker along anywhere you travel for immersive, clear sound on the go. The built-in Alexa smart assistant even helps you choose your favorite songs and activate other features. Users can even take calls through this speaker and enjoy 18+ hours of listening on a single charge. 
Portable and Lightweight
We earn a commission if you make a purchase, at no additional cost to you.
Reasons You May Still Want to Buy a New Anker Soundcore Flare 2
The cylindrical Anker Soundcore Flare 2 is a medium-quality, budget-friendly Bluetooth speaker that can meet the needs of the average user. If you're looking for a high-end portable speaker, this isn't it, but for a cheaper product that plays music on the go, it's an acceptable buy. Music wizards who insist on precise sound quality and intricate adjustment features should check out our recommendations.
Still, for buyers wanting an affordable speaker to keep the kids grooving to their favorite tunes around the pool, on the beach, in the rear of the camper, or in their own room, a new Anker Soundcore Flare 2 fits the bill. Many younger listeners are not as discerning and opt for volume over sound quality anyway. The LED lights dance to your beats and the controls are somewhat easy, even for youngsters. The durable construction and waterproof case also make this a good choice for the kids.
Alternatives to the Anker Soundcore Flare 2
Sony SRS-XB32 Bluetooth Speaker
Ultimate Ears Boom 3 Bluetooth Speaker
Sonos Move Bluetooth Speaker
Bang & Olufsen Boesound A1 (2nd Generation)
The image featured at the top of this post is ©Prostock-studio/Shutterstock.com.