Key Points
The Aura Digital Frame offers a vibrant, sharp resolution screen, a sleek design, and unlimited photo storage, but lacks storage accessibility and cross-platform functionality.
The frame requires a constant WiFi connection and cannot function without it, unlike many of its competitors that have internal storage.
Negative consumer reviews highlight issues with the Aura app, bad user interface, unreliable WiFi connection, and lack of customer support.
The Aura frames lack accessibility features, have a fixed resolution that often mismatches with common digital picture resolutions, and do not have a power button.
Compared to other digital frames on the market, Aura frames are limited in functionality, expensive, and offer nothing to justify their high price.
The Aura Digital Picture Frame is one of the leading digital picture frames on the market. It allows for a varied slideshow displaying digital pictures. However, the Aura Digital Picture frame is fraught with drawbacks. Here are a few reasons to avoid Aura WiFi digital picture frames.
For its selling points, the Aura Digital Frame offers a vibrant, sharp resolution screen, a sleek, minimalist design, and unlimited photo storage. But that's where the benefits end. Here are 6 reasons to avoid the Aura Digital Frame.
Storage
The Aura Digital Frame promotes cloud storage. Unlike other digital picture frames that can act as independent units, the Aura Digital Frame requires a constant WiFi connection. This is in contrast to competing digital frames, many of which have internal storage.
While Aura's cloud-based storage is free of charge, this comes with a host of problems. To even upload a photo to an Aura frame, the company requires the use of its mobile app. Unlike other digital frames, the Aura frame cannot receive photos via USB/SD card, the web, or email.
Other digital frames on the market allow pictures to be directly uploaded through social media and photo-sharing sites like Instagram, Flickr, Facebook, and Google Drive. Aura Digital Frames require manually downloading photos to a phone. From there, photos have to sync to the cloud, and then sync from the cloud to the digital frame. A majority of competing digital frames don't require this many middlemen or steps.
For a frame with one of the highest price points on the market, the Aura Digital Frame lacks the storage accessibility and cross-platform functionality of many of its competitors.
As previously mentioned, the Aura digital picture frame cannot function without working WiFi. It is one of the only premium digital frames that does not have internal storage of any kind.
While its cloud storage offers unlimited space to store pictures before transfer to the actual frame, this comes with a few drawbacks and even risks. Other digital frames toggle to play pictures through a USB/SD, meaning a new slideshow can be created almost instantly. The Aura digital picture frame requires the multi-step cloud-to-frame function to even create a slideshow of pictures.
Though cloud storage may seem beneficial due to its 'unlimited storage capacity', there have been previous cases of this backfiring on consumers. In the past, other premium digital picture frame companies that offered cloud-only storage went out of business. This limits the ability to access its proprietary cloud storage and can leave the consumer high and dry.
There is also a plethora of consumers who may not have constant WiFi access. People such as children, the elderly, or the more economically marginalized cannot enjoy the dynamic vibrancy of a digital frame like Aura's if they don't have a constant, reliable internet connection.
Playback/Accessibility
The Aura Digital Frame lacks the accessibility features that many competing products have baked in. Other frames on the market offer things like remote-control functionality and web album support. Some even offer playback of both video and audio. The Aura Digital Frame offers neither.
While the Aura Digital Frame boasts a 16:9 display resolution, in truth, this can be a drawback. The majority of digital pictures from standalone cameras are taken in 3:2 resolution. Beyond that, most photos taken from smartphones are in 4:3 resolution. This means that the Aura Digital Frame's fixed resolution will often mismatch with the common digital picture resolutions. The Aura digital frame has to crop or zoom to fit most conventional digital pictures. This is done to avoid a black bar or border around the photos. However, it only diminishes the quality of the Aura frame's picture display.
The Aura digital picture frame does not have a power button. It turns on automatically when plugged into its power adapter. This may seem a plus for some consumers, however, it speaks to the overall lack of varied functionality and accessibility of the product.
Customer Criticisms
Negative consumer reviews on Amazon for the various Aura digital picture frames follow a pattern. Many people criticize the Aura app for its bugginess. Others criticize its bad user interface, along with various other glitches or stalwarts preventing full use of the product. Other reviews suggest the strictly WiFi connection requirement is shaky and unworkable or unreliable at best. Some reviews even suggest that when problems inevitably do occur, there is not much recourse. There is little in the way of help in the included handbook or customer support/troubleshooting.
By tying the frame to a constant internet connection, which everyone knows is never quite constant, Aura frames run the risk of constantly turning into a brick. This renders the product useless. Simply put, if Aura's servers aren't working, then its picture frames aren't working either.
Illusion of Versatility
Perhaps in response to some of the negative reviews of its flagship WiFi digital picture frame, Aura has expanded its offerings. An example of this would be the Carver digital frame.
Like other Aura frames, The Carver digital frame boasts a colorful, high-resolution screen, a sleek design, and unlimited photo storage. But once again, The Carver falls short of its expected potential. Like other Aura products, it requires a constant WiFi connection to properly work. The Carver offers only landscape orientation for photos displayed. This seems strange, considering the majority of digital photos taken today come from vertical or at least square orientations due to the widespread use of smartphones or handheld cameras.
"Smart" Sensors
As previously stated, the resolution of the Aura WiFi Digital Frame can not change. The brightness of the screen does not manually adjust. Nor can any other visual options be adjusted. There is no adjustment option for color correction either. The Aura Carver frame controls brightness and displays entirely through the frame's light sensor. This means that photos will display depending on the lighting conditions of the room. This often results in dimmed or distorted images. While there is an option to toggle a manual sleep schedule for the frame, which turns the frame off for certain hours of the day, that is the extent of its visual versatility.
Many consumers suggest that these smart adjustment options are more of a gimmick than a feature. Though advertised as one of the Aura digital frame's selling points, the smart light sensors never work 100% of the time.
To reiterate, Aura WiFi frames don't have an internal file system. This means that the photos sent to the frame can't be explored, put into separate folders, or moved around. If there are several thousand photos connected to the frame, slideshows will not activate from specific sources. This can result in many photos potentially being lost in the shuffle.
Price Point
The Carver Frame, along with other Aura digital frames hover at a price point between $150-200. This may seem relatively standard for premium digital picture frames, but compared to other offerings on the market for a similar price, Aura frames seem quite limited.
Products like the Amazon Echo Show 10 or the Google Nest Hub Max allow a much more functional smart display and versatility of use. Aura's digital frame design is a landscape frame that is left on a flat surface. Though many digital or smart displays lack the ability to act as a conventional picture frame hung on a wall, they make up for it with other fun and helpful features. The majority of the smart displays like the Echo Show 10 or Nest Hub Max feature things like voice control, remote control access, or even web access. Aura digital picture frames offer none of these same features.
It is a bit confusing how Aura is reputed as one of the most expensive premium digital picture frames on the market. Compared to a more affordable frame like Pix-Star, Aura offers nothing to justify its expensive price. There is a league of various digital picture frames with more options. These include internal storage, fully offline use, picture, and video capability, and relatively extensive visual editing options. The Aura digital picture once again, falls short.
Alternative Digital Frames
There are a few other digital picture frames on the market that compete with Aura on both features and price points.
The Amazon Echo Show 10 is like a digital frame in that it can display slideshows of pictures, yet it is so much more. The Echo Show 10 with Alexa is a smart home unit and features an interactive screen, speakers, the ability to play video, and fully use apps like Spotify or Youtube. Amazon Prime members also receive unlimited photo storage.
Best Smart Display
Echo Show 10
Powered by Alexa, use your voice to control your home including security cameras, doorbells, and lights
10.1" touchscreen display for video calls and content
Motion tracking with auto-framing keeps users in the picture at all times
Zigbee and Matter compatible along with an array of smart devices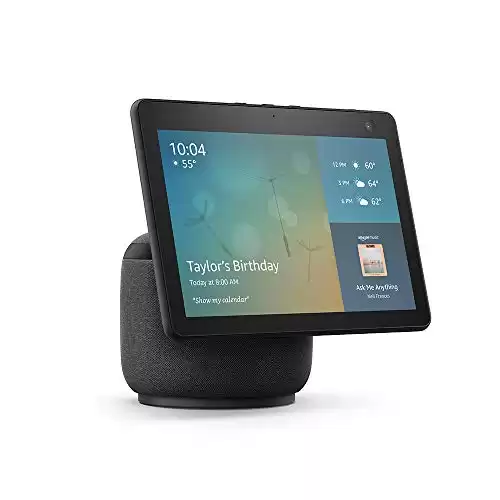 We earn a commission if you make a purchase, at no additional cost to you.
The Google Nest Hub Max is another smart home unit that can function as a digital picture frame easily. Like the Amazon Echo, the Nest Hub Max features HD speakers, plays video, and can access any of your favorite apps.
Best Smart Unit
We earn a commission if you make a purchase, at no additional cost to you.
Pix-Star digital frames are standalone digital frame units, yet offer much more functionality than Aura. While Pix-Star digital frames are cheaper than Aura frames, they boast 8GB of internal storage, video and audio playback, as well as remote control access.
Conclusion
When compared to any of the other digital picture frames or smart picture displays on the market, Aura's digital picture frames barely compete.
Aura's frames lack functionality or adjustment features, and even its smart options are essentially automatic and cannot be disabled. The frames also require WiFi to work. This may phase out a segment of consumers that may not have internet or a reliable connection. This extends to its lack of internal storage, putting consumers at the mercy of Aura's app and the consistency of its cloud storage servers.
Where Aura boasts its large resolution for display, it is at odds with the majority of digital picture resolutions. This can result in often distorted or cropped photos.
This means for its prohibitive price point, buying an Aura Wifi Digital Picture frame is buying it for its aesthetic design alone.
There is a litany of better options for digital picture display on the market, many of which are more affordable, offer more functionality and ease of use, and don't require a WiFi connection and cloud storage to work.
For these reasons, it is best to avoid the Aura WiFi digital picture frame. 
Powered by Alexa, use your voice to control your home including security cameras, doorbells, and lights
10.1" touchscreen display for video calls and content
Motion tracking with auto-framing keeps users in the picture at all times
Zigbee and Matter compatible along with an array of smart devices




Buy on Amazon

We earn a commission if you make a purchase, at no additional cost to you.

09/19/2023 11:58 pm GMT

Features HD speakers
Can control your smart devices

10-inch HD screen

Comes with Google Assistant

Buy Now on Amazon

We earn a commission if you make a purchase, at no additional cost to you.

09/20/2023 01:48 am GMT