Key Points
The WHOOP 4.0 is not a fitness smartwatch and lacks many features found in other smartwatches.
The fabric band of the WHOOP 4.0 is uncomfortable to wear and absorbs sweat, requiring frequent cleaning.
The band of the WHOOP 4.0 is difficult to manipulate and reassemble.
Charging the WHOOP 4.0 is awkward and slow, and the battery pack is easy to misplace.
The WHOOP 4.0 is expensive compared to other fitness smartwatches and requires a subscription.
Health and fitness are essential and as more people actively engage in keeping themselves fit, products claiming to help continue to increase. Wearable fitness trackers are popular, but we highlight seven reasons to avoid the WHOOP 4.0 and why there are better options than the latest from this curious brand. 
We know the WHOOP initially aimed at professional athletes, with LeBron James and Michael Phelps being early supporters. NFL quarterback Patrick Mahomes and NBA star Kevin Durant became investors. Don't let that influence you too strongly; we believe our reasons to avoid a WHOOP 4.0 will cause you to examine our alternate recommendations more closely.
Background on the WHOOP 4.0
If you're looking for the latest and best fitness smartwatch, click away now — the WHOOP 4.0 is not a smartwatch. It is not even a product you can actually buy. It is a service you pay for, and the hardware is included for free, or at least that is the fiction WHOOP wants you to believe. The original WHOOP wearable debuted in 2015, and the latest 4.0 rendition in 2021. The WHOOP 4.0 is a fitness band that attaches to your wrist by a fabric strap. It communicates a few health metrics to an Apple or Android smartphone app you pay a subscription to use.
WHOOP now offers several companion products that allow you to wear the tracker in special pockets on clothing or in a bicep strap. These are pretty expensive, and as you will discover below, transferring the WHOOP wearable from its fabric strap to a piece of clothing is, at best, an exercise in patience. 
After its introduction, the WHOOP created quite a buzz as many celebrities hopped on the bandwagon. It was even chosen as one of the many devices researchers included in a study about fitness trackers and the ability to detect COVID-19. You've likely heard of it already; you may not have heard the many reasons to avoid a WHOOP 4.0.
Reasons to Avoid a WHOOP 4.0
Every product has fans, and the WHOOP 4.0 certainly has its share. We dove into numerous firsthand reviews of this wearable fitness device to determine just why a consumer would want to buy one — and why they would not. Here are seven reasons to avoid a WHOOP 4.0 wearable fitness tracking device.
It Is Not a Fitness Smartwatch
Modern smartwatches do practically everything, including tracking numerous fitness and health metrics. The WHOOP 4.0 wearable does nothing. It detects three metrics and reports these to the WHOOP app. There is no screen, touch controls, or settings, and it sends no notifications or alerts. It is a wearable sensor, and that is all.
Wearing a second wrist device is required to tell the time, set and receive alerts, monitor health metrics in real-time, and everything else most people do with a smartwatch. Additionally, health data gathered by your Apple or Android smartwatch can be imported into the WHOOP app. This still requires wearing two devices on your wrist or one on each wrist.
It Is Not Comfortable to Wear
Multiple reviewers claim the WHOOP 4.0 band is uncomfortable. The manufacturer's instructions say the band must be worn snugly for the device to collect accurate health metrics. This typically leaves a mark after the device is removed. Several reviewers claimed the band irritated their skin because the device became noticeably warm during use. After removing the band, it left their skin red and irritated for several hours.
WHOOP's fascination with a fabric band is also odd. The fabric absorbs moisture and takes time to dry. WHOOP claims the device can be submerged in water up to 32 feet for about two hours. The band will stay damp for several hours after leaving the water. WHOOP also targets its device primarily to avid fitness enthusiasts and professional athletes; in other words, people who sweat a great deal. The fabric band absorbs sweat and requires drying out and cleaning. Who wants to enjoy a post-workout shower and put on a still-sweaty band?
The Band is Hard to Manipulate
More issues with the fabric band arise when you want to remove the device. Users who desire to remove the band for cleaning or to use the device in clothing will discover it is an exercise in patience. The band and buckle stay secure enough when worn, but unbuckling it and removing the device from the band leaves you with pieces that are considerably difficult to reassemble. 
Moreover, any wrist wearable needs a buckle that is easy to manipulate one-handed. The WHOOP 4.0 is hard to manipulate and re-buckle once reassembled. This may seem a frivolous reason to avoid the WHOOP 4.0, but any wrist wearable that is difficult to maintain and wear will not get worn regularly. That is lots of money wasted for a device that stays in a drawer more than on your body. 
Charging is Awkward
WHOOP touts its innovative charging system as a major selling point, but every reviewer claimed it was awkward and slow. There is no plug or cable for charging the device. Users must first charge the battery pack, which takes about two to three hours, with a short micro USB cable. The battery pack slides onto the device for charging, which takes another two to three hours. The battery pack and wearable device last about four days between chargings. The pack is good for one device charge and then needs recharging. 
WHOOP claims recharging can take place while you wear and use the device. The problem is you wear a bulky and awkward lump on your wrist for hours, sure to draw attention and weird looks. The battery pack is small and easy to misplace; replacement packs cost around $50. Plus, it's not clear when charging is completed. The LED battery indicator lights are difficult to see, especially while being worn, and green lights can mean anything from a 50% charge to fully charged. 
It Lacks Many Fitness Features
Consumers who want to track numerous health markers will find everything the device lacks in this area a major reason to avoid a WHOOP 4.0. The WHOOP collects and transmits data about your body's performance to the app. The three metrics are reported as Strain, Recovery, and Sleep. Establishing baseline metrics takes about a week before accurate reporting begins. Users must determine from charted data in the app how much and what they need to achieve better fitness. 
There are no health or fitness recommendations in the app. The fitness tracker does not count steps or reps. Many reviewers who performed actual comparison tests with leading fitness smartwatches found the WHOOP 4.0 less accurate in the few metrics it measures. It has no built-in GPS capability, so users must rely on their smartphone to track outdoor activities. Automatic workout tracking is not customizable.
The App is Not Easy to Use
Among the many reasons to avoid a WHOOP 4.0 is the difficulty in using the smartphone app. This seems odd with a fitness wearable that relies completely on the associated app. While the app displays quite a bit of information, most of your fitness data is spread across the app, buried in sections that are difficult to find. Tapping or scrolling reveals many tables and charts that are not intuitive to understand. Automatic fitness tracking is notoriously unreliable, so users must access the app and manually start tracking. 
Processing and reporting incoming data is slow. Plan on working out for a while, then pausing to check your phone to see if any reports are showing. Nothing is shown in real time. The same goes for checking your sleep report. Shower, eat breakfast, and have your coffee to give the app time to process your sleep and alert you when a report is ready.
It Is Too Expensive
The Whoop 4.0 is a subscription-only device. The theory is that you pay for access to the app and your own health data, and the device hardware is free. An initial 12-month contract is required and costs $30 per month ($360 a year). Pay for the entire year upfront and save a little at $239. As a comparison, the average gym membership costs $10-$25 per month and includes high-end equipment and even swimming pools.
The best fitness smartwatches are also more affordable while providing numerous benefits the WHOOP 4.0 does not. For example, an Apple Watch Series 8 costs about $26.50 per month for one year. A Samsung Galaxy Watch 5 Pro costs about $33.25 per month for one year. A Garmin Venu 2 costs about $22 per month for one year. With these options, the device and all your health data are yours; no more fees. 
Alternatives to the WHOOP 4.0
People seeking a full-on fitness smartwatch with more capabilities and all-around usefulness than the WHOOP 4.0 will find these alternatives more attractive and affordable.
Apple Watch Series 8 
Premier
Apple Watch Series 8
Always-On Retina display
Innovative safety features like Crash Detection and Fall Detection
Advanced health monitors for temperature, sleep, blood oxygen, and heart rate
IP6X-certified dust resistant plus WR50 water resistance
Compatible with all of your Apple devices and services
We earn a commission if you make a purchase, at no additional cost to you.
The Apple Watch Series 8 is the premier health, life, and style fitness smartwatch on the market today. It provides a wide range of features to keep you healthy and safe while working seamlessly with leading Apple products and services and many other products. Among its many benefits are a tough construction, Always-On Retina display, temperature sensing, ECG readings, blood oxygen sensing, sleep tracking, accident detection, and even emergency SOS communication. 
Samsung Galaxy Watch 5 Pro
Versatile
Samsung Galaxy Watch 5 Pro
An advanced tracker that monitors sleep and wellness throughout the day

Provides body composition data

Manually tracks more than 90 exercises
Amazing battery life for prolonged use outdoors
Built to last with a titanium case and Sapphire Crystal glass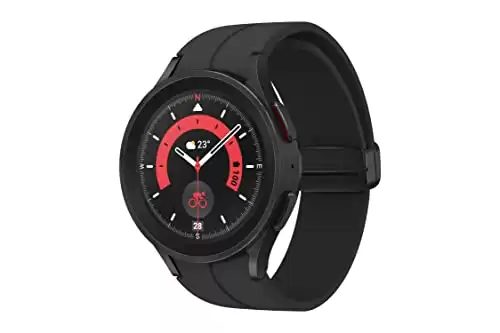 We earn a commission if you make a purchase, at no additional cost to you.
The newest Samsung Galaxy Watch 5 Pro offers a versatile array of health and fitness tools like sleep tracking, workout tracking and assistance, performance tracking, and more. It is eminently stylish and customizable, with 24 different color bands that are easily switched on and off to match every outfit. This fitness smartwatch has a long battery life and GPS route tracking that collaborates with fitness tracking for a more complete health picture. 
Garmin Venu 2
Preloaded
Garmin Venu 2
Dual color options with the bright AMOLED display
Battery life of up to 11 days in smartwatch mode
Yoga, cardio, and HIIT come preloaded
You can download over 600 songs
We earn a commission if you make a purchase, at no additional cost to you.
Garmin is a leading name in fitness wearables, and some tout the Garmin Venu 2 as the ultimate wearable fitness tool. Get a clear picture of everything you need to know about your body to keep fit and healthy. This fitness smartwatch includes preloaded workouts and access to Garmin Coach adaptive training plans. Import music playlists to help keep you going, and use over 25 built-in sports apps, including outdoor and indoor activities. 
Fitbit Sense Advanced
Features
Fitbit Sense Advanced Smartwatch
EDA Scan app helps detect stress
Assess your heart for atrial fibrillation
On-wrist skin temperature sensor tracks your sleep each night
6+ days of battery life
Menstrual cycle tracker
Compatible with Apple and Android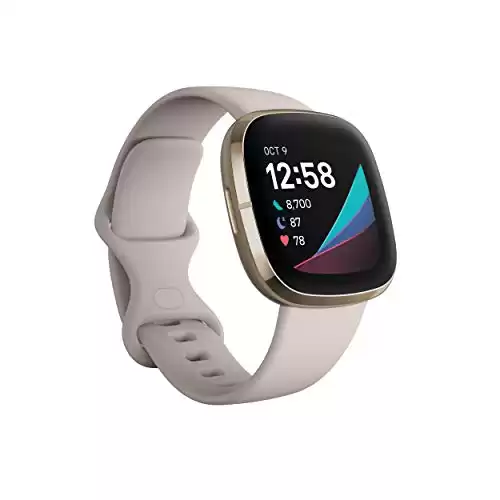 We earn a commission if you make a purchase, at no additional cost to you.
Fitbit means fitness, and the Fitbit Sense Advanced fitness smartwatch keeps up with numerous health and fitness metrics for almost a solid week between charges. Water resistant and built to last, this advanced device has loads of apps and tools for your workouts, and built-in Alexa keeps you tracking the weather and your smart home devices. Fitbit's patented Daily Readiness Score includes insights about how your workouts impact your wellness and other critical data for staying healthy. 
Reasons You May Still Want to Buy a WHOOP 4.0
You may still want to buy this faceless wearable device even after reviewing our seven reasons to avoid a WHOOP 4.0. Avid fitness enthusiasts and professional athletes favor them for the assistance they provide. There is perhaps no better wearable device to track a long health history and continually monitor your physiological data and daily activity. Serious health-conscious consumers may use these data-heavy metrics to understand their overall health and wellness better. It certainly provides a means to track your wellness and progress over time.
WHOOP's primary target audience also knows what it takes to raise their game regarding various fitness metrics, so guidance from a traditional fitness smartwatch is unnecessary. They can evaluate the loads of data from a WHOOP 4.0 and know precisely what they need to get the results they desire. High-end athletes and fitness enthusiasts can also easily afford the expensive subscription.
Wrapping Up
Users of popular fitness smartwatches may find adapting to a WHOOP 4.0 difficult. You'll find yourself glancing at it frequently for the time only to receive a blank stare in return. Everyday consumers who want to get fit or keep better track of their health status need a fitness smartwatch with more advanced apps and tools. A WHOOP 4.0 is the tool for fitness trainers, pro athletes, and others with lofty goals, strenuous workouts and lifestyles, and padded bank accounts. 
Are you seeking an advanced fitness sensor to provide plenty of data so you can design your own pathway to greater fitness? The WHOOP 4.0 is what you need. Are you an everyday person on a budget seeking help to get and stay reasonably fit? Check out our fitness smartwatch recommendations. 
Better Alternatives to the WHOOP 4.0
Apple Watch Series 8
Samsung Galaxy Watch 5 Pro
Garmin Venu 2
Fitbit Sense Advanced
The image featured at the top of this post is ©Cast Of Thousands/Shutterstock.com.