Key Points
Modern smartphones and tablets come with tough screen glass, such as Gorilla Glass or Ceramic Shield, making additional protection unnecessary.
Screen protectors can look disgusting, smudging and smearing easily and interfering with the device's sleek appearance.
Screen protectors can decrease touchscreen sensitivity and make it harder to use the device effectively.
Screen protectors tend to discolor, bubble, warp, and peel off over time, causing additional wear and decreasing device functionality.
Correctly installing a screen protector can be challenging and time-consuming, requiring a clean screen and dealing with air bubbles.
To use a screen protector or not to use a screen protector — that is the question. The verdict is still out as opinions vary and the battle rages on. Where do you stand? Many modern smartphone and tablet users choose to avoid one when they purchase a new device. The reasons to avoid them are legion, as are the reasons to use them.
Screen protectors have come a long way in recent years, too. While the cheap, thin plastic versions of old are still available, more recent innovations include thicker plastic or silicone products that have improved performance to a degree.
Still, using a screen protector on your tablet or smartphone is as much a personal choice as the brand of device you buy. Here are our five reasons to avoid a new screen protector for a smartphone or tablet today. Let us know if you agree or disagree.
Reasons to Avoid a Screen Protector
Screen protectors are hot commodities in every big box electronics store, brand smartphone outlet, and retail store. You can find them hanging on displays in the electronics section of Walmart, Target, and every local dollar store. Here are the best reasons to pass those displays on your way to more worthwhile products.
#1: Modern Smartphones and Tablets Come with Tough Screen Glass
Smartphone and tablet manufacturers constantly seek to improve their products. New innovations are introduced with virtually every new model or version. Companies work hard to make screens all but indestructible — and they are close to succeeding.
Most Android phones feature the tough, patented Gorilla Glass from Corning. It is highly scratch resistant and durable. The latest version, called Gorilla Glass Victus, was drop-tested from six feet height and pressure tested to resist a level eight Newton load (most phone and tablet glasses fail around level 4 Newton). This incredibly strong screen glass is also rated high on the Knoop Hardness Test for scratch resistance.
Not to be outdone, Apple products have their own exclusive impact-resistant glass for screens. Ceramic Shield, also from Corning, came out on the iPhone 12. Ceramic Shield actually uses tiny ceramic nanocrystals so minuscule that they do not interfere with viewing through the glass. Smaller than light wavelengths, they make the screen totally transparent, yet extremely durable. Apple claims that newer screens with Ceramic Shield are four times better than pre-iPhone 12 models.
With this type of innovation in device touchscreens, does your screen really need additional protection?
#2: Screen Protectors Can Look Disgusting
Let's face it and call a spade a spade — screen protectors look disgusting. They are immediately visible because they produce a dull sheen on your screen. It's like looking through a smudged window. Why spend hundreds of dollars on a new smartphone and slap a piece of cheap plastic on the most visible part of it?
Aftermarket screen protectors are also really good at holding onto the natural oil from your fingers. They smudge and smear and become unsanitary and nasty. Modern smartphone and tablet screen glass is made to resist fingerprints made by skin oils and other substances so they stay cleaner, look better, and operate smoother without any other protective covering.
#3: Most Protectors Make Your Touchscreen Less Touch Sensitive
Plastic or silicone screen protectors feel less smooth than glass, but how it feels isn't that important. Screen sensitivity is critical in modern smartphones and tablets like the iPad. Anything covering the glass touchscreen hampers the convenience of swiping a finger or digital pen to access your applications, documents, photos, videos, connections, and other entertainment options.
Screen protectors wear out and get scratched more easily than the tempted glass of the touchscreen, making them less sensitive and harder to see through. Some applications require lots of finger swiping that quickly wears out plastic or silicone screen protectors and makes your device harder and more frustrating to use.
#4: Screen Protectors Tend to Discolor, Bubble, Warp, and Peel Off
Over time, ultraviolet light from the sun breaks down the chemical bonds between polymer molecules and causes yellowing. Sunlight and everyday use also cause screen protectors to warp and even move on the screen. Air bubbles are a constant problem when installing screen protectors and after using them. As they move, they allow air underneath. These bubbles decrease the screen's sensitivity and make it harder to operate your device.
Dirt, skin oil, and air that work their way underneath your screen protector cause them to peel. The edges begin lifting up, and this allows even more nasty debris to work its way between your screen protector and glass screen. This is both yucky and adds extra wear to your device glass. You may end up working your way through several with a single device before it's time to upgrade.
#5: Correctly Installing a Screen Protector is a Challenge
More than a challenge, correctly installing a plastic or silicone screen protector is a pain. The internet is filled with instructions on how to install a screen protector, but the actual process can get on your last nerve. The screen must be totally clean, and yet it comes with its own oleophobic coating to prevent fingerprints. You are literally cleaning this off so you can apply a less-protective material!
Bubbles are the curse of screen protectors. How do you eliminate all the air around your device so you can apply the protector material perfectly? Even if you do somehow get the screen protector in place smoothly, wear causes it to peel and allow air underneath anyway. You will be repeating this tedious process again and again.
Alternatives to Screen Protectors
There are other ways to keep your phone safe from damage and abuse besides screen protectors. Here are a few alternatives to get long-term use from your devices without the troublesome and ugly veneer of plastic or silicone screen protectors.
Hard Cases
Great Hard Case for iPhone Pro Max
SOiOS Case for iPhone 12 and 13 Pro Max
Compatible with iPhone 13 Pro Max and iPhone 12 Pro Max
Made of premium, hard polycarbonate
Camera slide cover
Non-slip stripes on the sides of the case for better grip
Hands-free kickstand
Military-grade drop protection
We earn a commission if you make a purchase, at no additional cost to you.
Many protective and attractive hard cases are available for iPad, iPhones, Samsung Galaxy smartphones, and other phones or tablets. Hard cases provide a protective shell around the entire case of your device while leaving the screen clear. Some may include a plastic or silicone screen protector, but you can leave this off at your discretion. The outer protective shell often includes a flap or door to close over your screen to protect it when you are not using your device. Hard cases, like this case from SOiOS for iPhone, provide complete device protection against scratches, impact, drops, and environmental hazards.
Soft or Thin Cases
Shockproof Silicone Case
BUYDOT Silicone Case for iPhone 13 and 14
Shock-absorbing shell with microfiber lining
Military-grade drop protection
Raised bezels protect your camera and screen from scratches
Resists fingerprints and dust
Compatible with iPhone 13 and 14
We earn a commission if you make a purchase, at no additional cost to you.
Device cases made from hardened plastic or silicone provide complete protection for your device, and you can choose not to apply the clear plastic screen protector if you wish. This silicone case from BUYDOT has a shock-absorbing shell with military-grade drop protection. Some soft fabric or neoprene cases like this pouch from Arlgseln enclose the entire device and even provide space for pens, notes, and other items. Carry them on your belt, around your neck, or elsewhere for convenience.
Neoprene Sleeve with Soft Interior
We earn a commission if you make a purchase, at no additional cost to you.
Device Grips
Finger Strap Holder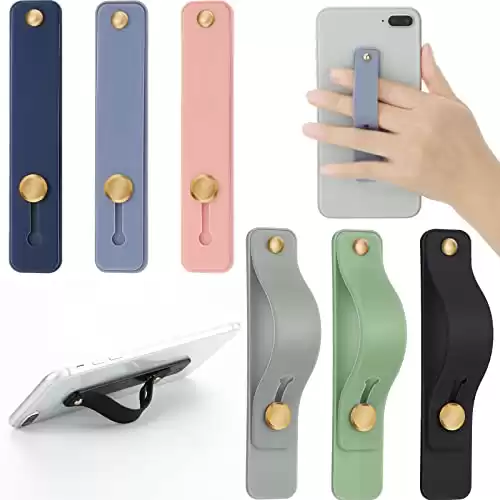 We earn a commission if you make a purchase, at no additional cost to you.
Stick-on device grips are a popular way to keep a better grip on your phone. These small handles fit onto the back of your device case for easier carrying and use. The Weewooday finger strap holder not only helps you grip your phone with one hand, but it also serves as a kickstand. One of the most used types of device grips is the Pop Socket. It can be used as a platform, stand, and handle as you need it and it compresses to become smaller when not in use. Stick-on device grips for your smartphone or tablet can be used directly on the phone itself or on hard phone cases.
Hold Your Phone With Just One Hand
We earn a commission if you make a purchase, at no additional cost to you.
Reasons You May Still Want a New Screen Protector for a Smartphone or Tablet
As tough as modern touchscreen glass is, many common minerals can still scratch them. If you hike or visit the beach often, sand and grit find their way into your pockets and packs where you carry your phone or tablet. Too much of this can scratch your phone or tablet screen and a cheap plastic or silicone screen protector can help you prevent that.
Do you carry your phone or use a tablet in harsh work environments? Construction workers and the like may want the added protection of a screen protector to lower the risk of damaging their valuable devices.
If you just have terrible luck with expensive smartphones or tablets, get a good plastic screen protector, enclose your device in a hard case, and do whatever it takes to hold onto it better. Keep coins or keys in another pocket and be aware of your environment where your device could be easily damaged.
Choosing to avoid a new screen protector for your smartphone or tablet is purely a personal choice. Do you have other reasons to avoid using screen protectors or alternative products for protecting your devices? Share them with us in the comments.
Summary Table
| Reason Number | Reason to Avoid a Screen Protector |
| --- | --- |
| #1 | Modern Smartphones and Tablets Come with Tough Screen Glass |
| #2 | Screen Protectors Can Look Disgusting |
| #3 | Most Protectors Make Your Touchscreen Less Touch Sensitive |
| #4 | Screen Protectors Tend to Discolor, Bubble, Warp, and Peel Off |
| #5 | Correctly Installing a Screen Protector is a Challenge |
The image featured at the top of this post is ©Raskolnikov/Shutterstock.com.